News update: 18th September
From a short-list of over 700 international destinations, Sabi Sabi's Earth Lodge has been voted 13th in the '100 Best Hotels and Resorts in the World', as chosen by a panel of travel experts for Australia's International Traveller magazine. Released this week, the elite list was scored by 17 travel writers who collectively have over 230 years' experience, have travelled across the globe and experienced the best possible lodges, hotels and resorts.
Earth Lodge's unique design reflects Nature in its shape, light, space and textures; and celebrates the richness of Africa's minerals with hues of gold, platinum, copper and bronze shimmering subtly throughout. Nature and the surrounding environment are evident in all aspects of the design and belie the sheer luxuriousness of the furnishings, décor, cuisine and special African hospitality.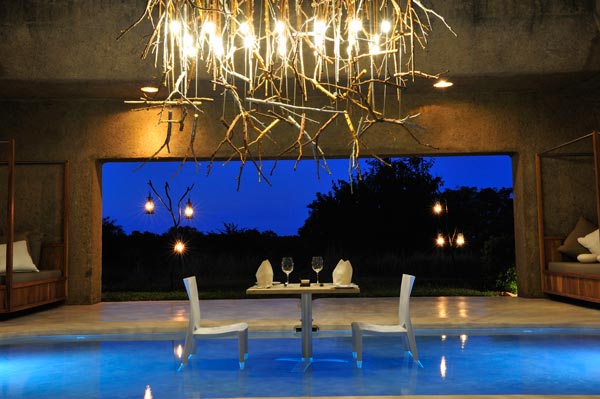 With just 13 suites – including the celebrated Amber Presidential Suite – Earth Lodge is exclusive, the suites private and the service sublime. Glass fronted suites with en-suite bathrooms look out onto the unfenced Sabi Sabi Private Game Reserve within the Sabi Sands, South Africa. Each suite features magnificent hand carved wooden furniture by renowned sculptor, Geoffrey Armstrong, huge stone baths, indoor and outdoor showers and a private plunge pool.
The main lodge has a beautiful outdoor dining boma, indoor/outdoor dining area, inviting bar, underground wine cellar and full service spa.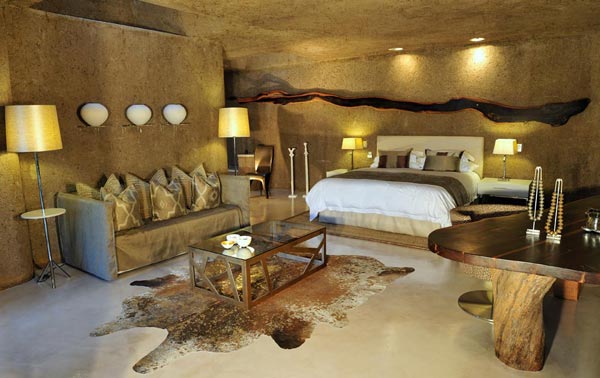 Close wildlife encounters in open vehicles with world class guides are the essence of Sabi Sabi, which is a pioneer in the safari industry. This unforgettable experience in a beautiful 5-Star setting is what prompted the expert panel of judges to vote Earth Lodge as one of only two African properties in the top 15 of the '100 Best Hotels and Resorts in the World'.
Sabi Sabi marketing director, Jacques Smit, says: "To be acknowledged by such luminaries as those in the panel of judges is a wonderful achievement for Earth Lodge and the people who make it one of the most special places in the world. We are very proud to receive such an accolade and very grateful to the amazing support we receive from the Australian & New Zealand markets."