news update: 21st march
The elite group of junior rangers at Sabi Sabi who made it through the rigorous selection programme in the past year, have all settled well into their new positions at the lodges. They are an interesting bunch, coming from very diverse backgrounds and with different bushveld experiences. What they all have in common is a deep passion for the bush, wonderful qualifications and that special warmth that is a trademark of all Sabi Sabi staff.
Josh Lee is originally from Johannesburg but studied at Stellenbosch University, attaining a degree in economics. After completing his university education Josh trained at Africa Nature Training (ANT). This is his first guiding position.
Terence Ennever is even further from home, having returned to South Africa from the UK after a ten-year stint there as an estate agent. His love of the African bushveld, enjoyment of communicating his knowledge and ability to establish an instant rapport with guests will be put to good use at Earth Lodge.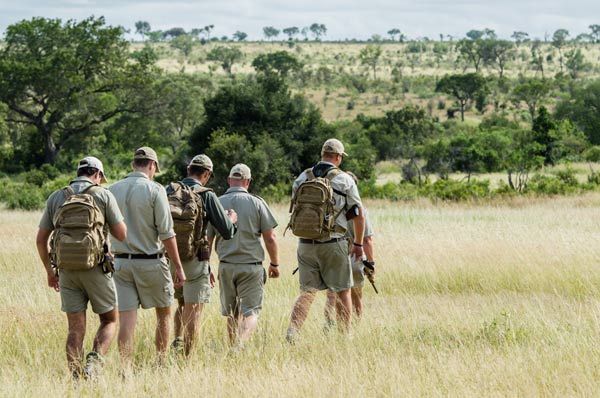 Also based at Earth Lodge is Marcus Hack who is another Africa Nature Training graduate. His National Diploma in Nature Management is just one of the qualifications that stand him in good stead when introducing guests to the magnificent Sabi Sabi reserve.
Kosie Lategan too studied at Africa Nature Training and has a National Diploma in Nature Conservation. He is originally from Langebaan, a beautiful seaside town about an hour's drive from Cape Town, on the west coast of South Africa. Kosie will be based at Bush Lodge where his love of wildlife and affinity with people from all walks of life will be a great asset.
Bush Lodge is also home to Franscois Rosslee who started his career in the western section of the Sabi Sands and brings with him two years of invaluable guiding service. Bush Lodge is likewise the new home of Grant Rodewijk who did his first bushveld studies at Eco Training before undertaking the rigorous Sabi Sabi course and garnering his first job.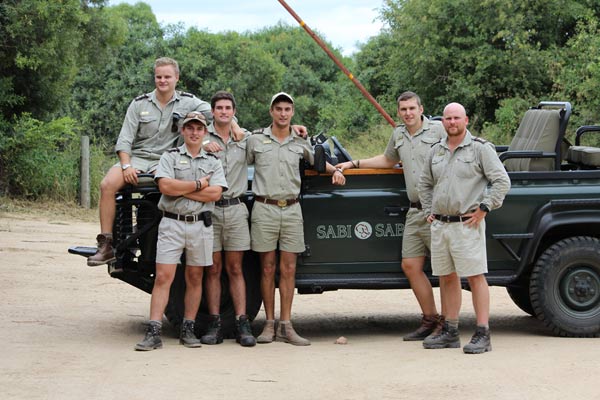 Left to right: Josh Lee, Kosie Lategan, Charles Ferrow, Franscois Rosslee, Mike Palmer and Terry Ennever
Charles Ferrow is a young trainee ranger at Bush Lodge who is doing all his training inhouse, learning from the more experienced rangers and getting in-depth knowledge of the extensive Sabi Sabi reserve and its abundant wildlife.
Steven Volkwyn is settled at Little Bush Camp where his former 18 months guiding experience are being put to good use taking guests on unforgettable safaris. He has almost completed his 'Lead Trails Guide' qualification and FGASA level 2.
Another ranger based at Little Bush Camp is Ross Hawkins, who brings with him a formidable résumé. Besides having studied at Africa Nature Training and having also achieved a level 2 FGASA guiding qualification, Ross is a two-time Olympian. He represented South Africa at rowing in the Olympic Games of 1996 and 2000. Ross has been mentored as a FGASA 'Lead Trails Guide' under the watchful eye of Andre van Zyl and is one of Sabi Sabi's brightest stars.
Completing the team of young rangers is Mike Palmer who has a FGASA level 1 qualification and has gained experience as a field guide in the bushveld areas surrounding our reserve.
Sabi Sabi is continuously training its safari staff, ensuring that the rangers are of the highest quality. This committed group of motivated individuals constantly excel at the FGASA (Field Guides Association of Southern Africa) examinations and assessments which are held regularly. The newest members of the team are mentored by the more experienced rangers, some of whom have been at Sabi Sabi for decades.