Since 1979, the vision set out by the owners of Sabi Sabi was the firm belief that in order for conservation to be successful in Africa, there needs to be an integral and participatory relationship between tourism operations and the neighbouring communities which border the reserve. Sabi Sabi has long recognised that its greatest asset is its staff, the majority of whom hail from local communities of Huntington, Lillydale and Justicia and many of whom have been part of the Sabi Sabi story since the very beginning 40 years ago.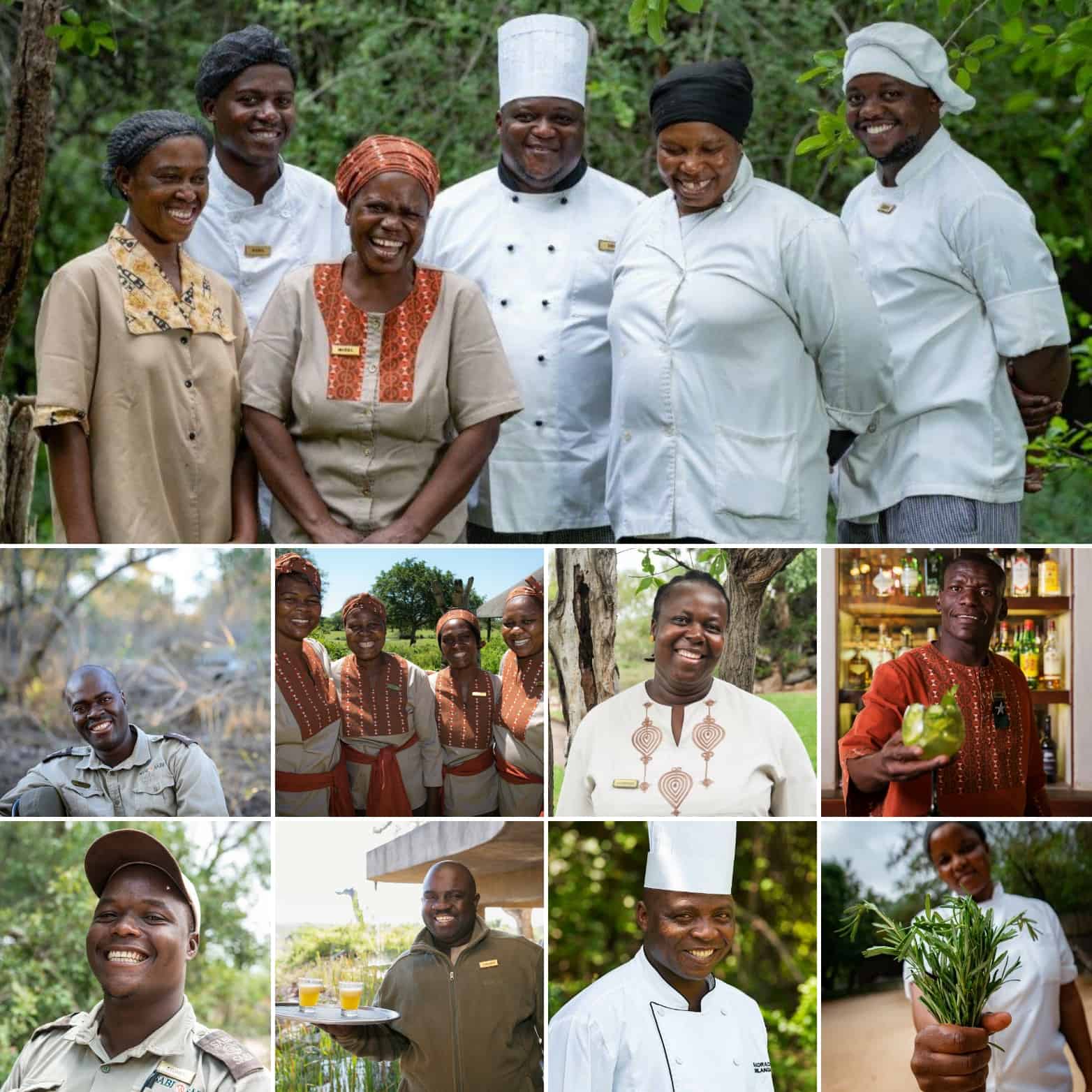 Today, there are second generation employees based across the four Sabi Sabi lodges, in the hospitality and safari spheres as well as in the security force protecting the properties. Our mission is to make a difference by fostering the success and upliftment of our neighbours in the rural communities, where most of Sabi Sabi's staff live. With a high ratio of employed to dependents in these communities, employment represents a tangible benefit to such communities.
Whilst we currently have a functional anti-poaching and security force on the property, together with a small maintenance team at the lodges, the majority of our staff are unfortunately unable to continue their daily working routines due to the temporary closure as a result of Covid-19 and the precautions undertaken by Sabi Sabi to ensure their well-being and safety during this unprecedented time.
Sabi Sabi remain committed to the support of all employees. Sadly, the community projects we support are not operational. The majority of our supported projects are educational and with schools being closed, by law the educational centres also remain closed. The welfare of our staff and their families during such tough times remains our key priority.

Historically, our focus has been to involve our community in projects that benefit and involve staff, their families and respective communities and the Sabi Sabi Foundation aims to grow custodians of our natural heritage – "Custodianship through education, employment and conservation" being our vision. The Foundation's mission is to make a difference by fostering the success and upliftment of our neighbours in the communities through co-ordinating poverty relief in line with identified needs, supporting quality education, and nurturing the development of future leaders. The Foundation further focusses on protecting and conserving indigenous flora and fauna.
Financial benefits via employment are significant but are not the only contributor to benefits. Benefits from the tourism operation extends beyond the boundaries of our Protected Area and to the people in these communities. The funding of these community initiatives is by and large funded by our tourism operation through guest support involving community tours, donations and philanthropic sponsors from private individuals. All such individuals recognise the challenges faced and the need to provide sustainable backing toward the needs of our communities.
We currently and proudly support the following initiatives:
Mazinyane Pre-School (Huntington)

Mazinyane is a pre-school that focuses on supplying healthy meals to pre-schoolers as well as focussing on teaching English languages skills preparing children for schooling years ahead. In conjunction with Reservations Africa this school opened in 2002, with the day to day co-ordination and assistance managed through the foundation and the community team from Sabi Sabi. What originally started with 85 children has now grown to 350-450 – with 5 classrooms and a total of 18 staff. The philosophy of both Reservations Africa and Sabi Sabi is that children represent our future and we believe that the Mazinyane Pre-School, supported by both our efforts, is one of the most rewarding community projects in operation. Many of the children attending the pre-school are the children and grandchildren of staff members of Sabi Sabi, and this environment is vital to these staff so that they are afforded care and basic education whilst their parents are at work.
Swa Vana Care Centre for vulnerable youth ("For the Children") (Huntington)

The Swa Vana Care Centre ("for the children") is a Sabi Sabi Foundation supported initiative running within the community. It comprises a care centre for HIV orphans and vulnerable youth, where day care facilities are available for children living with guardians. The centre delivers meals, educational activities and a safe after-school environment for children.
Lillydale Digital Learning Centre (Lillydale)

In conjunction with the GWF (Good Work Foundation) we provide a digital learning platform to the community. A programme driven by the needs of the community. The campus serves as a hub for all schools in the area where advanced technology is utilised to offer Grades 4 – 8 the opportunity of strengthening their ability to navigate the online world and all the opportunity it has to offer. Focus is aimed at teaching these children to master English and maths and hereby prepare themselves for education levels ahead. It also offers a Bridging Academy for all school leavers and second chance learners, who wish to improve their knowledge in this technological age and determine career paths to which they are suited and well prepared.
The Dreamfields Project

Through sport, we have addressed issues relating to boredom and poor school attendance. A league was established and is now running into its 10th year – we encourage primary school and high school pupils – boys and girls to attend school to participate in sport in both soccer and netball and compete for bragging rights each year.
Sabi Sabi Chef Mentorship Programme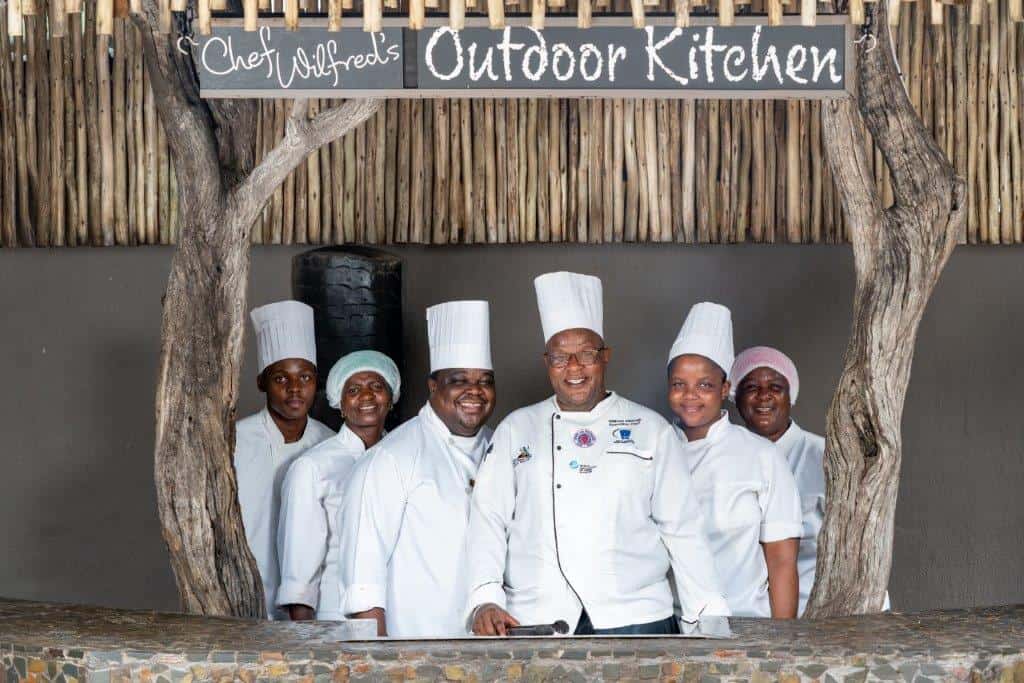 This is an internal training programme started by Executive Chef, Wilfred Mtshali. Chef Wilfred saw an opportunity in the local community to offer school leavers who showed an interest in the culinary arts the opportunity of joining the Sabi Sabi Chefs Mentorship Programme, and since 2015 has had many students through the programme, with an internal year-long training module at the four Sabi Sabi lodges, with the support of funds from Sabi Sabi. This initiative has had great success since its inception and has seen a number of graduates learning their way through the culinary world under the auspices of Wilfred Mtshali. Apart from the in-house experiential learnership programme they also attend training through the South African Chefs Association (SACA) where they are also registered members.
Community Visits
Sabi Sabi operates a very popular Community Tour, which is aimed at giving our guests the opportunity of visiting our local community and experiencing first-hand the projects we support. This also provides funding by way of a nominal fee that is charged for the tour, of which all proceeds are allocated to the Sabi Sabi Foundation fund and allocated to the needs of these community projects. These tours are overseen and operated by our Community Liaison Officer – Clerence Mkansi – who is a second generation Sabi Sabi family member, being the son of one of Sabi Sabi's long-standing stalwart trackers.
Launching of Huntington Water Project – InnovationAfrica South Africa NPC (iASA) Water Supply Project

*(These images reflect the structure that is planned for our local community)
It is apparent that the supply of potable water is an essential need in many of our neighbouring communities. Unfortunately, the supply of water is a major challenge given the historical deficiencies in architecture and developmental neglect within the community areas surrounding the reserve. Water supply remains a stark challenge and again is brought to light given the overriding importance of strict hand-washing and hygiene requirements in the current pandemic.
Fortunately, a solution to this quandary exists – and the innovative technology has been pioneered and tested by a remarkable not-for-profit company Innovation: Africa. The Sabi Sabi Foundation are delighted to announce our partnership with Innovation: Africa and the launch of a campaign for the funding of the construction of the first water project to supply sustainable potable water to a sizeable part of the Huntington community.
The completion of this first project will benefit and alleviate pressure on many households, and additional projects are planned following the completion of the first construction. The Sabi Sabi Foundation, together with Innovation: Africa (iASA), will work closely with the local Community to ensure the success of this project. A standard water stand construction takes approximately 16 – 24 weeks from start to finish. A needs analysis is done and the community engaged on the same. Hydro-geological surveys are conducted. A borehole is drilled and flow and water quality tested. Purification systems are implemented as required. The construction of the stand follows with the installation of solar panels, and the fitting of remote flow monitors. The community nominates individuals who are trained and eventually oversee the maintenance of the project, with the ongoing support of iASA.
Each construction consists of a pump – that is estimated to provide around 30,000 litres of water per day to approximately 10 taps throughout the village, each tap up to 5km distance from the main reservoir. Pipes are installed from the central stand to various points in the village, the points selected by community members. iASA works with two local empowerment companies for construction, which then employ 5 women and 5 men from the local community, per project. This water project maintenance team remain post construction as employees of the community. The remote monitoring further ensures that any interruptions to water supply are rapidly resolved with the assistance of both the project maintenance team and iASA.
The iASA model has to date positively impacted over 1.5 million people in 10 African countries, and will shortly bring much needed relief to many of our staff, and other households in the Huntington community.
We feel strongly that the needs of the community should not be neglected during this challenging time, and offering benefactors a chance to make a difference to those less fortunate. We are looking to raise R1.4m for the first Huntington water project. Sabi Sabi remain committed to achieving this target and welcome the opportunity to work with you in changing people's lives through providing access to something one would think is freely available to all.

Should you like to donate or require any further information, please contact info@sabisabifoundation.org.za
There have been many changes at Sabi Sabi over the past forty years, but what hasn't changed is our view that eco-tourism initiatives, community engagement and conservation efforts go hand in hand. Our communities, where many of our staff hail from, are our heartbeat and it is our responsibility to create a better life for all in the neighbouring communities. Similar to the symbiotic relationships found in nature, our lives are integrated with these families that have braved the winds of change with us.