The wilderness is vital to mankind: for in the wilderness we strengthen our bonds with the earth and find peace with ourselves. We believe it is our duty to protect the wilderness, to make it a sanctuary for flora & fauna, for future generations. By creating stable employment for our indigenous communities through eco-tourism and sharing our respect and love for the wilderness with our guests and staff.
Sabi Sabi's conservation philosophy is based on two principles:
The first is the need to conserve rapidly dwindling wilderness areas and to provide a sanctuary for fauna and flora as part of South Africa's heritage.
The second is the belief that the business must be a true example of eco-tourism effectively linking tourism with conservation and the community. Sabi Sabi's environmental management system is a holistic one, where the ecological needs are balanced with the needs of people and their communities, i.e. focusing on the interdependence of tourism, conservation and local communities.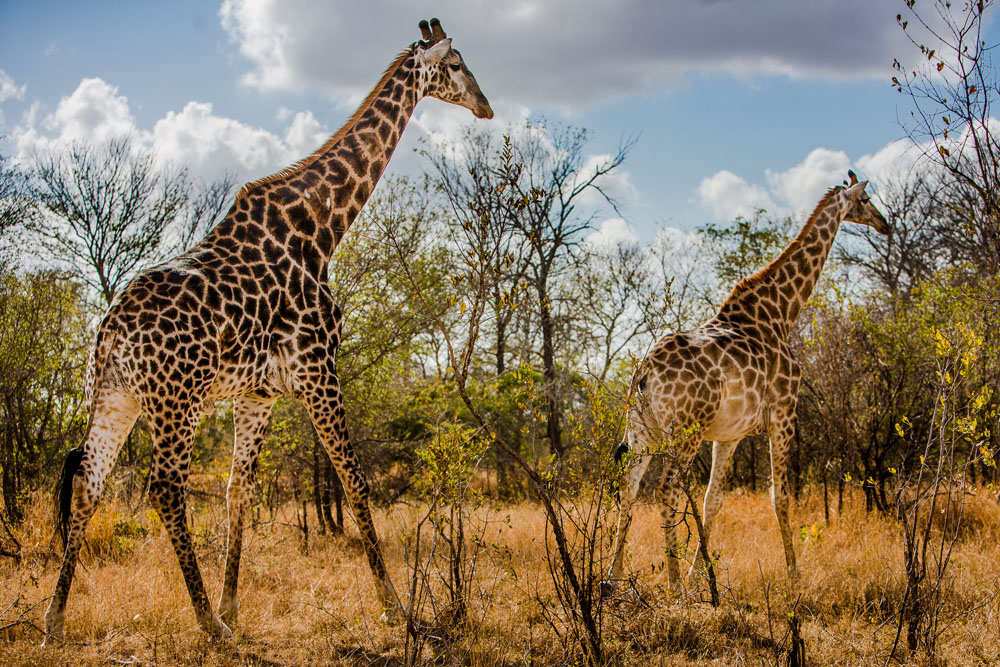 Sabi Sabi is situated within a recognised hotspot of biodiversity in South Africa. The reserve supports over 300 species of birds, 47 large mammal species, 57 species of reptile as well as a myriad of smaller animals such as bats, small rodents, amphibians and invertebrates such as spiders, scorpions and insects. It has over 90 species of trees and many more shrubs and grass species.
We have various rare and localised species. For example, the highly secretive Pangolin or Scaly Anteater occurs here. This nocturnal mammal feeds solely on termites that they consume by using their long slippery tongue. Sabi Sabi guests have been thrilled by frequent sightings of Wild Dog packs. White Rhino are common at Sabi Sabi, while an increasing number of encounters with Black Rhino is experienced. Rare birds in the vicinity include the 'Big 6' – Martial Eagle, Lappet-faced Vulture, Saddle-billed Stork, Pel's Fishing Owl, Ground Hornbill and Kori Bustard, as well as the 'Lowveld Specials' such as Bat Hawk, Narina Trogon, African Finfoot and Thick-billed Cuckoo. Unusual reptiles include the Marbled Tree Snake and Snouted Nightadder.
One of the reasons for this diversity of wildlife is due to the many different habitat and microhabitat types that occur in the reserve. These include rolling hills, open savannah woodland, and denser bush along seep lines, rocky outcrops, as well as pans and riparian forest alongside the rivers.
An important aspect of conservation lies in the guide/ranger training. New rangers are selected after a structured training camp, and are then included into our on site training relating to orientation and geography of the reserve, animal and plant identification, principles of ecology and guest etiquette. The training is intensive and of a very high standard. In effect rangers are environmental educators, the information and knowledge that they impart to guests may in a sense also represent a benefit that transcends site boundaries nationally and internationally.
Similarly the trackers meet the highest standards in the field. Most of the trackers are local Shangaan people and possess an innate appreciation and deep knowledge of the bush. Besides being able to track the Big 5 on foot and interpret the diversity of animal tracks and signs like the back of their hand, they also have a wealth of knowledge on medicinal uses of the plants and trees as well as a depth of knowledge on almost all animals encountered.
Habitat management is a very important part of the operation: Sabi Sabi is actively involved in habitat management activities with a dedicated Habitat Management Team, which is operational all year. The development of a competent habitat management programme with input from qualified ecological consultants has allowed for informed decisions on the successful management of the reserve and to continually assess, review and revise this plan. Some of these habitat management tools include:
Controlled burning. Various sections of the reserve are burnt on a four-year cycle. These controlled burns serve to clear encroached areas, to encourage the regrowth of fresh grass thereby attracting herbivores to these new open areas and to help to recycle nutrients. Hot burns serve to clear the bush of excessive moribund, collected grass, while cold burns race through an area rapidly without burning as intensely.
Waterhole rotation. Another important aspect of habitat management involves rotating the available man-made water sources on the reserve. Most large herbivores need to drink daily and therefore concentrate around the pans and dams. Many of these animals' home ranges overlap around these waterholes, and therefore the vegetation in these areas is heavily impacted. Rotating water points reduces such grazing pressure and allows effected areas to regenerate.
Road maintenance. The road-network on the reserve is managed so as not to impact negatively on the environment. This entails constructing and placing the roads in such a way that minimises water run-off that causes erosion. For example mito-drains are systematically placed on the sand roads allowing water to drain into the surrounding bush. Also roads are carefully sited to follow the contours of the crests of drainage lines as far as possible. The roads are constructed so as not to cut through sensitive soils such as sodic patches or seep lines.
Erosion control. The careful placement of roads, as described above, is one example of erosion control. Where there may be additional risks of 'gully erosion' by water run-off, such as on roads which do go through drainage lines, gabions are constructed which serve to protect the banks and walls from collapsing. Another example of erosion control is where areas that have been grazed heavily by herbivores are 'brush packed'. This entails placing acacias or other suitable shrubs on an effected area thereby allowing it time to recover and hence prevent 'sheet' erosion.
Alien plant control. Aliens are plants from other continents that have taken hold by propagating prolifically and threatening to squeeze out indigenous species. Examples of alien plants include the Lantana and Prickly-pear cactus. These are removed and this is one function of the habitat management team.
Waste management. Sabi Sabi separates and recycles much of its solid waste. Some solid waste is burnt in a small incinerator, while plastics are returned to the supplier and wet waste is used for compost. Specially constructed wetland systems at all four lodges allows for the recycling of sewage and other wastewater via a series of interconnected dams. At each point the water is purified until at the terminal point it is completely clean.
Anti-Poaching Unit. Sabi Sabi has a dedicated APU (anti-poaching unit) that is responsible for the safe keeping of all wildlife species. This is over and above the Sabi Sand Wildtuin conservation units that further enhance this programme.
The corporate sector speaks of asset management in the form of investments of substantial monetary value. For South Africa, its rich biodiversity and wildlife are themselves extremely valuable assets that need very careful management. People need to use these wisely and invest in them so that future generations can share the privilege of enjoying them as we do today. Sabi Sabi strives to act as a leader in wildlife management, through biodiversity conservation and the active interpretation of these actions to guests and to the public at large.
Kindly note that all rates exclude the Sabie Game Reserve (SGR) Conservation Levy of R220 (VAT inclusive) per person per night. This levy includes entrance fees. The conservation levy supports conservation, security and access-control and the anti-poaching initiatives of the Sabie Game Reserve NPC, a non-profit company.