Surprise Bush Dinner
on Dec 24, 2014
What a wonderful experience we have just had at Sabi Sabi. Bush Lodge was the ideal setting for our long-awaited safari, the staff were truly knowledgeable and friendly and the setting breathtaking.
Perhaps the most memorable experience for us (apart from the up close big game viewing) was the surprise private bush dinner that ranger Rico arranged for us. On our second evening safari, we had been watching a beautiful male leopard for some time when he moved out of sight and Rico asked if we were ready for dinner. Expecting to arrive back at camp, we were surprised when the Land Rover stopped seemingly in the middle of nowhere. Rico assured us that an electric fence (all but invisible to us) kept unwelcome wildlife visitors out.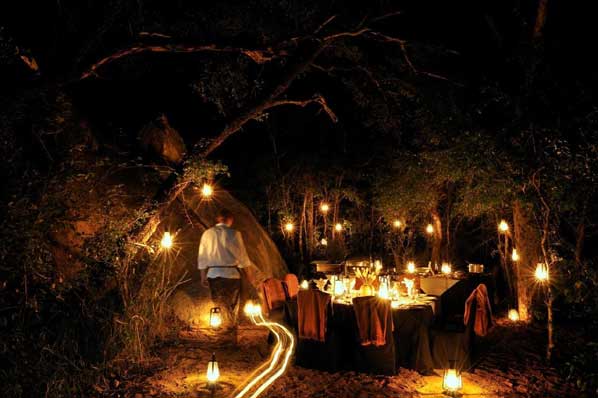 We were led towards an area lit with lanterns where our Bush Lodge waiter, Tuli, greeted us before showing us to our seats. To our delight there were warm blankets and hot water bottles to stave off the evening chill. We had a special evening with delicious traditional food unique to a South African braai prepared to perfection by chef Wynand. I chose fresh salad, chicken kebabs, and beef steak with Marula jelly, while my husband particularly enjoyed the traditional maize meal (pap) with homemade tomato gravy.
The following morning held another surprise when Rico treated us to a bush breakfast under a beautiful Jackalberry tree and then accompanied us back to the camp on foot to experience a different perspective of the bush.
We will definitely be back.