Some Things Are Priceless. This Was One.
on Dec 24, 2014
I am writing to thank the entire team at Sabi Sabi Earth Lodge for our magical stay! The care, consideration and welcoming smiles complemented the lovely and distinct Earth Lodge much of which proudly boasts of being "recycled" after a devastating flood in the area earlier in the decade.
The game viewing was outstanding which included our last evening when our ranger and tracker took us on a "wild adventure" in search of the singular, elusive and beautiful leopard which was eventually spotted moving quickly in deep lush green grass. The night continued with a primer on the southern sky as we looked upward from the Sabi Sabi airstrip. As we headed for the lodge, we passed a pond boldly hosting the reflection of a 100-year-old tree which included dancing fire flies keeping the rhythm of moment.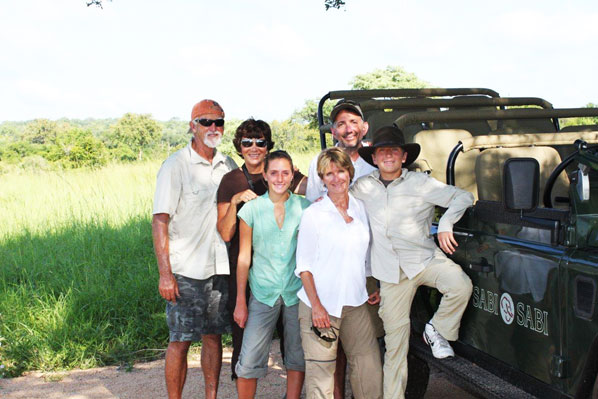 Dinner in the wine cellar was hosted by our ranger who the following morning took us on the game drive of our lives. Again in search of the leopard, we darted in and out of high bush only to learn we had lost her until our tracker pointed to a tree beside our vehicle where the female leopard was carrying her kill high into the leafy branches. As my brother said, "It is as if we got a birdie on the 18th hole at Pebble Beach."
All-in-all our experience was gratifying, memorable and was filled with stories which will surely be told again and again. When asked by friends whether it is "worth it," we can only say some things are priceless. This was one. Thanks to the entire Sabi Sabi organization for making our stay special. A huge thanks to Richard, our ranger, who was considerate, patient and quite a tutor to all of us.
Kathleen, Kim, Jim, Molly and Kevin Vaughan + our patriarch and resident comic John Treadway
La Jolla, California and Parker, Colorado USA