Five Star Safari Splash
on Dec 19, 2014
While the Northern hemisphere is in the throes of winter, Sabi Sabi is enjoying another glorious summer with daily temperatures averaging around 30℃. Sunny blue skies greet every morning in the African bushveld, which is lush and green thanks to summer rainfall. Safaris are enjoyed in the pleasant coolness of the early dawn and evening, and the best way to beat the midday heat is to relax in the refreshing filtered waters of one of the lodges' award-winning pools.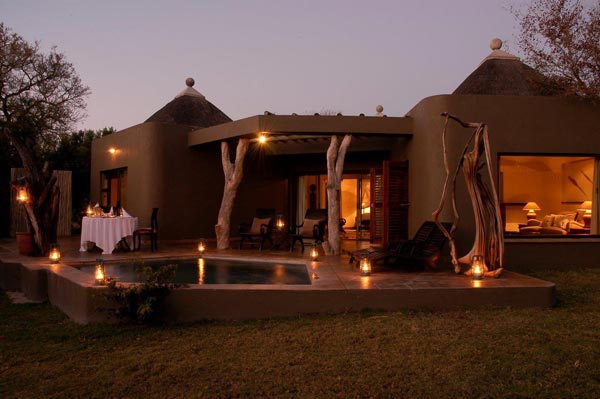 Sabi Sabi was recently awarded 2nd place for the best hotel pools in the world by Conde Nast Traveler, a new accolade for our Lodges. With four uniquely beautiful pools between Little Bush Camp, Bush Lodge and Selati Camp, secluded pools at the Presidential Suites; and private plunge pools at each of the Earth Lodge suites, guests are spoiled for choice. Each pool has been designed to capture beautiful views of the bush, allowing bird watching and game viewing to carry on long after the return to camp from safaris.
Bush Lodge has two full sized pools adjacent to the wooden viewing decks; both shaded by indigenous trees and overlooking the unfenced bush and waterhole where animals gather to drink. Selati Camp's pool is set in a wooden deck looking out over the Msuthlu River towards a large grassy plain - perfect for spotting resident wildlife. Both the Mandleve and Ivory Suites offer secluded private pools for relaxing. Guests at Little Bush Camp use a swing-bridge to cross the Msuthlu River, discovering their discretely hidden pool - a picturesque setting surrounded by huge trees that filter the sunlight and provide welcome shade. Guests can also relax in Little Bush Camp's private spa baths which are a beautiful feature on the private deck of each luxurious suite.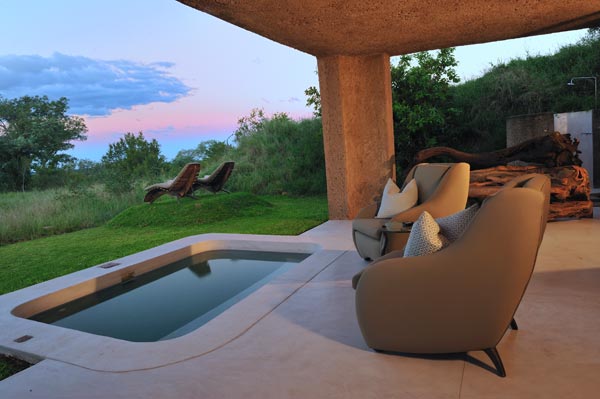 Earth Lodge guests have the luxury of their own private plunge pools, intimate and totally secluded, flanked by comfortable pool loungers and with mini bars within easy reach. And, as an added experience, there is the option of enjoying a delicious cocktail or gourmet lunch at a table in the "day bar pool" with bare feet resting in ankle deep water - while being served by smiling, professional staff.
All the outdoor pool areas have luxurious sun loungers, fresh towels and attendant waiters ready to bring sparkling drinks to guests as they enjoy the glorious setting. Relaxing in the summer sun, wallowing in cool water and sipping cocktails surrounded by unspoilt bushveld adds a wonderful dimension to an already unforgettable safari.