Fields of dreams
on Dec 01, 2014
News update: 16th October
Dreamfields' vision of 'growing the dreams of young children through football' took a step forward this month with the completion of upgraded soccer and netball fields in the village of Lillydale neighbouring Sabi Sabi, with a generous contribution by a local South African television station - e.tv. The "Flying Stars Sports Complex" was improved and together with Dreamfields, the new fields will add immeasurably to the level of these sports played with such passion by the scores of children involved in the local Dreamfields project when the new league kicks off in October.
Sabi Sabi's involvement with Dreamfields dates back to 2008 when their own dream of developing sustainable sports programmes amongst youngsters inspired the funding of the local league (now the longest standing Dreamfields league). The funds allowed children from many of the neighbouring communities to convene competitive soccer and netball teams. This year Sabi Sabi has provided four teams with Dreamseed Kits comprising training and coaching equipment to field a competitive team.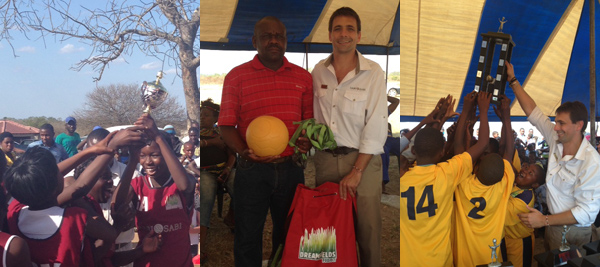 The upgraded fields, ringed by newly planted trees and complete with brand new goal posts, are sure the elevate the level of play, skills and competition in the already hard-fought league. Since 2008, many youngsters' dreams have been brought a step closer by playing in regional and national finals matches, travelling to compete in other provinces, winning medals and meeting their soccer heroes.
Initially, Sabi Sabi became involved with Dreamfields in order to offer opportunities to rural school children to get involved with team sports, in the belief that team participation builds character and encourages young people to get involved with sport instead of being drawn into negative influences. In reality, the programme has become much more, with the weekly games now a highlight of village life.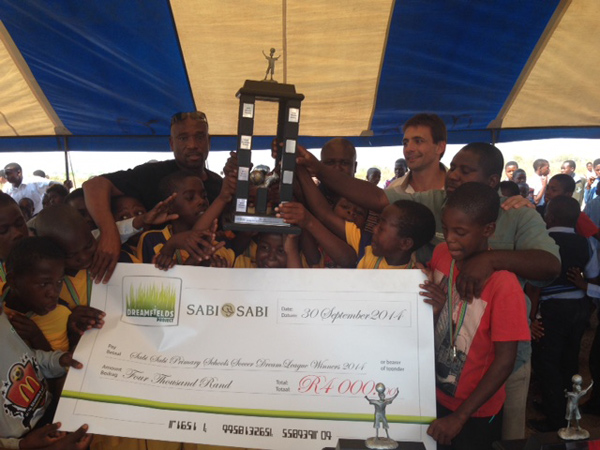 Sabi Sabi marketing director, Jacques Smit summed up their involvement as follows: "While watching one of the key football matches, it struck me that this project really is all about people. It's not about marketing or sponsorship or business - it's about children playing sports they love, building relationships and learning about themselves. It is fantastic that we have this opportunity to be involved with Dreamfields and the many positive spin-offs will reverberate within the extended Sabi Sabi family for years to come."
Currently Sabi Sabi supports all 14 schools in the villages of Huntington, Justicia, Lillydale and Somerset in both soccer and netball, and the Sabi Sabi DreamLeague is the longest running in the country, which is now in its seventh year. Once the positions are decided the teams compete against rivals within the Sabi Sands for the overall Sabi Sand Wildtuin Champs. This year Sabi Sabi-supported teams took top honours in both junior and senior netball while the soccer teams had mixed fortunes.
First positions went to Mhlahle and Hlomani for junior and senior soccer respectively, with junior netball going to Dyondzekani and senior to Hlomani.