Executive Chefs Keep Inspiring
on Dec 19, 2014
News update: 29th December
One of the highlights of a stay at Sabi Sabi is the mouth-watering food - bountiful, freshly prepared and beautifully displayed. There are several occasions to sample the fare - before and during early morning and evening game drives; at breakfast, lunch, outdoor dinners; and diverse dining locations that add to the enjoyment.
Keeping the 'kitchen' inspiration fresh is Group Executive Chef, Shaniel Dinna.
Shaneil grew up in Pretoria, South Africa, a fourth generation Indian immigrant who as a child enjoyed spending time with his family but in particular with his mother in the kitchen. Fresh out of school and unsure what the future held, he enrolled in culinary school with very little experience. He successfully completed his diploma and started his working career at a 5-star hotel in Johannesburg as their third Commis Chef. After five years and many successes, he left Johannesburg and took up a new challenge as an Executive Chef with a company owning a chain of restaurants in South Africa's beach paradise, Plettenberg Bay. Following that 'amazing experience' he pursued an opening with Sabi Sabi's Earth Lodge. He admits that he wasn't drawn to the idea of working in the bush but the beauty of the lodge won him over and he joined the Sabi Sabi family in 2008 as Earth Lodge's Executive Chef. Since July 2010 Shaneil can be found at Sabi Sabi's Bush Lodge dazzling the guests with his love for food.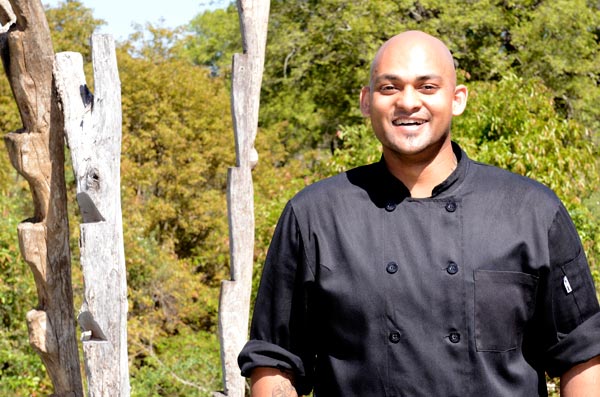 In 2006 Shaneil represented South Africa in Australia's Chaine de Rotisseurs and walked away with the title as 2006 Junior Chef of the Chaine de Rotisseurs.
His fondest memory at Sabi Sabi is not within the kitchen but when one of Earth Lodge's rangers convinced him to leave his beloved kitchen for a game drive. Usually he struggles to spot animals but this time proved very different and he even spotted a leopard flicking his tail in thick grass when no one else could.
Shaniel enjoys adapting his style to his environment - for example at Earth Lodge he used an Afro Asian style with African with Asian influence and Bush Lodge allows him to experiment with a large variety of flavours focusing mainly on local with a French flair.
His signature dish at this moment is warthog loin stuffed with macadamia nuts, blue cheese and preserved figs wrapped in bacon and roasted to perfection and accompanied by blackberry jus.
We are indeed pleased to have Shaneil back with the Sabi Sabi family and introducing his many culinary delights to our guests.