Earth Lodge Shines Again
on Dec 19, 2014
We are pleased to announce the new hosts in management couple Drienie Pieterse and Andrew Viljoen who take over this month as Lodge Manager and Lodge Head Ranger respectively. They come with a wealth of experience and we are delighted to welcome them to the Sabi Sabi family.
Just a year after revealing its new look, Earth Lodge has been recognised by Lonely Planet (India) as the best safari lodge in the world according the magazine's discerning readers. In 2011 Earth Lodge was remodelled and took on a stunning new dimension - one that celebrates Africa's rich mineral wealth. Metallic shades of gold, silver, platinum, bronze and copper shimmer throughout the lodge, giving it a new sophistication that resonates with guests from around the world.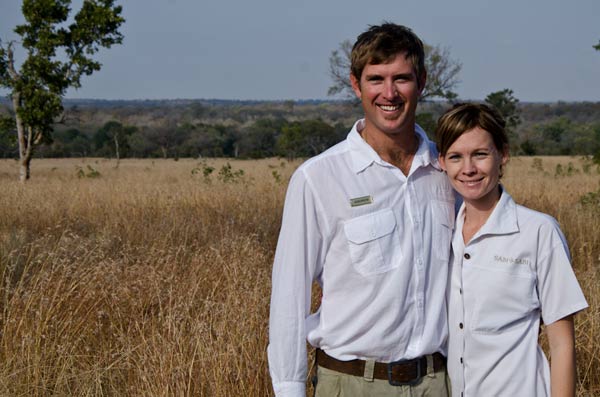 Among the many added features is an enclosed day bar just deep enough for resting tired feet while sipping cocktails and looking out over the waterhole and the unending bush. Suites have been revamped with luxurious new soft furnishings while retaining the glamorous look for which Earth Lodge is renowned. Glass-fronted bedrooms with huge en-suite bathrooms featuring stone baths and indoor and outdoor showers lead to private patios and individual splash pools. Highly qualified rangers and Shangaan trackers lead safaris in the early morning and late afternoon in open Land Rovers to see Africa's abundant wildlife resident on the Sabi Sabi Reserve.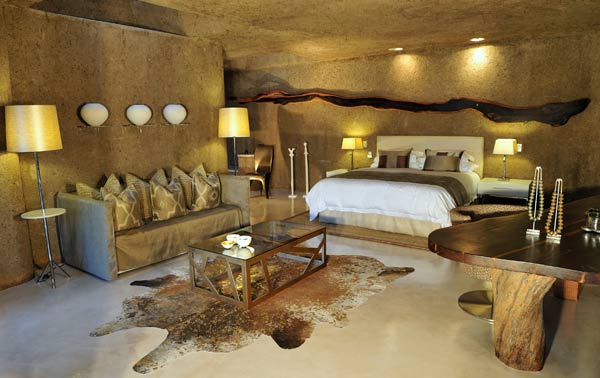 Built into a slope of the earth, Earth Lodge is virtually invisible in the bushveld. It merges seamlessly with the landscape and reveals itself on closer inspection as a lodge like no other. Environmental responsibility, 5-Star luxury, excellent staff and mouth-watering cuisine are all cornerstones of Earth Lodge and the reasons why the lodge enjoys international acclaim.