Earth Hour Unites The World
on Dec 19, 2014
At 8:30 p.m., Saturday March 31st 2012, hundreds of millions of environmentally aware people around the world turned off their electric lights for an hour to show their support for climate change action. This annual initiative which takes place on the last Saturday of March to coincide with the equinox, is organised by the World Wildlife Fund. It currently has support from 135 countries and is, according to the official Earth Hour website, the largest environmental event in history. The campaign is now being further fuelled by social networks and is uniting like-minded people, a global community "committed to creating a more sustainable planet".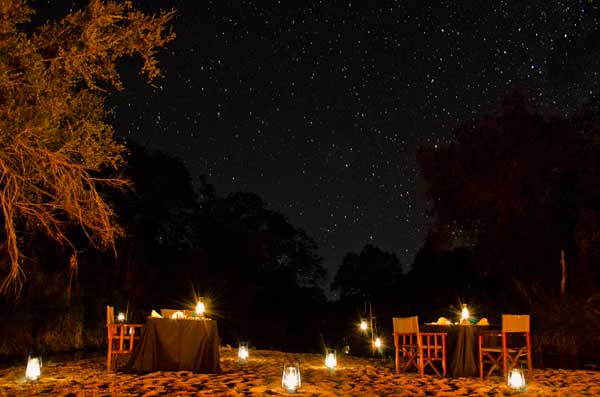 This year Sabi Sabi once again joined in the initiative, switching off all electric lights for an hour in solidarity with the Earth Hour movement. As the lights were dimmed and switched off, the skies above came into full glorious focus. With no moon, the Southern stars and constellations were a breath-taking palette of sparkling dots, a perfect canopy for some delicious Sabi Sabi dinners.
At Little Bush Camp a special candle-lit dinner was set up on a sandbank in the Msuthlu River that meanders along the front of the lodge. Guests were enchanted by the charming setting. A mouth-watering dinner of fresh venison, delicious seasonal vegetables and salads and decadent desserts was served under the stars in true Sabi Sabi tradition; accompanied by fine wines and our unique African warmth and hospitality.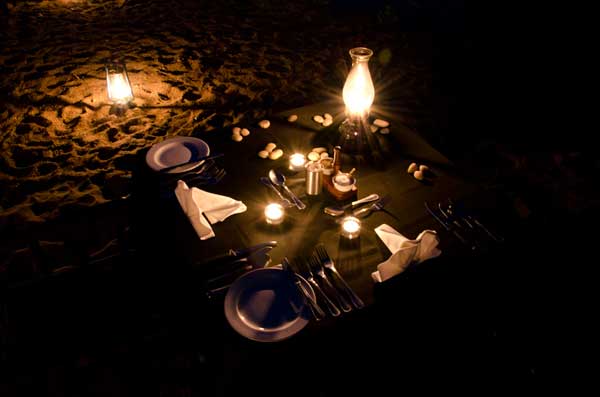 The other lodges followed suit, creating superb Earth Hour fare lit by the flickering glow of firelight and romantic oil lamps. Guests at each lodge were drawn into discussions and debates around the Earth Hour philosophy, and many committed themselves to taking one small action a day to help save the planet. The ambience was so magical that the lights stayed off far beyond the one hour deadline, making the lodges members of this year's "Beyond the Hour" movement.
Managing Director Rod Wyndham was very gratified by the success of the evening and commented; "Sabi Sabi has long been a champion of conservation in South Africa, having over the years won many awards for sustainability and conservation - without detracting from the 5-Star luxury for which we are known the world over. It was wonderful to be part of this global initiative, knowing that our small piece of Africa played its part and was united with hundreds of millions of people from across the globe."