So there I was a few days ago saying how rare it is to see three leopards all together and here I am again writing about the same thing, but with a different dynamic. As I sat watching the three leopards the other day all interacting, fighting and growling, I could not help to think that this was just amazing and would probably be the last time I get to see such amazing interaction. Well here is the story about my second leap of leopards in a week…
We had already spent a bit of time with the lions that were doing what they do best…sleep…and were heading off to enjoy a nice sundowner. KG, one of the rangers from Selati Camp, had come to drive at Little Bush Camp for a few nights and he had stumbled upon a female leopard. As he followed this female a big male came out and started interacting with her. She got particularly excited and started rubbing herself on all the trees, scent marking and making her intentions clear. These are the same two leopards that were in the sighting the other day and now that her 2 year old son was not around she clearly had intentions other than protecting her son.
The time had come when she had finally decided to leave her son to his own devices and start the next litter of cubs. This is clearly the reason why the male had joined her and her son earlier in the week. The beginning of a mating session is always a little tense and KG caught this little bit of action on video before they settled down to the mating.
While enjoying a drink and listening to what was happening on the radio I heard that a third leopard had joined the other two. There was no mention as to the fact that they were mating and which leopards were there so I was oblivious to the composition of the group. I merely assumed that it was her son that had joined them again. Once we finished with drinks we headed off to see what was happening and stumbled into one of the best sightings of my life.
As we drove off-road to get closer to the leopards, through the foliage, we saw a small leopard running off. She seemed a little cautious of the vehicle, which is not normally the case with any of the leopards on our reserve, and this left me wondering which leopard it was. Solly, my tracker, then told me to get moving to the other 2 as they were just about to mate. I was a little bleak that we missed the action but didn't have to wait long for the next round. The male moved off to the younger female and mated with her and then the older female moved in and mated with the male no more than 30 seconds after his last session.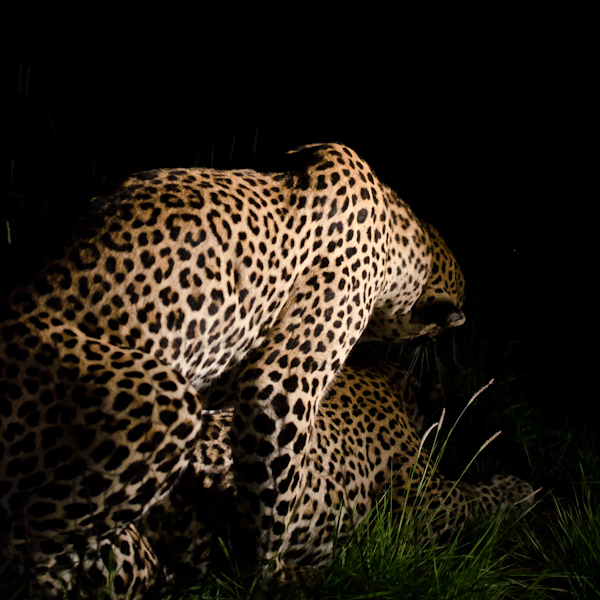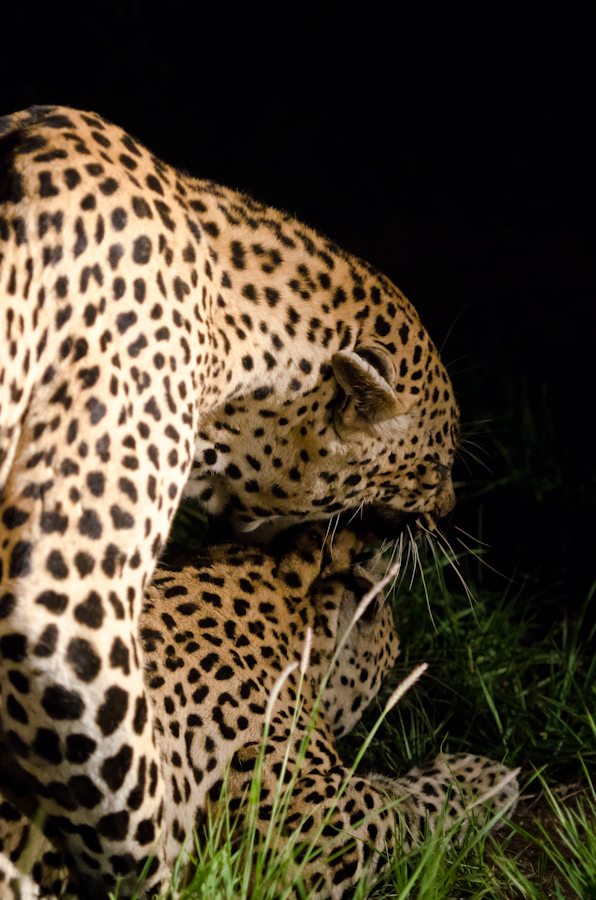 I was dumbstruck! Not only was I seeing three leopards in the same sighting for the second time in a week but the male was mating with two totally unrelated females. There was absolutely no animosity between the females and the male just kept hopping from one to the next. The older female, intent on keeping him to herself, flaunted herself relentlessly and we watched as he mated with her every 2 minutes.
After about half an hour he started to tire and his aggression towards her was clearly saying that he needed a break. The next thing we heard the other female start calling and he immediately got up and went straight over to her and mated with her again. What an incredible hour and a half of pure interaction by my favourite animal!
by: Richard de Gouveia (Little Bush Camp ranger)