Last night I was privileged to spend some time with the Southern Pride as they moved through the still of the night looking for a potential meal. The Kruger Male was following close behind and we had some great opportunities to photograph him.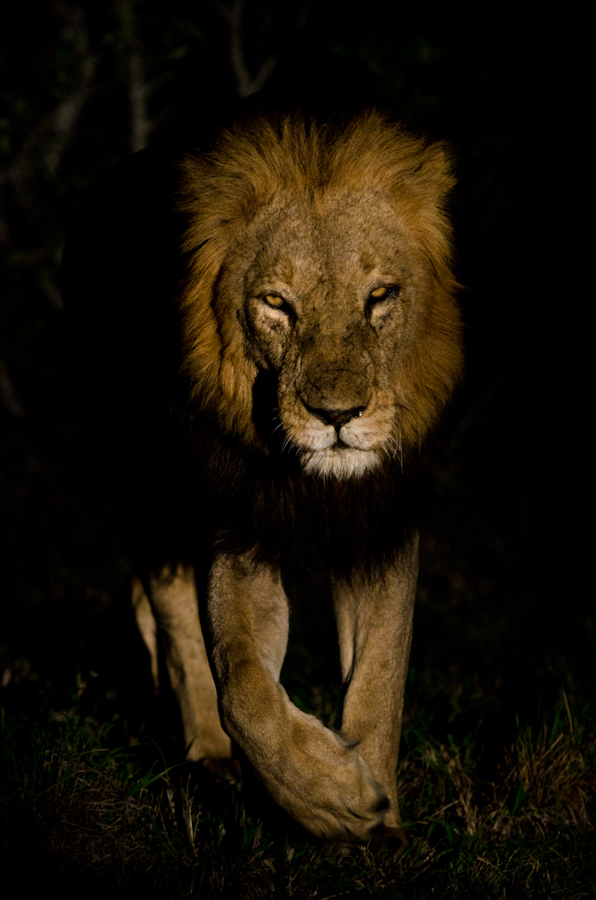 He is looking great and clearly showing that he is the king of this area. Even though we didn't hear them roaring while we were with them, I did hear them when we got back to the lodge. After dinner service I could hear the distinct call of one male lion close to the camp (KNP Male) and then 2 other males replying (Mapogos).
 This morning we found the pride with no KNP male with them and Michell, after some great tracking was able to find him almost 15 kilometres away from the pride. After she had spent time with him she went down to the Sabi River for a coffee with her guests and saw the Mapogos lazing in the river about 200 metres away.
 There is no doubt that there was interaction between the three males last night but from the looks of things the interaction was not physical. It is my guess that the Mapogos had heard the KNP making his way down there and decided to rather make space than face any form of confrontation. Patrick Flanagan, a guest at Earth Lodge took the photo of the 2 Mapogos below. Thank you for sharing!
by: Richard de Gouveia (Little Bush Camp ranger)