Welcome to the three hundredth edition of our weekly blog!!  Thank you for following us week in and week out – it has been a privilege to share our piece of wilderness with the rest of the world.
We hope you enjoy the highlights from the past 7 days on safari.
A wonderful sunrise time-lapse as a new day begins at Sabi Sabi.

The week also brought with it a Supermoon on Monday evening!  A supermoon occurs when the moon reaches peak fullness (time at which the moon is completely illuminated by the sun), while being very close to the earth, causing it to appear larger and brighter.  What a sight!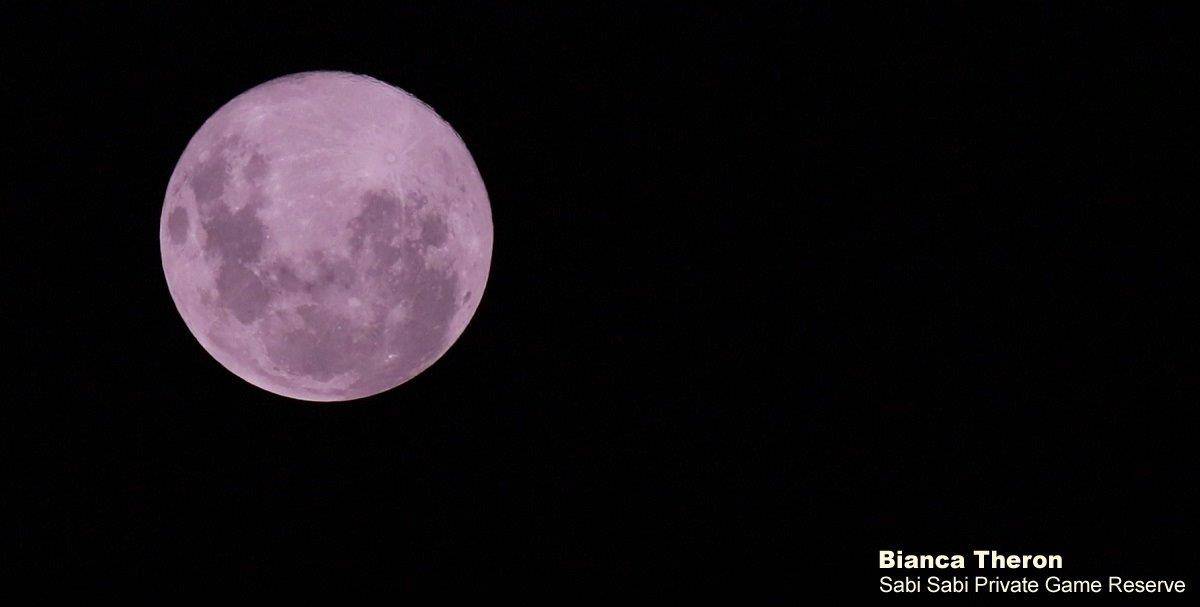 The two Southern Pride lionesses were resting under some nice shade when suddenly the one stood up and tried to hunt some wildebeest in an open area without success.
Over the weekend, during afternoon safari, we found four male lions (N'waswishaka males) on the move. After scanning the area, with the sound of buffalo nearby we waited and watched, anticipating their next move. One large male became focused in the direction of the buffalo moans and was soon followed by the other three as the hunt began… Read more about this amazing sighting in our blog, Hungry Lions.
We watched the males for a couple of days, as well as the clean-up crew waiting in the wings to pick at the remains of the kill.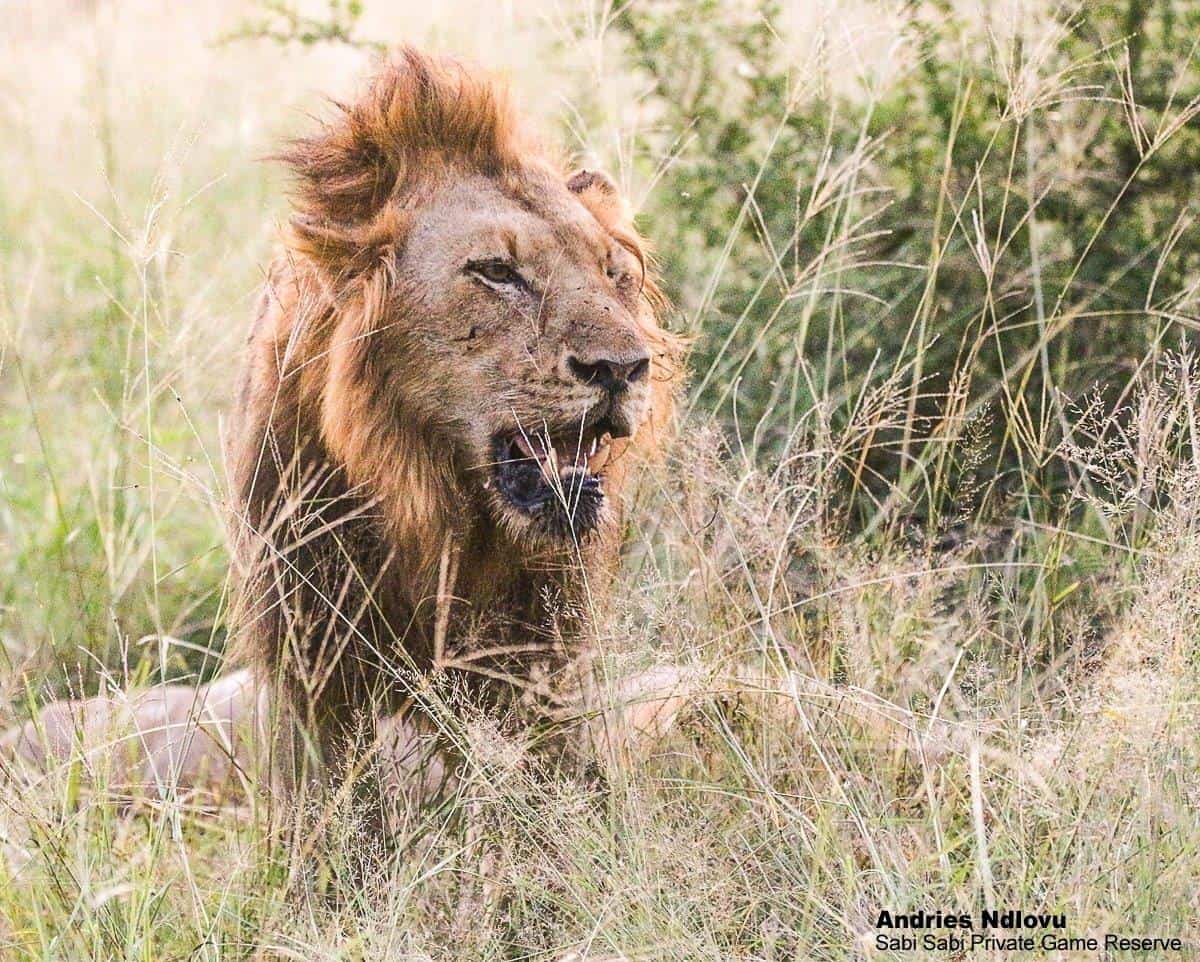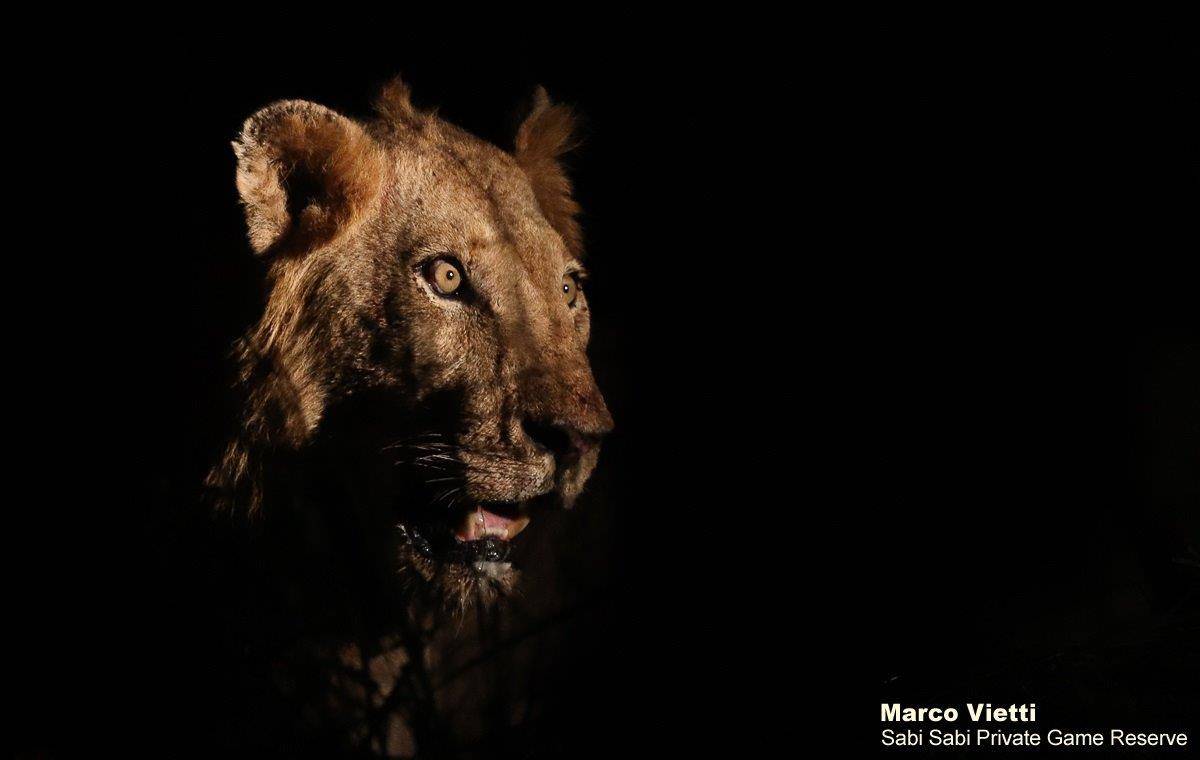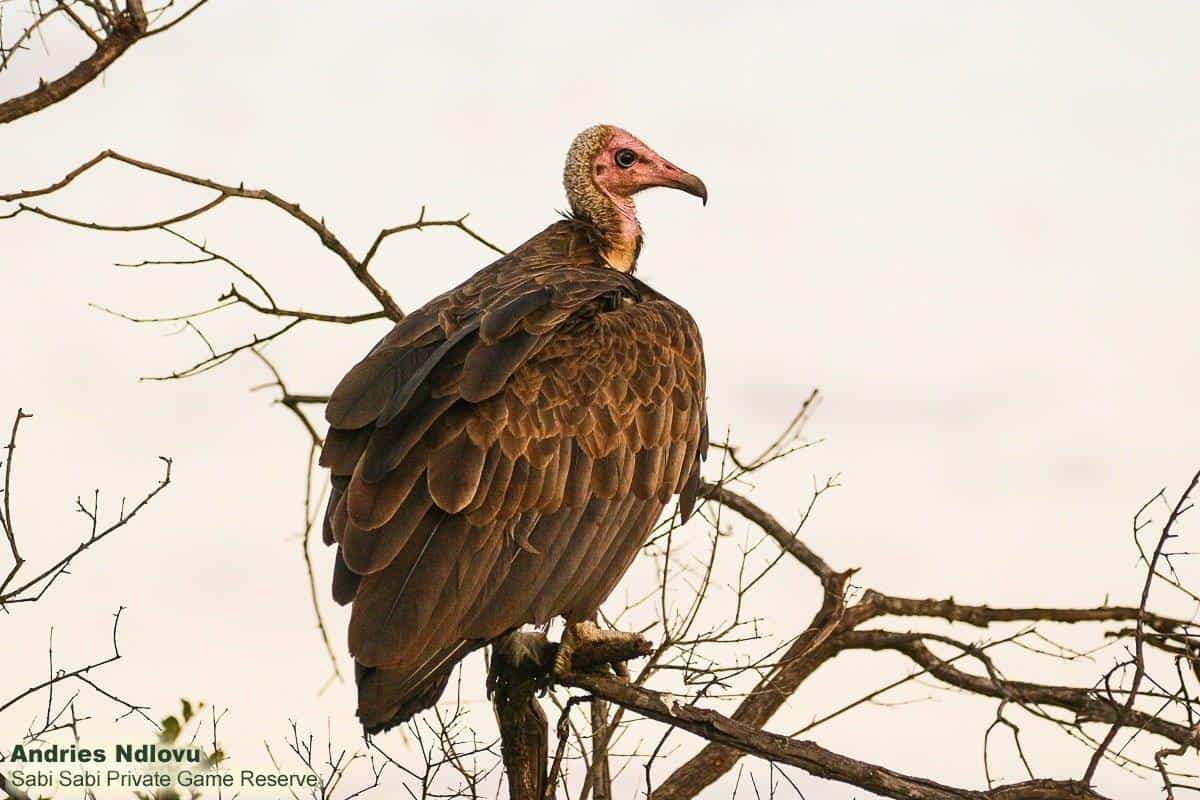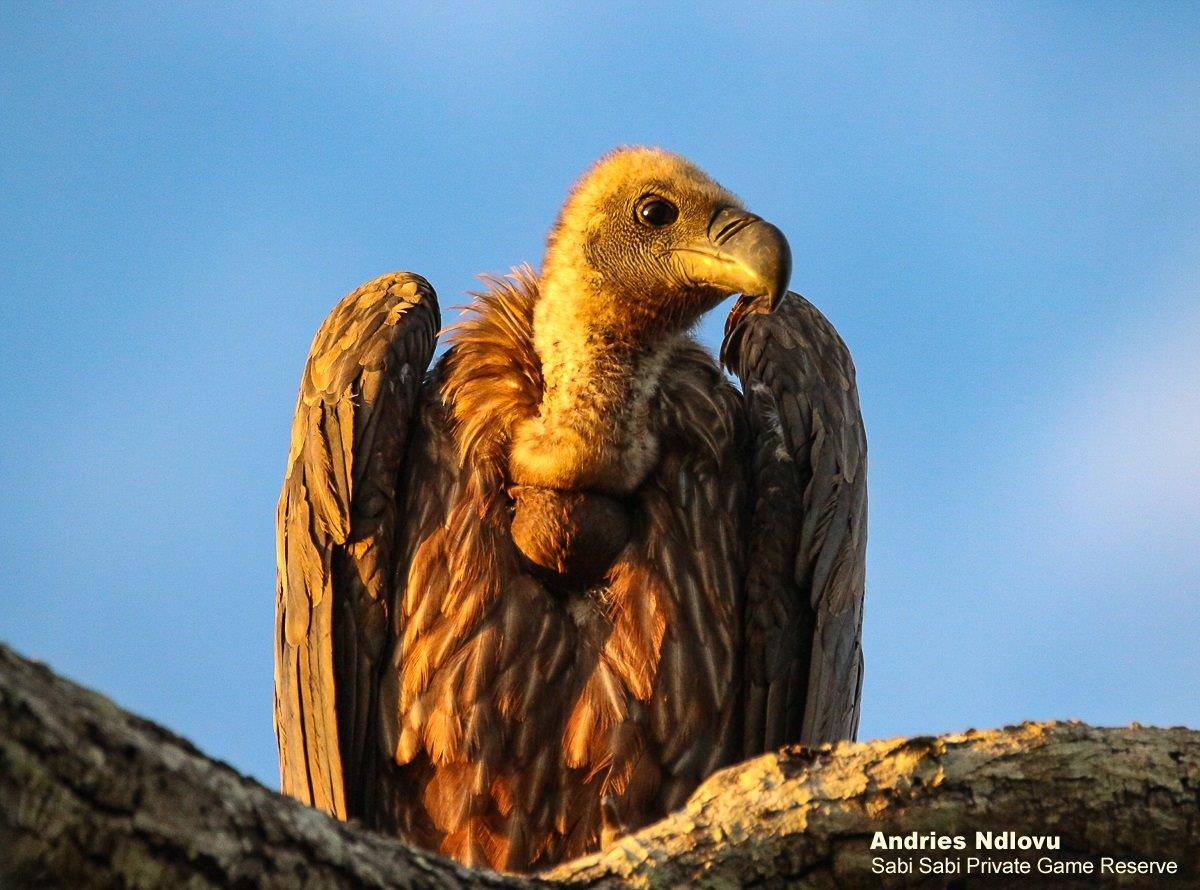 How often do you have to choose at the fork of a meandering dust road between lions (Sand River Pride males) or leopards (Xovonekela)? Ruth and her guests had a morning like that and luckily for them, they had the time to track and find both owners to these softly padded tracks – the only sign and give away that they had been there not too long before us.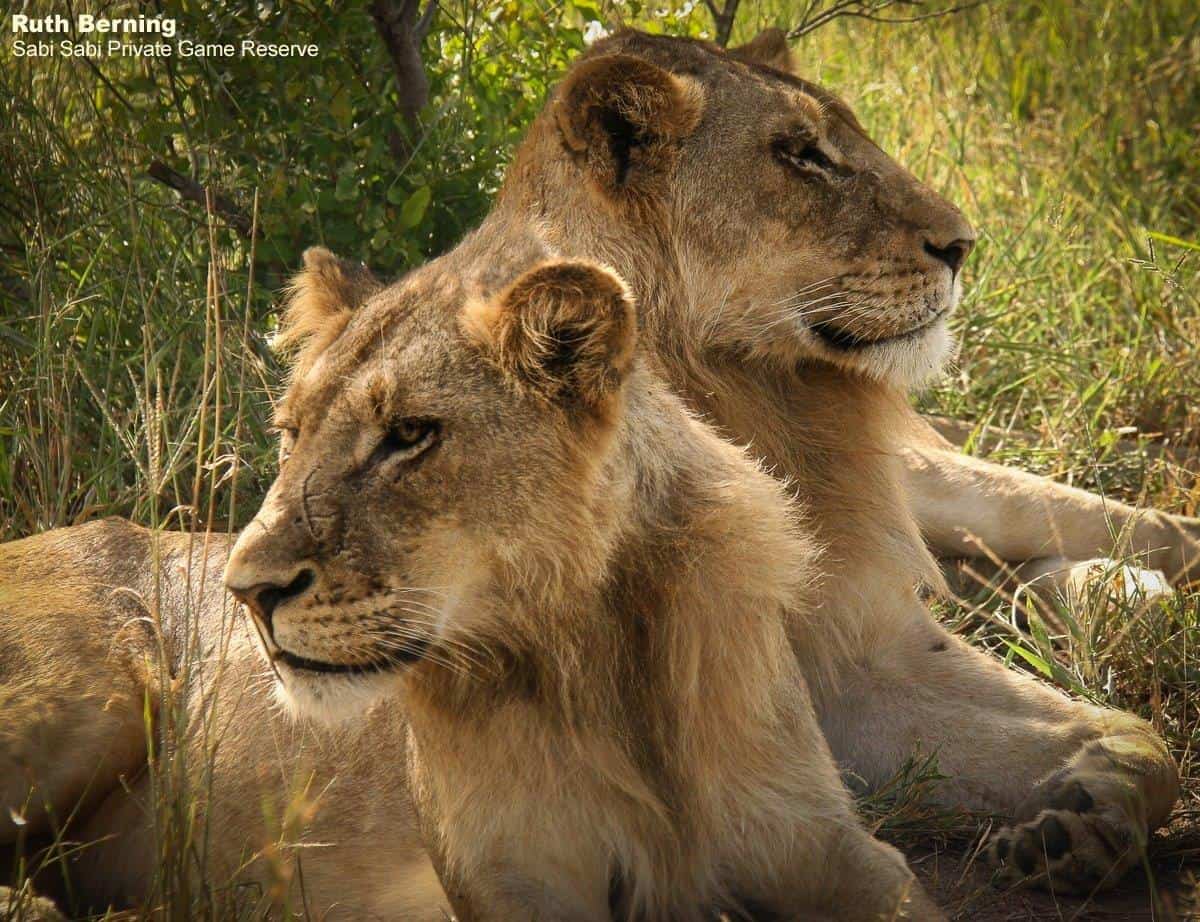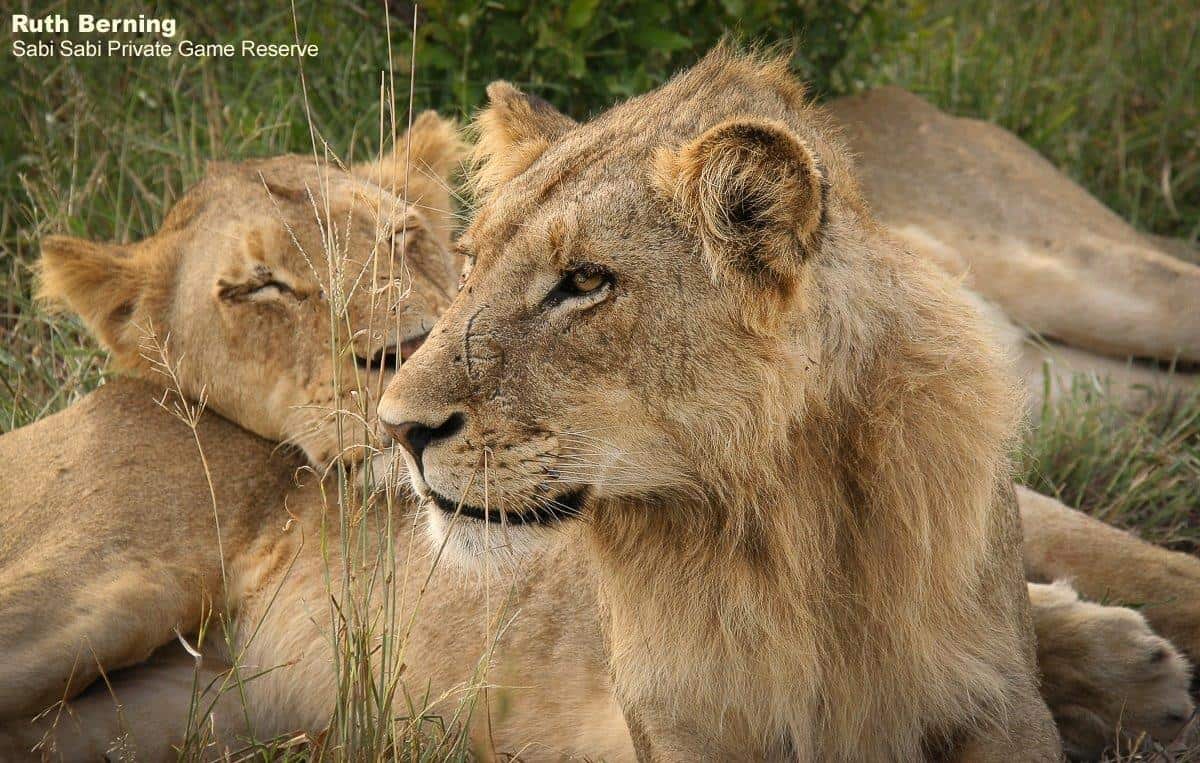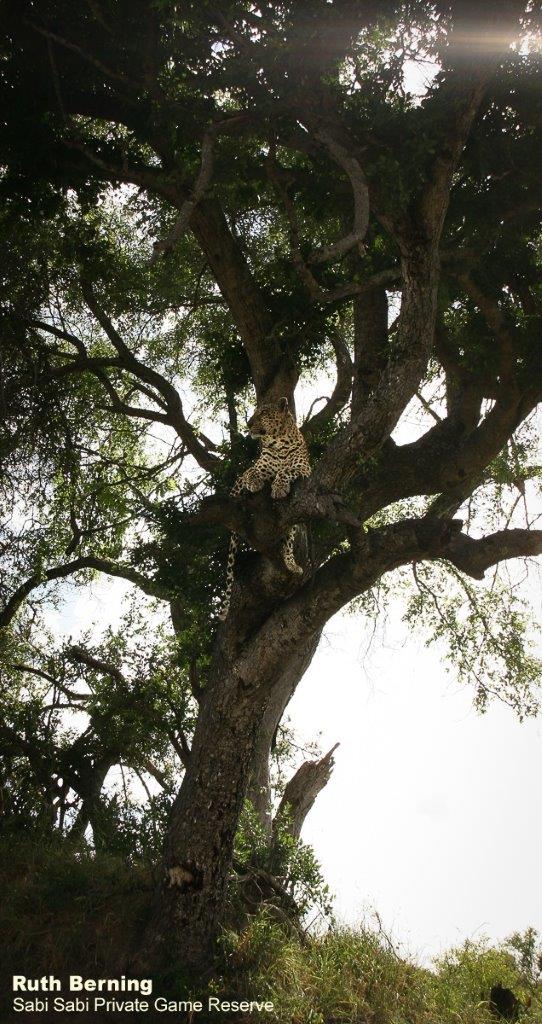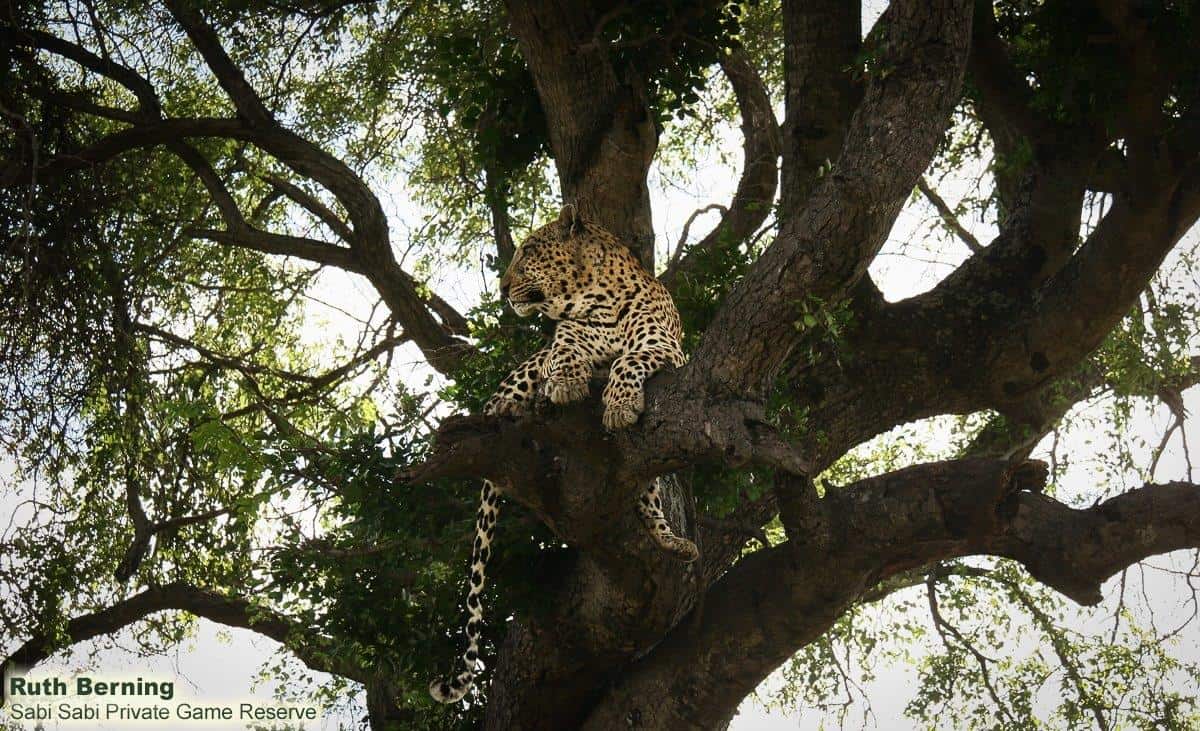 After tracking Xovonekela, following his signs as he weaved on and off the road, up termite mounds, into trees and through the long grass we were fortunate enough to find him hunting as the last of the day's sunlight faded below the horizon.  He scented some urine, exposing the vomeronasal organ as he drew in droplets displaying a flehmen grimace. Following the scent, he focused on a herd of waterbuck in the distance and began to stalk them, only to stop at 200m. Once he saw that he couldn't get closer with the glow of the moon and the open area the waterbuck had selected to rest in, he hunkered down then went on his way, looking out for easier prey.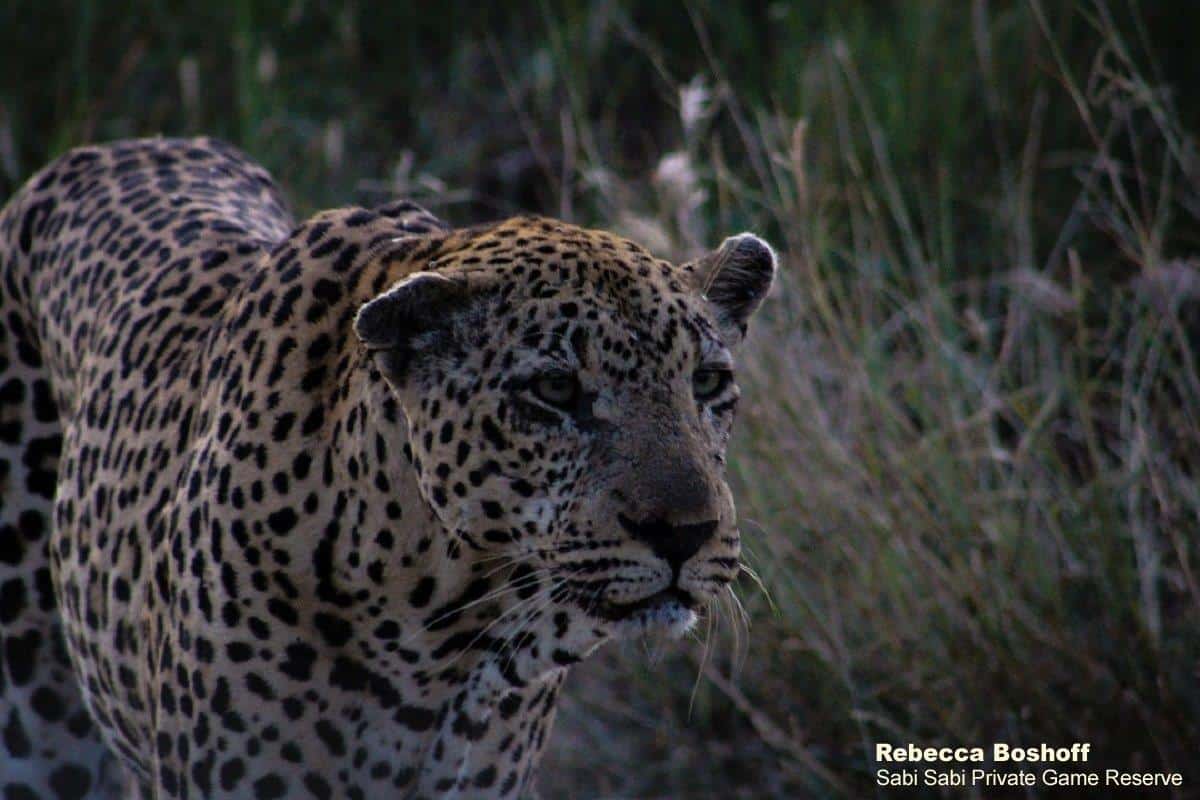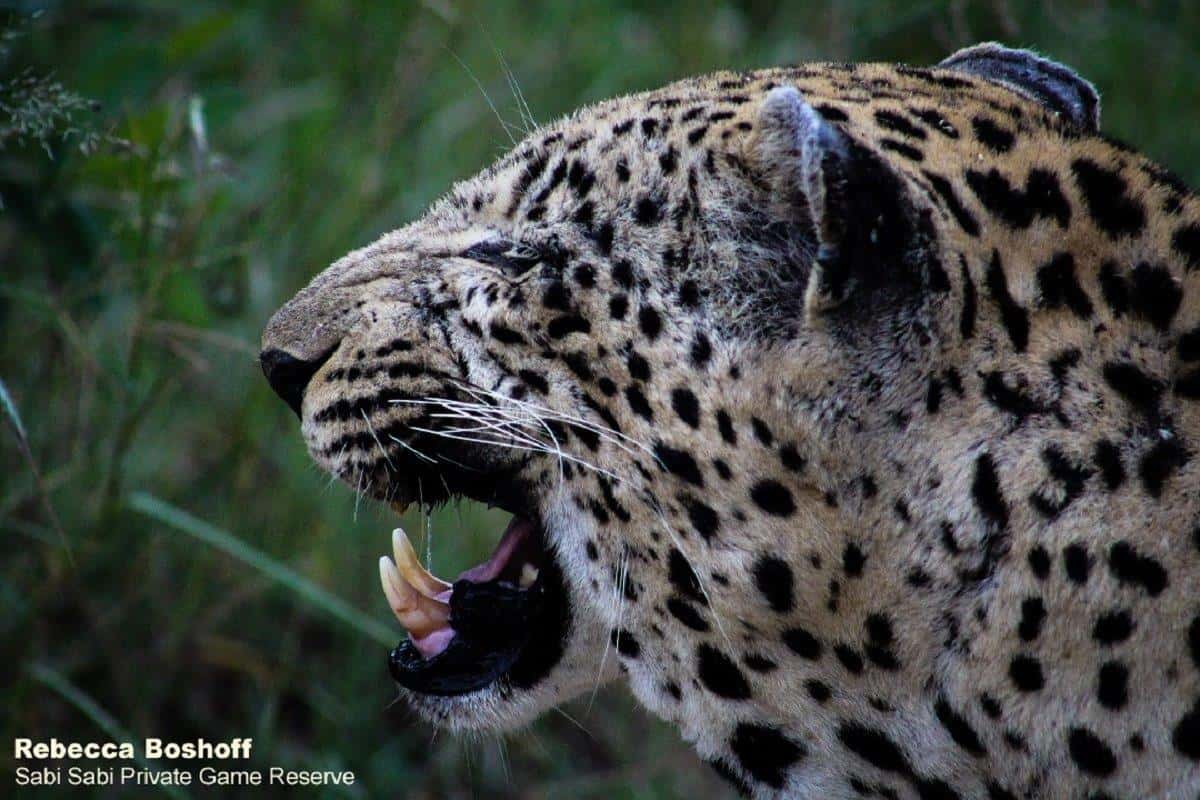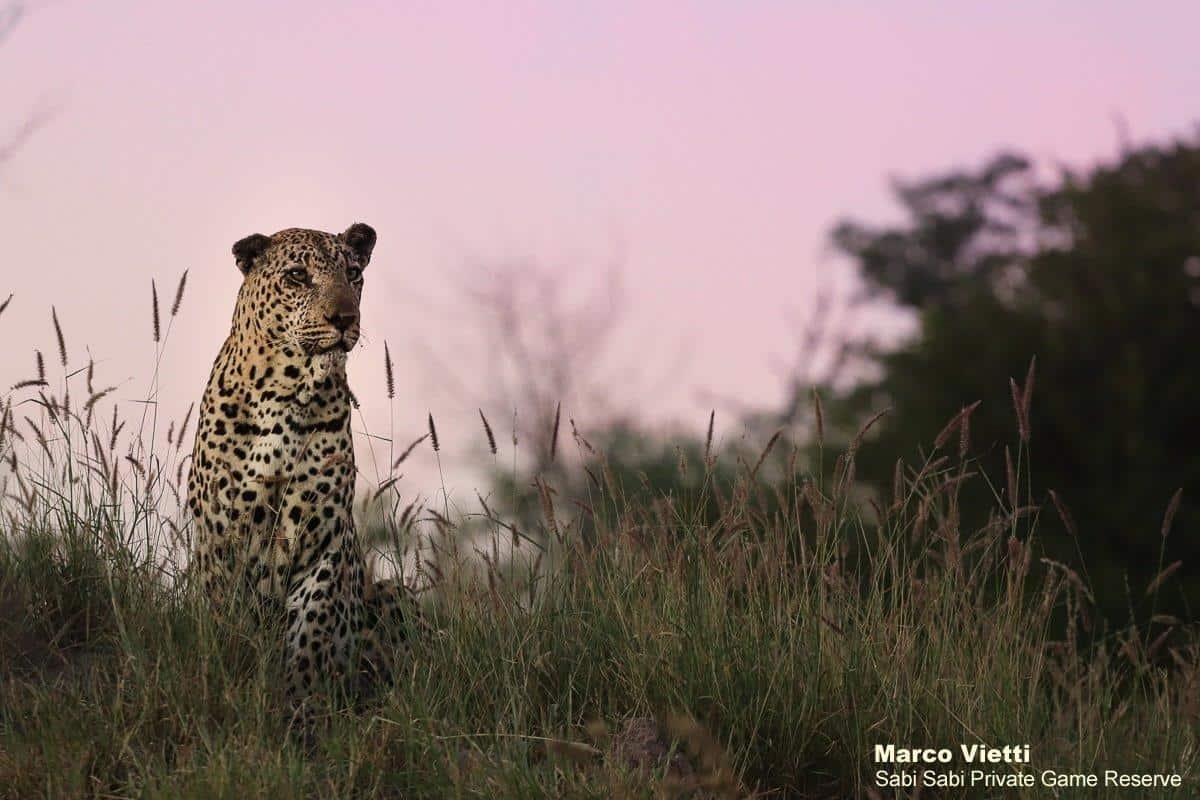 We were fortunate enough to find the beautiful Ntsumi female leopard having a drink at a small waterhole next to the road. After her drink, she moved off onto a log where she lay posing for a couple of minutes before moving into some thick bush… and again, leapt onto a fallen down tree before some hyenas came to investigate…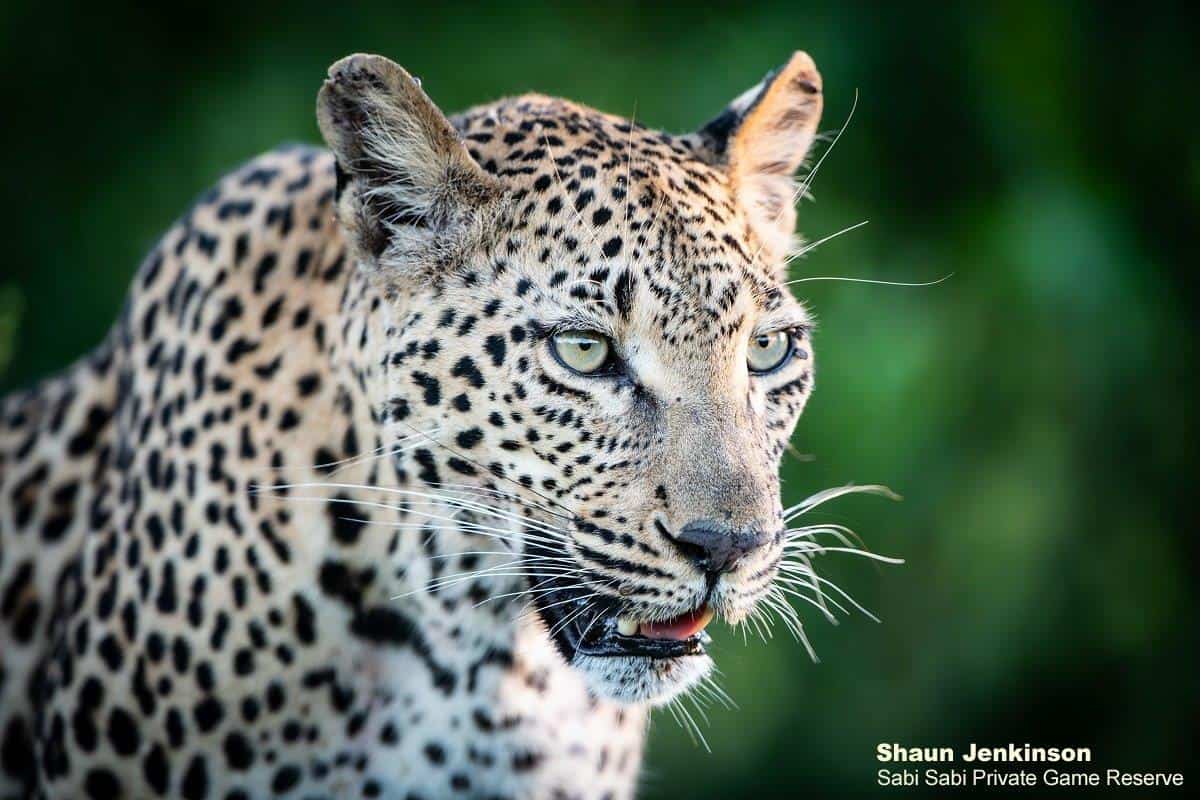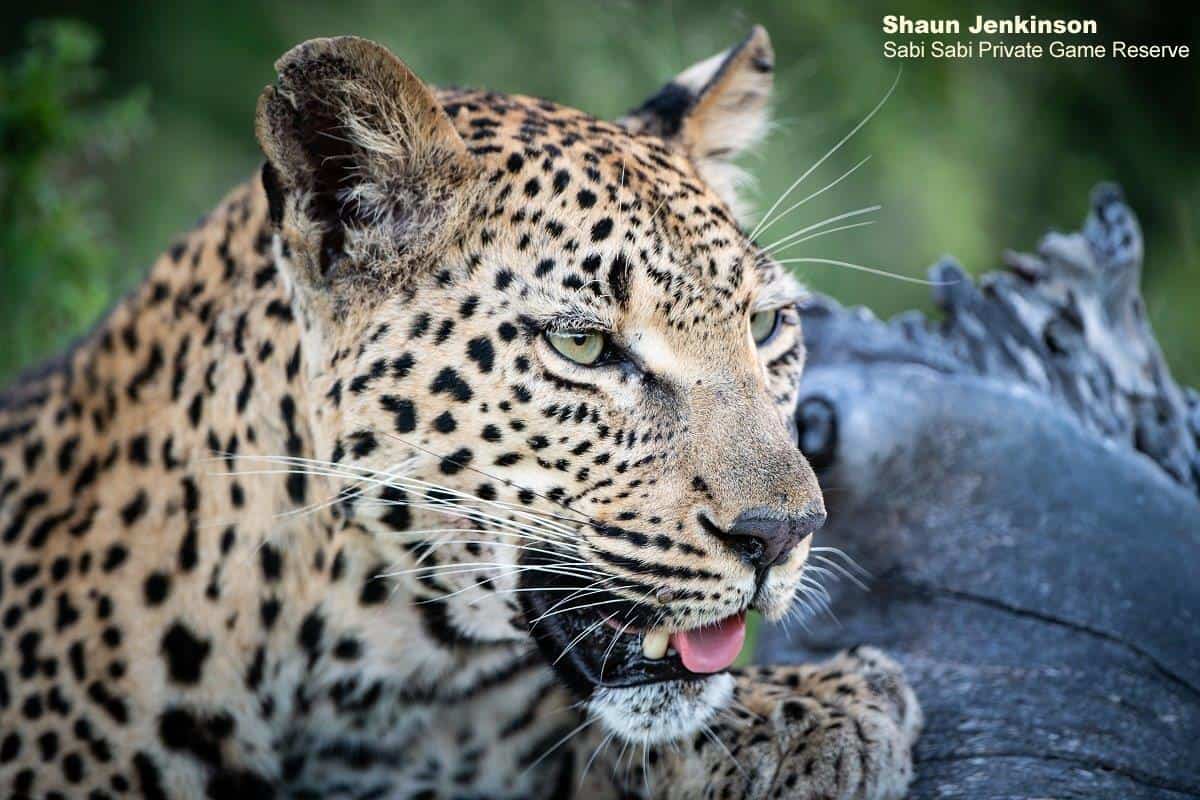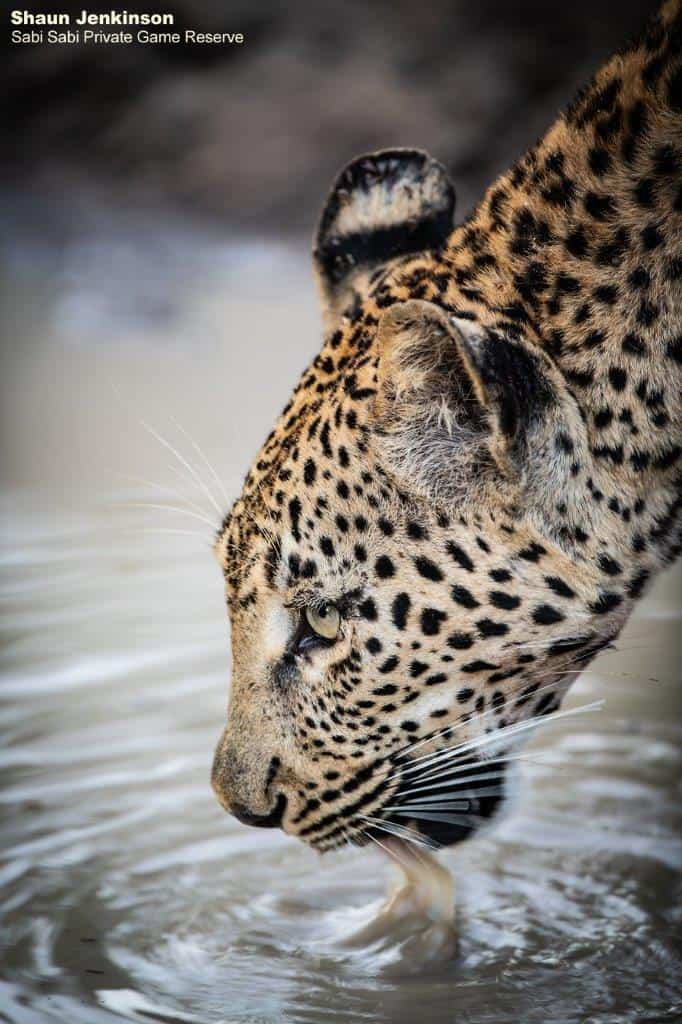 White Dam male leopard has been seen a lot this week as he went around scent marking his territory and calling to let any other leopards in the area know he is around.
After following up on the sounds of impala alarm calling, we came across Scotia female leopard as she tried stalking some impala, but with no luck. The following day we came across mom and cub walking in the road.  The little one was so full of energy which left mom exhausted from trying to keep up.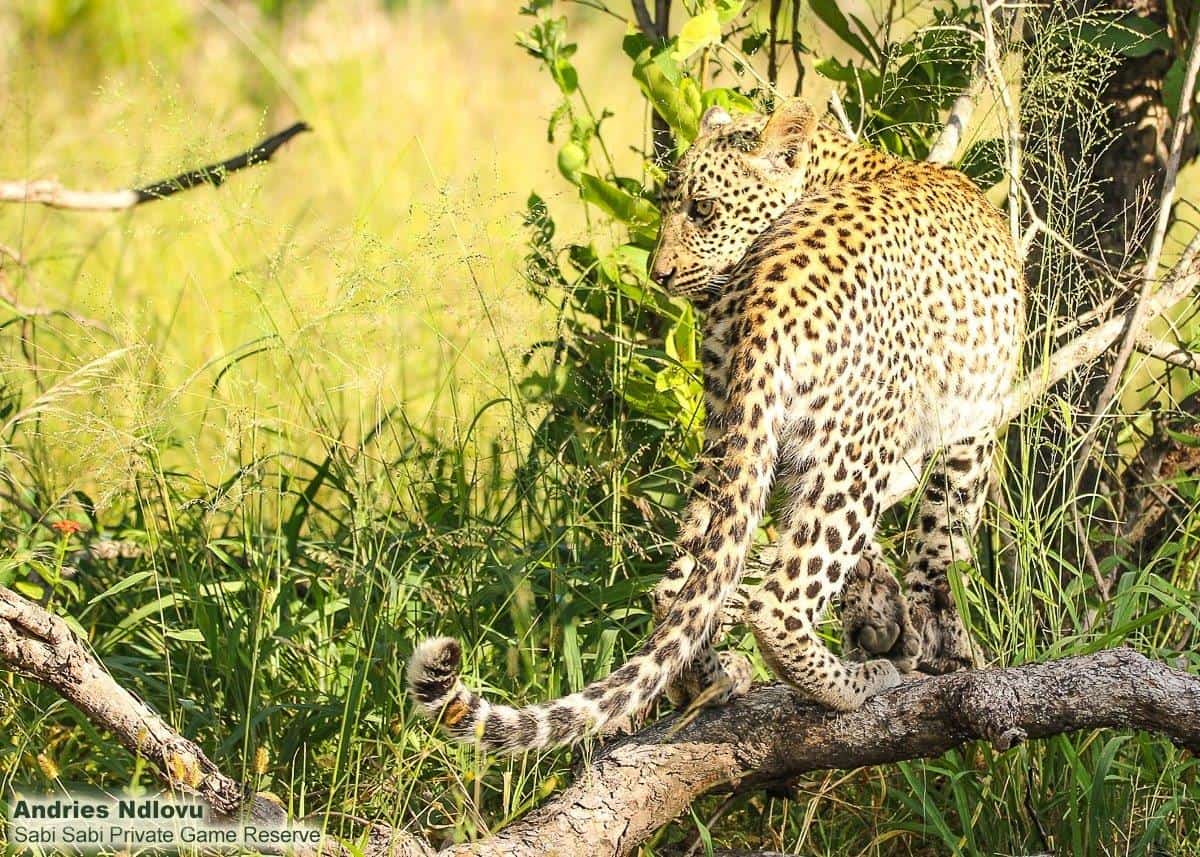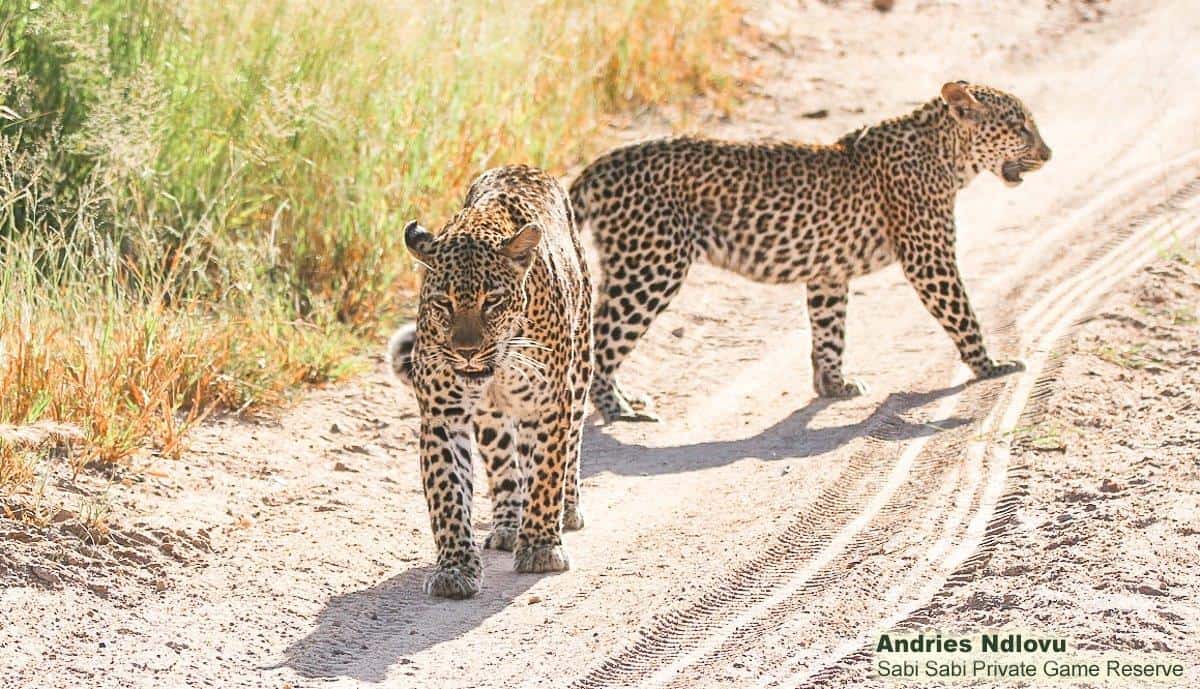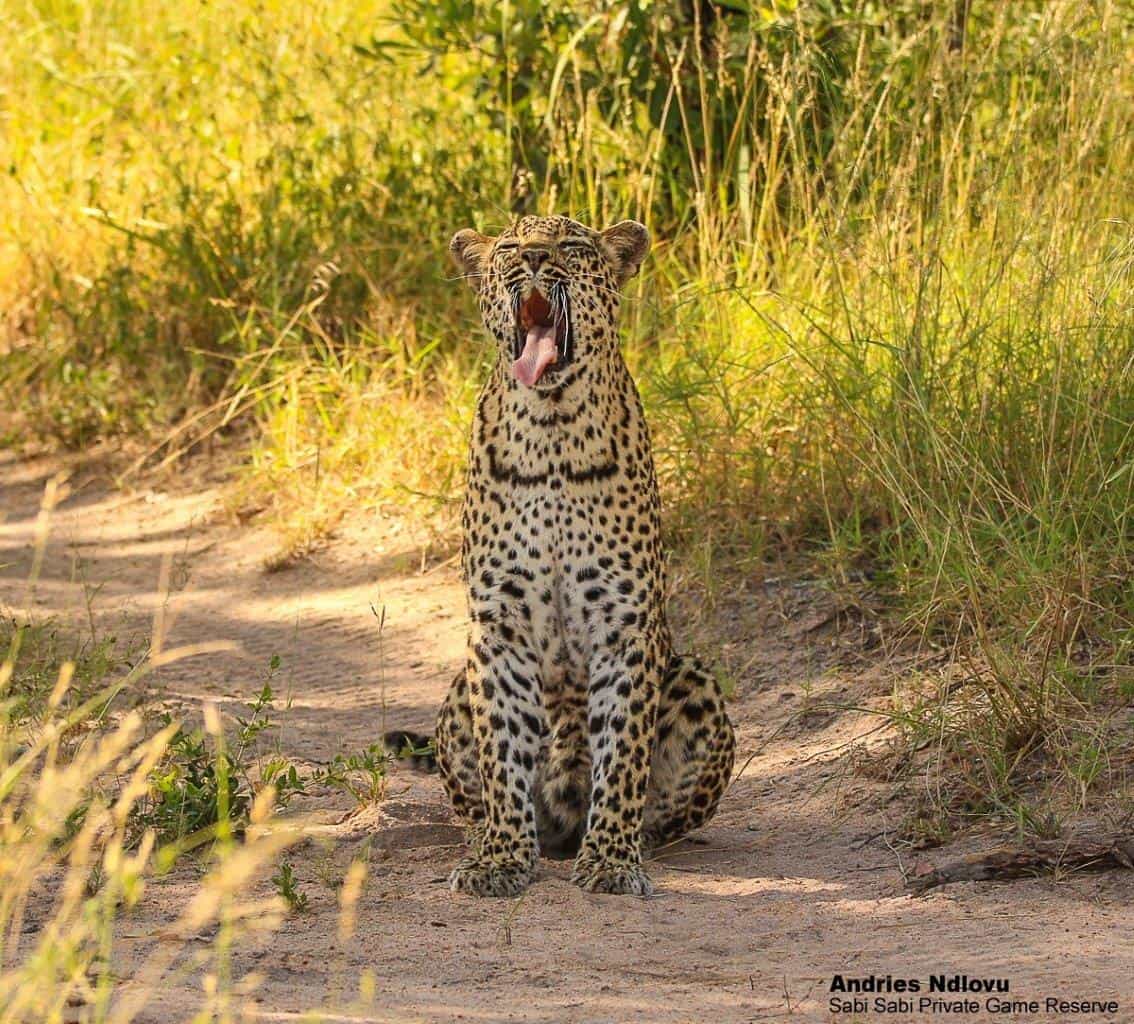 As our morning safari was coming to an end, we were lucky enough to stumble across the tracks of a small elephant herd. We followed them, and they led us to a small family feeding calmly in the thickets. As if by magic, the whole herd suddenly and silently (at least to our ears) moved in unison towards a nearby water hole. They had a drink and then once again moved off into the thickets, disappearing from view, leaving us in disbelief as to how quickly the experience came and went.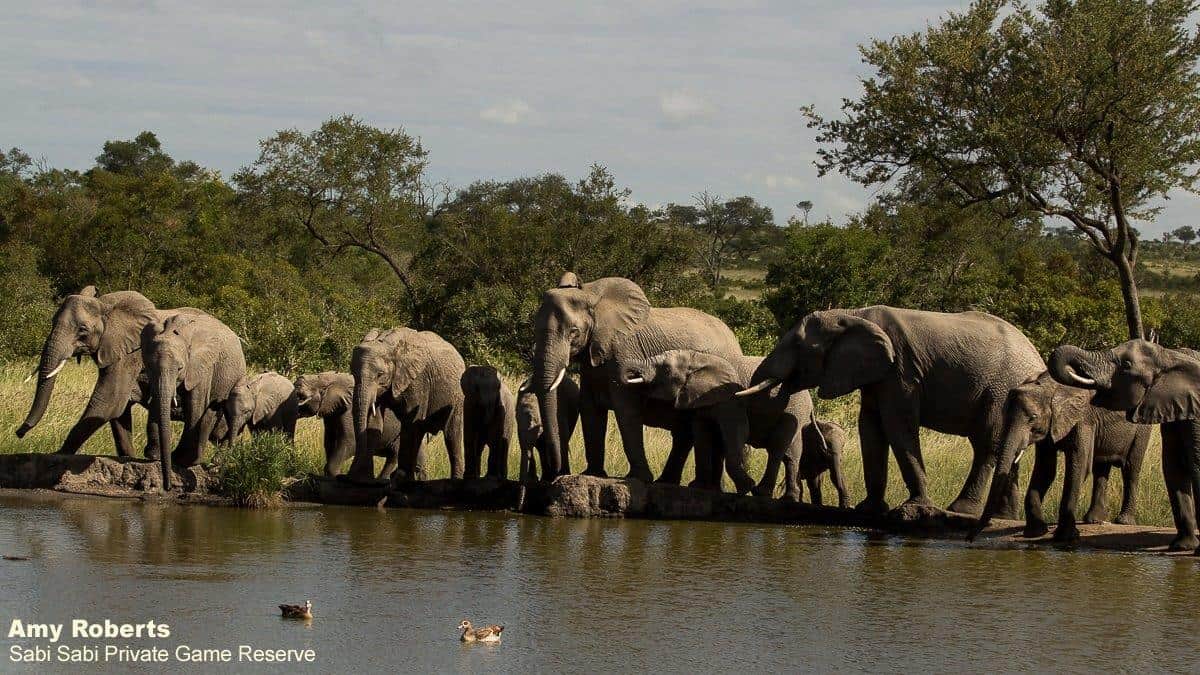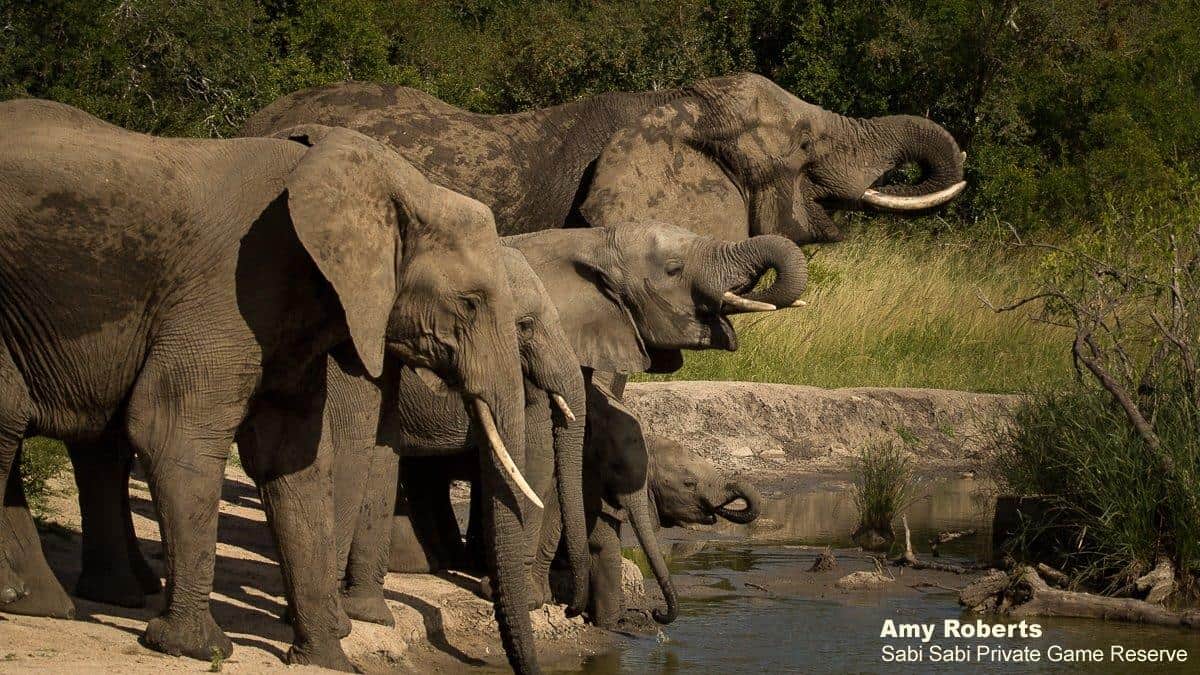 We managed to find this Southern White-faced owl perched on a dead tree next to the road during our evening game drive. The owl was really relaxed, and we managed to get some good photos of it.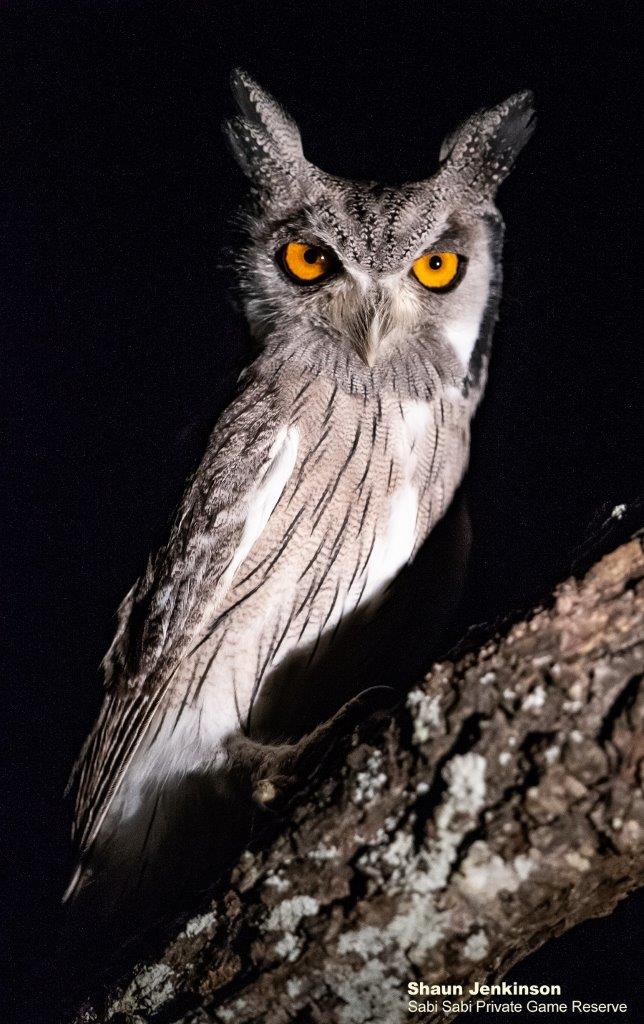 Diadem butterflies have striking colours of true royal purple around white wing spots when seen at just the right angle of light. This is created by light shining over wing scales creating a purple shine. Something to look out for and enjoy while on safari.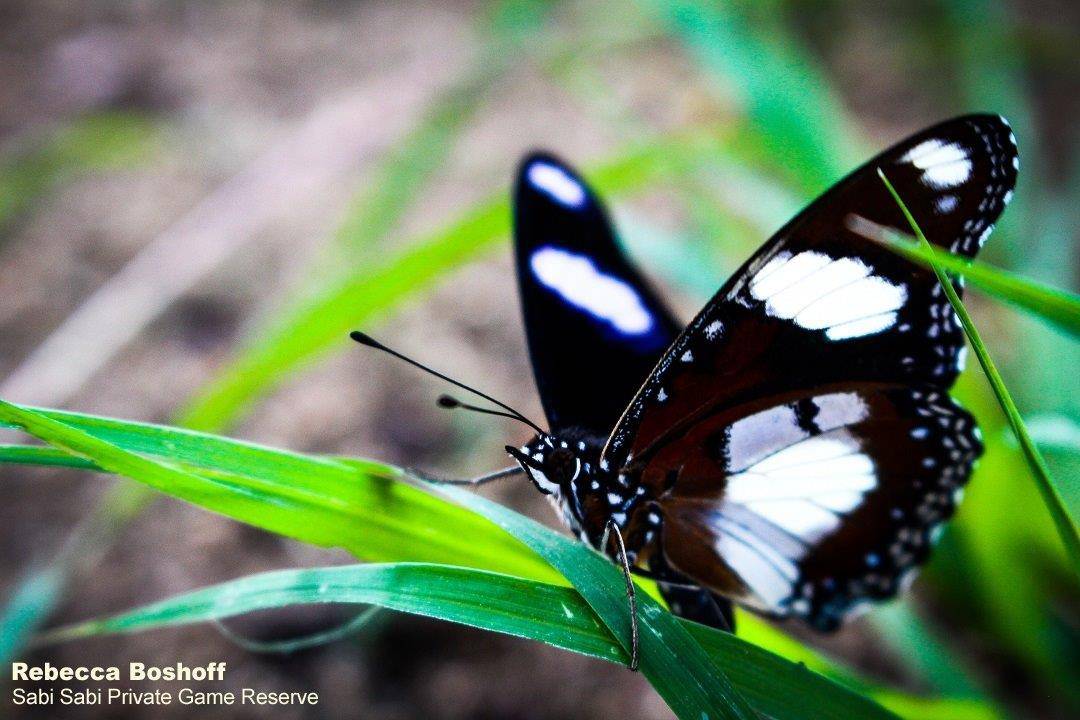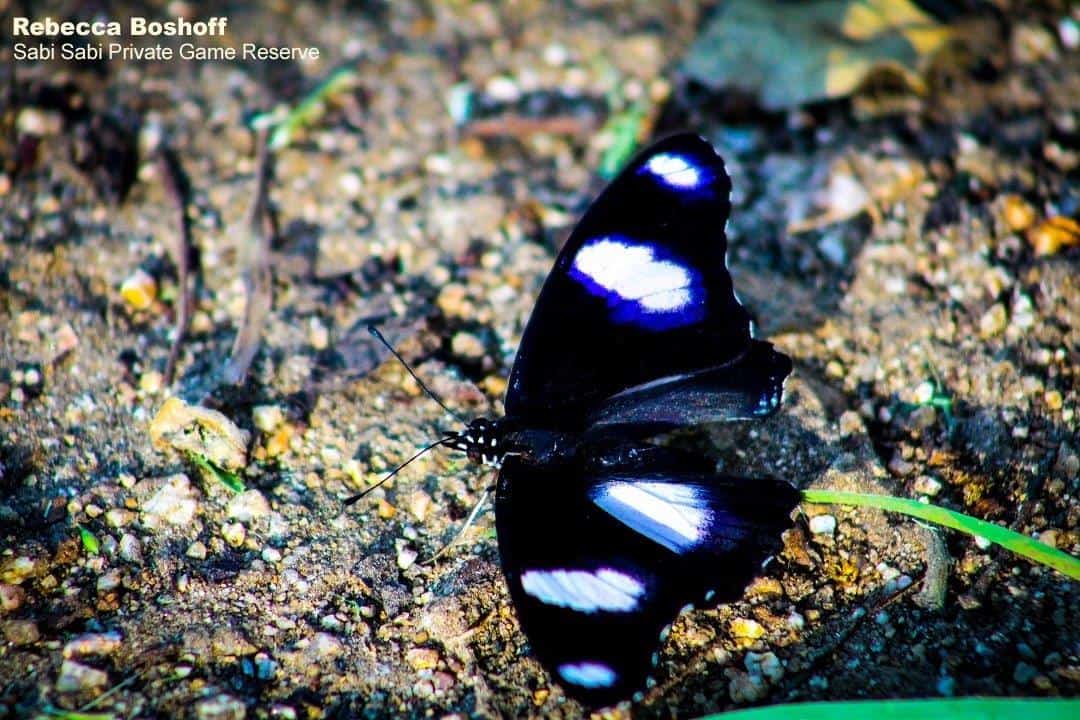 As the day draws to a close, the hippo in the dams start to stir, showing off to us and to each other their impressive weaponry.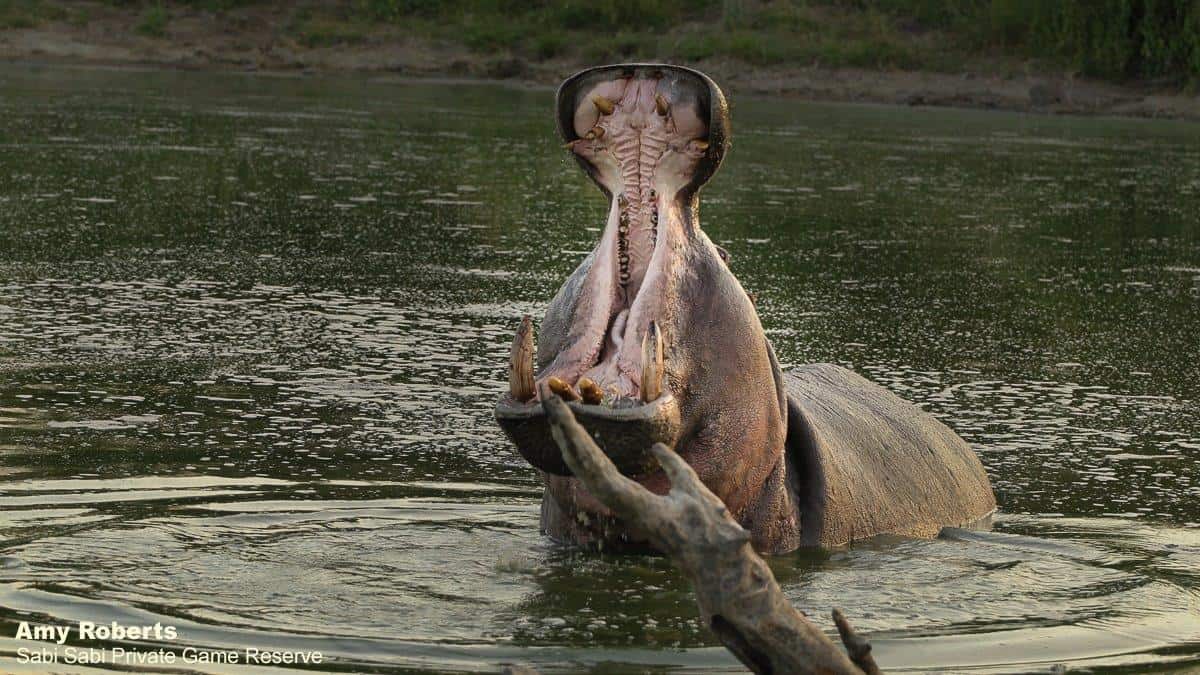 It is still a beautiful time for bird lovers to visit the bush with many of the migratory birds still in the area, such as these colourful Southern Carmine bee-eaters which we are seeing around a lot still.
Some zebra enjoyed the soft rains of late as they chased each other around. The males also took the opportunity to get closer to the females to test if they were in oestrus or not.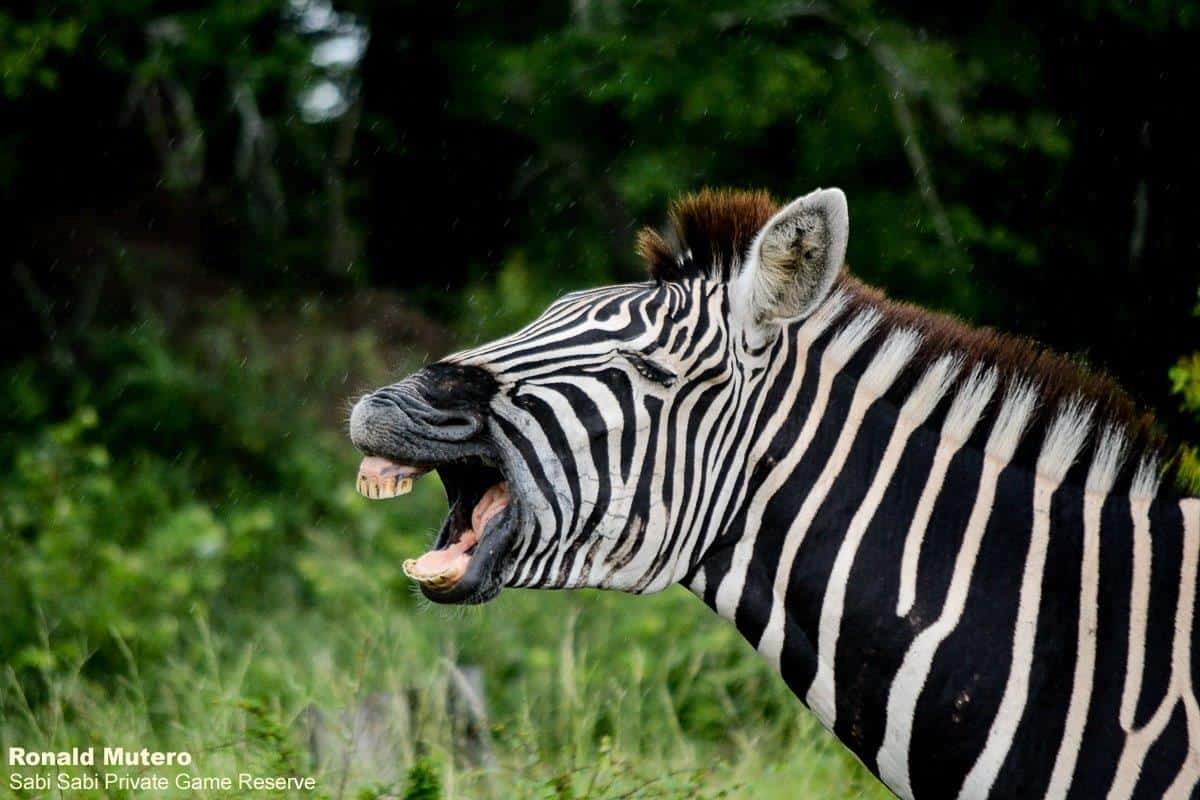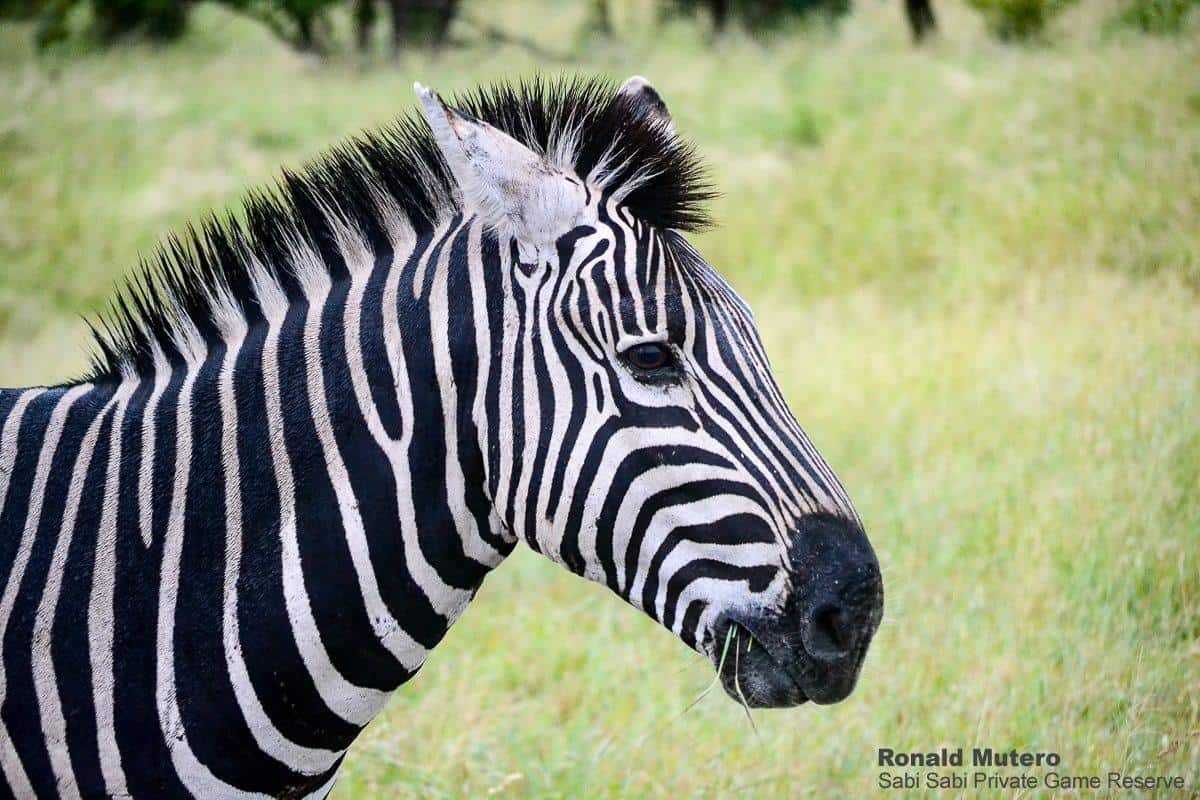 Not very often does one get to see a Pale Morph Wahlberg's Eagle, but this was a special morning.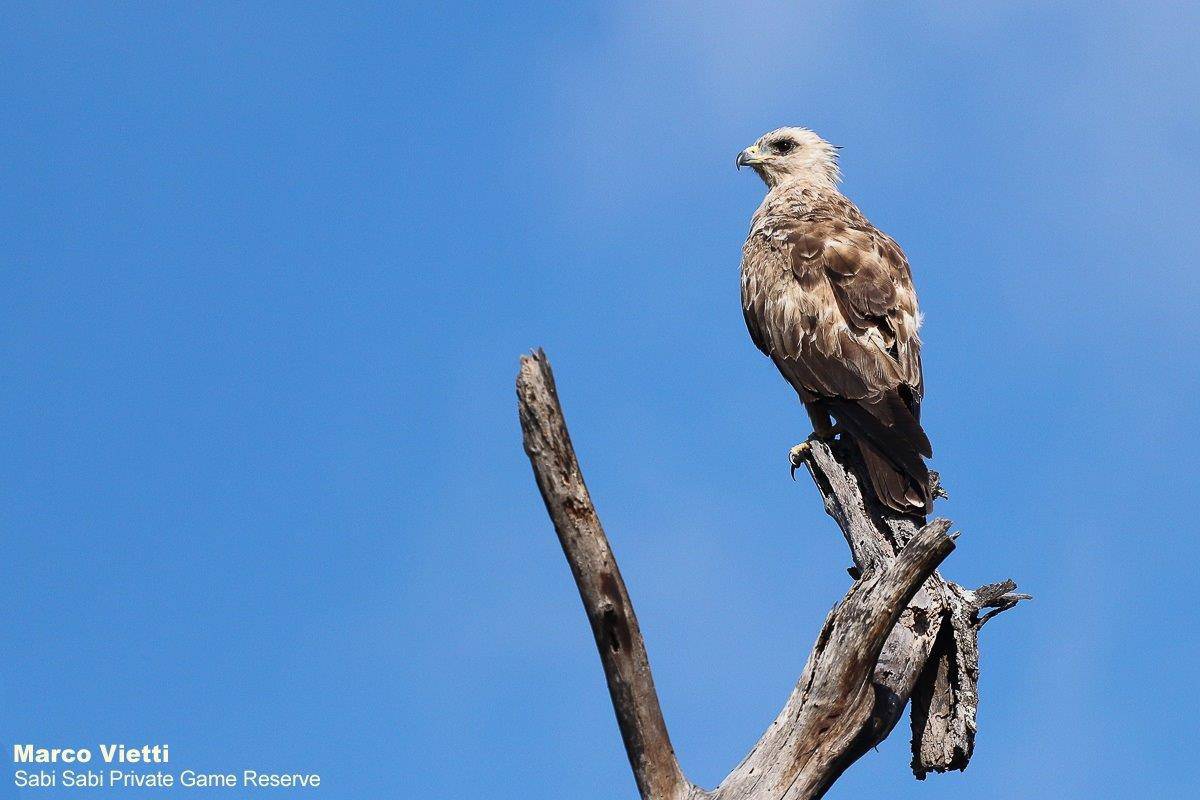 After quenching his thirst, this male Giraffe went straight to the nearest tree to continue feeding.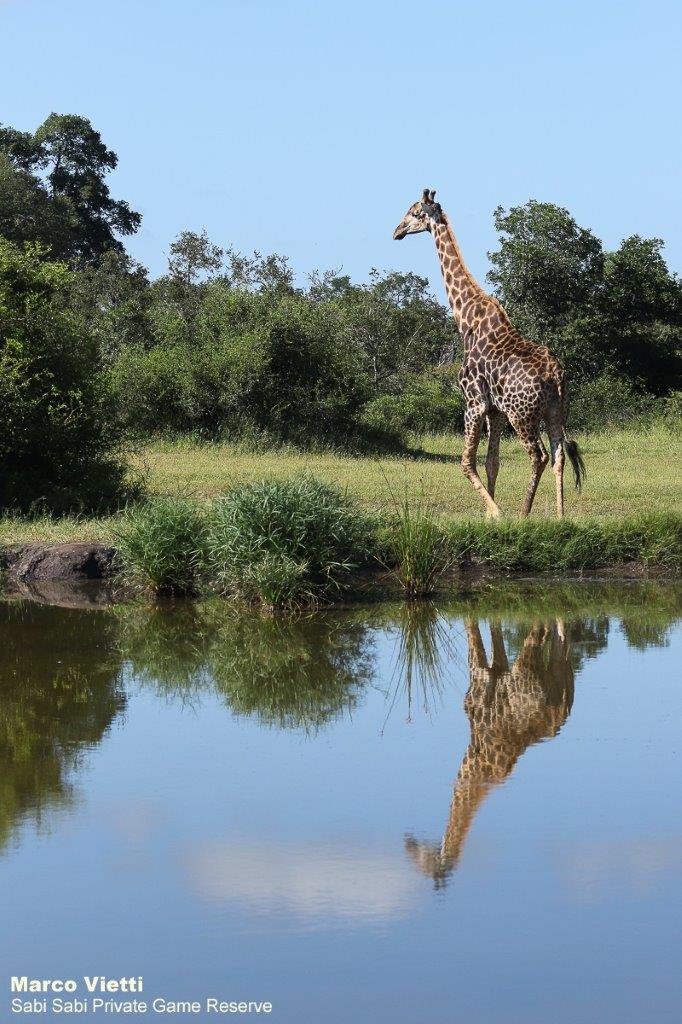 Until next time…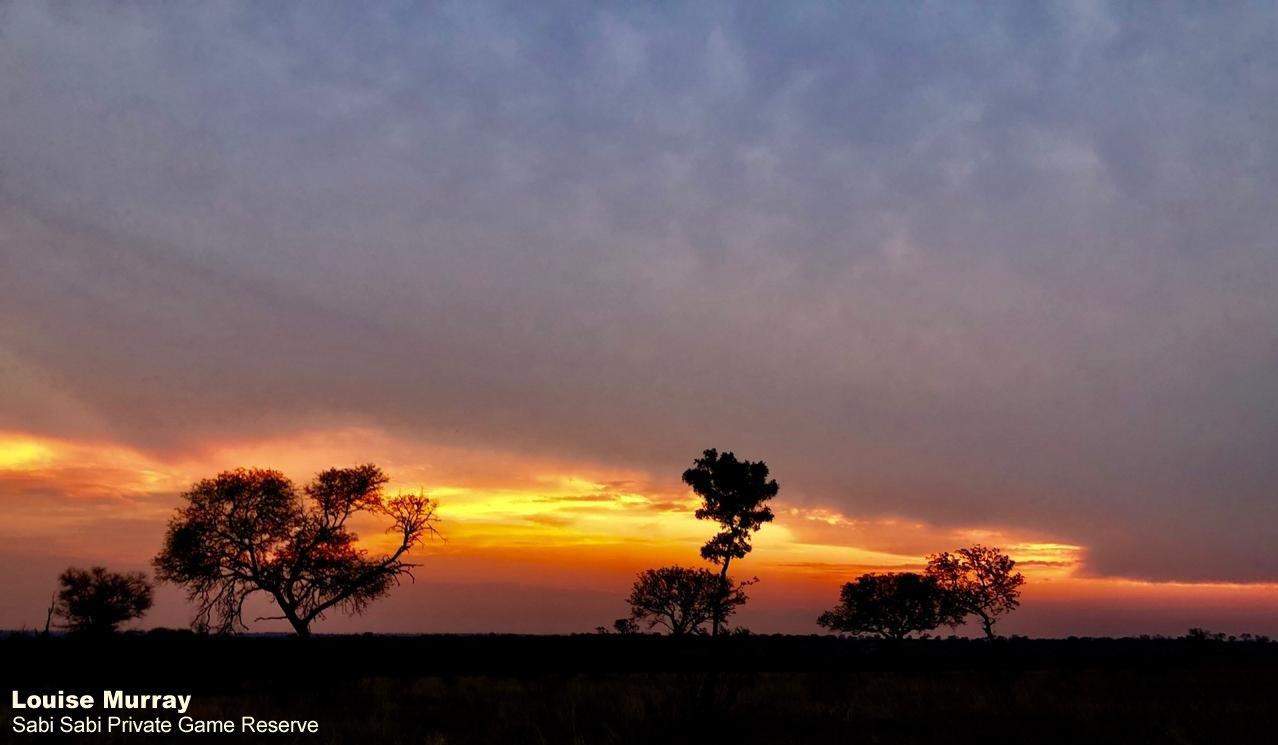 Blog by Wendy Claase
Images by Amy Roberts, Andries Ndlovu, Bianca Theron, Louise Murray, Marco Vietti, Rebecca Boshoff, Ronald Mutero, Ruth Berning and Shaun Jenkinson
Videos by Matt Temperley and Ruth Berning