The first of the summer rains have finally come and the African bush is quickly being transformed from browns and greys to a carpet, maybe even a sea of green. During this time of the year the summer migrant birds return and add their vibrant color to the bush. This also coincides with the birth of the first baby impala. In the space of 24 hours we literally go from having no babies to seeing masses of them. The baby impala attract a lot of attention not only from our visitors, but also from all of our predators. Impala make up a large percentage of most of our predators' diets and having the bushveld filled lots of babies that are easy targets, it's not long before they are being targeted by all predator species.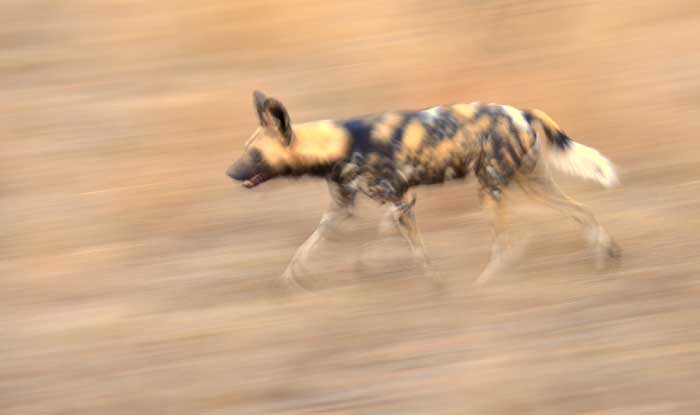 Wild dogs are without doubt one of the most threatened predators in Africa and seeing them is always a very special experience. On this afternoon I found the dogs doing what they do best, sleeping. Wild dogs are very difficult to photograph because they are normally only active at last light of the day and first light in the morning. They go from being fast asleep to a full charge of 50-60 km per hour in the blink of an eye. I was determined to get a good photo of the dogs, but the light was fading fast and even with the high ISO capability of my Nikon I was fast running out of time. Eventually it got to the point where I knew it was too late and they where still sleeping.
But I decided to try something new.
I had once seen a picture of some impala where the photographer had used a low shutter speed and blurred the background by panning with the moving impala. I set up my camera to try this. Firstly my shutter speed was set to 1/6th of a second and using my 70-200mm lens I set the aperture to f2.8. In doing this I had a very shallow depth of field and I had a lens that was easy to pan with. Finally the dogs woke up and became active; it was after 6pm so there was almost no light left and the sun had already set. I then just had to try taking the photographs, attempting to pan at the same speed as that of the dogs. I took a lot of frames and finally got a few that worked.
Give it a try!
Happy snapping,
Rod Wyndham