I have been taking photos at Sabi Sabi for 10 years and in that time have taken thousands of leopard pictures – some really nice ones at that – but I still did not have what I felt was the perfect photograph.
It was the start of my holiday and I decided to stay on the reserve for a few days, spending time doing what I love; taking photos. It was the beginning of winter and we had our first really cold morning. The temperature was around 1°C and I was sitting quietly near the river hoping to catch a glimpse of some leopard cubs that had been seen in the same area the day before. While waiting I heard the alarm call of a bushbuck just upstream of my position, so I followed up to see if maybe it was the cubs. To my surprise I found a young male leopard that I had not seen before, moving up the riverbed. He was beautiful with perfect features.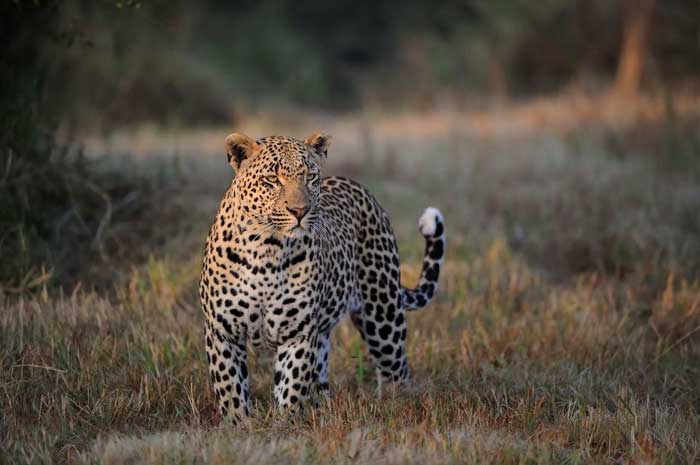 The sun's first rays were just starting to come through and, although it was still bitterly cold, I rushed to get myself into position. My hand ached and I found it difficult to adjust the camera settings. The light was still very low so I pushed the camera's ISO to 3200 and achieved a speed of 1/800 which was only just going to be fast enough. I would have to hope that the young male would stop walking or I would find it difficult to freeze him and get the picture sharp. The male kept moving up the riverbed and I kept moving ahead of him into new positions to hopefully eventually get the perfect photo. And I noticed that with the cold temperature, the camera was now fogging up! Finally the male moved onto a small area of short grass on the river bank. The grass was all wet with dew and the spikes had already started drying out for winter, giving it a wonderful red color. I changed the camera's settings, reducing the speed by 1/3rd to make sure that the rays of sun stood out a little more and that the shadows also showed well. I snapped away until the buffer on the camera could not take any more.
The result is by far my best leopard photograph ever. It is one with which I am really very happy.
Happy snapping,
Rod Wyndham