Softly, softly……..
While on safari you will often only find the cats on the move once the sun has set. There is good reason for this. Evening and night is when they are most active, and bumping into a patrolling leopard after sunset happens almost nightly. For the photographer this pattern is often not met with the same enthusiasm as with general guests, because most of us with cameras think nightfall is too late to get a good photo.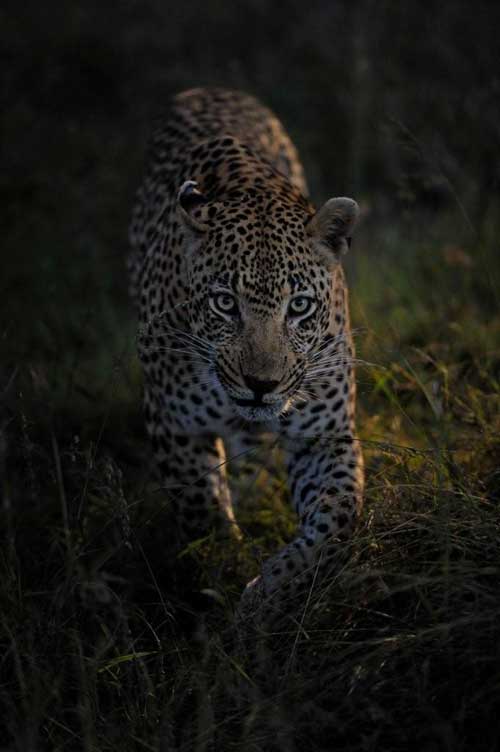 This is not actually the case. With modern digital cameras we are able to take photos without flash using only the light from a Land Rover spotlight to get fantastic results. I personally prefer not using a flash after dark as it makes the image very flat and unnatural looking. In this image I stumbled upon this huge male leopard walking along a game path. I got out my camera with my fastest lens, my 70 – 200mm f2.8 lens. This is without doubt one of the most user-friendly and practical lenses. If you had to spend money on only one good lens this would be it – it's just fantastic in low light conditions – "fast, really fast".
Now the trick to low light photography: take the camera off auto and set it on manual. Then on manual set the ISO at between 1600 and 2000 depending on your camera and make. Set your f stop or aperture to F3.5 allowing just a little depth of field, and set your speed at between 1/160th and 1/200th of a second. Then take lots and lots of pictures. Some of the shots will be blurred as the shutter is so slow but the odd one will freeze the animal very well, and that, combined with the warm side-light of the spotlight will get you fantastic results. You might need to take a little of the warmth out of the spot light in processing the image to make it look a little more natural.
Happy snapping
Rod Wyndham