With summer comes clouds and storms which can cause problems for photographers for two reasons: the first is the fear of getting your gear wet and the second is that the clouds can remove the sunlight for days on end. However the dramatic landscapes that can be created by clouds are endless. The African plains really have amazing cloud formations which we often forget about.
On this occasion I was racing home as I could see a storm cell approaching and I had no covers for my cameras. I knew I was going to be cutting it fine so was not wasting any time. But while traveling back to camp I noticed the most amazing scene; there was an emerald green grass carpet laid out in front of me, the huge storm cell coming in from the west and some rays of sunlight still peeking through the clouds. I knew I had to find a way of capturing this and had to do it quickly.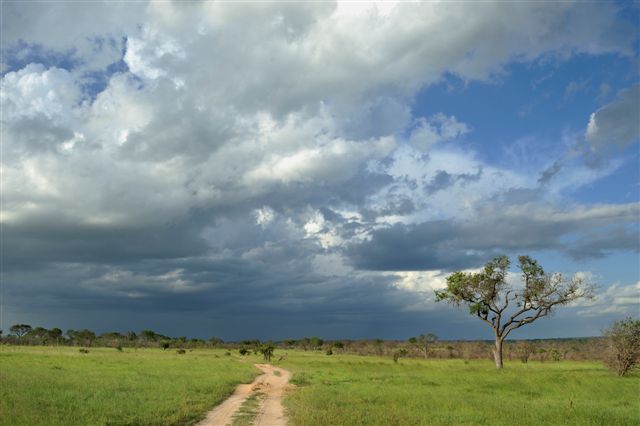 There was an area not far away that was nice and open and I hoped that this could be the setting. Knowing your environment sometimes helps, so use your ranger's knowledge of the area if you are taking photos on safari. When taking a landscape picture you will often need a wide angle lens and a tripod. I didn't have a tripod, only my car mount, so this would have to do. I put a polarizing lens on the front of my 24-70mm lens. A polarizer is excellent in bringing out the blue of the sky and the definition in the clouds. However it will make your foreground pretty dark. I framed the shot using the Marula tree on the right and the storm on the left. I put the camera onto aperture priority as the aperture was going to be the most important element of the picture. I needed depth because I wanted everything to be in focus from the foreground to the background. Speed was not important.
Here I used 400 ISO, a depth of F10 and speed of 1/60th . I was lucky that a ray of sunlight came through as I was taking the picture and this helped brighten up the foreground because it would otherwise have been very dark.
Here the road leads you into the picture and really seals it.
Happy snapping,
Rod Wyndham