I was very excited. The CEO of both Nikon South African and Nikon Europe were coming to visit us and I was going to host them. On arrival we discussed our safari plans and they mentioned that they really wanted to see leopard. Even more than that, they really wanted to get a good picture of a leopard. Okay just a little bit of pressure.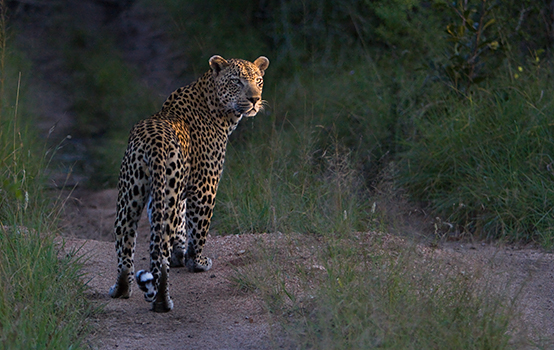 We spent the afternoon taking pictures in what was the most amazing light, but no leopards seen as yet. My tracker then pointed out that he had fresh tracks of a male leopard moving in the same direction as we were going. I told everyone to get their cameras ready. No more than 100 meters away we came across this magnificent male. Even although I have been at Sabi Sabi for 10 years and have seen many leopards, finding one is always just the most incredible rush and one can't help but marvel at their beauty.
The very last rays of sun were just filtering through the trees and onto the animal's face. I had to be careful that the face area was still well exposed. I took out my camera with the 70-200mm lens attached as it is an excellent low light lens. I switched my light meter to spot meter so that I could meter the light on his head. My f stop was f2.8 to blur the background and give me speed. Now I would just have to be patient.
As soon as he turned his head and looked into the light that would be my opportunity. I used a shutter speed of 1/2000 and an ISO of 1000.
And got this amazing shot.
Happy snapping,
Rod Wyndham