In winter the rains start to diminish and with less precipitation the watering points along the Msuthlu River start to recede. It's amazing that in just a few weeks this particular river will dry up, leaving only a few muddy pools and sand. As the water dries up, new opportunities are created for many of the bird species. The fish and frogs are forced into ever smaller pools of water. One can't help but wonder how these fish and frogs get into the river in the first place.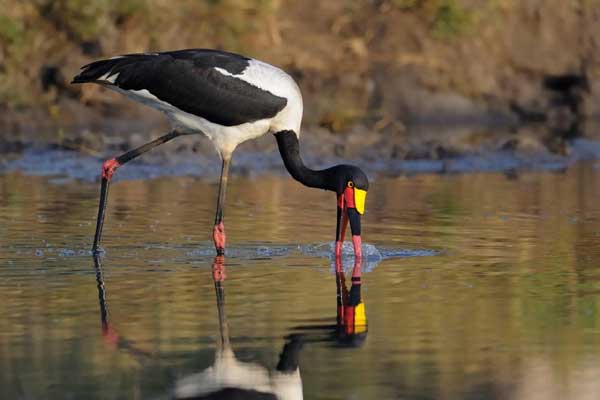 One of my personal favorite birds is the Saddle-billed stork, a truly beautiful bird that is sadly very threatened with numbers dropping every year. Using the early morning light and in the hope that I would find a Saddle-bill feeding, I headed back to a small pool in the dry river where I had seen one of these birds the night before. I was in luck.
On arrival I slowly moved the vehicle closer and closer, each time allowing for the bird to relax before I moved again. There were a number of other species fishing in the same pool but the one that I wanted to photograph was the stork. I first pushed my ISO up to 2000 because there was still low light and I was going to use my 600 F4 lens. I needed to have a minimum speed of at least 1/2000 to make sure that the image was sharp and that I was able to freeze any action. I kept a 6.3 f-stop, allowing for enough depth of field to keep the image sharp but the background blurred. I triggered off some 200 takes to get just a few great photographs. Watching the bird closely I could tell when it was actually after a fish and I clicked away.
Happy snapping,
Rod Wyndham