Here I have done something completely different. Most cameras have the facility to shoot a picture on multiple exposure. This means you can shoot two or more pictures in one frame and in so doing, layer the image.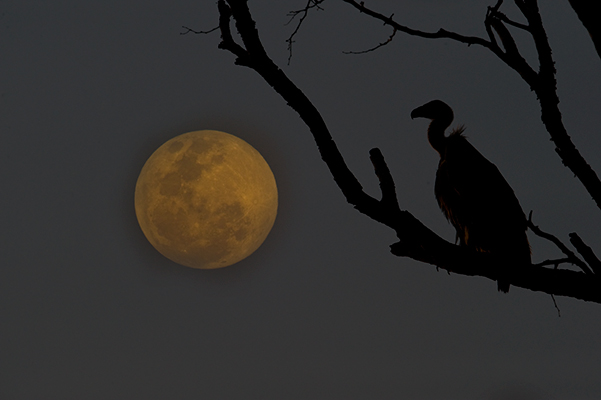 It was going to be full moon and there had been a buffalo kill near Sabi Sabi Selati Camp, so I knew that it was likely that there would be some vultures in the surrounding trees. I arrived early to get myself organised. Once the sun set it was all going to happen very quickly so I needed to be ready. I managed to find some vultures in a tree facing the sun and mentally planned how to frame the shot – I wanted to leave space on one side of the picture for the full moon that would rise just after the sunset, with the vulture taking up the other side.
The camera was set on multiple exposure and I took a shot of the vulture just before the sun went down. I used my 70 -200 mm lens with the following settings: Manual ISO 100, an F stop of F8 combined with 1/1250 of a second exposure. This created a perfect silhouette with just a little light on the outside feathers of the vulture. I then waited for a good hour until the moon started to rise in the opposite direction. Again I set the camera on Manual but this time used my 600 F4 lens and a 1.4x converter. I wanted a fairly close shot of the moon. I pictured where I had placed the vulture and then framed the shot with the moon off to the left. Using an ISO of 800, a speed of 1/3200 of a second and F11 for some depth I fired the shot off.
I had no idea how it would come out until I pushed the preview button and was very excited to see the end result. It takes a bit of planning, good weather and a bit of luck but in the end the result is fantastic.
Happy snapping,
Rod Wyndham