There are days when I go out on safari and know exactly where I am heading. On this hot summer's day, with the temperature in the high 30's, I knew that a female leopard which had made a kill the night before would still be in the Marula tree just south of Earth Lodge where she was seen that morning.
She would be catching the cool breeze and sleeping off the 30kg of impala she had eaten. Photographing a leopard in a tree is never easy.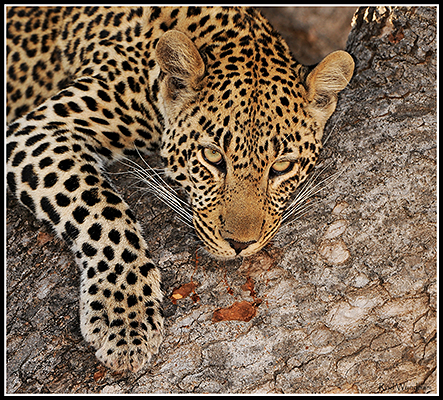 You are generally shooting against strong backlight and your subject is normally in the shade taking advantage of the cover.
In this shot I knew I had to get rid of any background light. I also knew that I had to bounce just a little flash onto the leopard to bring out the detail and counter-balance the backlight.
I used my 200-400 lens; an ISO of 400 as I had plenty of light; an F stop of F 8 so that I would have maximum depth of field. I set my flash to TTL, but I backed the flash off by 1 full stop, and I bounced the flash rather than shooting it directly onto the leopard. This would have flattened the image too much. The result was a really great photo.
Happy Snapping
Rod Wyndham