I was driving guests from Little Bush Camp to Bush Lodge for a morning of pampering at the Bush Lodge Spa after their dawn safari. En-route we found this lone elephant bull in an open area close to a waterhole. He had already being playing around in the mud as elephants so often do in our hot summer temperatures.
We positioned ourselves in such a way as to get a great view – taking into consideration the mid morning light while at the same time making sure our presence had no effect on this giant of the bush. He slowly made his way closer to us to satisfy his inquisitive nature, and this created some amazing photographic opportunities. An eye level or even lower than eye level position is ideal with wildlife, and in this instance the bull walked up onto a termite mound creating this larger than life shot with blue skies and a blurred background.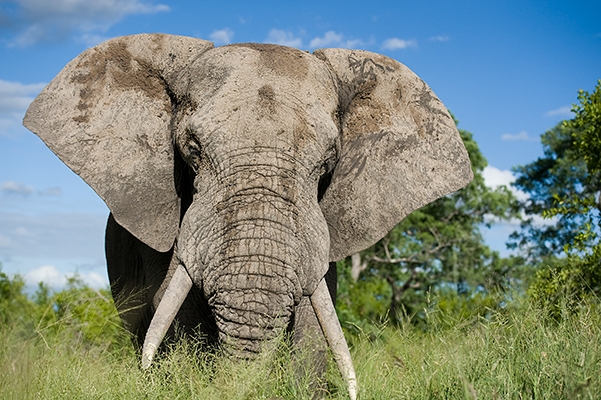 Elephants are a challenge to photograph, as their skin colour dominates a shot and in most cases comes out too dark using your standard settings. I therefore always operate manually and under-expose the shot by a few points. In this instance, I wanted to keep enough exposure in place to capture the mud stains on his ears and head and dropped my exposure to -1.3. This is a trick that can often be used on similarly coloured animals such as rhino and also in some cases buffalo.
But the main lesson learnt from this great shot is – always carry your camera with you as you never know what lies around the next corner.
Happy snapping,
Rod Wyndham