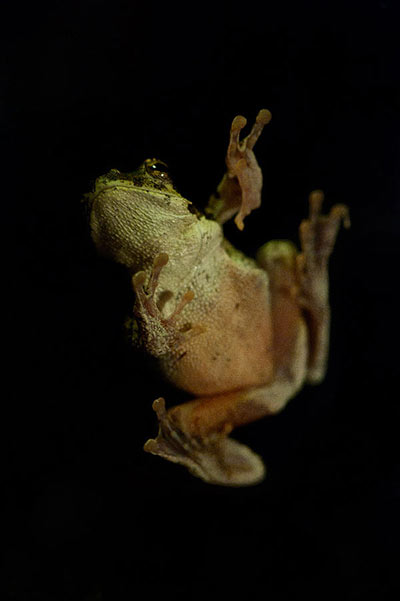 My guests and I were enjoying a glass of wine in the bar, discussing all the amazing things we saw during our game drive that evening, when some movement caught the corner of my eye not too far from where we were sitting. On closer investigation I realized it was a Foam-nest frog that had jumped from the floor onto a glass window, very close to a light bulb that was attracting various small flying insects…..definitely part of any frog's diet. With amazement we watched as this frog, with the use of the adhesive pads on his toes, slowly but surely moved closer to his targets.
It was just then that I realized that it does not happen every day that one sees a frog from this perspective and I ran and quickly grabbed my Nikon D700 camera and attached my 105mm f2.8 VR Macro lens to be able to get up-close and personal.
The area around the frog was very dark so I pushed my ISO up to 3200 and changed the metering mode to spot meter, making sure that the camera only calculated the light from my subject and not the from whole scene. The other settings I used were Aperture Priority, with a depth of field of f4 and a shutter speed of 1/10. I did not make use of a tripod because the frog kept on moving, but with the lens having the built-in Vibration Reduction technology, I hand held the camera without any problems.
The frog sat close to the light for a while enjoying his dinner, so we decided to also make our way through to our chef's wonderful buffet.
One Life……Photograph it!!!
Wim Vorster