Sleeping lions is what one can expect on an early afternoon in summer. It was hot, a really hot 42 degrees, and the lions had had enough. They had made their way into a riverbed to get close to the damp gravel and to take advantage of the thick trees that overhang the river. With the foreground being nice and clear of any obstruction I sat and waited for an opportunity. One of the young cubs lay out on its own looking up at the sky. The light around him was dappled from the trees and the white sand reflecting light into the shadowed areas made this a real chance. But how was I going to make this a special shot. With composition.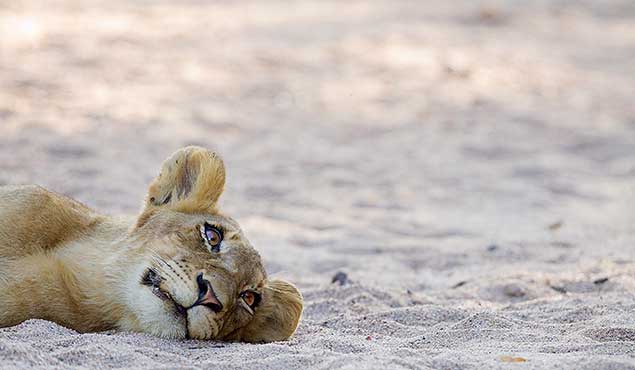 I put just his head in the far corner of the frame with him looking into the clear space. I then made sure that I used a very shallow depth of field to blur everything in front of and behind him.
Make sure you put the focus sensor on the eyeball of the subject. It must be pin sharp as this will make the image look dramatic. I over-exposed by 1/3rd because of the light- coloured sand. Using 1/250th of a second and my 500 mm lens I took a few shots. Remember you do not always need to fully capture the animal; smaller parts are often very dramatic.
Happy snapping,
Rod Wyndham