During one of our afternoon game drives we were very fortunate to find and then observe a young male leopard. Due to leopards being predominantly nocturnal he wasn't too active yet, just lying down grooming himself under a small bush.
As the daylight started fading a spotted hyena also appeared on the scene, nose close to the ground trying to establish where the leopard might be and if there was a possibility of a free meal.
I managed to capture this image, with the spotted hyena staring in the leopard's direction and the other safari vehicle's light creating the nice side lighting I required. The spotlight's beam also helps to lead the viewer's eyes to the hyena, which is the main focus.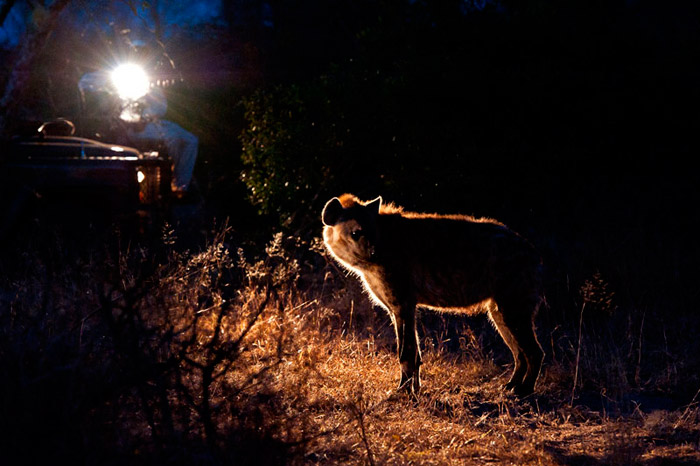 It was nearly dark so I had to push my Nikon D700's ISO up to 3200 and changed the metering mode to 'spot', because of the spotlight being used. The aperture was set on f5.6 which resulted in a shutter speed of 1/30. It is always better to use some kind of stabilization, especially in low light. I used a beanbag to rest my Nikkor 70-200mm f2.8 VR lens on.
Be sharp out there.
Wim Vorster