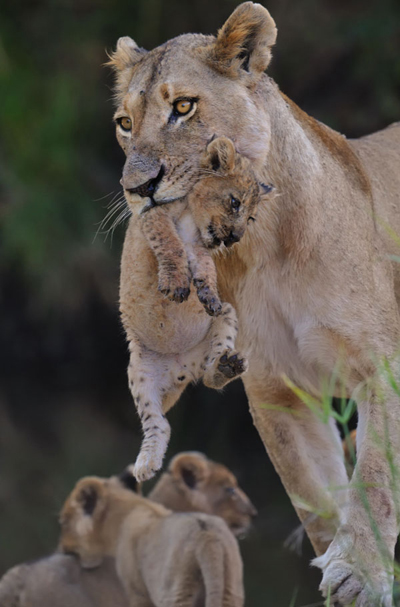 It is very important to be in the right place at the right time but also to be prepared. As photographers we are so often in the position patiently waiting for that lion to wake up and it often happens in a blink of an eye.
If you are not prepared you might miss the picture you've been waiting for. In this instance I was in my Land Rover in a riverbed waiting for some sleeping lions to wake up. Close to where they were lying there was a puddle of water.
I so hoped that the female and her cubs might get up to drink. At this point in time I had my 600mm lens on my camera so that I could get some close ups of the cubs.
It was late in the afternoon and I was concerned about the fading light. Without warning the female got up and gently picked up one of the cubs.
I didn't expect this but still jumped into action. I realized that I had the wrong lens and I would not be able to capture the full frame but still I did the best I could with my 600mm, with the ISO at 1200, a shutter speed of 1/1000, and an F stop of f7.1. I can't complain about what I managed to capture, but I would have loved to have taken this photograph with my 200- 400 mm lens. This would have allowed me to photograph the female and her cubs at her feet.
Happy snapping
Rod Wyndham