An open vehicle safari in the Sabi Sabi bushveld, by its very name, conjures up the excitement of close encounters with Africa's untamed wildlife. But actually walking in the wild – stepping off the vehicle and following the ranger on foot – is a different experience entirely. It is exhilarating, breath-taking, goose bumps adrenaline making, and one of the most unforgettable events you will ever have the privilege to experience.
Following your highly trained ranger, silently feeling the pulse of Africa through the soles of your feet, presents a rare opportunity to connect with nature and gain a better understanding of the delicate relationship between fauna and flora. This is an environmental awareness safari, which brings with it a vastly different perspective of the surrounding bushveld.
Every sound takes on a different meaning, every crackle of a branch being broken sends a prickle of stimulation up your spine. Relax, enjoy, it is only a dazzle of zebra, a herd of impala, or perhaps blue wildebeest which have stopped grazing to cast a watchful eye over these human intruders walking in their world. Or, if you are lucky, giraffe may walk a little closer to see from its great height who these beings are who may be munching on their personal leaves. Tread carefully over miniscule ants and other insects scurrying in their never-ending quest for food. Bird species may sing warning calls to each other – what are these strange humans doing walking in their territory. Or if you stand quite still they may fly closer to get a better look.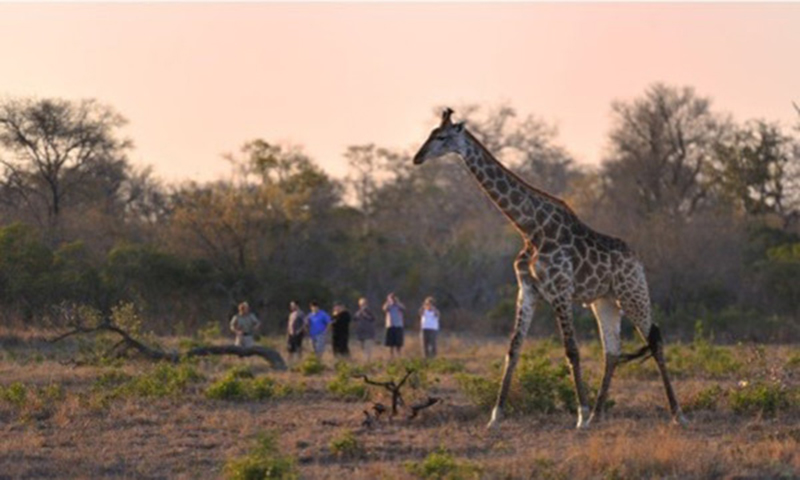 Each and every Sabi Sabi ranger who leads guests on these exciting environmental experiences is trained in guiding on foot, with many hours of experience under his or her belt. While not generally Big 5 experiences, guests often have the opportunity of seeing one or more of these animals on a walking safari. Here the expertise of the Ranger comes into play. You may be able to stand still in wonder at the sight of one of the Big 5, or the Ranger may elect for you to slowly retreat. To handle these once in a lifetime experiences in safety, the guides must undergo regular assessments to ensure that their guests are never put in a dangerous situation.
Immersing oneself in nature wakes up ones senses. Hearing animal alarm calls, seeing the natural beauty of the surrounds up close, touching and smelling the fresh woody bark of a tree that has just been stripped by a passing elephant and tasting edible leaves and berries is really memorable. Being able to stand quietly and wait for a curious dwarf mongoose to pop out of its burrow, to have a quick peep at you, is almost as exciting as the lion you saw from the safari vehicle. And coaxing a hairy spider out of its lair using nothing but a blade of grass as bait is creepily exhilarating.
Walking safaris are about 3km in total distance (± 1 – 2 hours) and a high level of fitness is not required. A good pair of walking shoes, a sunhat, sunscreen and camera are sufficient. Water is provided for the walk, and rest can be provided atop a termite mound, taking in the surroundings before setting off to further explore. Whilst these walks through the bushveld are generally conducted after a hearty breakfast with a return a few hours later, guests who prefer a longer walk may request a more intensive walking safari which will traverse a larger area of the Sabi Sabi Reserve. Whichever of the foot safaris guests prefer, the experience will be wonderful, memorable and truly unforgettable.