News update: 10th March
Sabi Sabi is pleased to announce the following appointments.
Husband and wife team, Magdel and Wim Vorster, have returned to Sabi Sabi to take up two exciting new positions within the company. Wim has been appointed Safari Manager and Magdel will expand Sabi Sabi's social media programme, keeping audiences up to date on Facebook, Twitter and YouTube.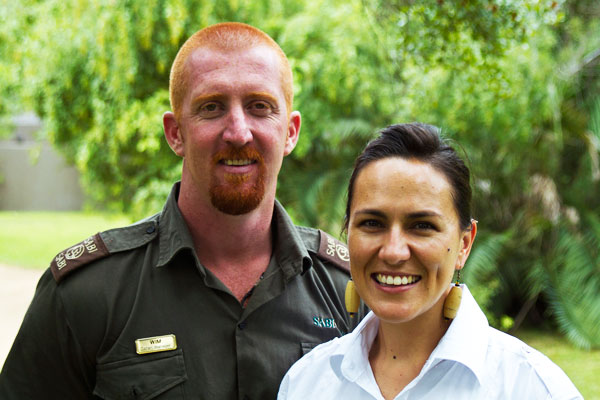 Both have previously worked at Sabi Sabi, earning great respect as exceptional rangers. The bushveld spread its magic when they met; the pair fell in love and married, eventually leaving Sabi Sabi to travel and study for a few years. Sabi Sabi is renowned for the quality and knowledge of its guiding team, and Wim will have the ongoing task of managing and expanding the expertise and training of the rangers and trackers at all of the lodges. Another interesting plan is for Wim to focus on further developing the safari programme to include specialist safaris with a specific emphasis on predators. This will be a great addition to the existing birding and photography specialist programmes. He is quite an authority on predators and predator behavior, making the reserve an ideal place for him to put his know-how and years of study to good use. Wim is an avid photographer and loves sharing this passion with others.
Magdel, besides having many years of safari experience under her belt, is also a social media buff. Her job will be to keep Sabi Sabi's friends and guests from all over the world up-to-date with interesting news and information. She is an avid blogger, so log on to keep an eye on her Tweets, Facebook and YouTube updates. There will be countless chronicles, photographs and videos of interesting stories and sightings (wildlife and people too!) – enough to keep everybody interested.
We are really happy to welcome Wim and Magdel back into the Sabi Sabi family, and wish them much success with these challenging new projects.