News update: 20th April
When Sabi Sabi first teamed up with the Dreamfields initiative in mid-2008, the idea was to launch a project in conjunction with the nearby communities to provide much-needed sports facilities and equipment to schoolchildren. The programme has since evolved to become an integral part of life in the local villages surrounding the Sabi Sabi Private Game Reserve; and March 2010 saw the winning team of the 'Sabi Sabi Dreamleague' travel to Gauteng to participate in a national play-off tournament.
"This was where I truly saw the potential of Dreamfields to change lives," says Sabi Sabi marketing director, Jacques Smit, who went to watch the team from Hundzukani Primary School in action. "The excitement was palpable: not only was there the thrill of playing championship soccer, most of the boys participating had never been to a major city, never stayed in a hotel, never eaten in a restaurant."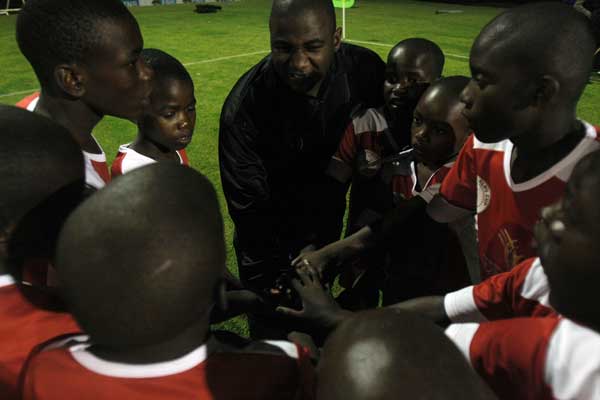 Each player received a comprehensive Dreambag packed with a full soccer kit and then the first day's play got underway at the University of Pretoria's Sports Grounds, under floodlights.
At first the boys looked a little uneasy; it was their first time playing on a grass field, never mind under bright lights, but that was soon forgotten as they swept through their pool. They played brilliantly, ending up in second spot and earning themselves a place in the final play-offs. Two of the 32 teams taking part were mentioned by the tournament organisers as showing greater skills than expected at their Under 13 level, and Hundzukani, our Sabi Sabi Dreamleague squad, beat them both.
The next day all the teams embarked on the trip of a lifetime to the new Soccer City stadium in Johannesburg, where there was great excitement as they met the FIFA 2010 World Cup Soccer mascot Zakumi, as well as local soccer dignitaries. The boys warmed up for their knock out matches assisted by Dreamfields coaches, before kicking off for the big games. The atmosphere was electric with rival teams singing and dancing and disguising pre-match nerves. "Again, I was struck by how clearly successful the project is in fostering ambition and growing dreams, and how proud we at Sabi Sabi are of our commitment to this project." says Smit.
All the quarter and semi-final matches were decided on penalty shoot-outs, with Hundzukani eventually taking second place, no mean feat given the strong competition.
A lot of tired but happy boys returned to their home villages after a thrilling trip, with their dream of playing competitive soccer that much closer.
Win or lose, this was an experience which will long be remembered and cherished by the players, as well as by those who watched their dreams come true.