More than 35 years ago, the concept of Bush Lodge was just a dream, an idea of designing a home in the bush and a warm, hospitable experience for visitors from around the world. The creators of this vision were Hilton and Jacqui Loon, one a pragmatic businessman, the other a talented artist, both of whom loved the excitement of travelling.  The new Bush Lodge takes you on a breath-taking expedition through Africa, celebrating the adventures of the Loons, and their love for Africa, its people, its art and culture. Designers, Derrick Tabbert Interiors and Design Republic, were tasked with bringing these explorations to life and the result is a masterful amalgamation of ideas and design. This is truly the Africa of "Today".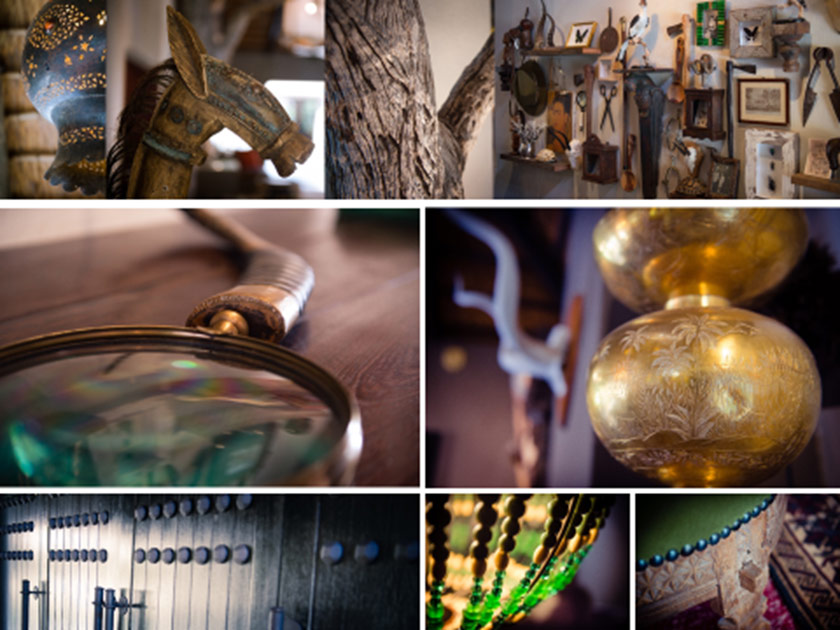 Arriving into the reception area the journey already begins. A custom-made heavily carved wooden reception desk evokes images of wealthy Arabic traders from Northern Africa. On the other side a magnificent oversized Chesterfield couch, upholstered in green and crackled gold leather, sits in pride of place atop a black and white tiled floor, a nod to colonial travellers of the 1900's.The green touches, together with white and black, are a repeated colour focus weaving all the new décor together.
Walking from reception through the atrium towards the safari lounge,  enormous brass and canvas lamps shine light upwards illuminating the high thatch and downwards onto a mass of overlapping colourful Persian and woven rugs, green vintage stools and leather tables, plus an eclectic collection of original paintings, objets d'art and artefacts, which adorn the walls.
The bar with its incredible mix of décor is an unexpected "mash up" of styles which somehow just work. Once again the black and white floor appears, together with touches of old green on intimate seating arrangements of tub chairs, leather bar stools and collectible Ardmore wing backs. A close inspection reveals that the new bar with its smooth wooden top is actually clad in copper – showcasing a collection of South African craft beers, craft gins and boutique wines.  There are so many interesting ornaments but the pieces which takes pride of place are the glass fronted steel and brass whisky cabinets and the massive, beaded, calabash-shaped chandelier hanging from the high ceiling beams.
An extension of the enormous thatch roof spans the beautiful "indoor/outdoor" dining area and extends over the huge viewing deck and safari lounge, wonderful spots to kick back and watch animals meandering down to the waterhole.  The deck features comfortable seat groupings of various styles of chairs and couches atop Persian rugs, and a fascinating collection of carved wooden tables from many African cultures. The centrepiece chandelier, suspended from the beams of the viewing deck, is a fascinating mix of hand-woven, mismatched baskets which have been repurposed into lights.
A few steps away the safari lounge has a more sophisticated, chic feel, with enormous round leather ottomans, built-in seating covered with leather bolsters and African scatter cushions. Antique wooden benches, interesting carved coffee tables and West African stools complete the picture.
This fabulous revamp follows the recent introduction of the ultra-luxurious 2 bedroom Villas, the renovations within the Mandleve Presidential suite and the luxury suites.
Bush Lodge Luxury Villa Exterior
Bush Lodge Luxury Villa Lounge
Bush Lodge Mandleve Presidential Suite
Bush Lodge Mandleve Presidential Suite Bathroom
Bush Lodge Luxury Suites Lounge
Bush Lodge has become a veritable museum, an homage to the customs of Africa, a history of Jacqui and Hilton's exploration and a celebration of their vision and passion for Africa.