News update: 20th October
The Amani Spas at Sabi Sabi's Bush and Earth Lodges have become a firm favourite for travellers to the bushveld. How wonderful to have the opportunity of combining a safari adventure with a thorough spoiling at these amazing spa facilities.
Always at the leading edge of the best in products and services, the Amani Spas have introduced a new menu, some fabulous additional products and innovative new treatments.
The treatment team recently completed training on Babor, the latest skincare system being used for the various facials on the menu. Babor is an internationally renowned, award-winning, luxury product. As one of the leading brands in the skincare industry worldwide, Babor is a perfect fit for Sabi Sabi's discerning guests. With Babor being represented in over 60 countries around the world, our spa clients are happy to have the opportunity of being treated with products which they are able to find when they return home. The Babor philosophy focuses on their product symbol, a rose, a nod to the delicate, petal-soft texture of the perfect skin.
A range of new, local body products, Matsimela, has also been introduced at the award-winning spas. Developed by Amani, Matsimela contains fine, natural, Southern African ingredients such as Rooibos and Honey, Baobab and Marula Nut Oil. This wonderful, holistic range is used for all the massages, scrubs and body wraps on the spa menu.
Another new addition to the list of massages on offer is Crystal Therapy. Here, the therapists employ a special massage technique using heated spherical or palm-shaped crystals to promote healing and rejuvenation.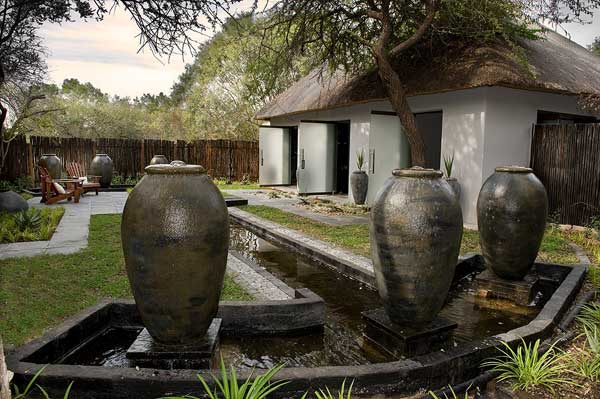 At the Bush Lodge Spa, a menu of treatments developed specially for children has been added to the services available. The 'Elephant Foot Print' or 'Busy Bee' massages are a fun experience tailored for 2 to 12 year olds to encourage improved muscle tone, a sense of calm and enhanced concentration. And little girls visiting the lodge no longer have to envy their mothers – they can now also enjoy a "Bush Babies" manicure or pedicure.
Guests are thoroughly enjoying all the new services and products, and are delighted that the Spa menu continues to feature firm favourites such as couples treatments (Earth Lodge), Ikethla massage and a rasul room. A full range of beauty treatments are also available. Click here for a look at the new Earth Lodge spa menu.