The Ever Elusive Leopard
on Dec 17, 2014
This has got to be one of my favorite leopard photos. One could argue that you cannot see the whole leopard or that the photo is very busy. In my mind this picture represents the elusiveness for which this magnificent cat is so well known.
To get the kind of image where you want a very specific subject in the background to be in focus, while having a busy foreground can prove to be quite tricky if you use full auto focus.
Most people aren't aware that on most new DSLR cameras you can choose your focus type. Leaving it on full auto focus is good in some situations but can prove rather frustrating in others.
When faced with a photo like this, I have almost no doubt in my mind that even the most advanced DSLR camera would have focused on the trees in the foreground and not the leopard in the background.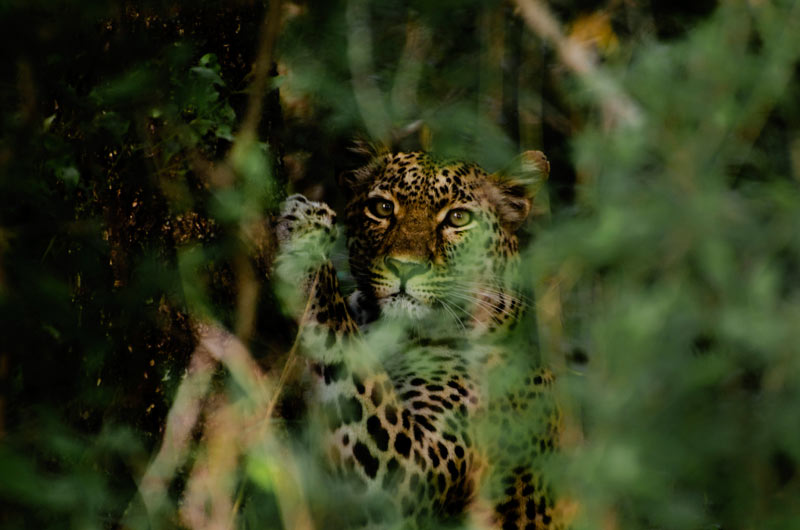 There are two ways to overcome this issue:
The first option being the quickest, is switching your lens over to manual focus. The focusing is then controlled by you by means of manually adjusting the lenses. Focusing in this way will require a lot of practice in order to maintain a sharp subject.
The second method will also require a substantial amount of practice but once you have it mastered you will reap the benefits of photos like this. Simply change your cameras focus settings from full auto focus to spot focus. This will allow you to control exactly where you want the focus point to be in the photo. You will usually see a small dot or square in your viewfinder representing where your focus point is.
Navigating this point to the desired place in your viewfinder requires some practice and is usually controlled by the round dial on the back of the camera. You will need to set your focus point to where you want it and then find a clear path through the foreground allowing your camera to focus on only that subject.
In order to get the most out of your camera you will need to learn how to use the cameras controls off by heart. It is also important to learn how to use these controls while keeping your eye on the viewfinder. The better and quicker you get at this, the less photos you will miss.