Raising The Bar
on Apr 26, 2017
The friendly and warm welcome guests receive upon arrival at our pristine lodges is testimony to the Sabi Sabi culture of generosity, family and a 'home away from home' in the heart of the bush. True South African hospitality flows through our 5-star service – from great cuisine, boma dinners and delectable drinks – conveyed with a smile. Our proud heritage is tangibly represented in our selection of local beverages for guests to indulge in, after a day out in the African wilderness.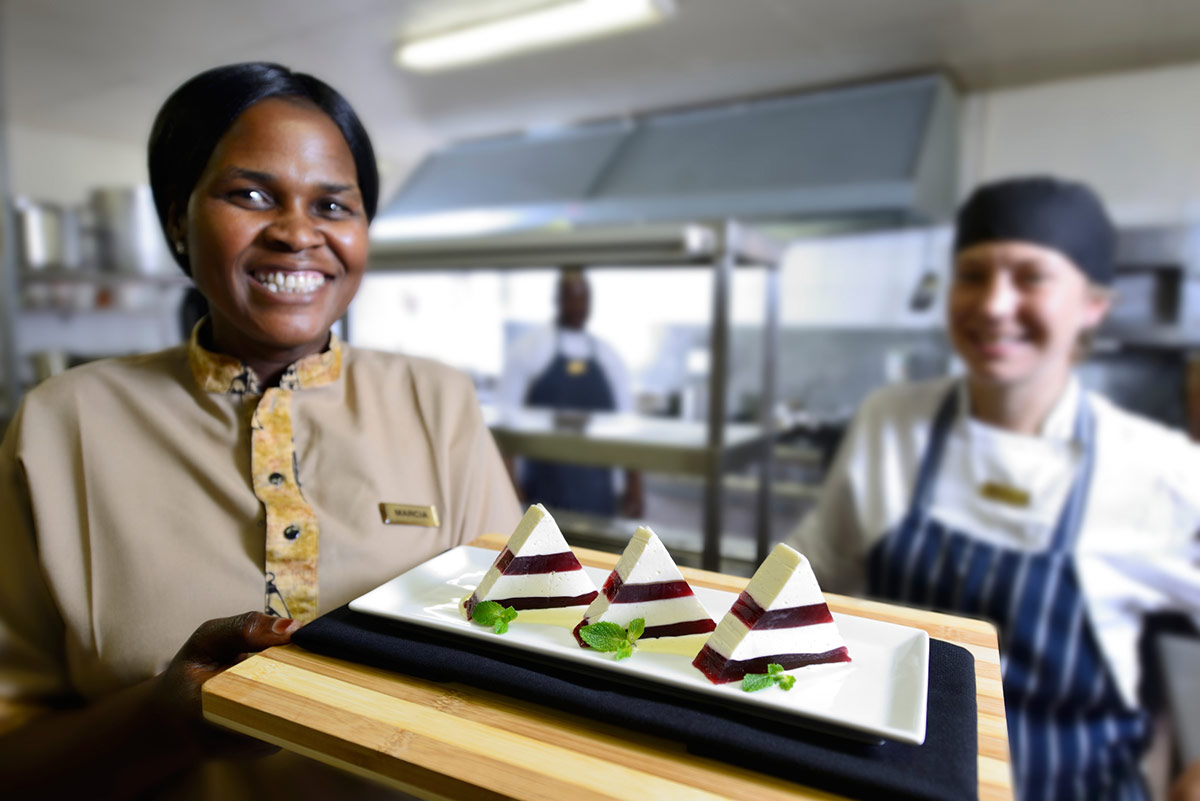 In the "spirit" of always being on the leading edge of international trends, Sabi Sabi introduced a range of craft beverages to intrigue, delight, and be enjoyed by our guests. Already recognised by "The Best Wine Lists of the World – 2016" for our choice of wines, we are proud to introduce unique crafted gins and beers to the Sabi Sabi bar selection.
At our lodges you can now treat your nose, and your palate, to the botanicals which create the various aromas of the gin collection. The artisan distilleries infuse gin, which in its original form has noticeable flavours of florals, herbs or juniper, with fragrances such as citrus, fynbos, spices and rooibos. And then comes the magic of mixology. Curated cocktails are created with customised mixers and tonics bearing hints of elderflower and rose water. Our assortment consists of quintessential South African gins such as Inverroche, KWV Cruxland, Wilderer, Woodstock and Cape Town Dry Gin. Fresh cucumber, muddled raspberries and zesty lemon slices add the finishing touch to these refreshing gin cocktails.

Darling Breweries, an award winning South African microbrewery based on the West Coast, recently installed safari-inspired pint pourers at our lodges. Drawing bushveld inspiration from antelope, zebra and the Secretary Bird, these 'slow beers' will allow connoisseurs to appreciate the skill behind superbly crafted beer. Light amber lagers, floral honey aromas, spicy flavours and undertones of grass remind us of the surrounding bushveld.
The days at Sabi Sabi lodges start early – with sunrise safaris followed by delicious, hearty breakfasts, exciting walks and birdwatching, or just merely relaxing around the sparkling pools. Fabulous lunches, followed by a welcoming siesta, are the perfect time to spend a few hours anticipating the evening safari still to come.
During the afternoon game drives there is the opportunity of witnessing a spectacular African sunset. What better way to appreciate this incredible display of nature than by stopping at a viewpoint, sipping a refreshing sundowner, and watching the sky change from blue to orange to red as the sun slips below the horizon.  On return to the lodge, and just before dinner is announced, guests relax again into the warmth of Sabi Sabi's renowned hospitality. In the bar areas of all four of our 5-star lodges, people unwind and share stories of their wildlife sightings. And a lot of the conversation also revolves around the craft beverages being served alongside our fine wines; a menu of artisan gins, cocktail mixes and small batch craft beers.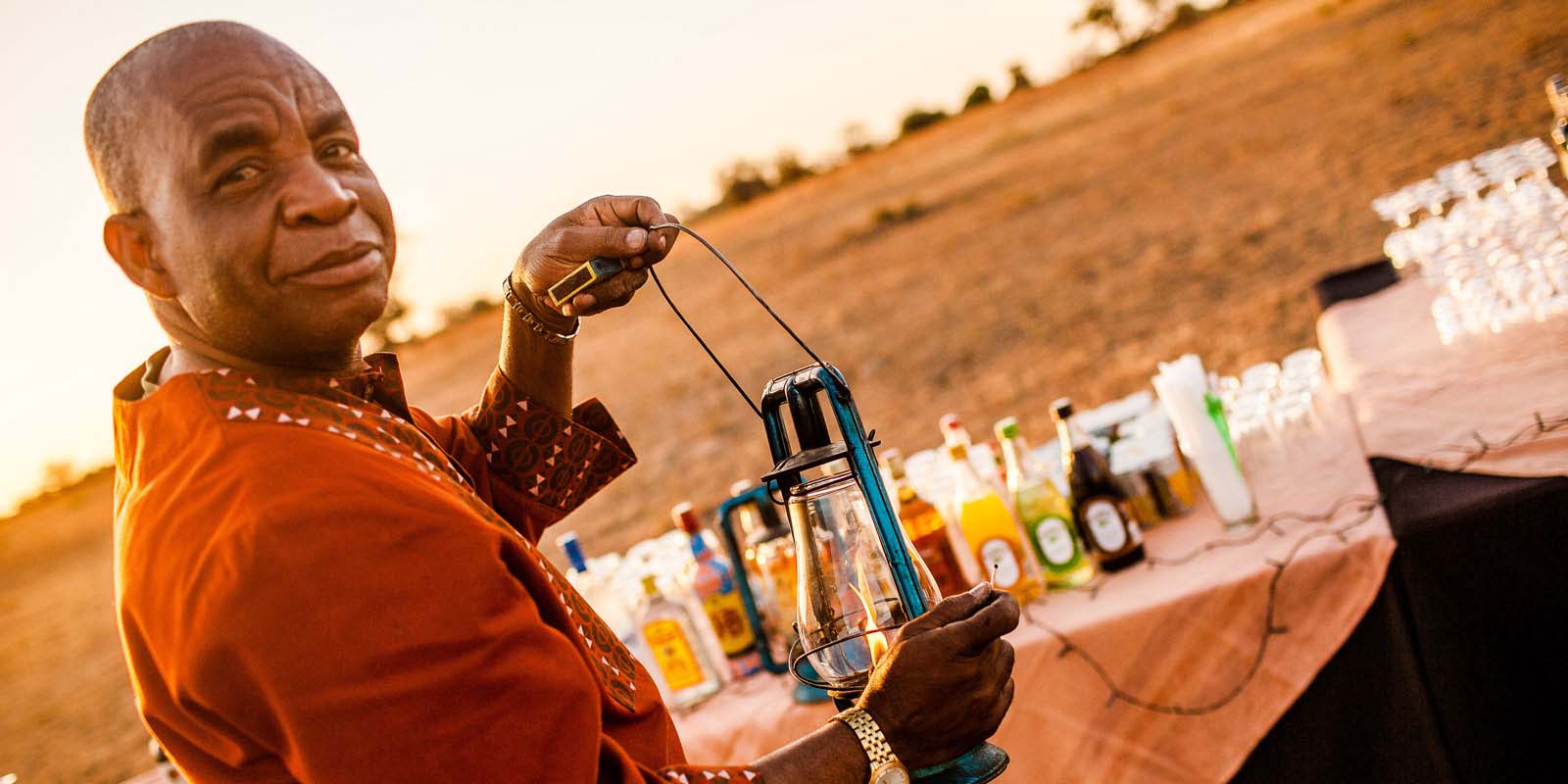 A gastronomic feast awaits at dinner time, with dishes made from the freshest produce, presented in new and innovative ways. There is a variety of venues at the individual lodges, such as our Outdoor Kitchen at Bush Lodge, where visitors can interact with our chefs while food is prepared al fresco style; the cavernous wine cellar at Earth Lodge – a unique setting, the hand-hewn wooden banquet table framed by the thousands of bottles of South African wines which line the walls; or in the riverbed at Little Bush Camp, where scrumptious cuisine is enjoyed under the canopy of the night sky, with the songs of millions of frogs and crickets your personal choir.  Our philosophy of food extends to "simple done well", and collaborations with a range of international chefs has seen our menus reach world class standards. There has been mutual intercontinental benefit as some of Sabi Sabi's unique ingredients and dishes are now appearing on overseas menus.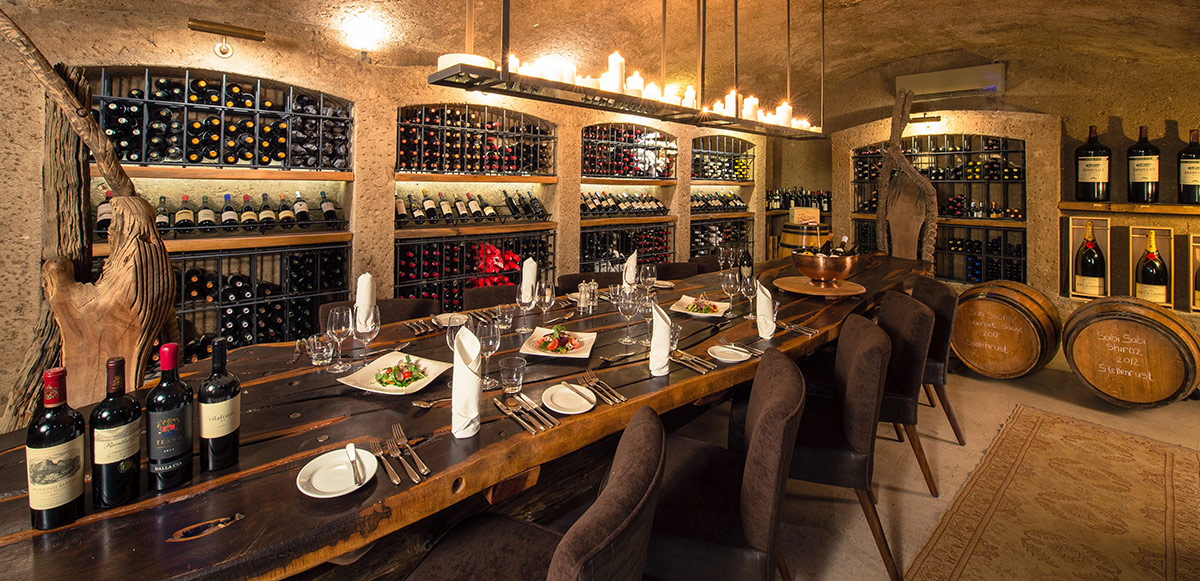 Paired with these fine dishes is our extensive wine list. Sabi Sabi joined forces with Stellenrust Estate in Stellenbosch in 2010 - who produce a range of exceptional lodge wines - and in 2016 they hand-bottled the Sabi Sabi Private Cellar Reserve Collection, consisting of a superb Shiraz and Cabernet Sauvignon. The bottling took place four years after harvest and the wine was "bush matured" – the oak barrels resting in the Earth Lodge wine cellar. Only South African wines are stocked on our wine list, and a detailed selection process is undertaken when choosing the best of the best. Boutique style wineries that produce award-winning wines take pride of place. We are proud to showcase some "off the beaten track" wineries and wine regions – one of the reasons we were awarded 2-stars on "The Best Wine Lists in The World – 2016".
A first-class range of imported whiskeys and champagnes, as well as non-alcoholic cocktails, complete our full bar service offering.
We'd like to invite you to try a favourite Sabi Sabi cocktail, made from one of South Africa's most renowned craft gins.....We hope you enjoy this as much as our guests do:
 Add one part Inverroche Amber gin;
Add two parts Ginger Ale;
Serve in a wide glass with plenty of ice and half a slice of orange - best enjoyed while watching a beautiful sunset at Sabi Sabi Private Game Reserve.