There are just some days in the bush where the animals just find you and today was one of those days. I had been driving a Canadian family for the last 2 days and we had already seen all of the Big 5 but not as well as I had hoped. With time on our sides our luck eventually broke. We found the Southern Pride lying hidden in the a large Tamboti stand and the visual of these guys was again not great but before we left I told the guests not to worry as we would come back after dark when they were moving around more so that we could get a good view of them.
As we left them we found some elephants and they were moving through the bush at a pace. With no off-roading, I anticipated their direction and headed around to the next road to see if we could get a better view of them. As we got around and met them on the other side they started to bath in a few mud wallows. They kicked at the soil pulling the dirt into the water to make as much mud as possible. The babies and adults then took turns to lie down in the cool mud. One of the females came right up next to us to a wallow and started the whole kicking thing again. As she kicked more and more mud we ended up being part of the wallowing as she splashed the mud up onto my tracker, my guests and myself. The guests were screaming with laughter every time the female kicked up the next batch of mud and covered them. Solly, my tracker, however was not so keen on this idea and slipped off the tacker seat, over the hood and parked himself on the far end of the bonnet of the vehicle to keep himself clean.
After the elephants we moved off and bumped into our dominant male leopard from the west who was busy marking territory. He approached the vehicle and walked right past the rear end of the vehicle. The guests at the back were so terrified as he made eye contact with them that they randomly took photos hoping to catch the magnificent creature in the frame as he passed underneath them but instead caught his rear end in one photo and he got some amazing photos of grass thereafter. We followed him for another 20 minutes before heading back to Little Bush Camp for some breakfast. When we were reviewing the photos back at the lodge the whole family gathered around and cackled as he recounted the story of how the leopard had tried to eat him, all while showing them the amazing photos of the indigenous grasses that he had managed to capture!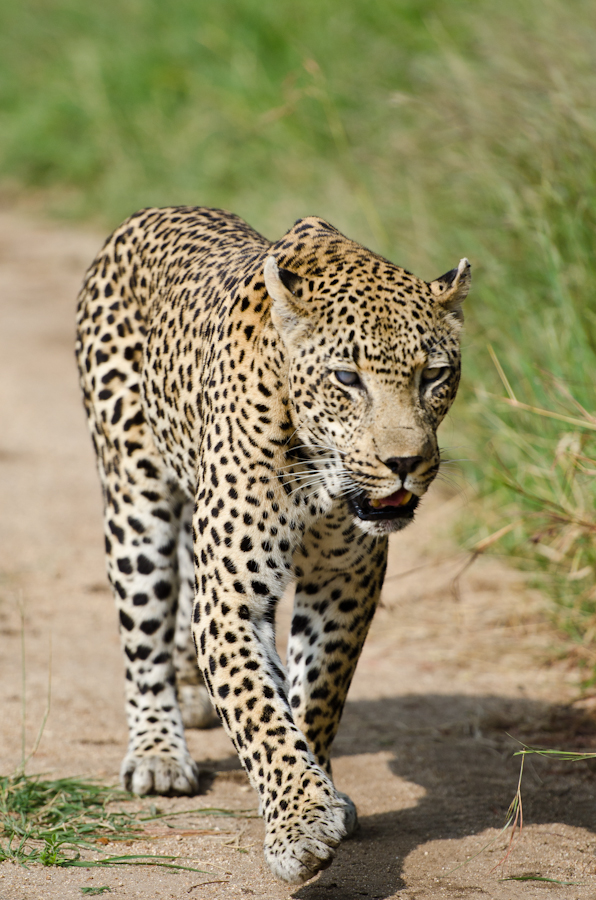 by: Richard de Gouveia (Little Bush Camp ranger)