It has been a leopard and lion kind of week!
The week started off brilliantly with a sighting of one of the Gijima male lions on a waterbuck kill. After his meal, he made his way in the direction of where the Mhangeni Pride was found. Tracks for the other Gijima male were seen a fair distance from him, accompanied by the Southern Pride female.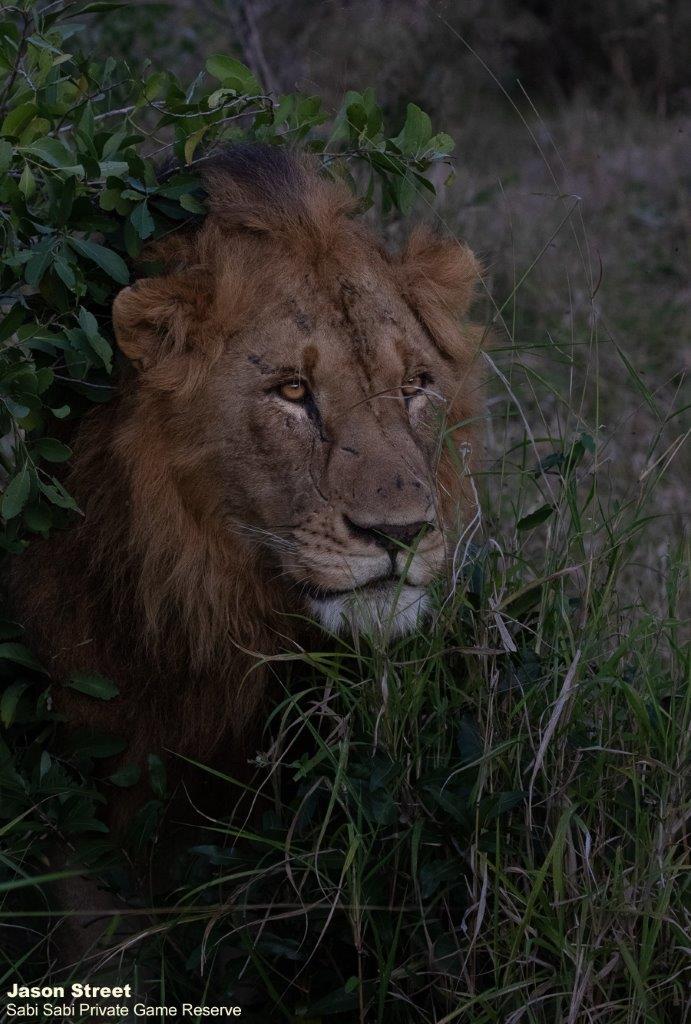 Driving from one lodge to another before the game drive is always exciting because you never know what you might find on the road. And if you find something you have a head start for the day! Daniel was lucky one morning as she found a male and female lion right next to the road. As she got to Selati Camp, her guests finished their coffee and headed out. To their surprise, two other females and one more male joined the first two lions, and it is confirmed – the N'waswishaka males have joined up with the Kambula Pride females.
The Styx Pride moved in unison, led by one of the females while the cubs lagged behind after finding an old wildebeest skull and played with it. Cubs will learn to hunt through play. Stalking each other and playing with all sorts of things found out in the bush present learning opportunities for all.
The following day, their tracks were seen a few meters from Selati Camp so we decided to follow them. We trailed them on foot as they cut into a big area which was hard to follow in the safari vehicle and found them in a drainage line. It took us a while to get to where they were, but we eventually made it and what a worthwhile exercise – the pride was feeding on a kudu kill!
Over the past few days, the pride has looked hungry, and we were hoping they would make a kill soon but didn't expect this. The cubs even seemed less playful, not wanting to waste any energy but seeing them on the kill, they were full of beans, happily playing around with full bellies and still more to eat from the carcass.
The pride was seen again and just as they started grooming and stretching, Kigelia made her way down the drainage line almost bumping into the lions! Fortunately, she was alert to their presence and quickly made her way out of the area. Lions are one of the biggest threats to leopards and will kill them if given half a chance. Leopards too will kill lion cubs if they get the opportunity. This alleviates competition in the future when they will grow up and be able to kill leopards.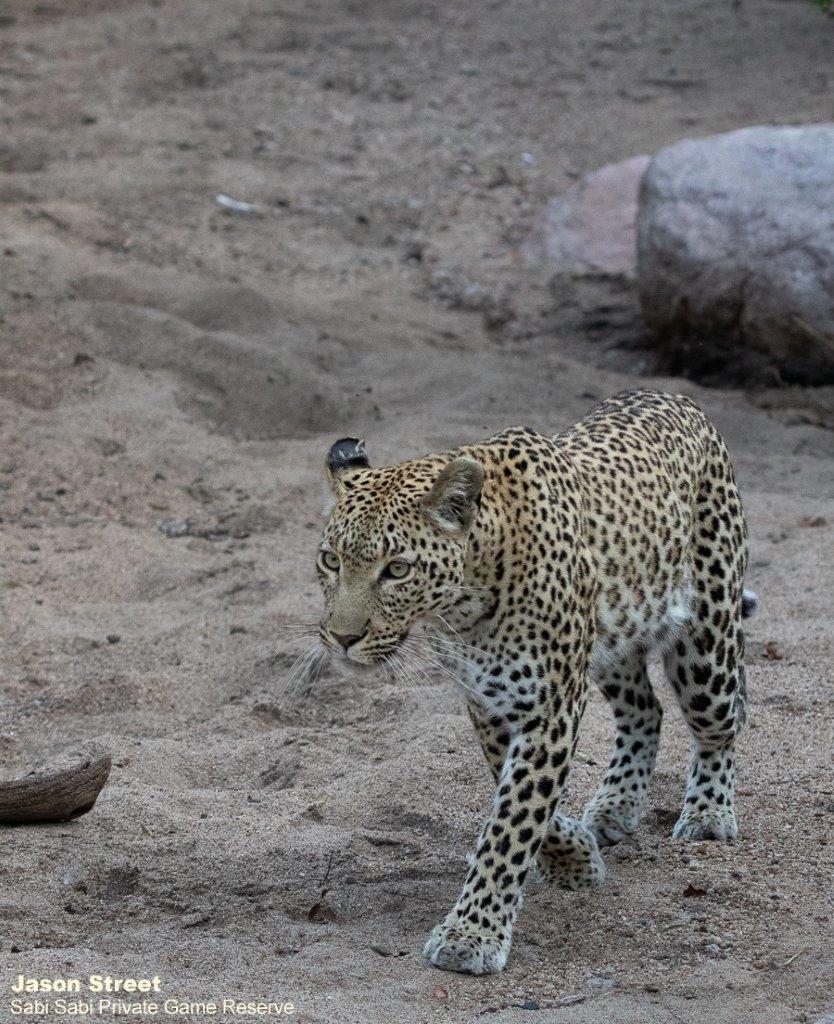 The Mhangeni Pride spent the day sleeping at the Sabi Sabi Private Airstrip. With guests arriving and departing throughout the day, could you ask for a better welcome or final goodbye? The pride would use the wide-open spaces to wait out for any potential prey coming into the area. With the open spaces around the airstrip, they would be able to spot prey from a long distance and plan their attack.
We spent most of one of our mornings tracking a male lion who had covered great distance during the night. Just when we felt we were close, we bumped into the beautiful Golonyi female leopard. Just as we were onto the male lion, so was Golonyi. She moved very carefully through the area using termite mounds to stop, look, listen, and smell where the lion might be. She carefully made her way out of the area making sure to not cross paths with the lion.
We found N'weti stalking a family of warthogs, carefully considering every move he makes. Unfortunately for him the warthogs got away, but he didn't give up. He walked from termite mound to termite mound in search of something that may be caught unawares. He found another family of warthogs, but once again was unsuccessful. We left him as he walked through a Tamboti thicket.
As we rounded the bend, Ntsumi was just around the corner and walked in the direction we left N'weti but as soon as she realised there was a male in the area, she quickly made her way out.
Ntsumi was on the hunt, stalking impala. She was successful in bringing down an impala but as soon as she grabbed it, a clan of hyena quickly jumped in and stole the kill before she could get any for herself. Hyena will trail predators like leopards, wild dogs and cheetahs. They are often able to overpower and outnumber these successful predators and obtain an almost free meal.
Two days later – a flash of a white tail in a thicket revealed Ntsumi and her cubs walking with purpose. We were certain she had made a kill, so we followed them through some challenging terrain until finally the male cub shot up a tree. Ntsumi had managed to kill a duiker and hoist it to the safety of a tree. The young male was first to start feeding and would not allow the female cub in. The duiker eventually fell from the tree where the young female got her chance to start feeding. The ever-opportunistic Ntsumi then spotted some warthog close by and tried her luck where she was unsuccessful. Ntsumi returned and again hoisted the duiker kill to safety where the cubs again got an opportunity to feed.
Although there is enough of a meal to satisfy the three leopards, they will never miss a potential opportunity when one presents itself. With Ntsumi losing her kill to hyena yesterday, it was certainly a welcome meal for the trio.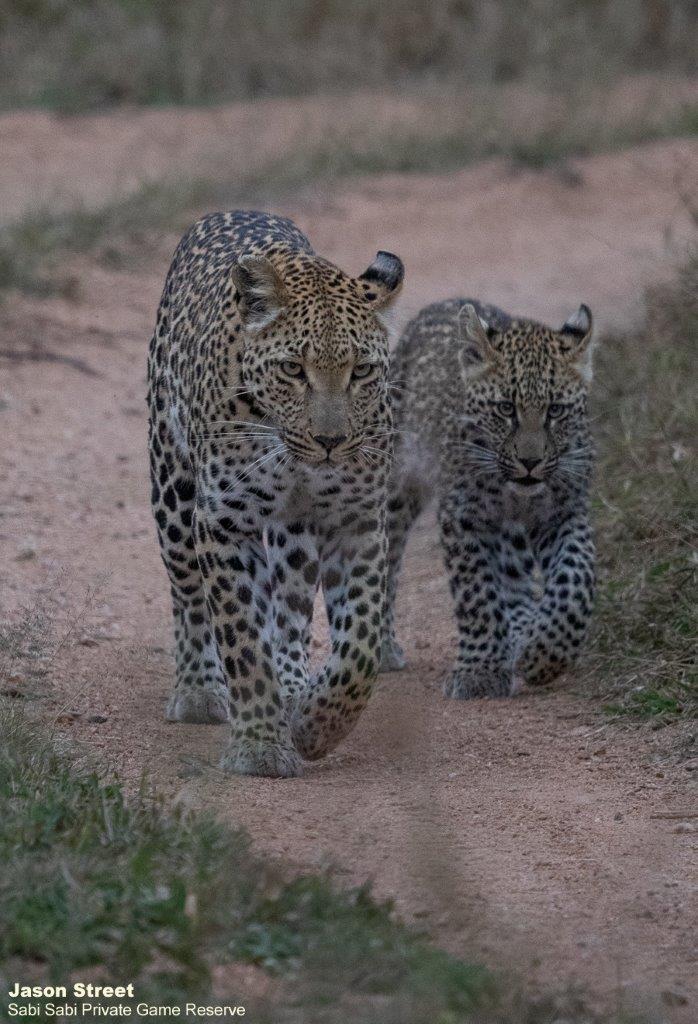 After having their fill on a duiker, we found Ntsumi walking along the road in front of us, towards us. Her cubs were likely hidden away in the thickets while mom was clearly out on the prowl once again looking for their next meal. Keeping herself and her two ever-growing; forever-hungry cubs well fed and in great condition is no easy feat.
From a distance in the open plains on top of a large bare tree, a pair of Tawny Eagles were spotted. Tawny Eagles are monogamous. They generally lay eggs from April to July. Incubation is around forty days with the female spending most time incubating the eggs and occasionally relieved by the male for short periods. Eggs will hatch two to three days apart and the older chick usually attacks the newly hatched chick which seldom survives.
After receiving some unseasonal rainfall, we imagined this Rock Monitor's home was probably flooded, as he seemed to peek out of a hole in a tree. Did you know that when attacked by animals, the Rock Monitor will play dead (known as thanatosis), so its attacker loses interest and moves off, giving the reptile time to run for cover?
Soon after stopping for morning coffee, we decided to head to a small waterhole to see what we could find. We were surprised to find this hippo in a shallow waterhole – certainly not deep enough to submerge fully, but the hippo seemed content. Shortly after our arrival, a troop of baboons approached the waterhole and the hippo made known to them that they were not welcome and started showing some aggression towards the intruders.
Until next time…
Blog by Wendy Claase
Images by Andries Ndlovu, Daniel Greyvenstein, Jason Street and Ronald Mutero