When driving around the bush, with every corner you turn you always wait for something amazing to appear. This cheetah and her cub surprised us as we came around a corner. They had just killed a Steenbok moments before we arrived and finished it off very quickly, constantly looking around for any other predators. When mom finished eating, she moved into the shade to start digesting her meal. The cub decided to join her but didn't want to leave the kill behind and took it with him.

The following day, we saw them again. It was a fantastic sighting of the cub practising his hunting skills on mom, stalking and pouncing on her. She played along well, running away so he could chase her, practising for one day when he starts hunting for himself. After a few chases, they took a well-deserved rest in the nice warming morning sun.

After finding lion tracks in the south, coming from the Sabie River, we immediately started to follow them. After an extensive tracking session, we were delighted to find the Southern Pride and her two sub-adult daughters moving swiftly through a drainage line. We lost sight of them as they headed off after some zebra in the distance.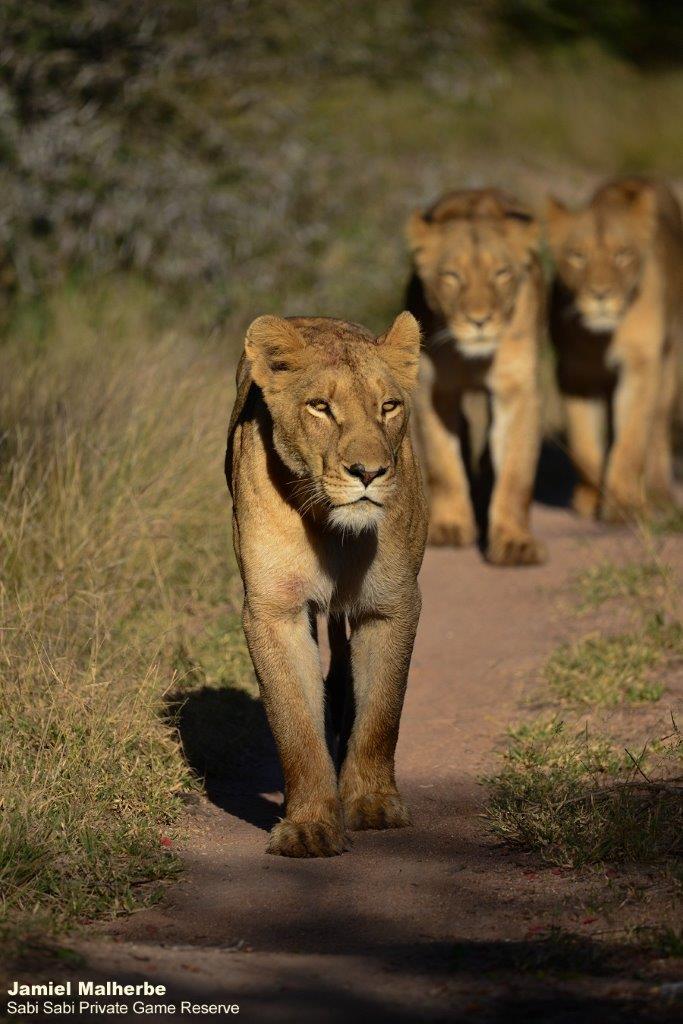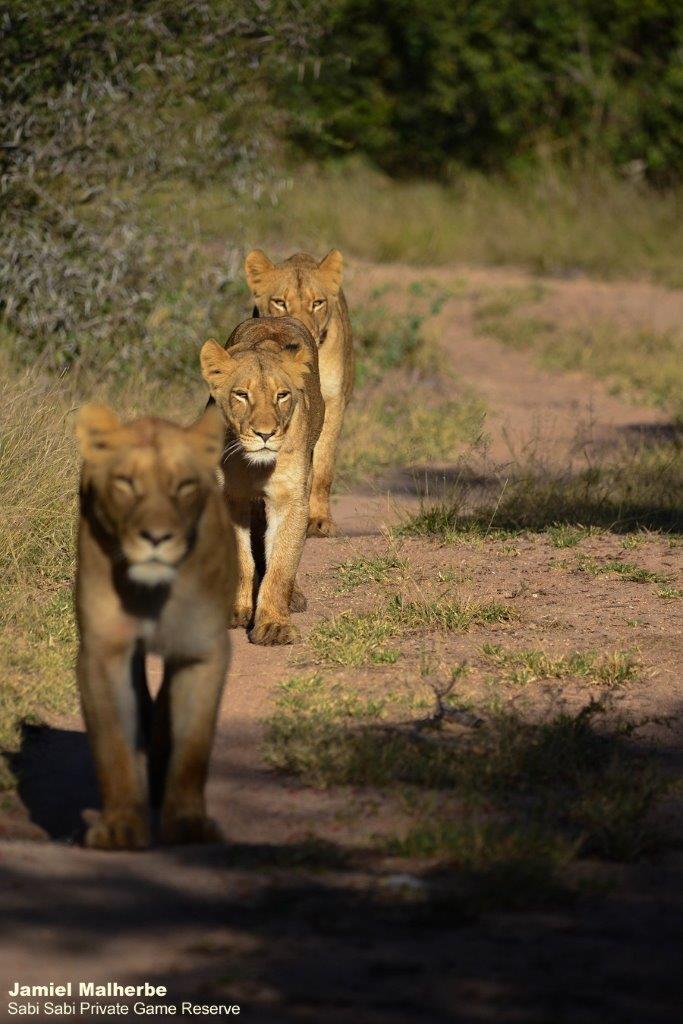 A day later, we located them again – on the hunt – but unsuccessful.

Finally – success!! The pride was soaking up the sunshine on the boulders in the Sabie River. They were alerted to some zebra and impala grazing up on a crest and immediately went into hunting mode. The two younger females made a large loop around chasing the prey into the adult female who managed to grab an impala.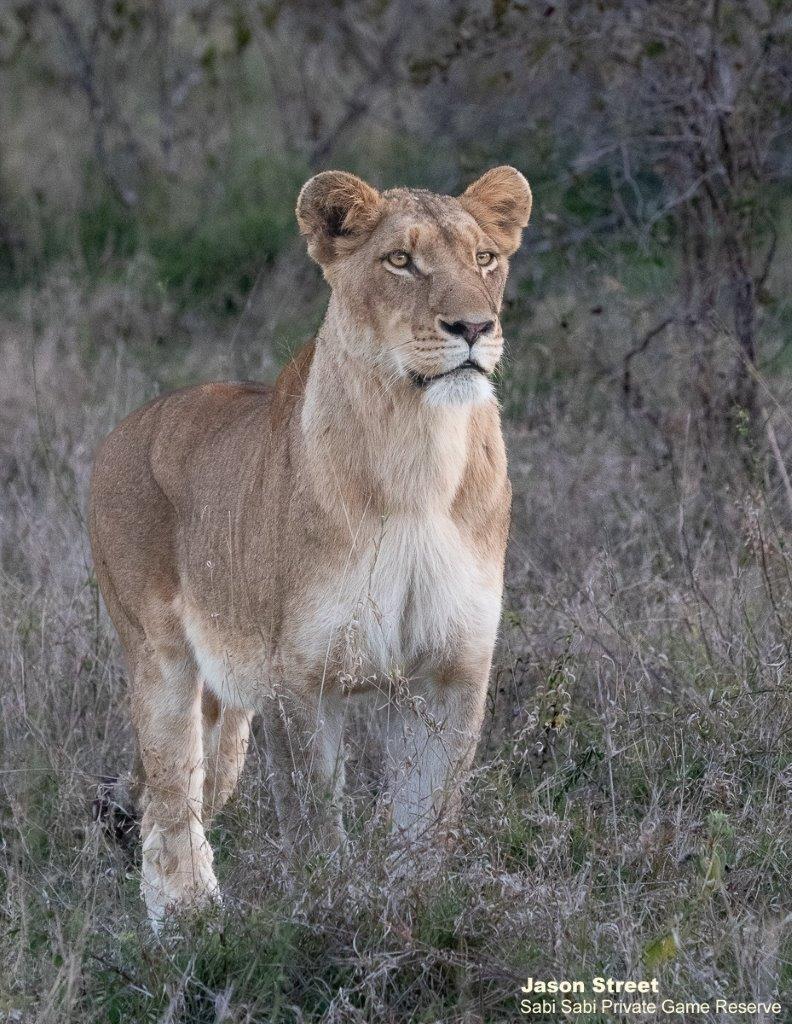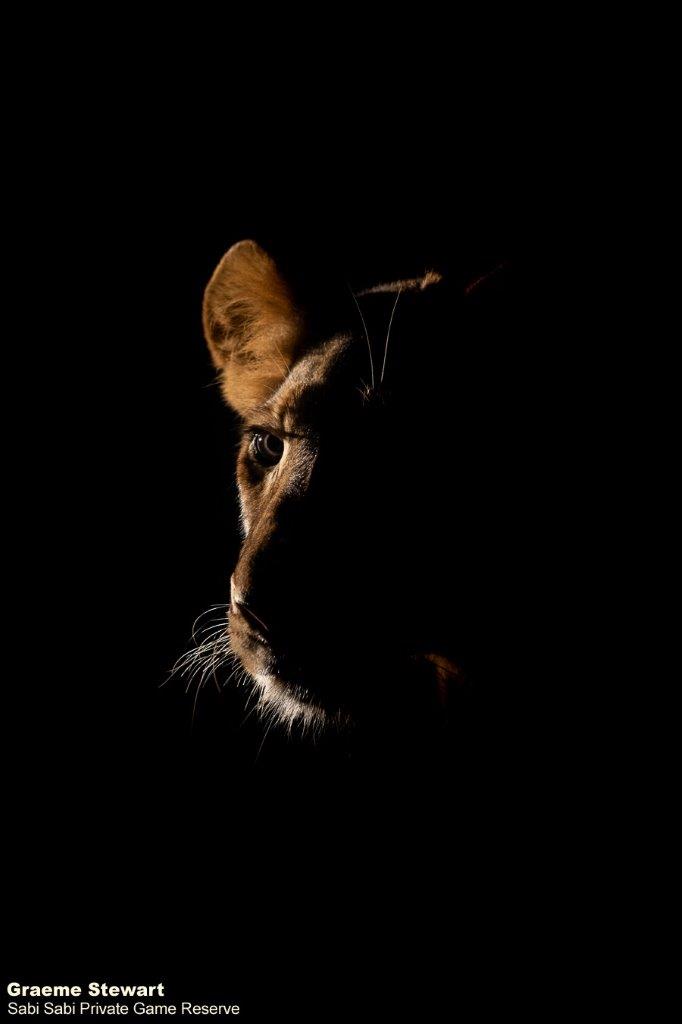 Wild dog sightings are always exciting as you never know what to expect. We found this pack just before they started hunting in the late afternoon. We followed them on their way to a herd of impala and unfortunately one of the impala did not notice the wild dogs and became dinner. Two of them started feeding before running to the rest of the pack to call them to the meal.

Ntsumi was in a tree with an extremely fresh kill. We waited for a while to see if she would go and fetch her cubs, but no luck. A hyena decided to make an appearance which played a big role in why she won't come down to call her cubs, to keep them safe. The hyena walked around the tree to find any scraps, but eventually walked away, tail between the legs. Later, when the coast was clear, she fetched her cubs and we spent a good time with them as the cubs fed. They managed to drop the carcass on two occasions and mom would quickly fetch it. Third time – not so lucky as hyenas got to it before Ntsumi could.

After not seeing N'weti in a while, he was on a mission! He covered a very large part of the Eastern section of Sabi Sabi – patrolling the areas we have been finding Mawelawela. There are interesting times ahead with the male leopard dynamics…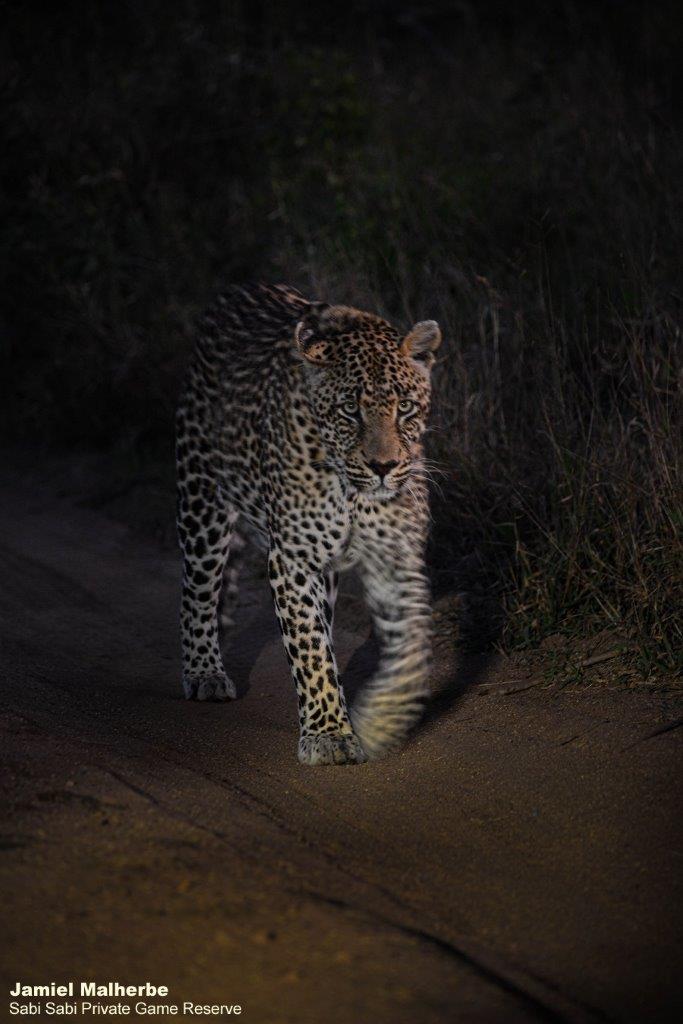 Kigelia covered some great distance from the North Western sector of Sabi Sabi to the central area close to Bush Lodge. She was on the hunt and looked like she needed a meal.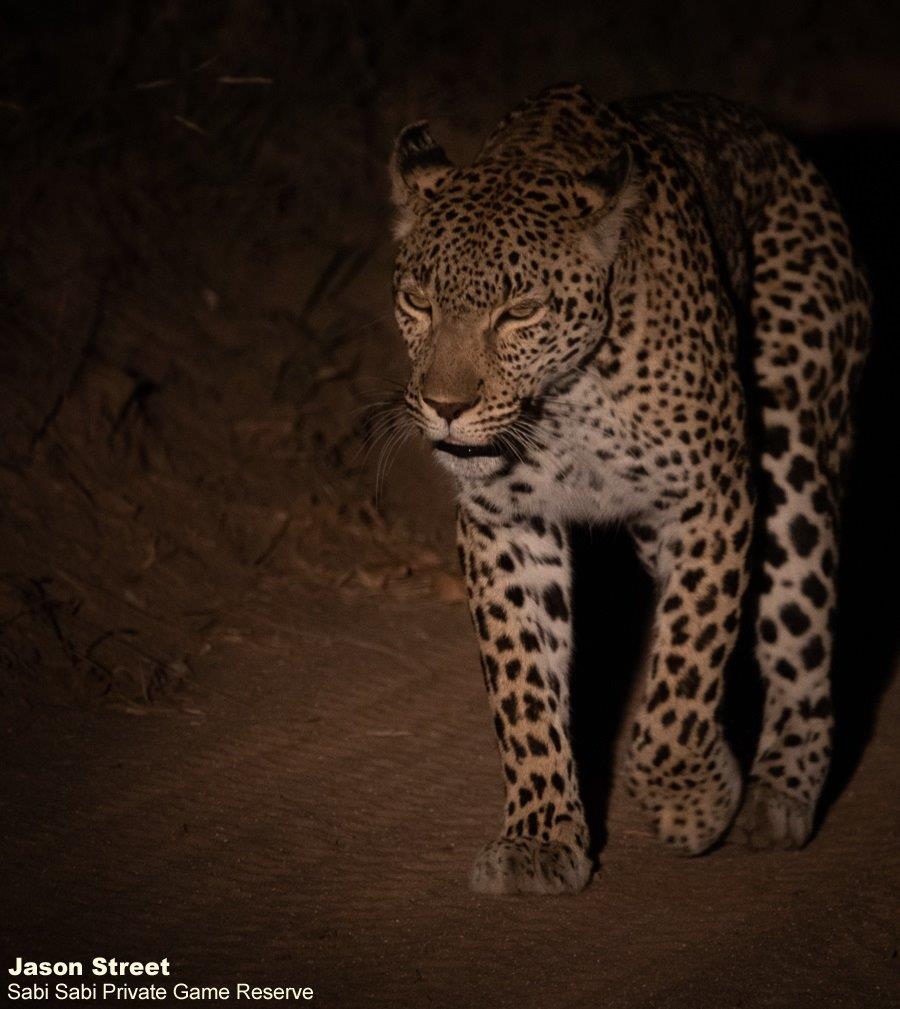 Kigelia's cub, known as Jacana, has been spending a lot of time alone away from the comfort of mom. She is growing in confidence every time we see her. She gets her name from the dam close to Little Bush Camp where her and her sister were born.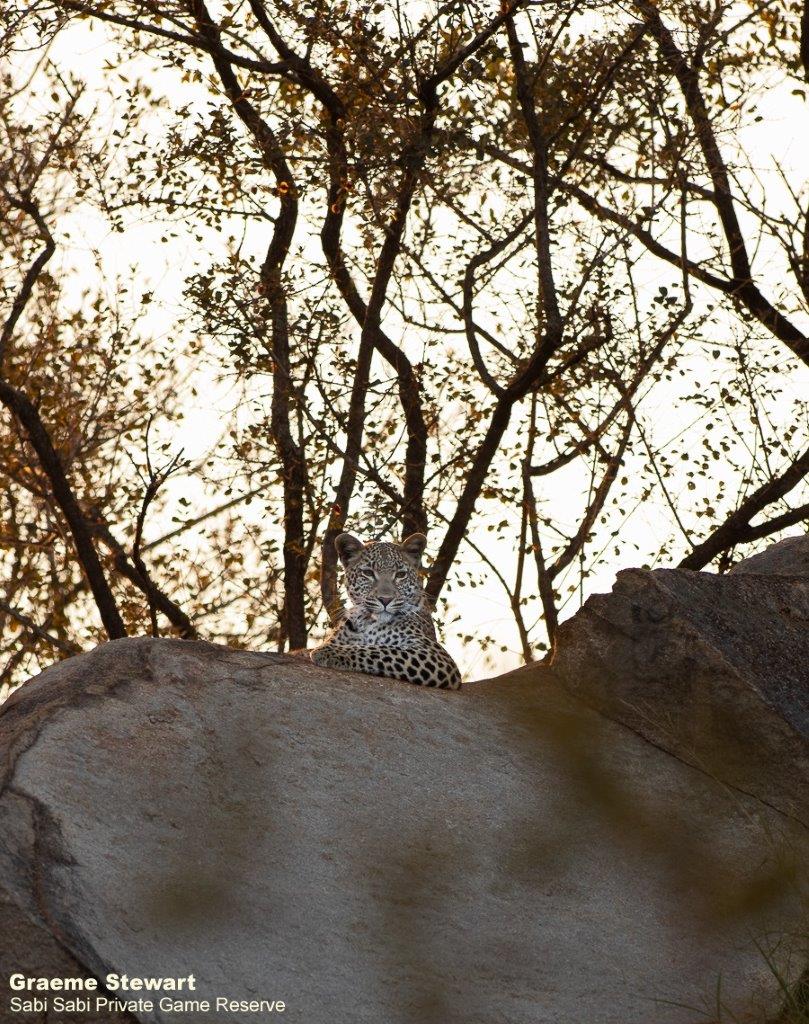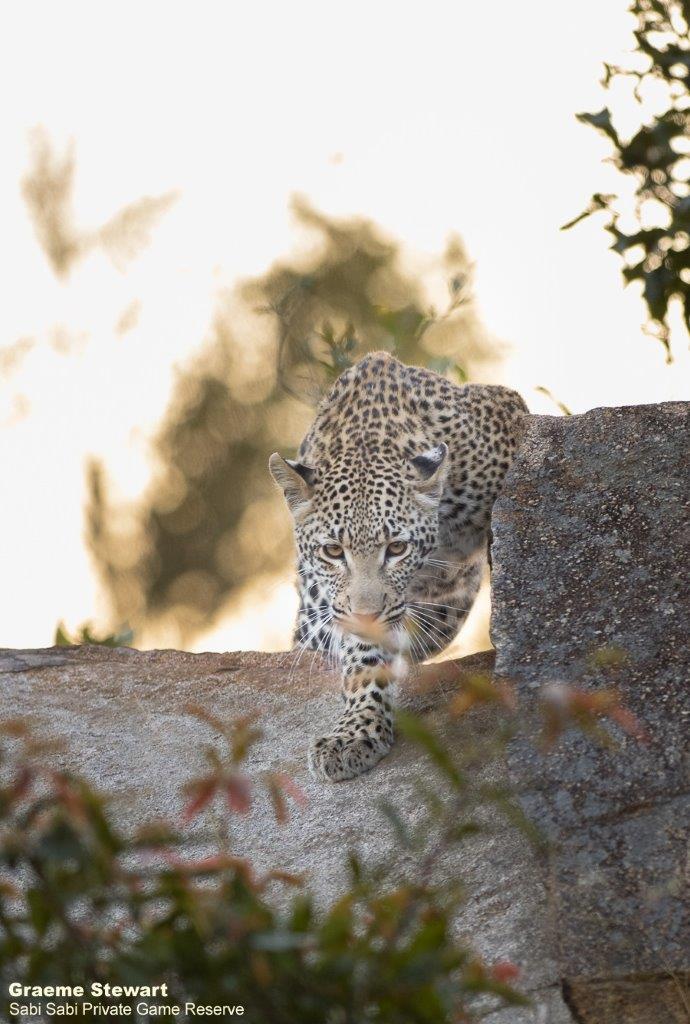 A young hyena lying in the road trying to absorb as much heat as it could on a very cold morning.

Spending time with a large elephant is humbling – they are the world's biggest land mammal, yet so gentle and empathetic.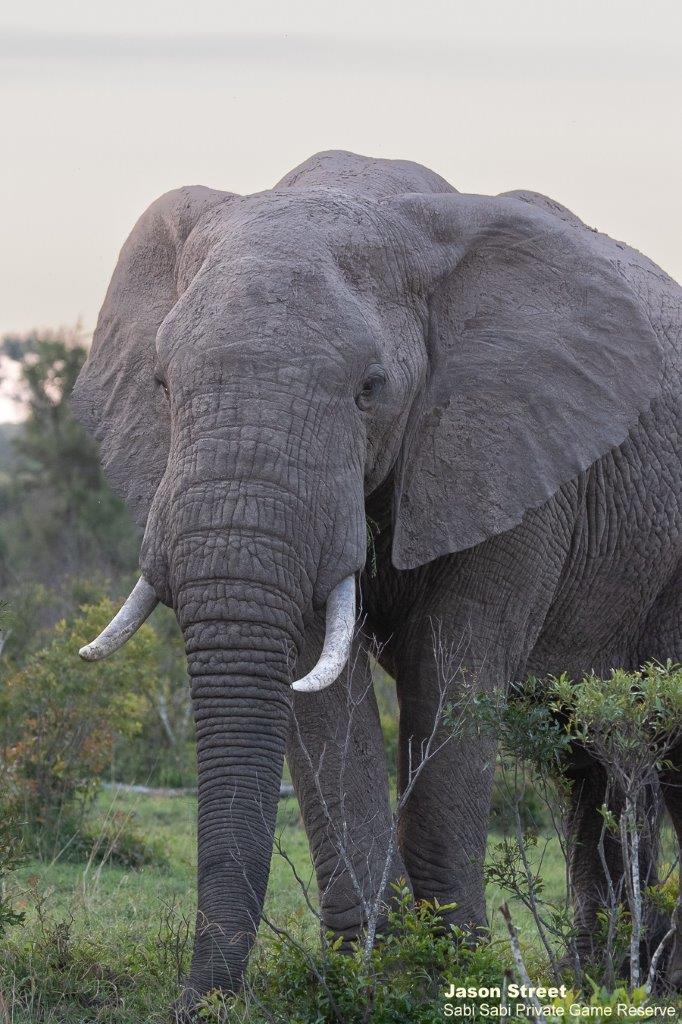 Although normally nocturnal, this Verreaux's Eagle-owl was perched in the exposed branches of a dead tree, possibly to heat up after the cool night before moving into the thicker foliage of a tree to roost for the day.

Moving across the long grassy plains, this herd of zebra paused, surveying the area ahead before moving into it. With a slight wind swirling, they would need to be more cautious as predators know how to use the wind to their advantage.

Passing by one of our small waterholes we got audio of a large domestic dispute, two male Egyptian Goose were in full combat fighting over a female. The winner eventually chased off the invading male and joined his female partner in a beautiful display.

A giraffe lifts its head from browsing to see who's watching.

Until next time
Blog by Wendy Claase
Images by Amy Leigh, Daniel Greyvenstein, Graeme Stewart, Jamiel Malherbe, Jason Street and Ronald Mutero