With a fair amount of rain received over the past few weeks, waterholes and puddles have been filled to the brim and with this, we are seeing hippos in areas never seen before. This is a sign of good distribution of animals, especially at this time of the year. In this particular sighting, we were spoilt with a grand display of the large herbivore's dental structure. People often assume that herbivores such as the hippopotamus have harmless, unsharpened teeth, but they have a complete set of 4 incisors, 2 canines, 6 – 8 premolars and 6 molars. An impressive show indeed.

Hot on the trail of a pack of wild dogs, this hyena followed the trail at a loping run, hoping to steal anything the pack had been able to catch.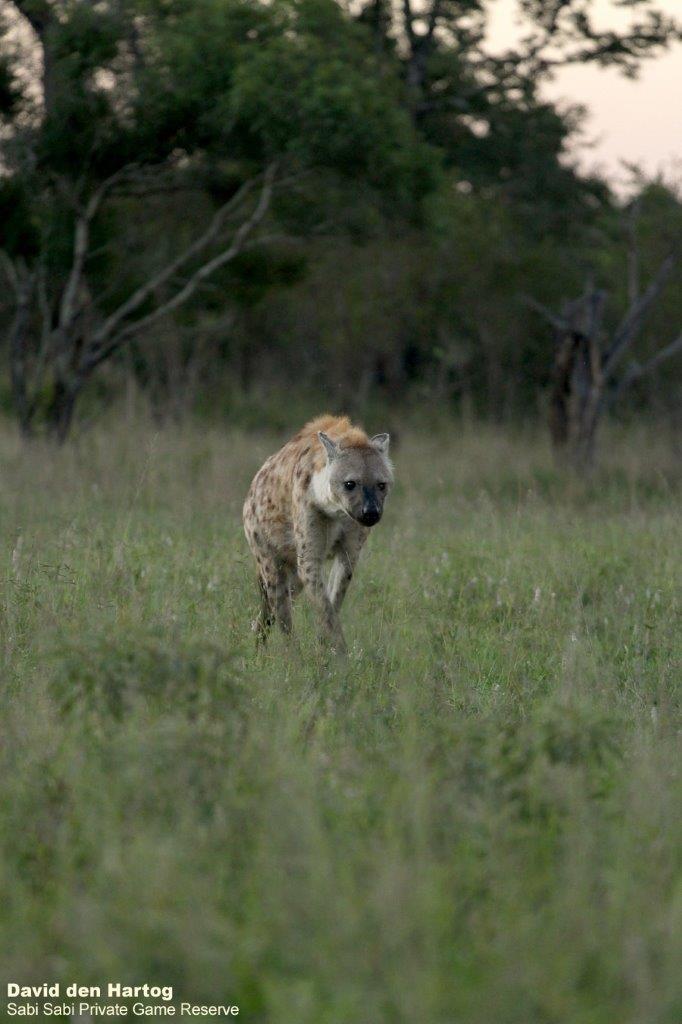 Keeping up with mom…
An impala sunrise as we set out on safari to explore what happened during the night…

Themba reading the bush newspaper. Our trackers are always excited to head out early in the morning to find what has happened while we were asleep. They are able to read the tracks and signs left from the previous night like a newspaper and translate them for our guests.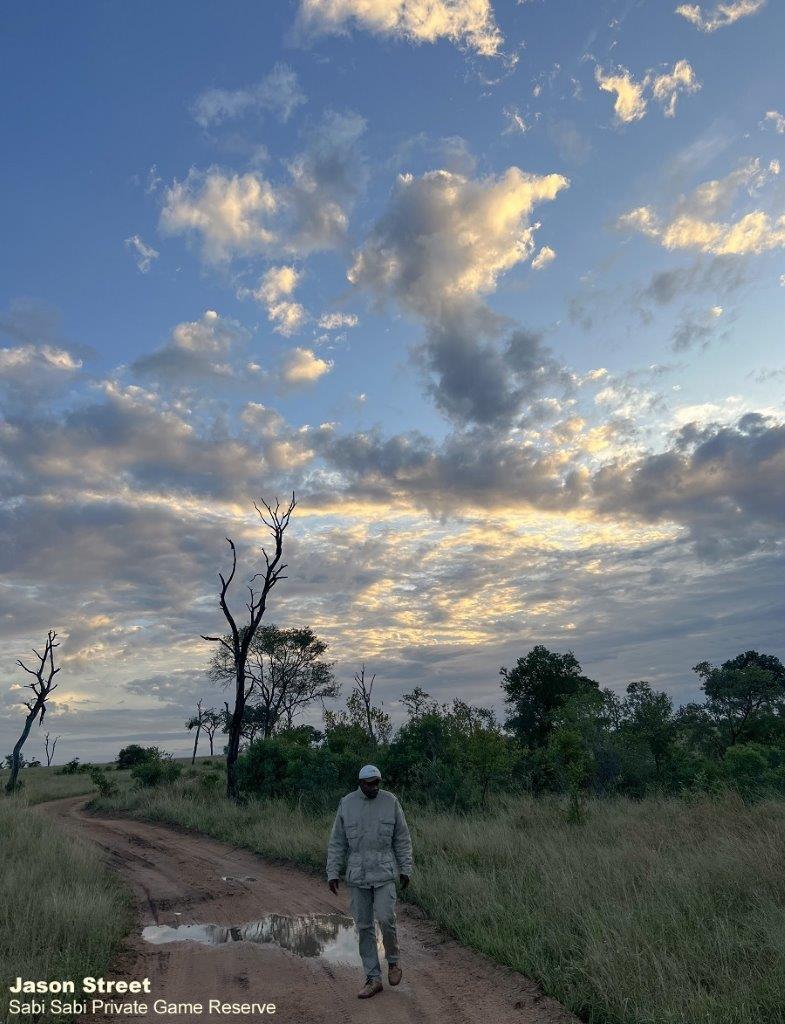 We saw a couple of eagles landing not too far away from where we were, and we decided to have a look. Once we arrived, we caught sight of a beautiful juvenile Short-tailed Eagle landing in the tree above us. It turns out the eagles were landing to go and investigate the remains of a young impala that was probably killed by a predator around the area a day or so ago.

Chameleons have protruded, independently movable eyes and can see in an almost 360-degree arc and are able to use one eye to keep focused on prey while the other looks out for predators.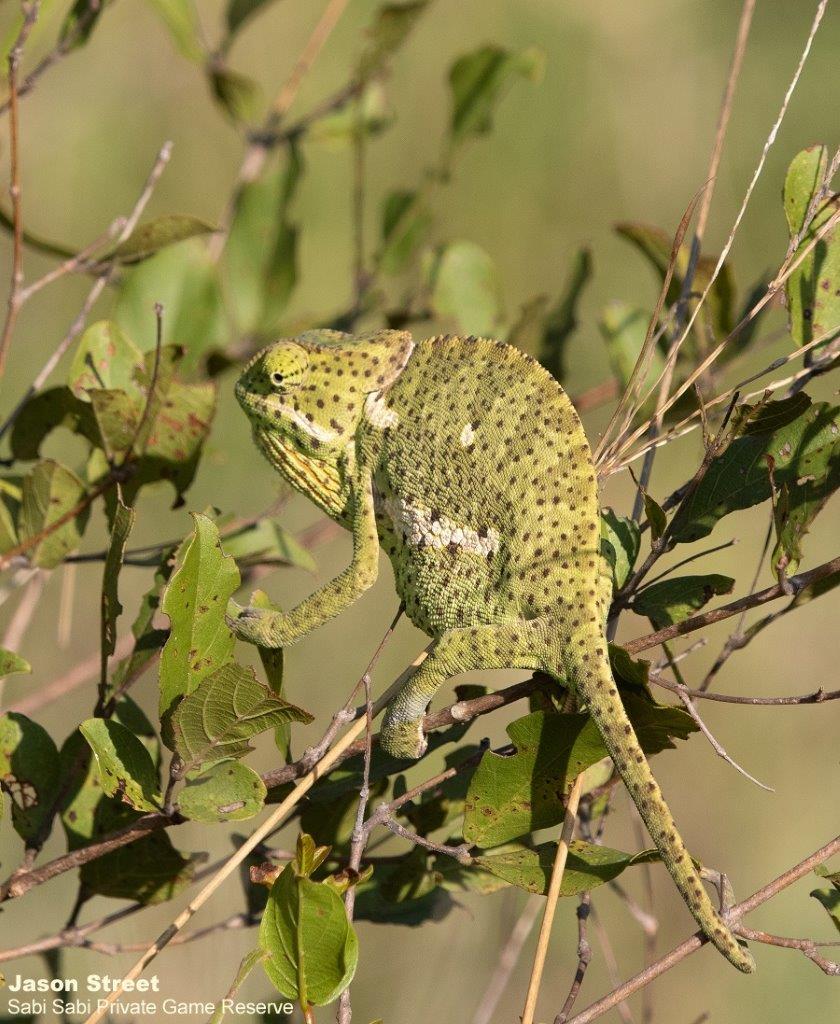 Male buffalo are often referred to as "dagga boys", meaning mud boys because they are regularly found cooling themselves in waterholes as well as mud wallows. We found one laying down, totally covered in mud and seemingly very relaxed, allowing us a close-up sighting of him.

A large pack of 27 wild dogs was found hunting. They managed to kill a steenbok which the pack finished off in under 5 minutes, but with a pack this size, they will need another meal or two to satisfy all the members' needs.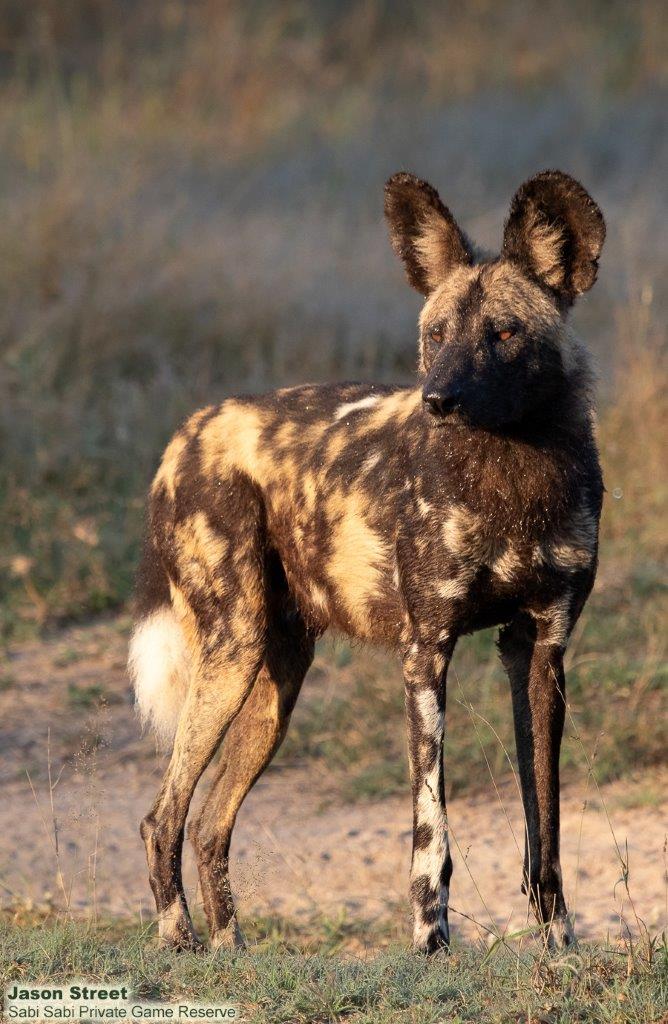 An unreal welcome back to the bush, with guests who have become family. We were in awe as we were gifted a marvellous sighting of two wild dog scoffing down a young impala!! Although quite a dramatic sighting, we all agreed that it was by far the highlight of the trip! Even better, we were the only vehicle around to witness this mind-blowing experience! Nature is wild!
We found this male cheetah with a full belly just before the sun fell behind the horizon, indicating he had a good meal during the day. He quenched his thirst, with his reflection shining beautifully in the water. Some sightings just leave you speechless.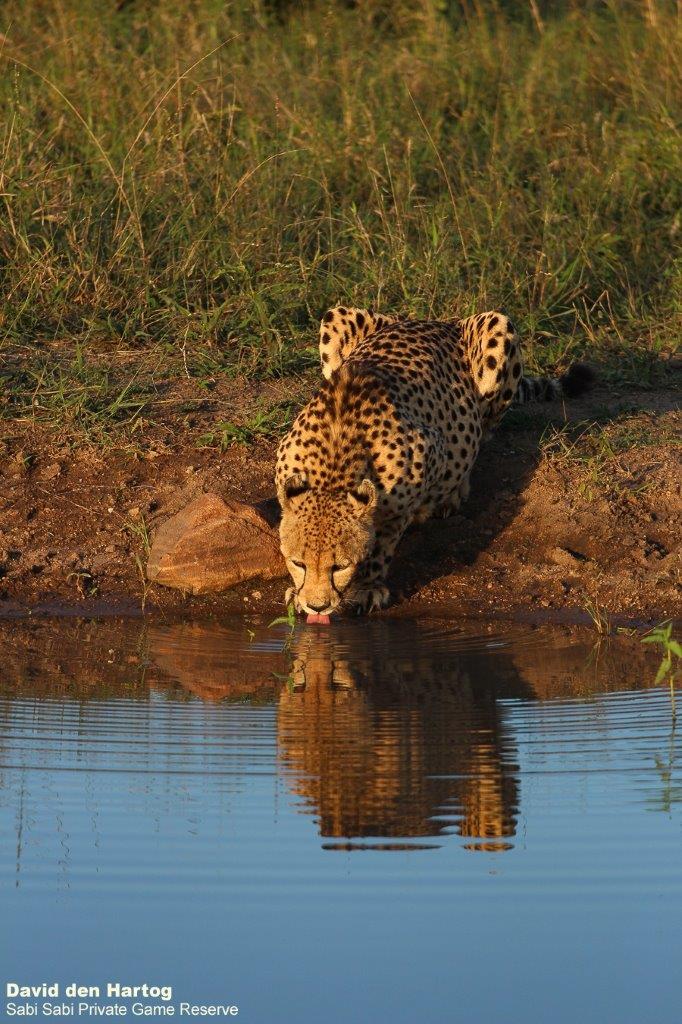 A female cheetah and cub soaked up the last rays of the sun while looking out over an open area from a large termite mound.
Moving between thickets with stealthy precision, Kigelia was on the hunt. We watched as she listened intently, picking up on smells that piqued her interest as she searched for potential prey. With little success, she eventually settled in a tree where she will probably wait out and ambush any prey that may come nearby.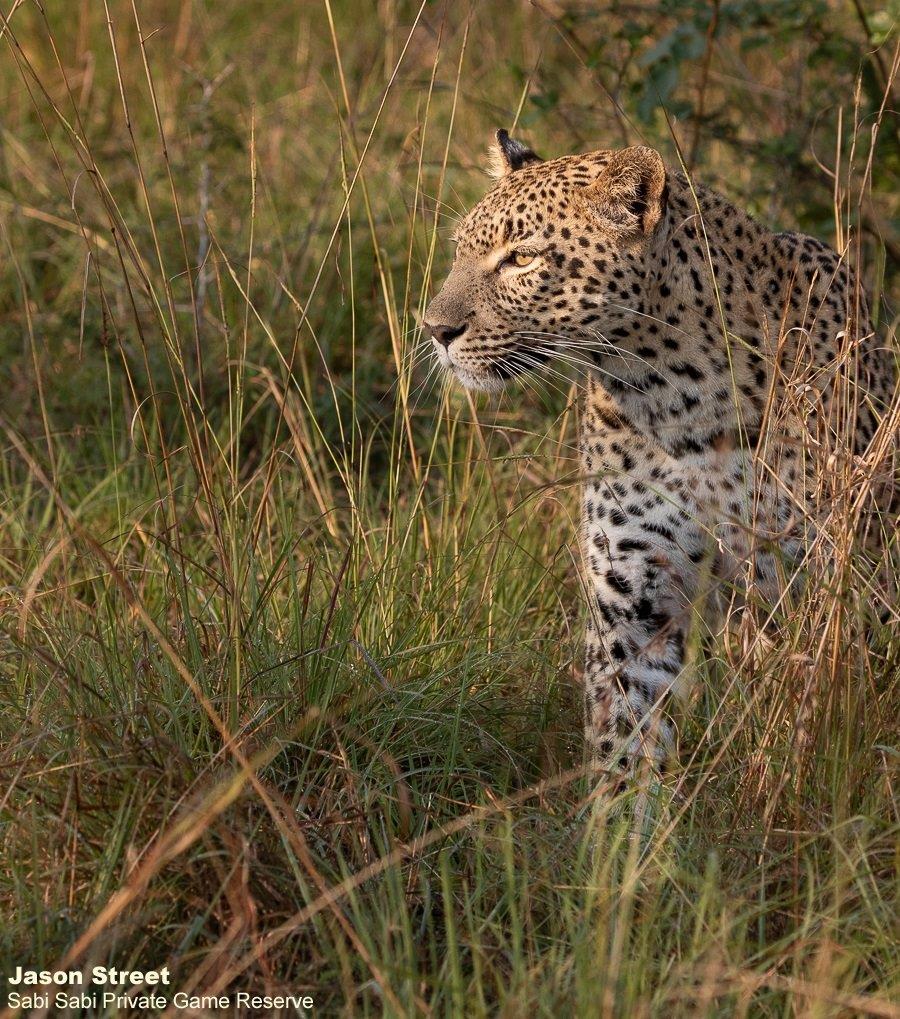 We were delighted to find the Ntsumi female leopard using the broad bare branches of this tree as a vantage point. She looked perfect and in good health, it seemed as though she was trying to zone in on some impala across the plains. Once she lost interest, we could not help but notice that her mammary glands were swollen and pinkish, a sure sign that she is still lactating.

We found the Goloyni female leopard after some early morning rain. She moved from termite mound to termite mound using them as vantage points to spot prey. Momentarily losing interest, she tended to groom herself before she continued with her morning.
We followed the Golonyi female leopard for a some as we watched her trying to stalk impala, unfortunately without success. She ventured over to a termite mound and had a good look around; a warthog burrow had caught her attention.

It is impossible to capture presence in a picture. But as N'weti meanders towards us, his presence is felt tenfold by both the guests and our safari team on the vehicle. His green eyes pierce straight through us, we watch the gentle fall of his feet walking through the coarse sand, we hear him breathe before continuing his morning venture… leaving our skin rippled in goosebumps. What an experience it is to be in the presence of such a magnificent cat.

A stand-off between the Hanyile and N'weti male leopards has been going on for the last few days. Constant calling and scent marking has given us jaw-dropping views of the dominant male leopards of the eastern sector. The clear salivating of Hanyile as he followed the tracks and scent of his competitor gave us the thought that a fight might be looming in the future.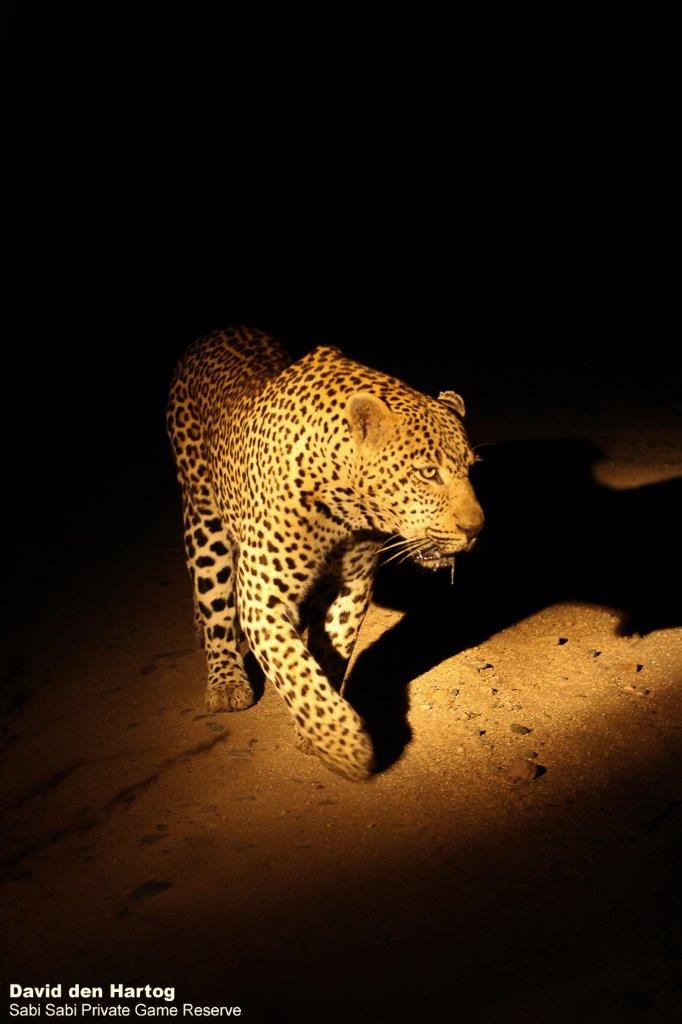 After being separated for some time, the Styx pride re-joined. All three females and eleven cubs were accounted for and all looking in great condition.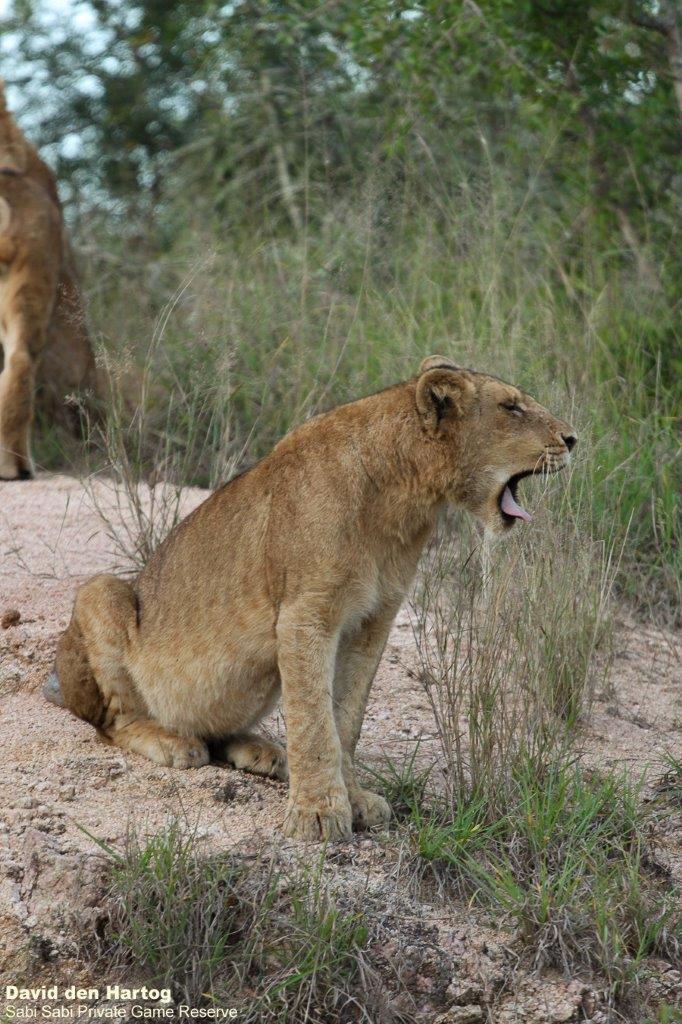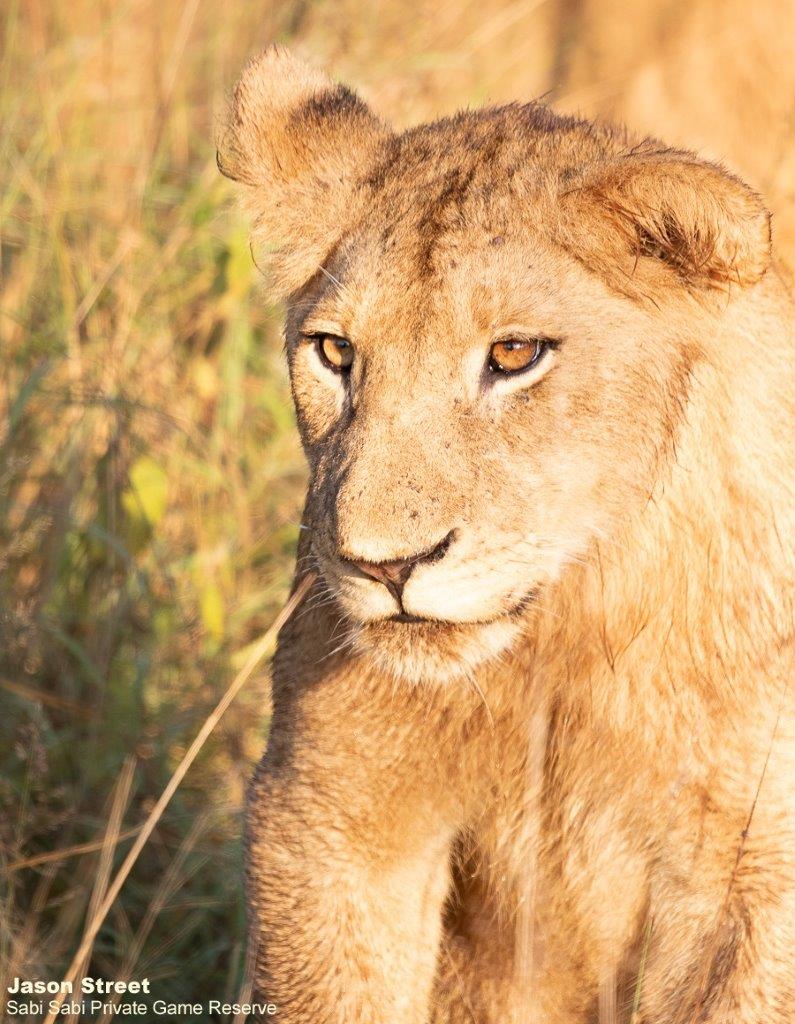 We found this male lion by himself late one afternoon and were fortunate enough to follow him as he started to groom, in preparation for his evening venture. He moved along roadsides trying to follow up on the rest of the pride, trying to pick up on any scent trails that would lead him toward them.

We found four young lions resting in the long grass soaked by the morning rain. They didn't seem to be bothered by their wet surrounds but rather content and relaxed as they had full bellies.

After spending all day sleeping in a thicket, these lions attempted to hunt impala but were unsuccessful. We tried to keep up with them as they continued to move quickly in search of prey.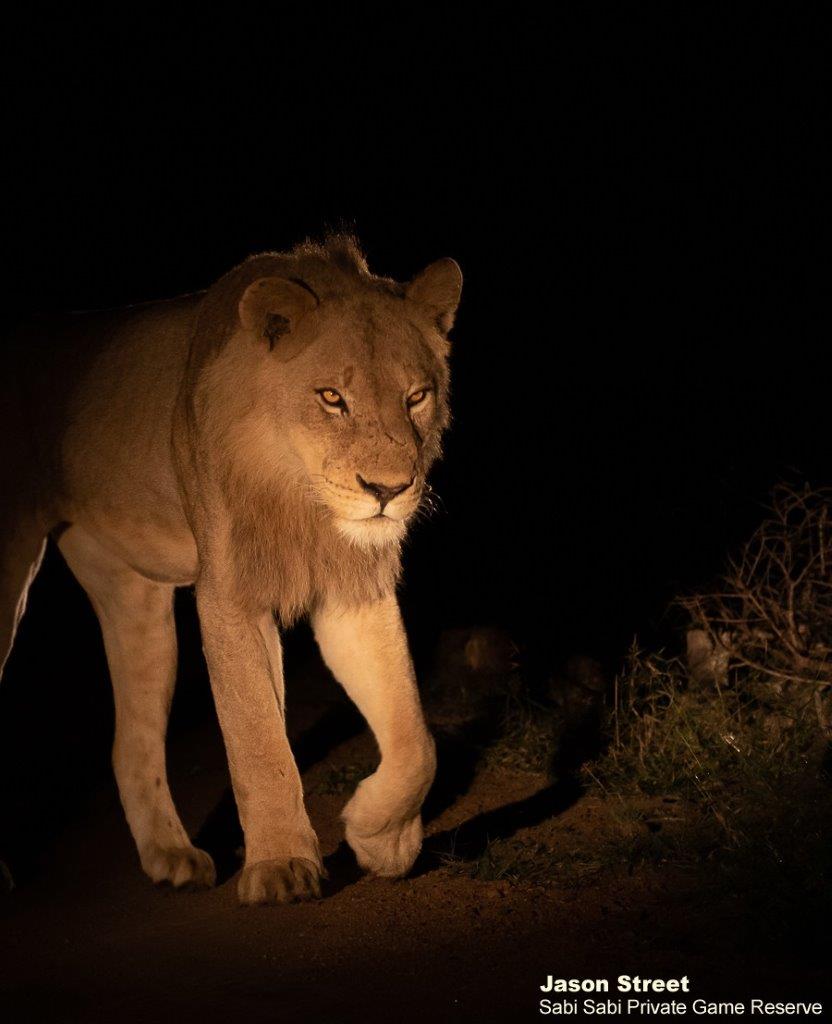 Until next time

Blog by Wendy Claase
Images by Andries Ndlovu, David den Hartog, Jason Street, Louise Murray, Ronald Mutero and Stefan Schoeman
Videos by Ally Ross and Jason Street