On a cold gloomy afternoon, we managed to locate Kigelia female leopard in a Marula tree. We got there just in time as not long after we arrived, she climbed down the tree and moved away into some long grass.

Later in the week we spent some considerable time with Kigelia and her cubs as they were moving from their previous denning area. We followed them as the cubs chased each other up and down the road while their mother kept walking along, looking back occasionally to make sure they were following.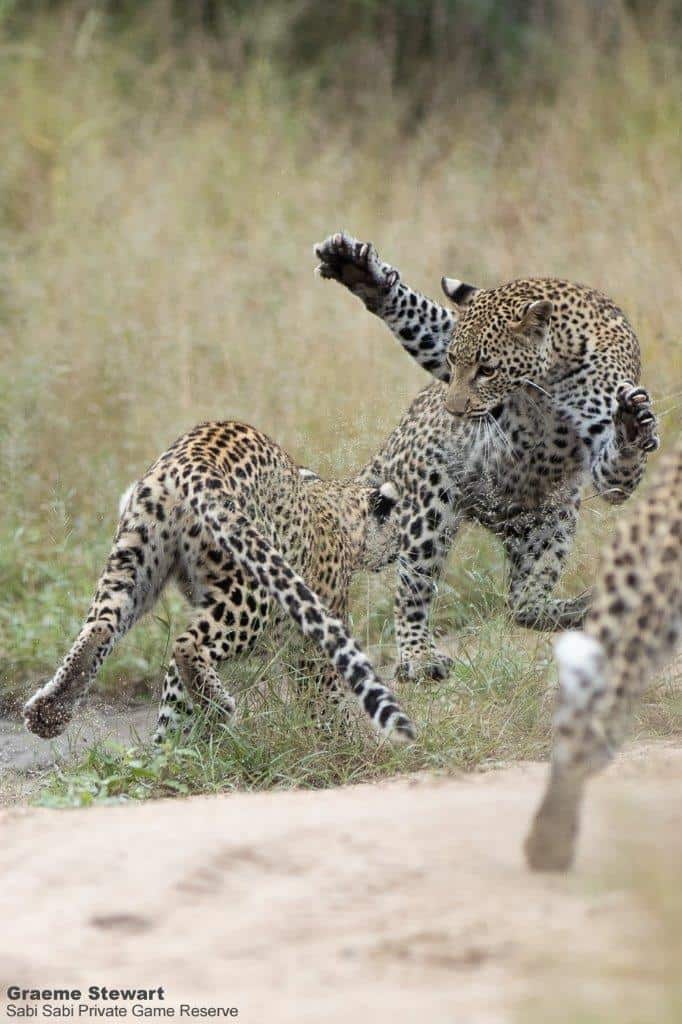 With most of her morning spent grooming on a termite mound, the Golonyi female leopard was clearly on the prowl for something to hunt. She first tried to catch what we could only assume was a rodent, bounding in and out of the grass amongst the roots of a Marula tree, then tried for an impala ram, which saw her as she stalked close to him, and began alarm calling at her. She even set her sights on a few adult zebra that were way out of her size range, before settling down to groom once again.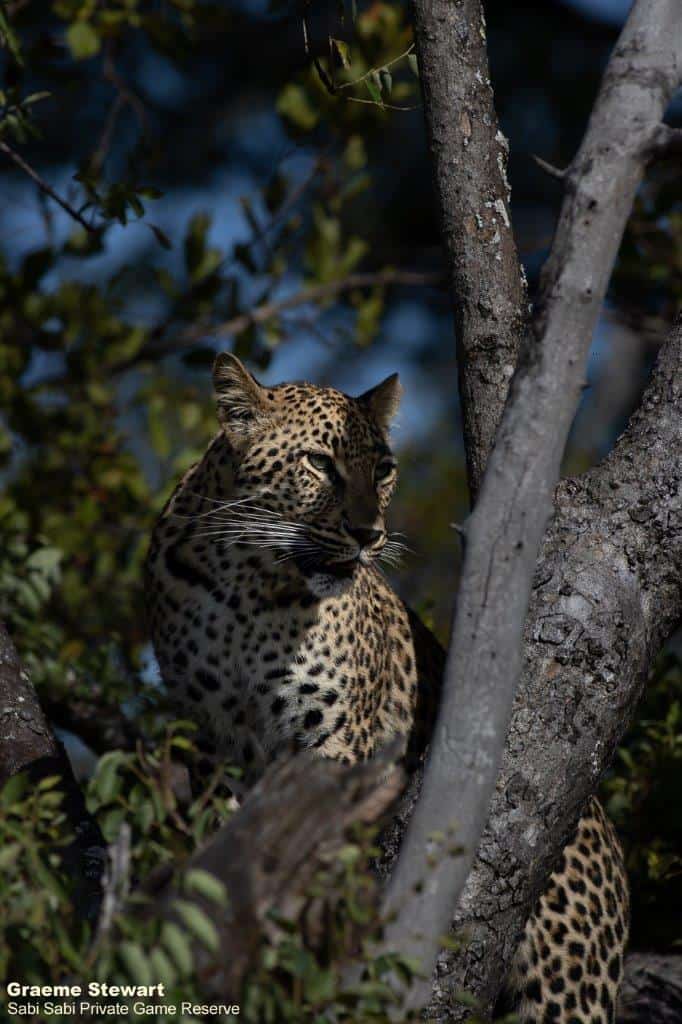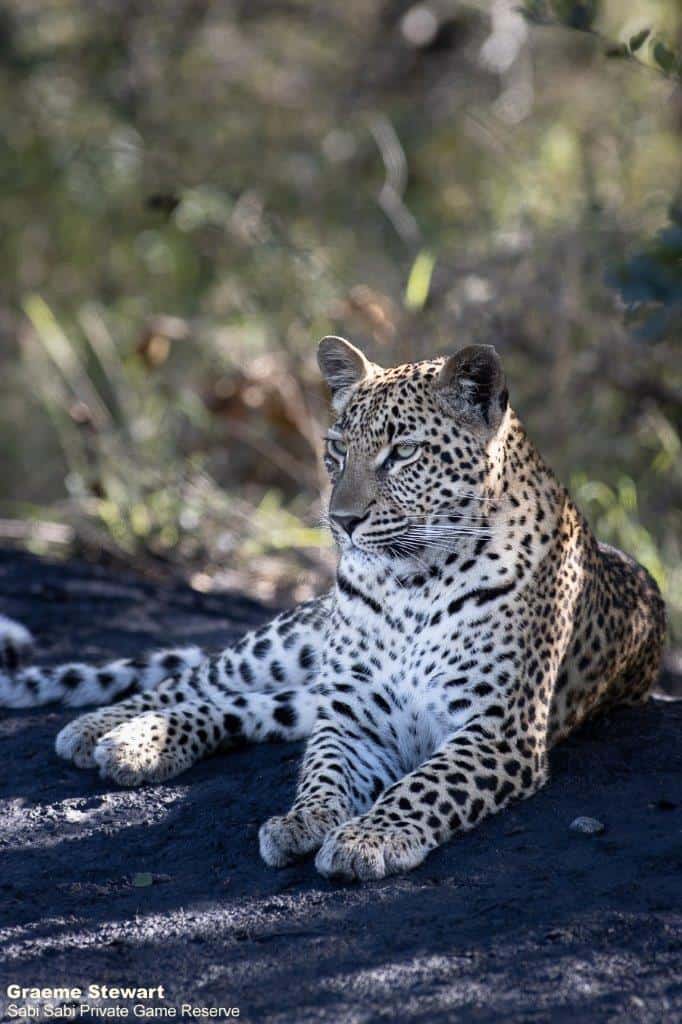 The mysterious Ngumi female that roams the southern sector of Sabi Sabi gave rangers and guests alike a more than memorable sighting. Resting quietly on a large boulder on the Umlechwaan River she lay, then all of a sudden, she started sawing. The deep resonating grunts filled the tall trees around us, she sawed again and again as she moved through the thickets around the riverbed.
Wild dogs chased the Golonyi female up a very difficult to climb tree, where she had to stay for some time until the dogs disappeared. She eventually came down and lay on a small fallen over tree looking over at the dogs that were still sniffing around.

A few days later, she was being chased again. She was chased into two different trees on two separate occasions by the same pack of wild dogs. The competition between predators is fierce and a pack of over twenty wild dogs is a formidable force.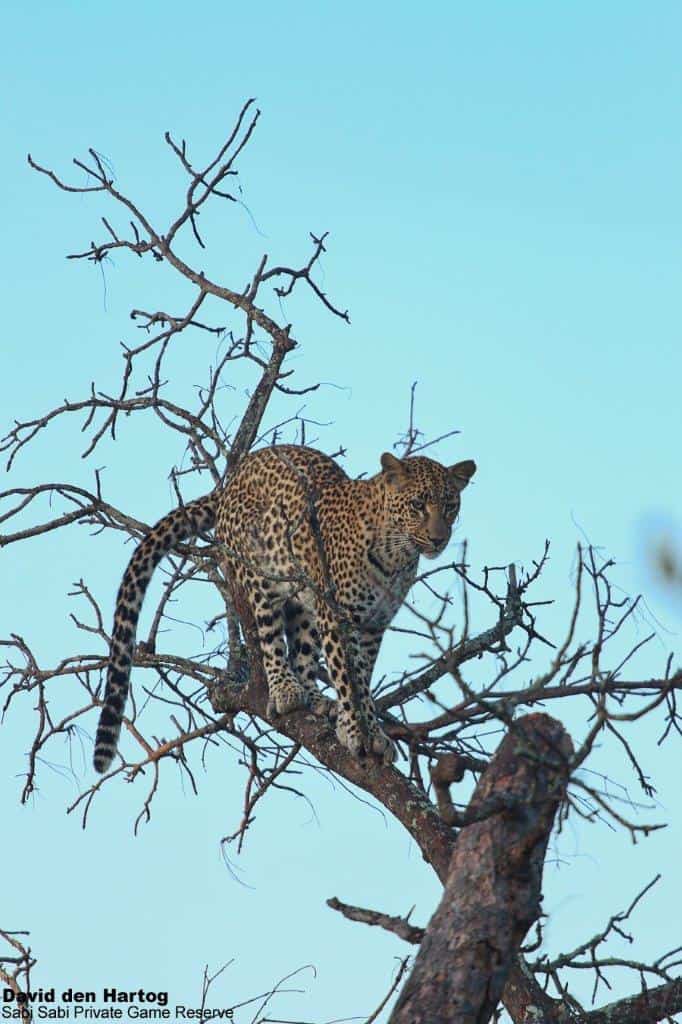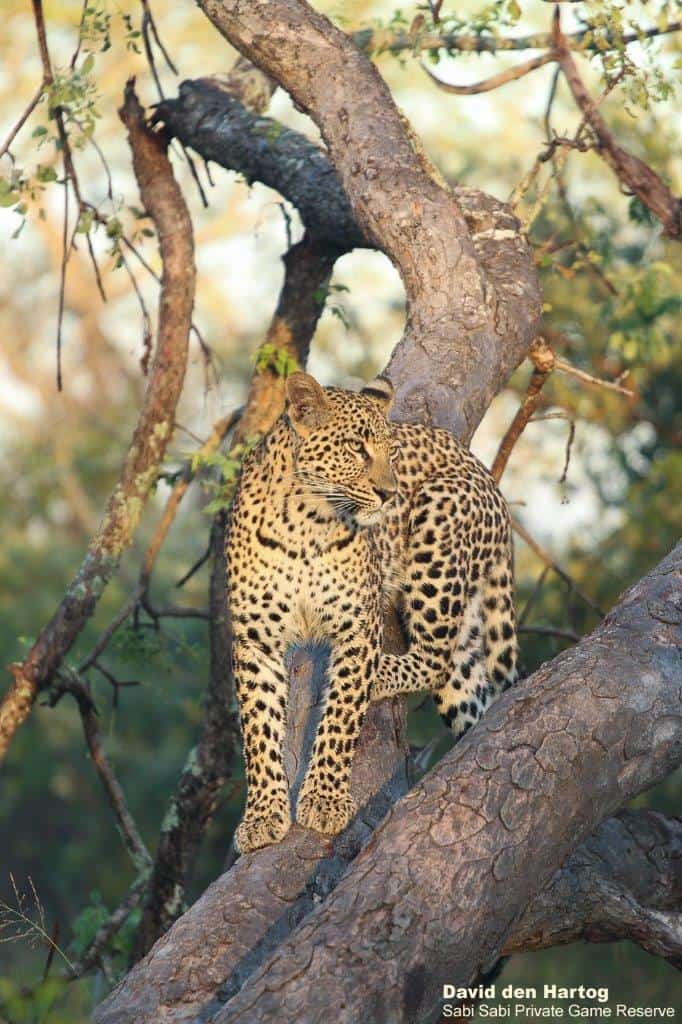 The movements of wild dogs are erratic and impulsive, this pack of over twenty wild dogs were set on exploring almost the entire northern sector of Sabi Sabi. Keeping up with them proved to be a challenge but an invigorating experience.

In the overcast light of morning, with a beautiful background, a female cheetah and her youngster scanned their surroundings from the top of a termite mound.

After spending the afternoon lounging atop a large termite mound, this female cheetah moved swiftly through the grass, eyes set on a small herd of impala which we had not even noticed in the distance. Unfortunately for her, as she stalked through the grass, concealing her position well, her cub came strutting up behind her, in plain sight, sending their potential meals off, at speed, in the opposite direction.

A lioness scans her surroundings for possible prey on a misty morning. With nothing close by to hunt, she lost interest and decided to stalk her sibling.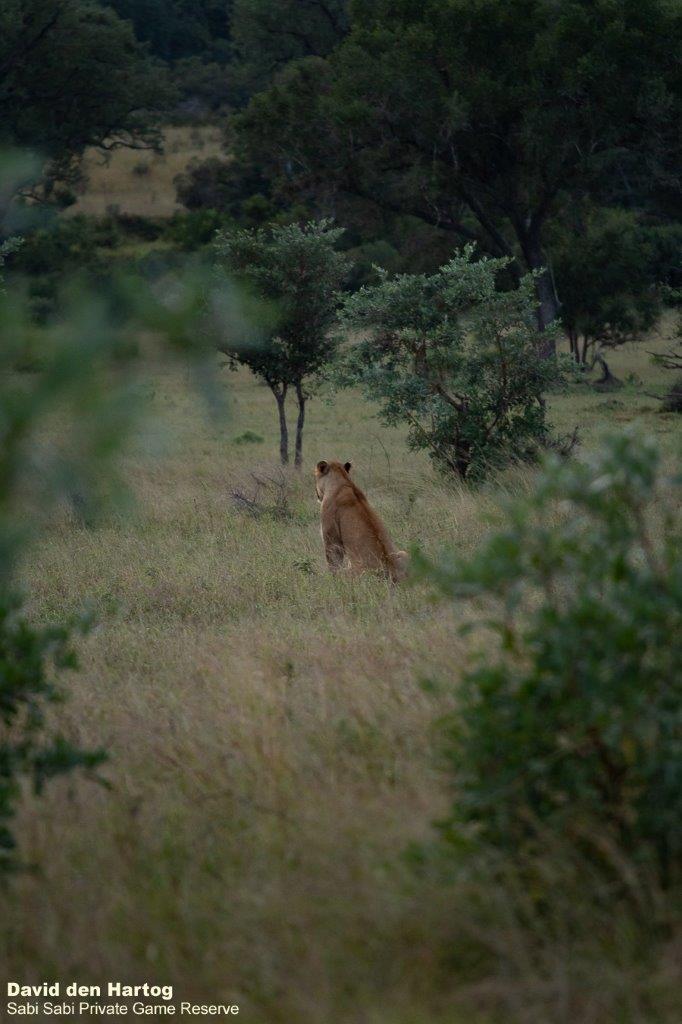 The following day, the Southern Pride were seen feeding on the remains of an impala kill made earlier that day.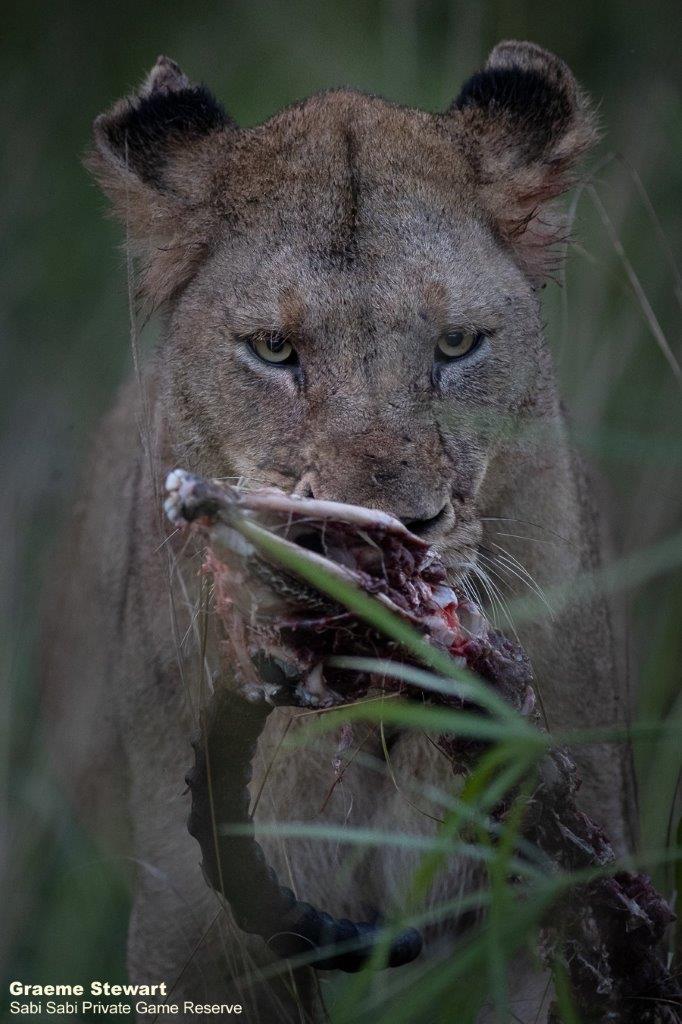 One of the Mhangeni Pride lionesses rests on a cool morning, with what looks like a grin on her face.

These young male lions were resting on an open area, looking cautious of their surroundings, looking up every now and then before moving a bit. While following them, two wild dogs came close to them while chasing after some impala. The lions were surprised by this and started to follow in the same direction.

With the beginnings of their manes starting to fill out, maturity looms ahead for these two young male lions.

Cloudy skies offer a photographer different lighting to play with. The sharpened contrast of a lion's coat against the ground can make for fantastic images in the grey haze of morning.

Finding a suitable place to rest can take some trial and error. This pride moved from one place to the next until they finally chose a spot to lie down and digest their latest meal.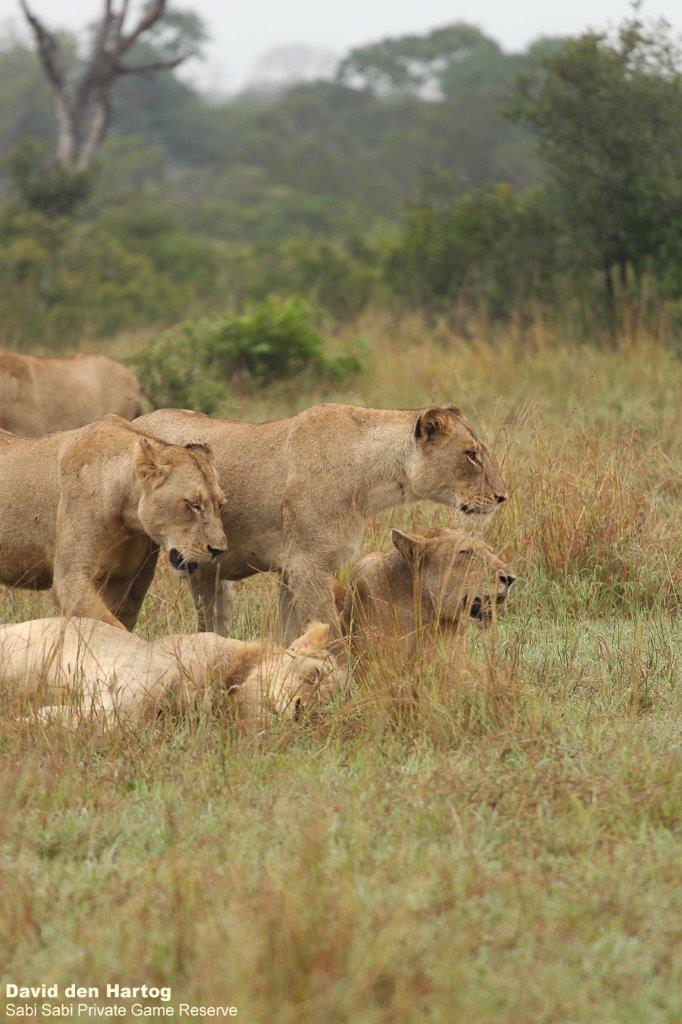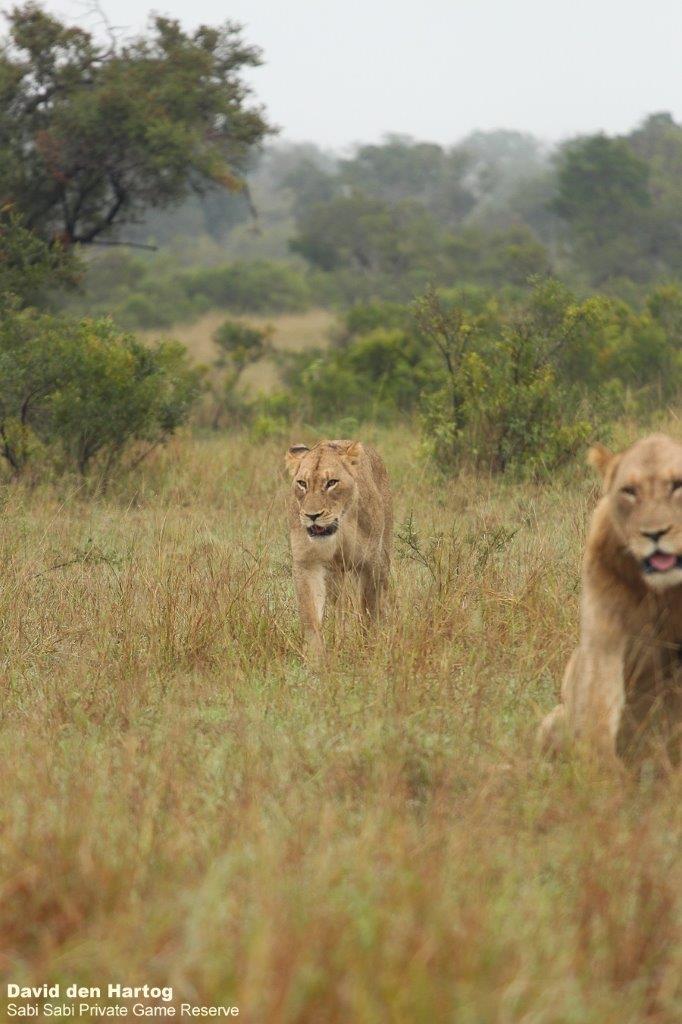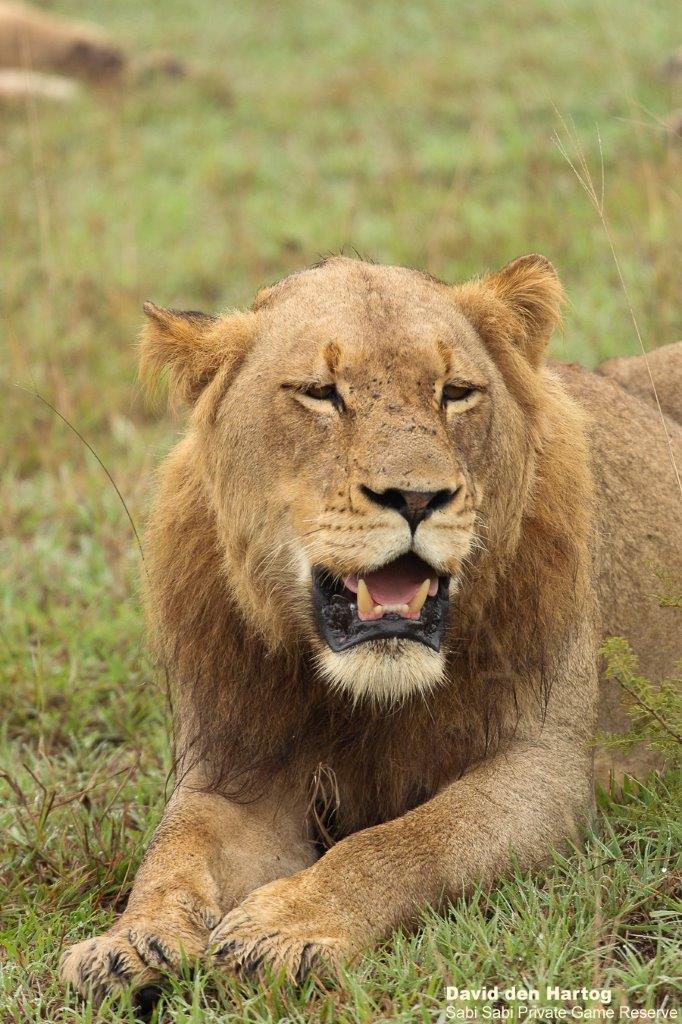 A massive elephant bull pushed over a Marula tree and enjoyed the leaves that were too high to reach. Several other browsers, such as kudu and nyala, will also take advantage of the fallen tree.

As the sun goes down, we start to see a whole new array of animals. Small nocturnal creatures, like this White-tailed Mongoose who are usually much shyer of our presence and disappear quickly from view. We were lucky enough to find one who didn't seem too fazed by us.

A young crocodile feeding on a fish caught in a pan close to Sabi Sabi Bush Lodge.
While casually driving along on safari, this precious little Pearl-spotted Owlet surprised us as it sat quietly next to the road.

They may be small, but those shining tusks protruding from a warthog's mouth are a force to be reckoned with.

Moving into view from a dense thicket, what we thought were three elephants, became an enormous herd, filing into the open area.

Until next time

Blog by Wendy Claase
Images by Amy Leigh, David den Hartog, Graeme Stewart, Jason Street, Louise Murray and Ronald Mutero
Videos by David den Hartog and Jacques Smit