It has been a couple of weeks since our last update and hope you have all enjoyed some holiday time and wishing everyone a wonderful 2022!! Herewith the highlights from the past two weeks on safari…
We located a hyena den after following a female hyena for a while. The whole clan was resting under the shade of trees, just going about their business all while staying close to their den site.

We had a great sighting of a Grey Heron as it was fishing in a waterhole before it got disturbed by the arrival of some hyenas.

This lone Waterbuck bull stood proudly, surrounded by marshy ground and little wallows.

Alone and vigilant, this female Giraffe was slowly moving from one green tree to the next, feeding on the nutritious green leaves, but always aware of her surroundings.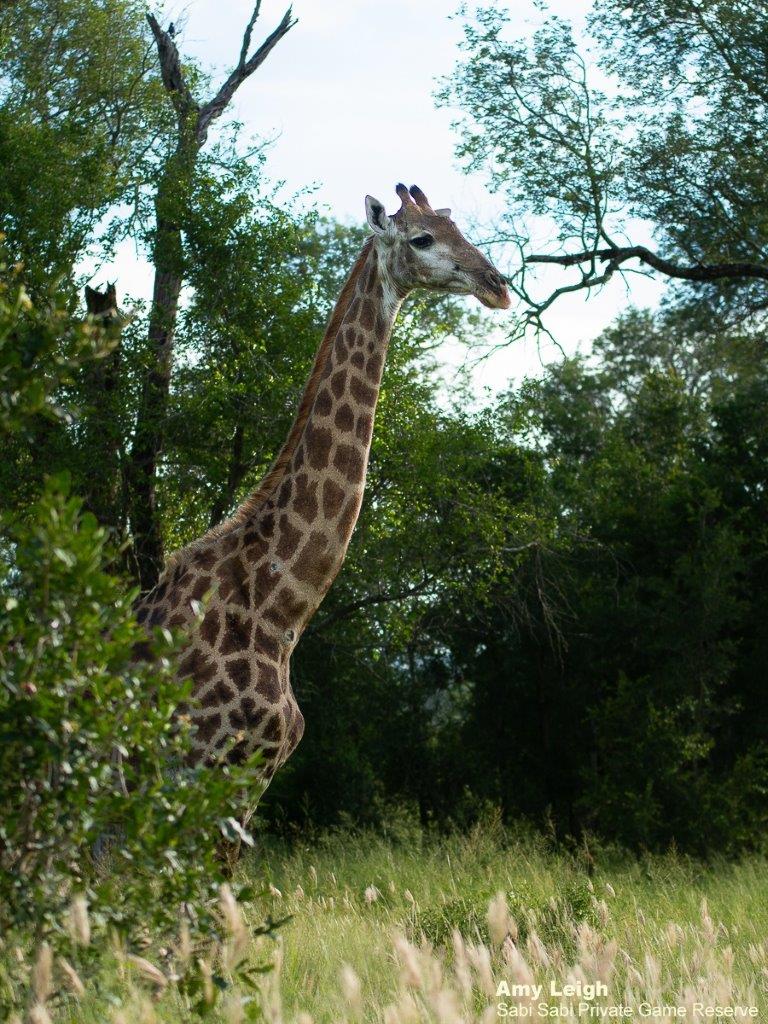 Our "Ranger's Village" at Bush Lodge is abundant with birdlife and one of the highlights through the guiding team is the Purple-crested Turaco's that share their home with us.

After a few days of cloudy skies, we were spoilt with the return of the sun and all the fresh activity it brings with it. In the heat of the day, this elephant bull swiftly made his way across an open area to quench his thirst.

A herd of buffalo rushed to a waterhole to quench their thirst as well as enjoyed a mud bath to cool down, and with that, their trusted companions, the Yellow-billed Oxpeckers.

This Red-backed Shrike looked a little worse-for-wear after the drizzly start to the morning. But, like a rose among the thorns, it just needed a little time to bloom, or groom, because within a short while it looked pristine and ready for action.

A wet, but action-packed Christmas weekend was enjoyed by all. Some great sightings were shared by our Rangers include a unique sighting of an African Rock Python. As if caught in a spot it shouldn't be, this Python peered over the body of a baby Impala which we thought it may try to eat.

This young elephant was extremely curious to see what our presence was all about!

A Woodland Kingfisher stands out from the green background with the help of its brightly coloured upper mandible!

With all the rain received in the last few days, there is a large number of water pools that are full, making perfect resting spots for hippos.

The sight of an elephant with one tusk is not uncommon, especially in bulls like this one. Years of sparring in their youth and real fights for dominance in their adulthood often lead to tusks breaking in half or disappearing completely.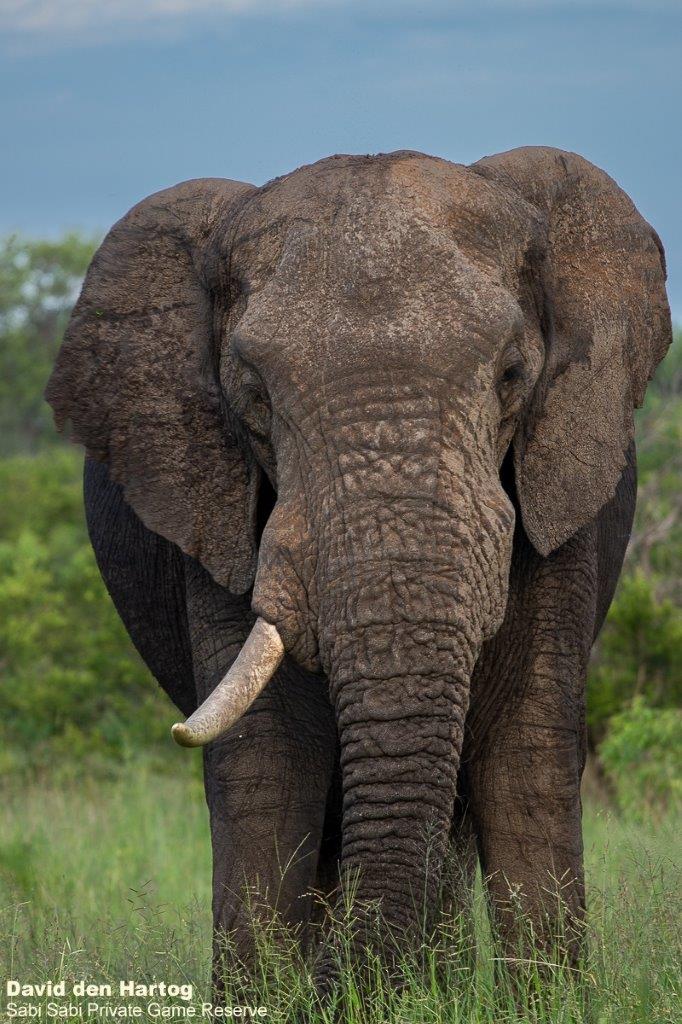 One of the more common birds to see here at Sabi Sabi, and yet they never get boring. Whether they are following around the large herbivores, foraging amongst the Dwarf Mongoose, or just hawking insects as they flit between the grass strands, the Fork-tailed Drongo keeps you entertained.

You're almost always certain of an action-packed sighting when wild dogs are in the area as we the case with these three sightings…
While taking guests to our private airstrip for their departing flight, three wild dogs made an appearance! The two pups were attempting to chase after two buffalo and then played in the puddles nearby while the adult kept moving, possibly looking for some shade. What a great send-off for our guests!

We found a pack of wild dogs hot on the heels of a fleeing duiker, after a failed attempt to hunt, they settled down giving us an opportunity to snap a few photos.

After driving around in circles, a small pack of three wild dogs jumped out onto the road. We followed them as they ran around an area filled with impalas. We tried our best to keep up with them to possibly see a kill, and our patience paid off! They managed to catch a small impala and the three of them quickly tried to secure themselves each a piece!

Ntsumi was seen on one safari and was beautifully positioned in a Marula tree. As we lowered our eyes from where she was relaxing, we noticed a tiny warthog kill she had subtly hung in a fork in the tree. This explained why she looked so content as we admired her in perfect lighting just as the sun was setting.

Her daughter has been out and about a lot in recent weeks, affording us some wonderful sightings of her.
On a cloudy morning, this young leopardess was feeding on a small duiker that she had caught earlier that morning. It is incredible to see the power that these animals have when manoeuvring through the trees while holding a kill in its jaws.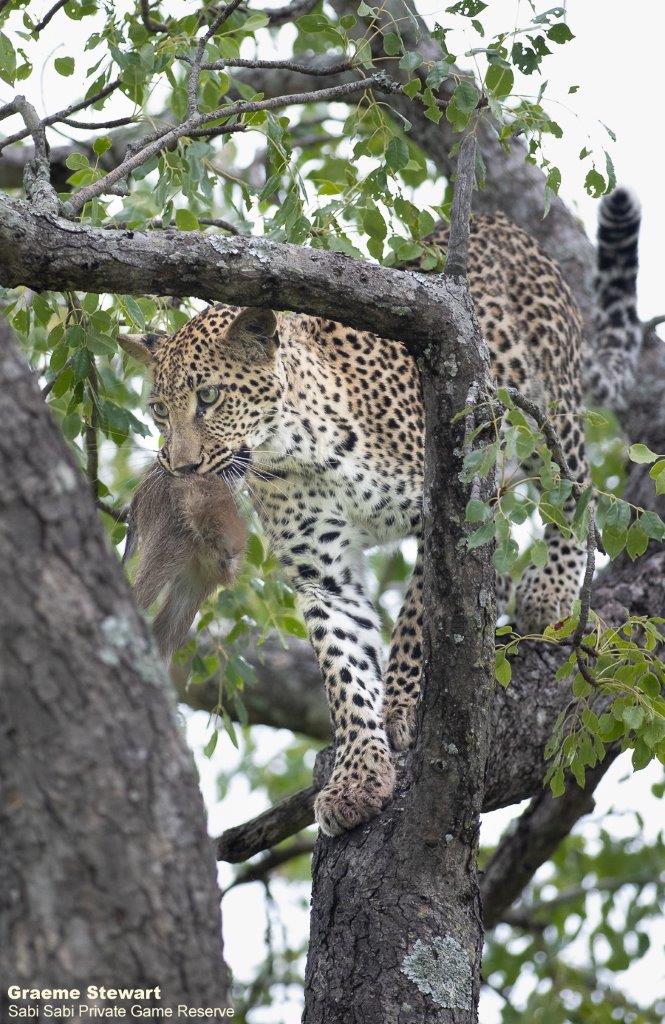 On an overcast Christmas morning, we set out to find a leopard. We found the leopard we were tracking having a drink and then got to witness her hunt and kill a baby warthog. Santa usually puts his Christmas presents under a tree, we found ours up a tree!

The following day, she hadn't moved far from her kill, giving us a great opportunity to photograph her and enjoy the sighting at a slow pace, the way it should be.

We spent a fantastic morning with Kigelia and her two cubs. We watched as they moved from tree to tree and played with each other in the cool morning air.

The Ndzanzeni female leopard was found close to the end of a morning safari. She had a small impala kill with her that she had stashed in a tree nearby while she lay in the shade panting heavily trying to digest some of what she had eaten and to help cool her down.

While watching this cheetah and her cub scanning for potential prey from the vantage point of a termite mound, we heard alarm calls near us. Through our binoculars we found a female leopard in a tree doing also on the hunt and scanning the landscape!

On a cooler morning, after a large amount of rain, we were surprised to find the Styx Pride resting on the warm road.

After tracking lion all morning, we finally found this elusive pride of sub-adult lions.

Three of the N'waswishaka male lions made a thunderous return to Sabi Sabi as they roared next to us. It felt like the vehicle shook, causing a deep vibration as all three of them called in unison!

As the old year ended with a lion sighting, the new year began with one and a great one of the N'waswishaka male lions full after finishing a kill!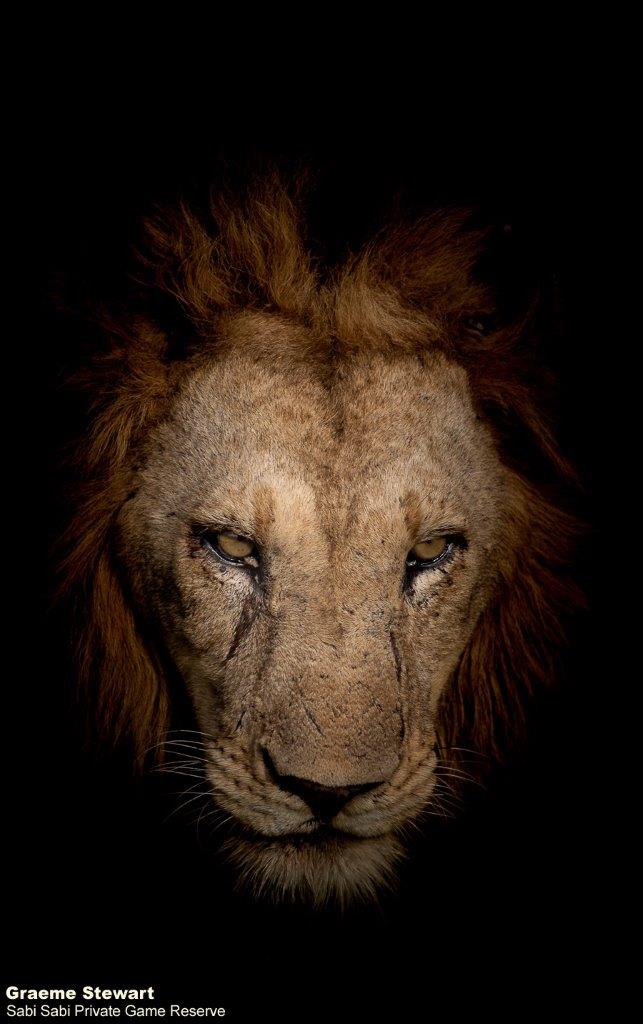 Until next time…
Blog by Wendy Claase
Images by Amy Leigh, Andries Ndlovu, David den Hartog, Erin Herbst, Graeme Stewart and Ronald Mutero