The bush is looking beautifully lush with all the rain of late and all its inhabitants are reaping the rewards…
From the smallest…  A pair of Little Bee-eaters used a small dead branch as a vantage point to catch insects from.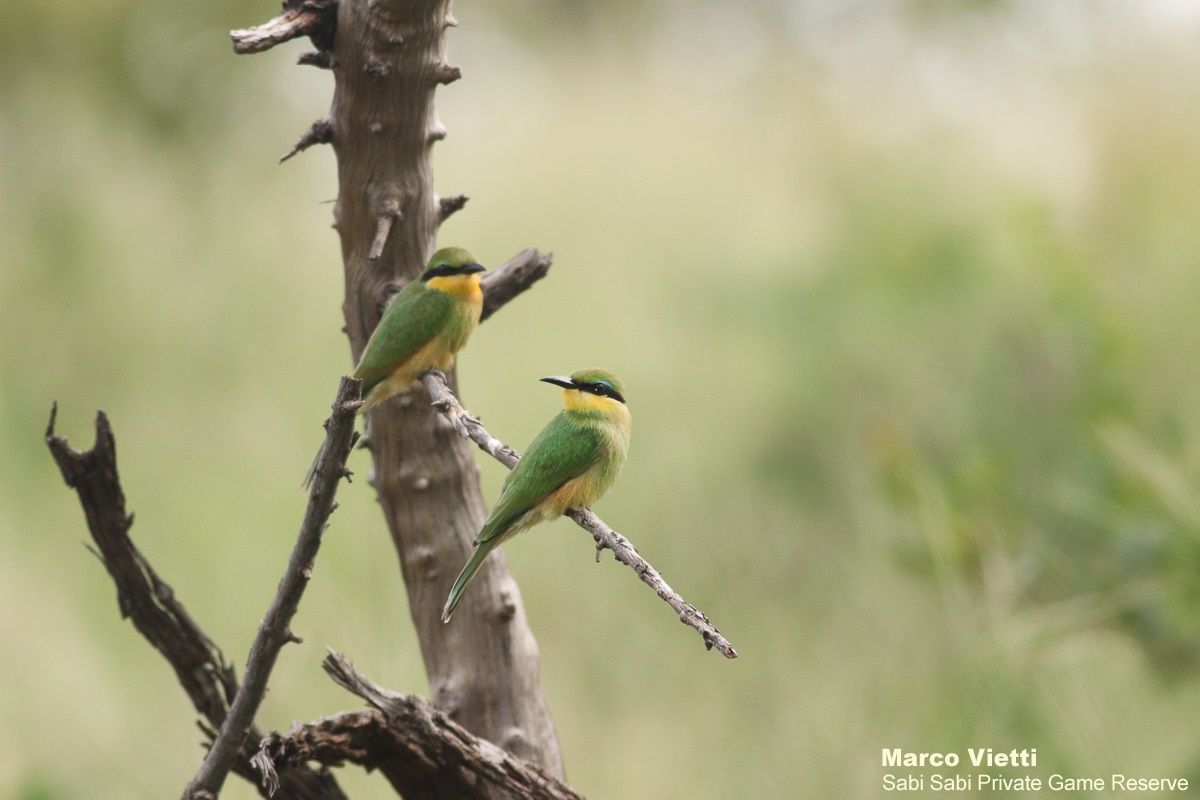 To the biggest… After uprooting a small tree, this elephant bull decided that although the morning was cool and rainy, he needed to have a wallow on the road in front of us.

A kudu bull stood in the open with his ears facing directly toward us as we approached. The wind was extremely strong, making him extra alert to any noises around him.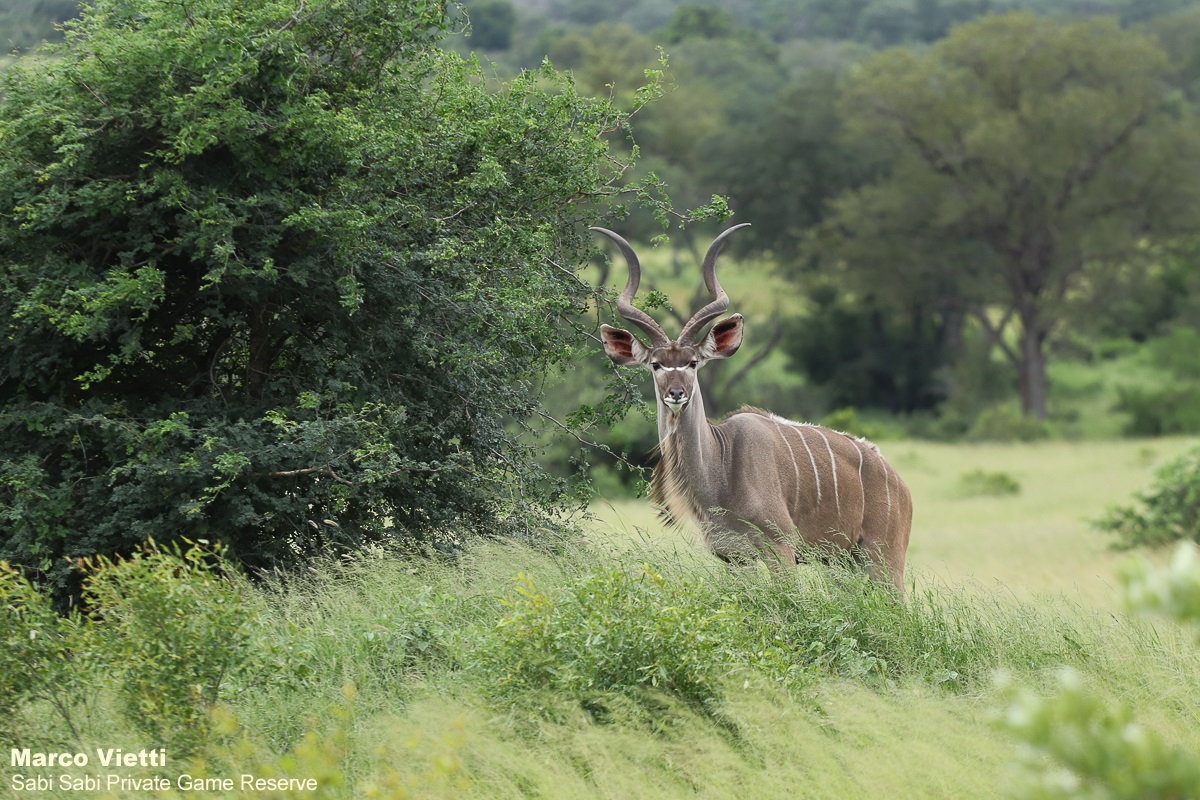 This Hooded Vulture seemed to be the last to arrive at an old carcass but perched nonetheless looking out for anything it might have missed.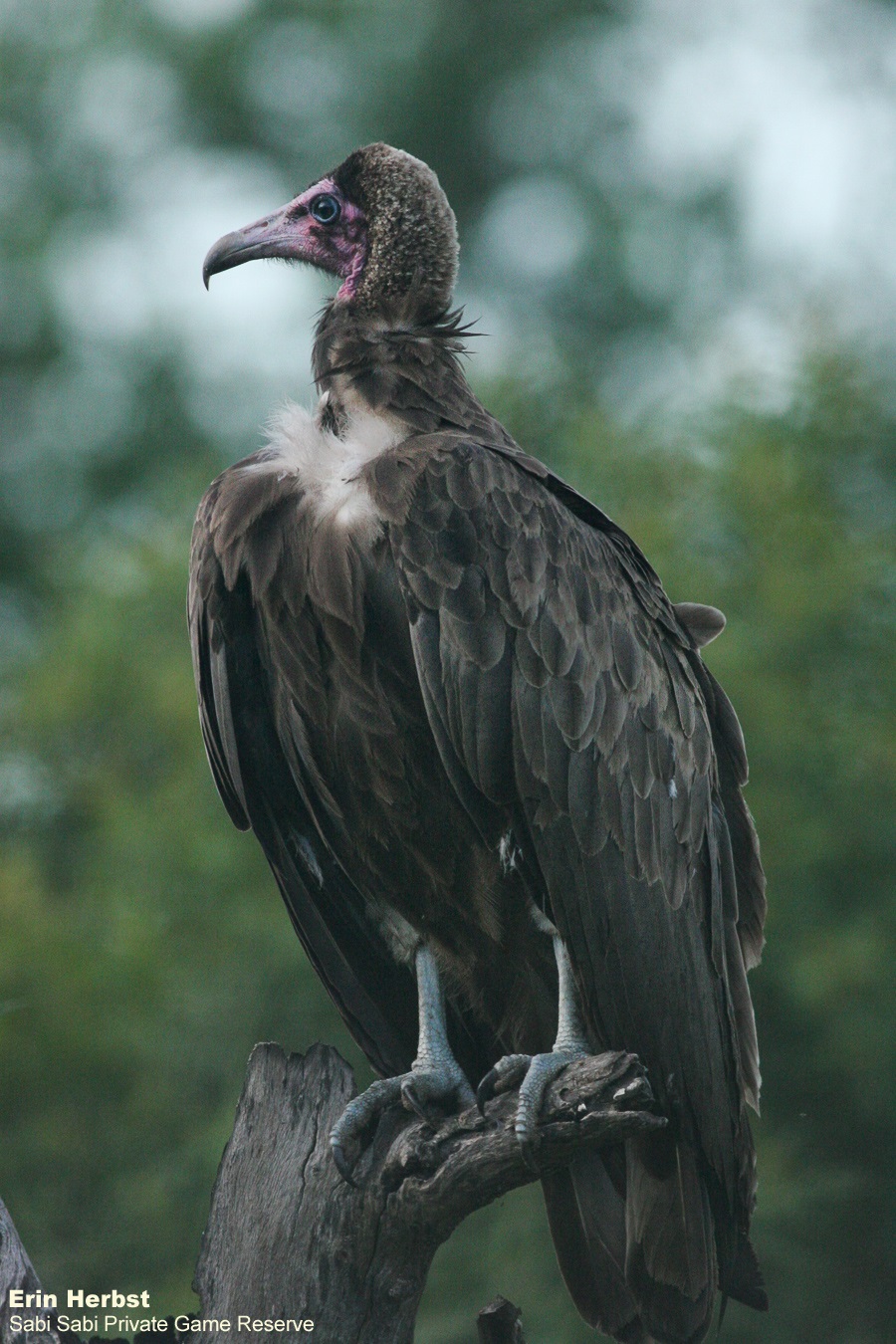 In the warm morning rays, these Smith's Bush Squirrels were enjoying their quarry. Sitting and feeding on what looked like the grass seeds that are plentiful at the moment.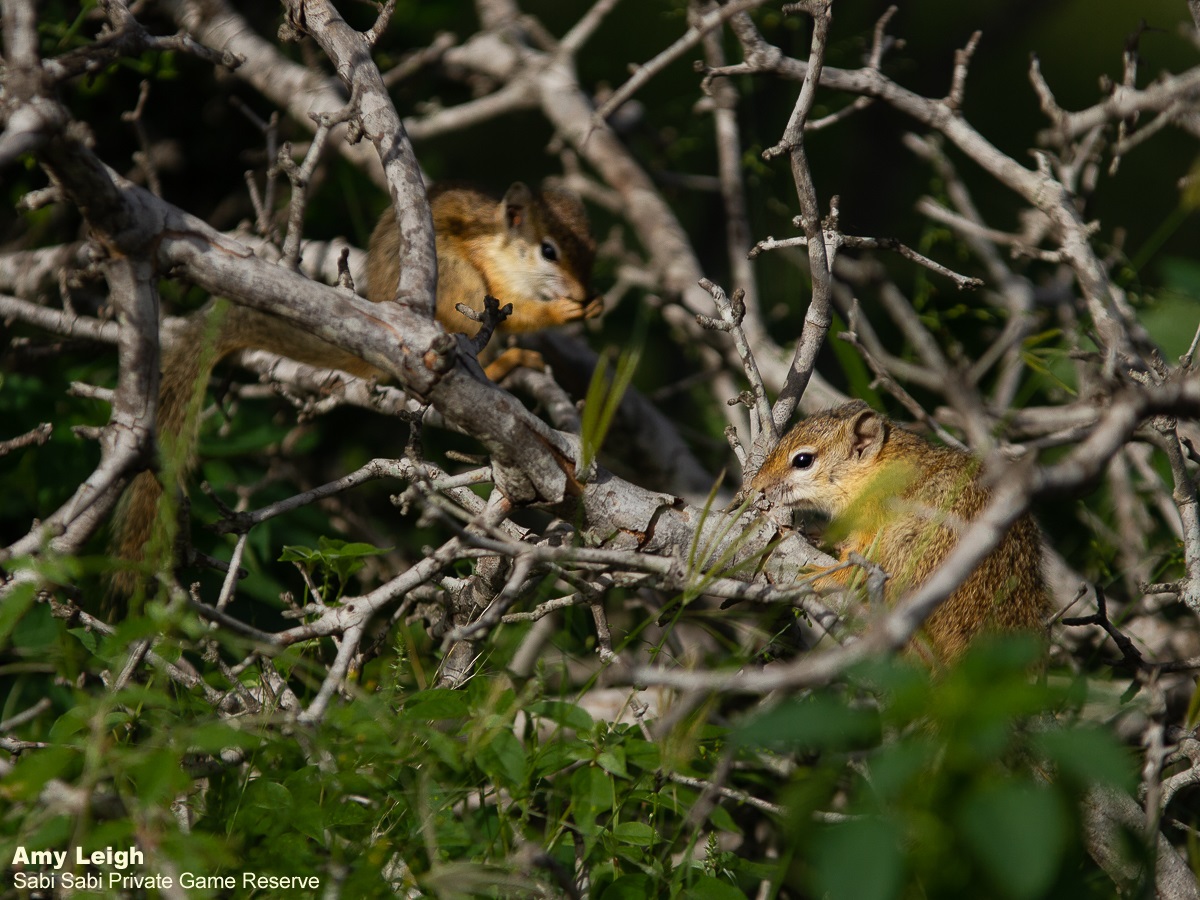 An elephant bull made good use of a puddle of water to cool down on a hot morning.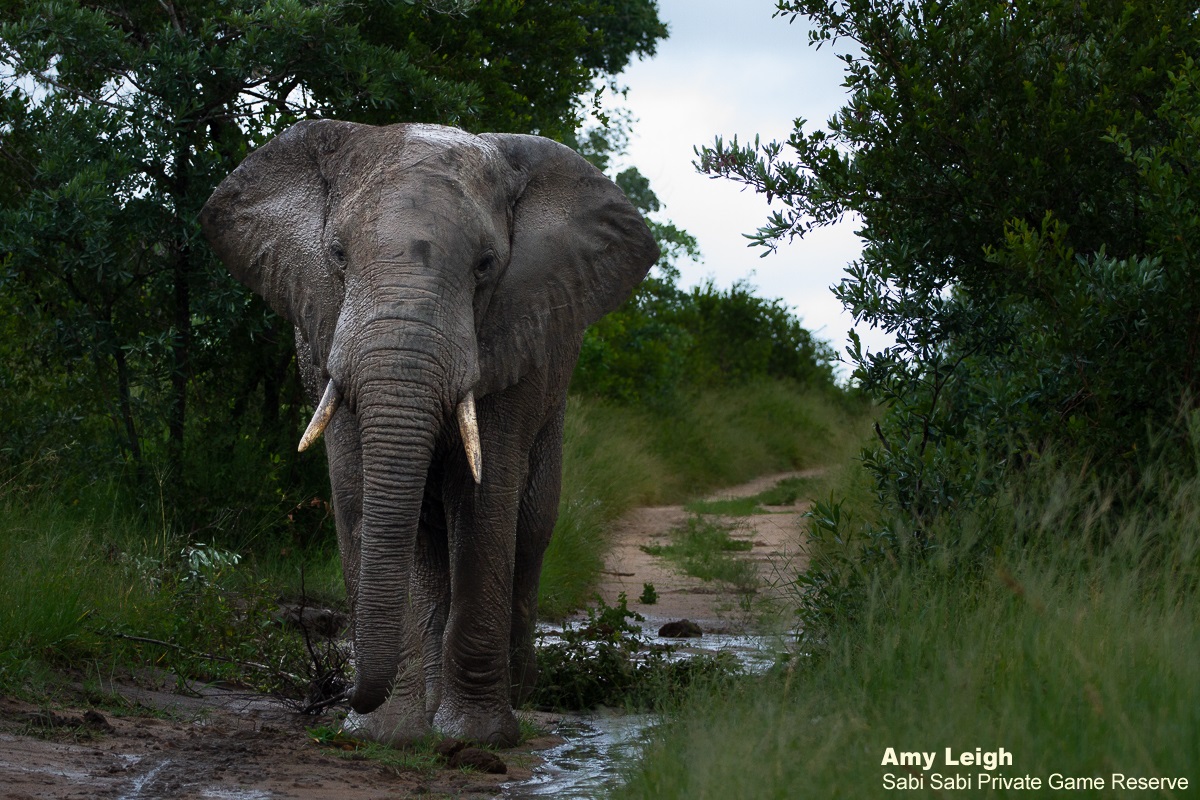 One of the many naturally formed water pans was occupied by a pair of White-faced Whistling Ducks.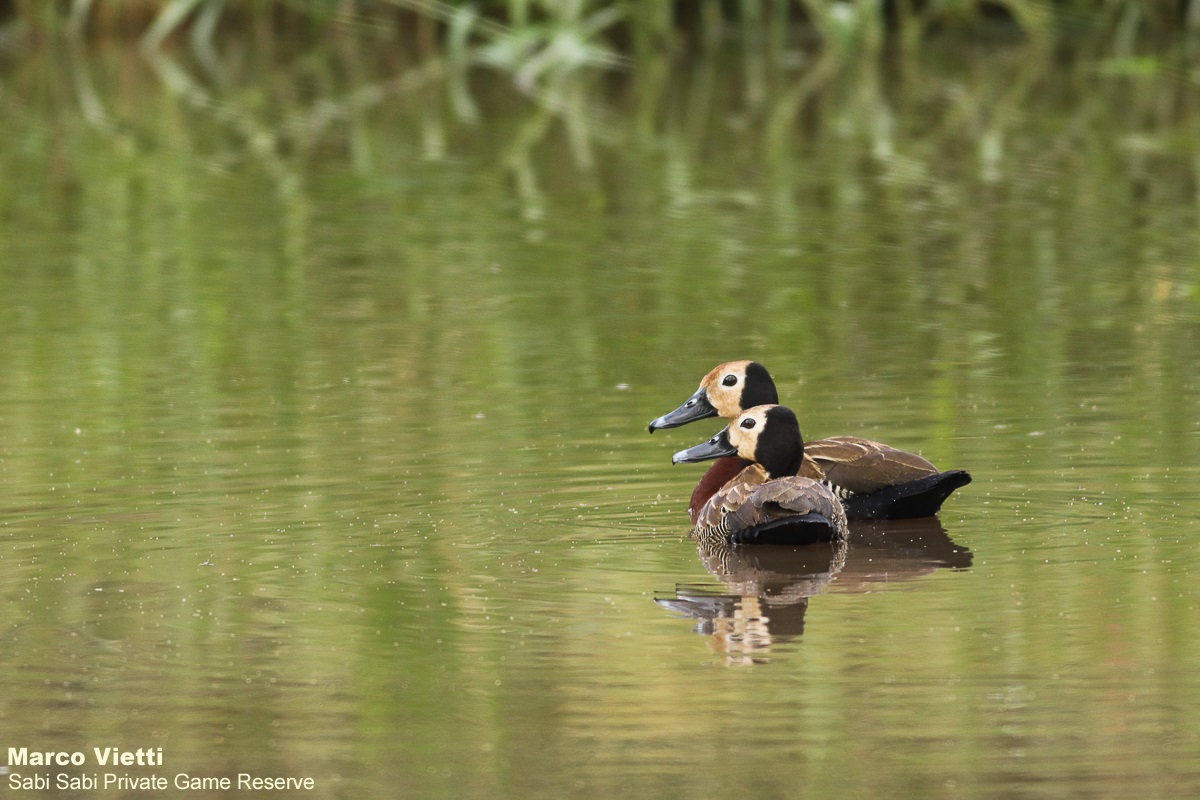 Still with its immature plumage, this Bateleur seemed to be gripping tightly to its perch on a windy afternoon.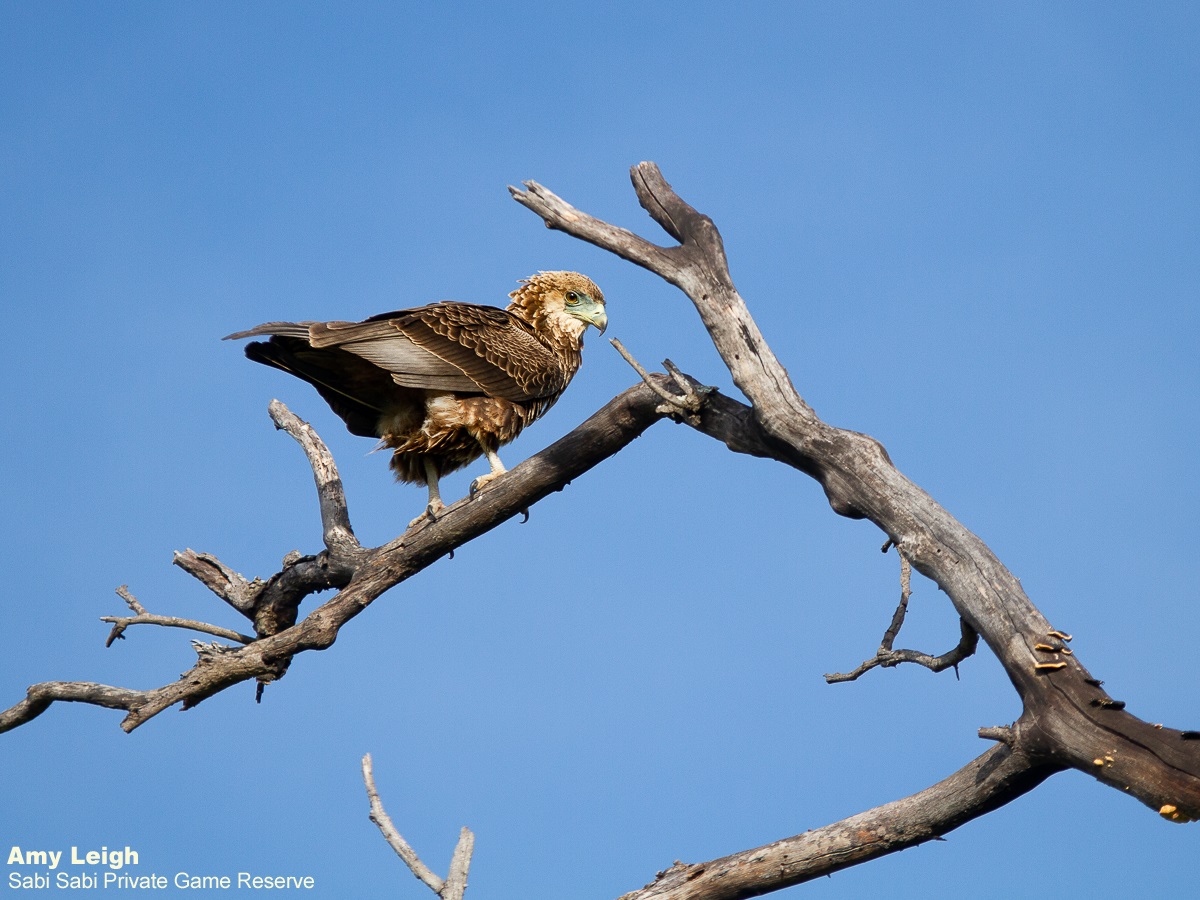 Family portrait.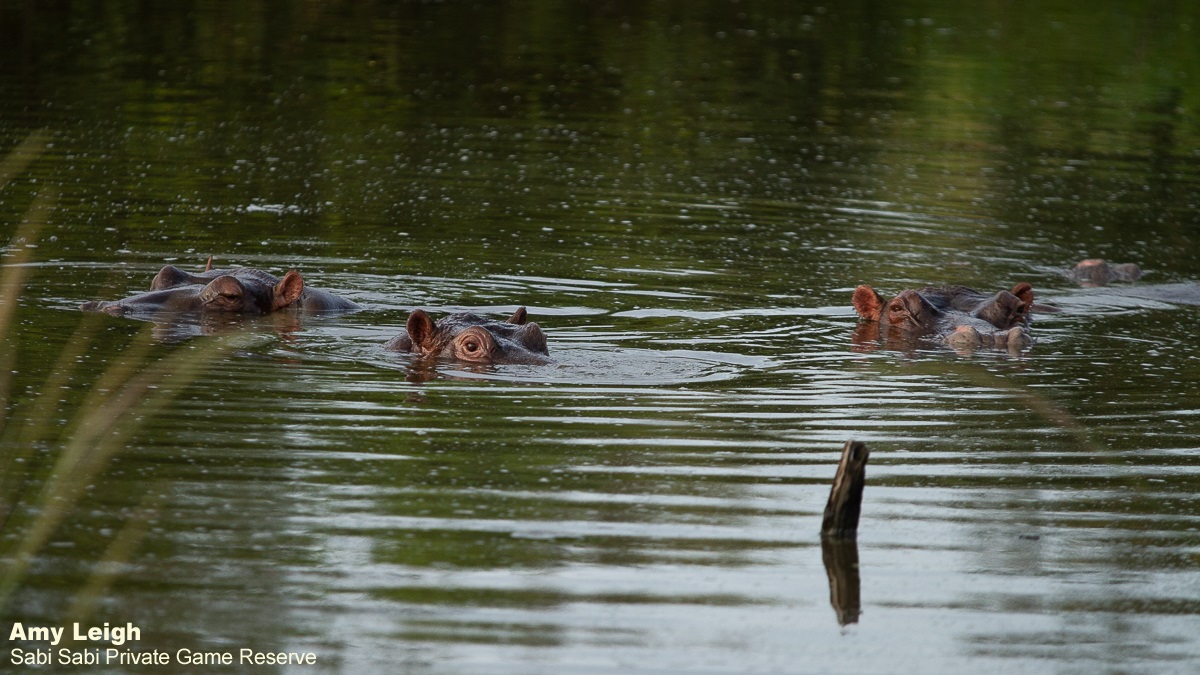 This little pair of Wire-tailed Swallows were working tirelessly to collect mud for constructing their nest. Back and forth they went, from the water's edge where the mud was obviously the right consistency.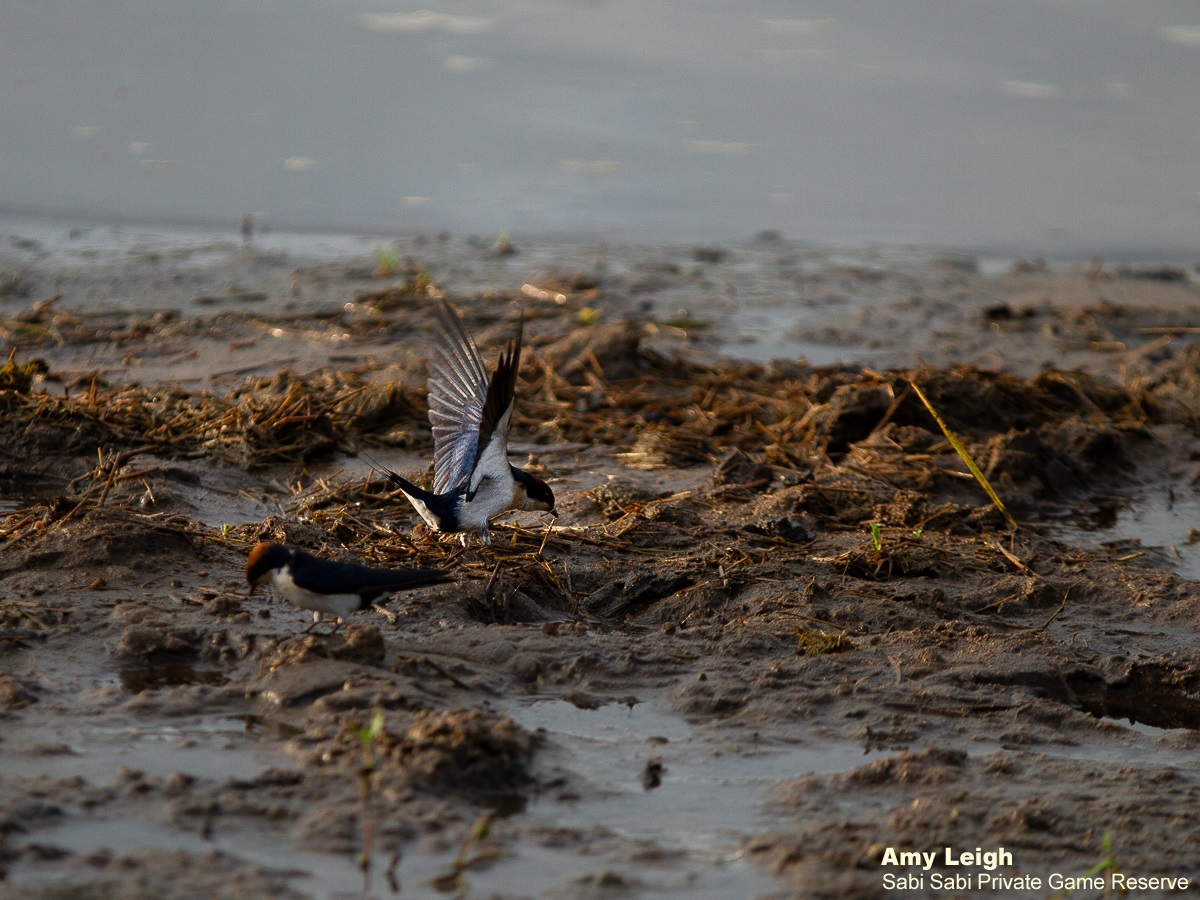 Two young male elephants practice their techniques as the rest of the herd moved on.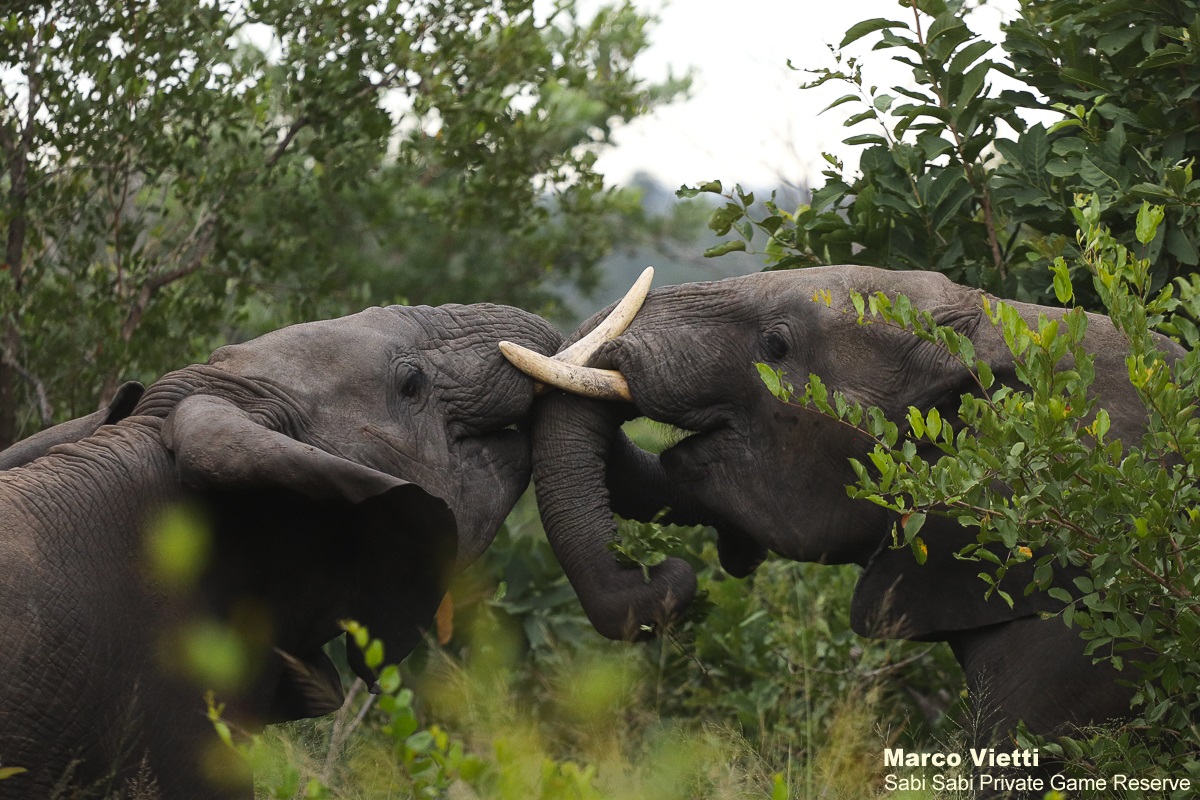 This hyena caught our eye as we drove through a drainage line looking for a leopard that had been seen earlier in the day.  He stood and watched us intently before moving inquisitively towards us.  Something drew his attention to the road ahead of us, and as we looked up, we saw why – the male leopard we were searching for had appeared.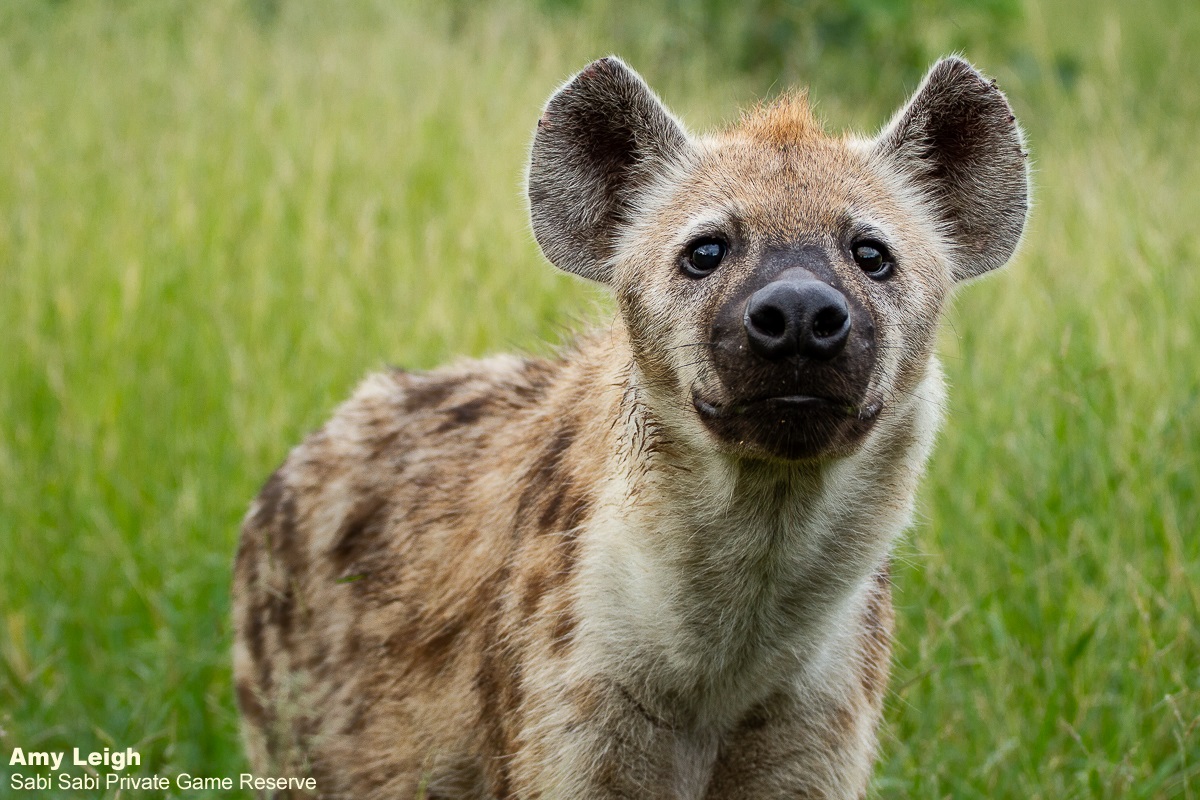 It was a blustery day at Sabi Sabi, and the lionesses from the Styx Pride had taken full advantage of it by making a zebra kill. These three were spread out on the road, stomachs enlarged from their well-deserved meal. They were constantly tossing and turning and making small groaning noises, almost to show their discomfort as to how full they were.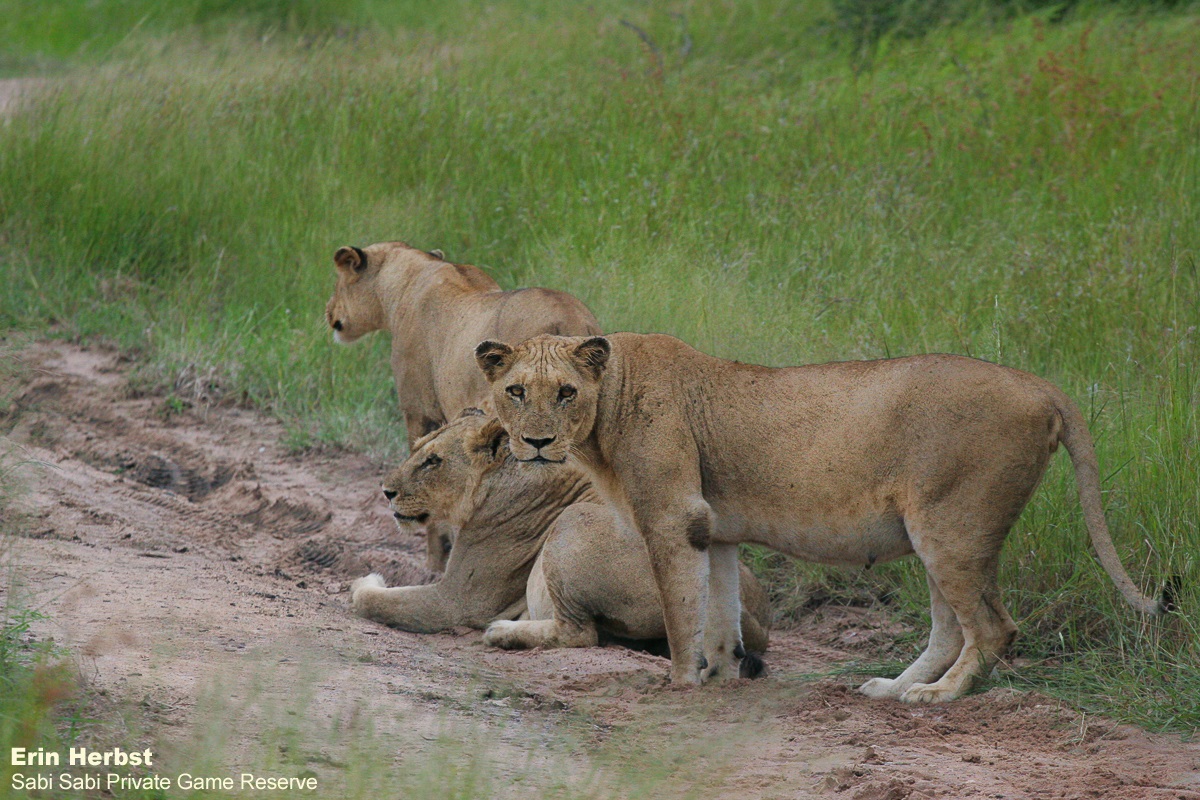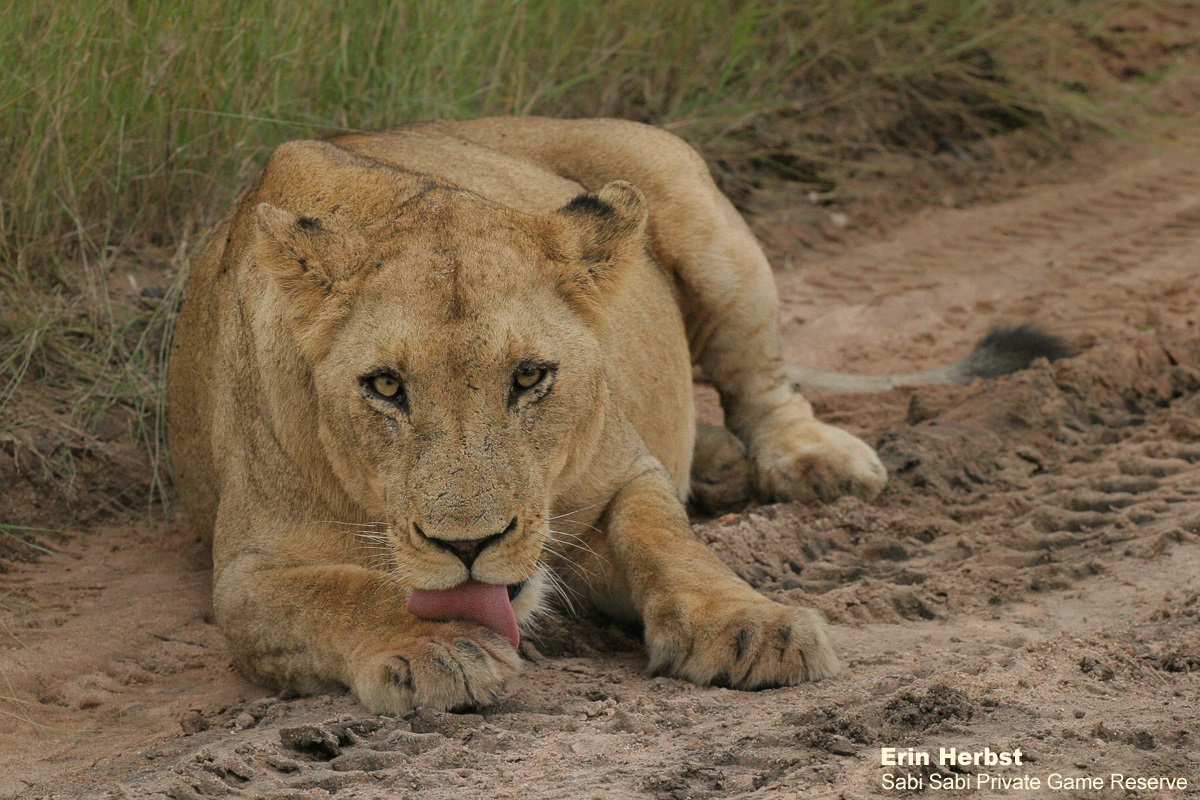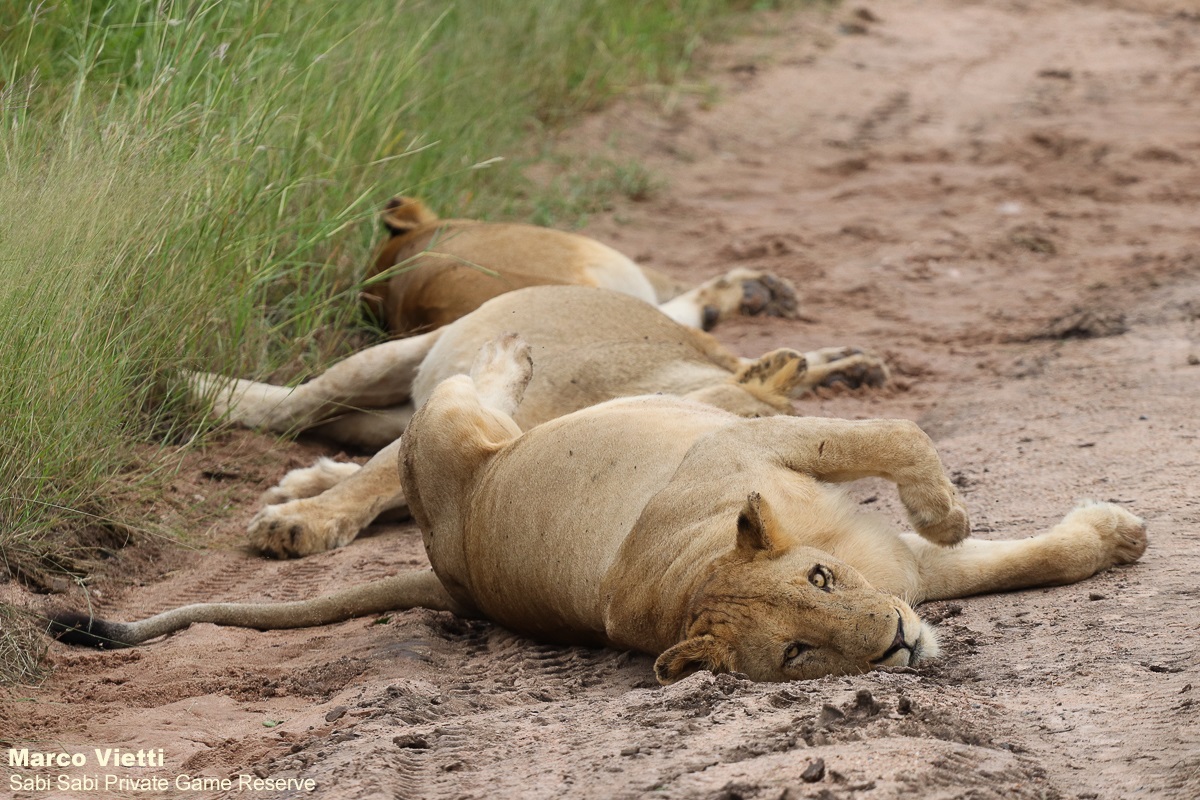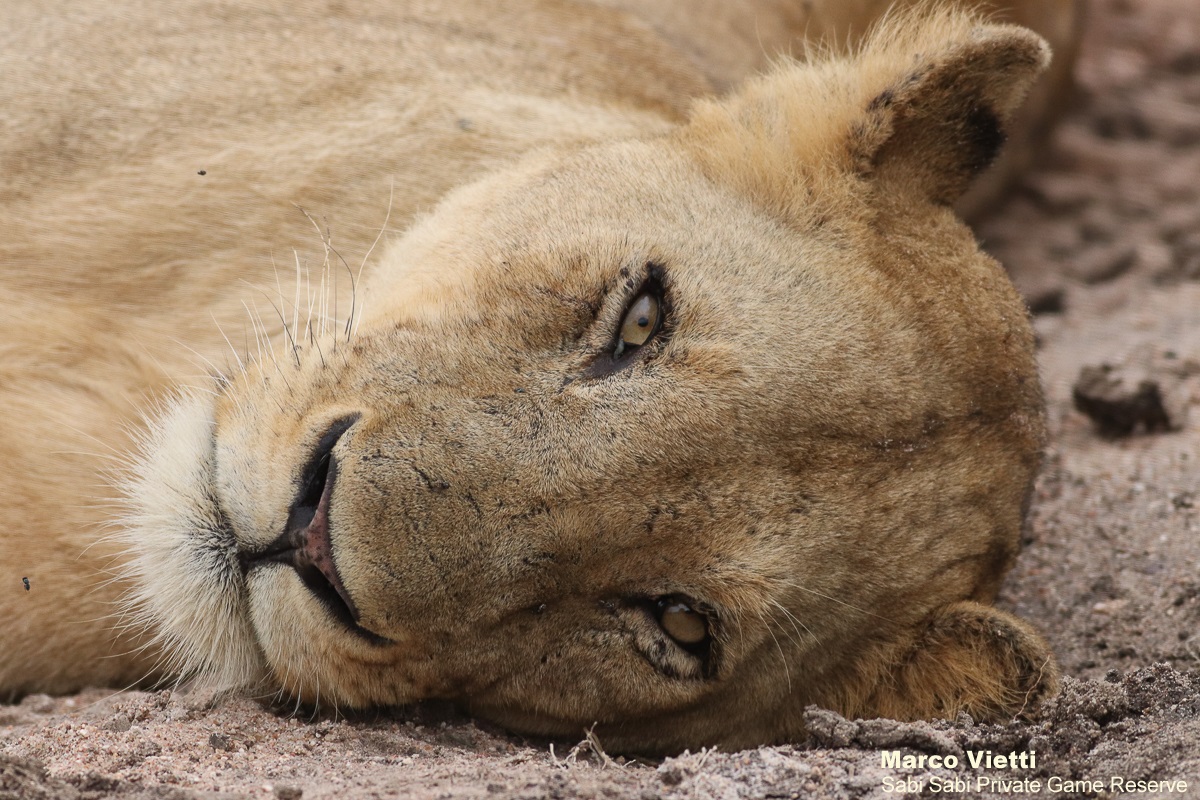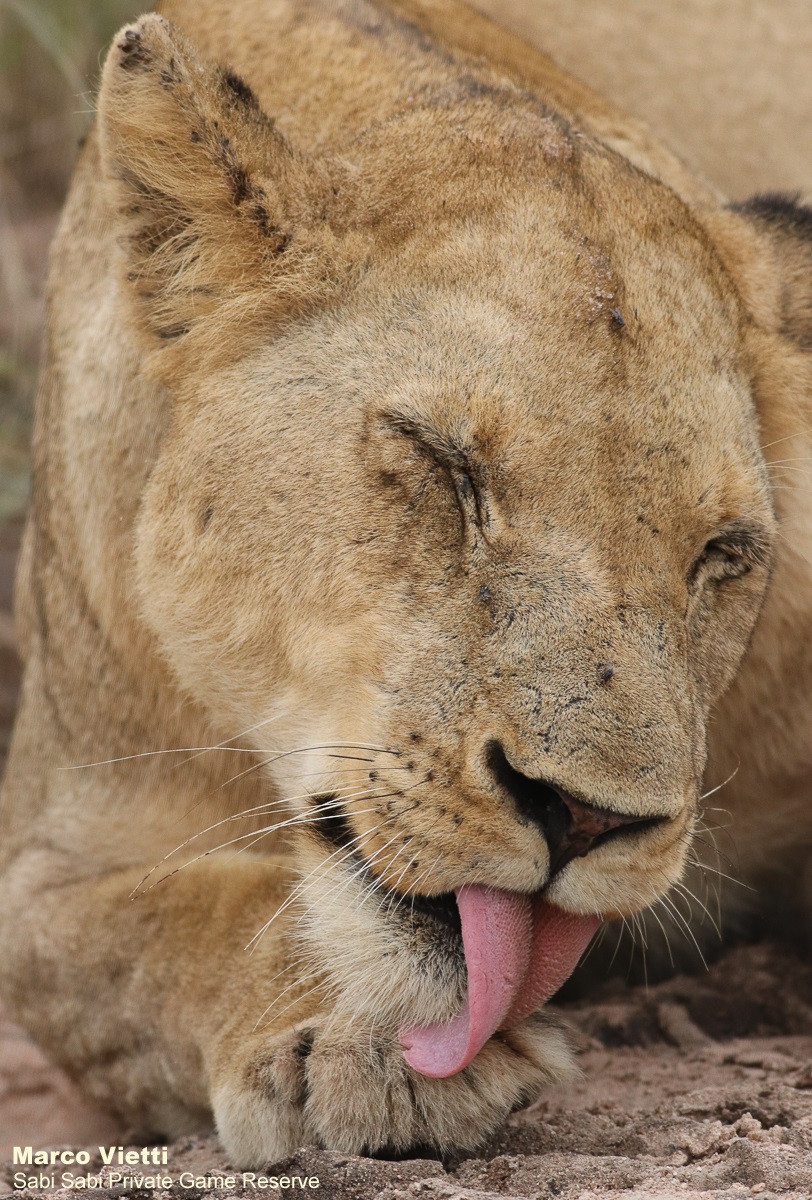 After spending the morning and majority of the afternoon following the tracks of lions, we decided to try one more area.  To our delight, right behind a termite mound, we spotted three of the N'waswishaka male lions, one of which looked just as surprised as we were to see them! We stayed with them for a while, and after the sun had set, they began to vocalise, sending shivers down our spines!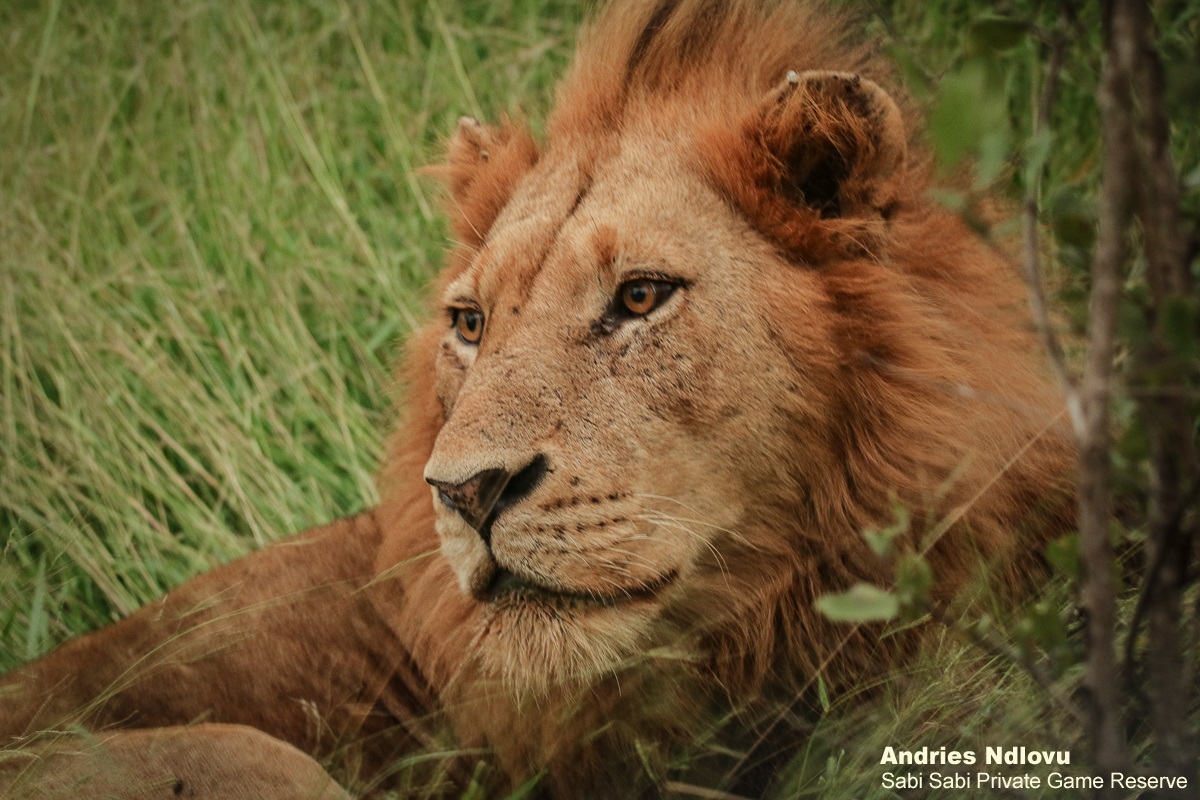 Early one morning, close to Selati Camp, we found a mating pair of lions. We spent some time in the area as we could hear other lions calling not too far away but were unable to locate them.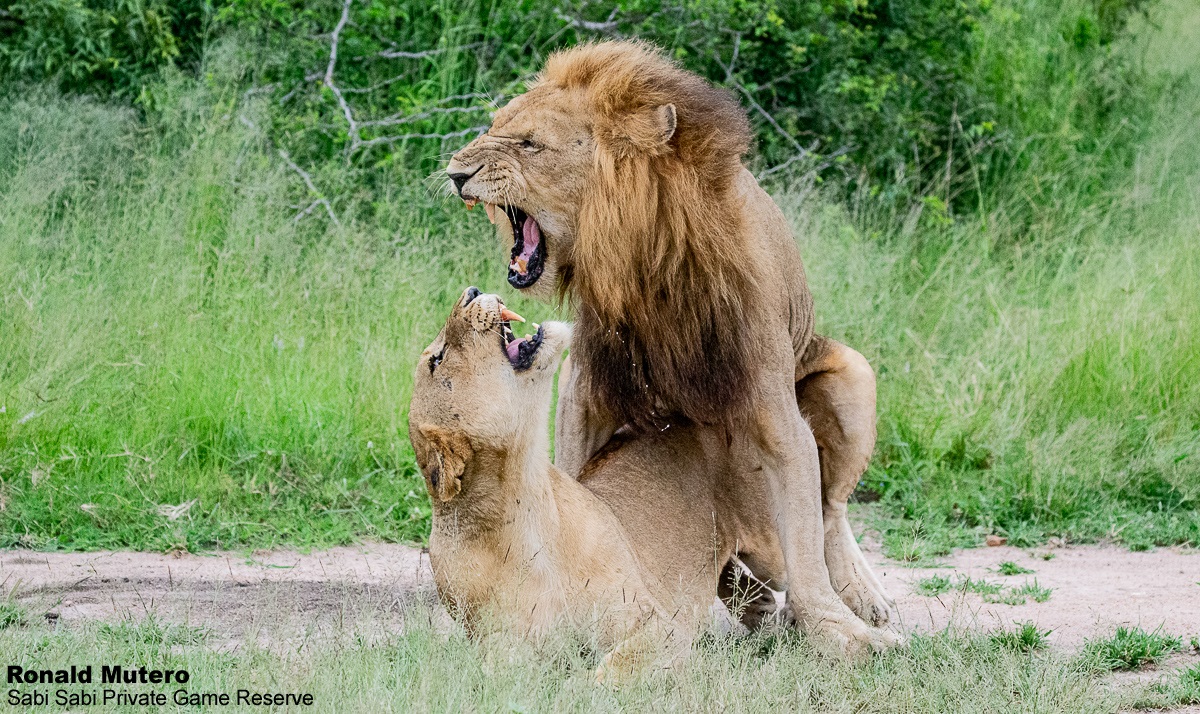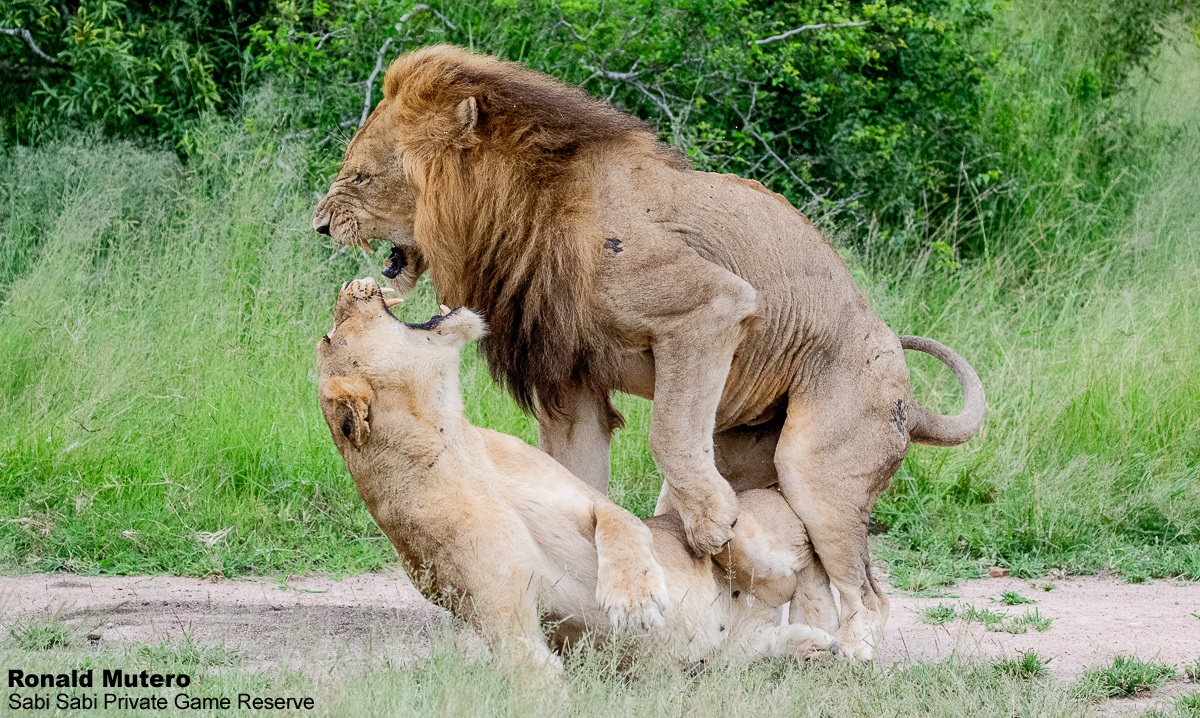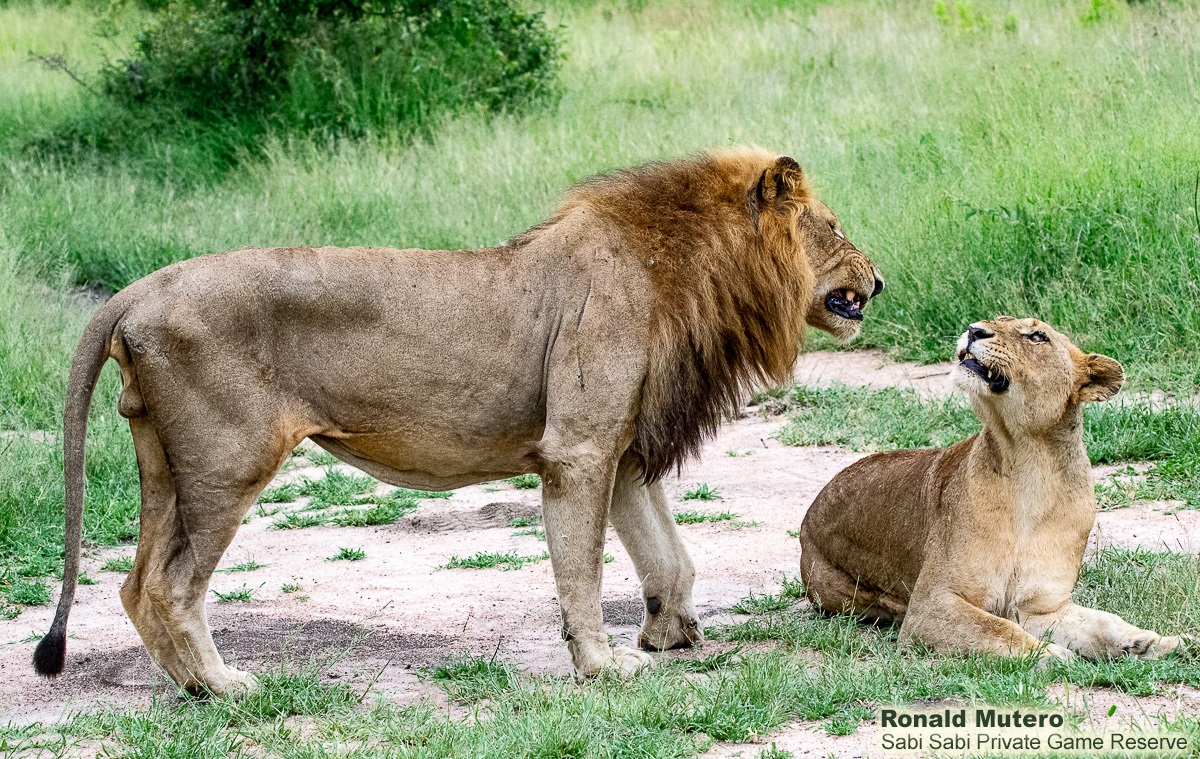 Sometimes a glimpse is all we get of these incredible animals. White Dam briefly stepped out of the thick bush onto the road before heading back into the long grass.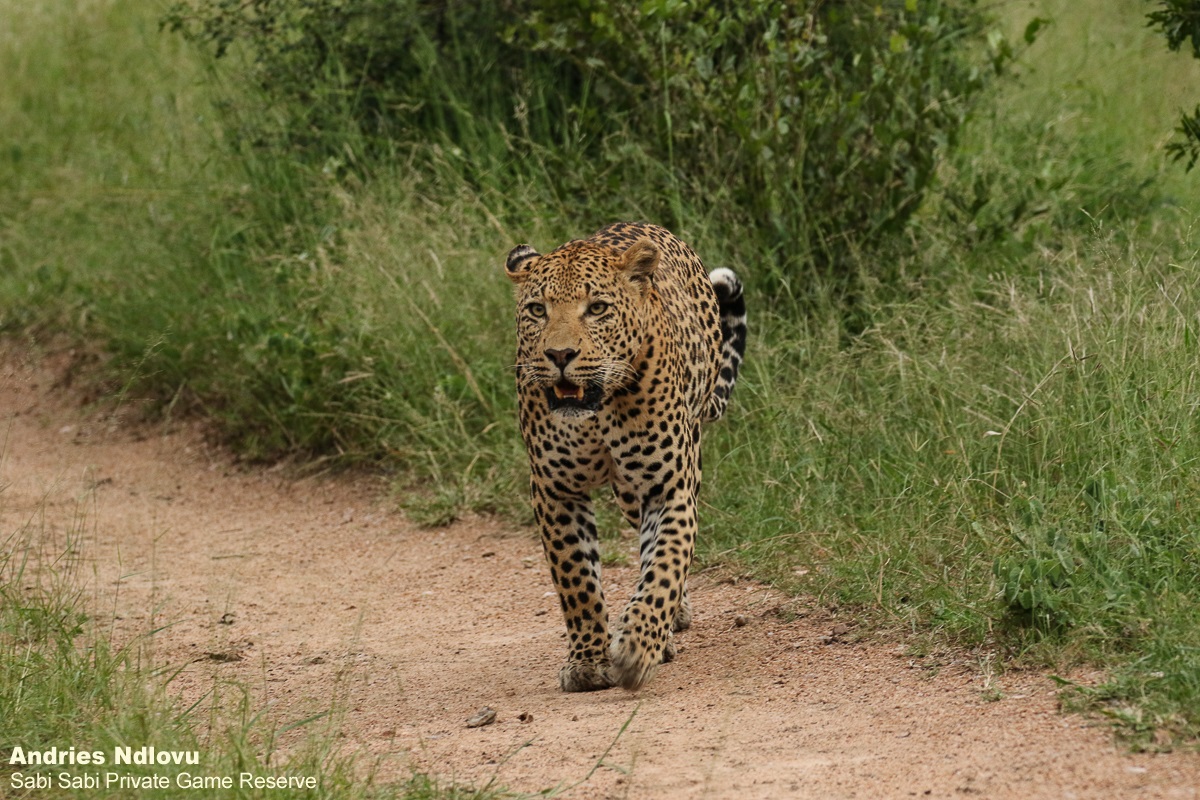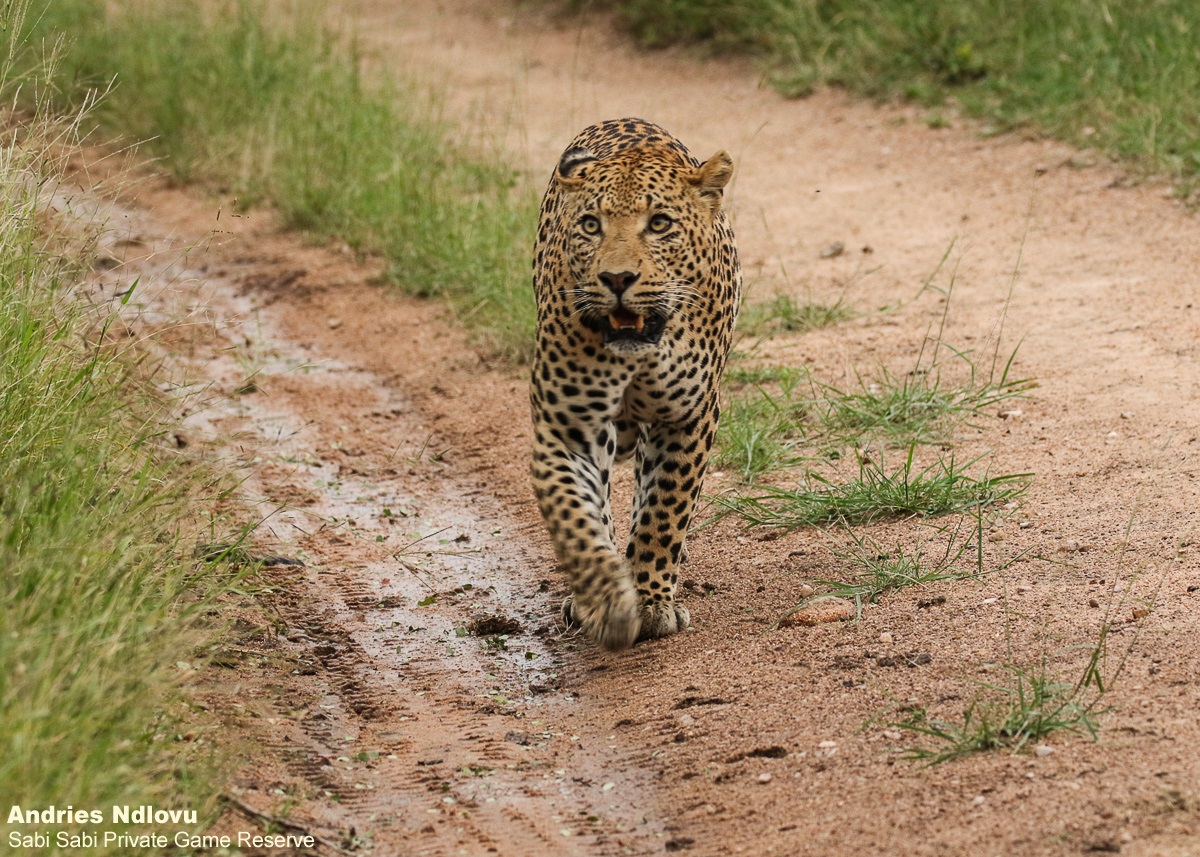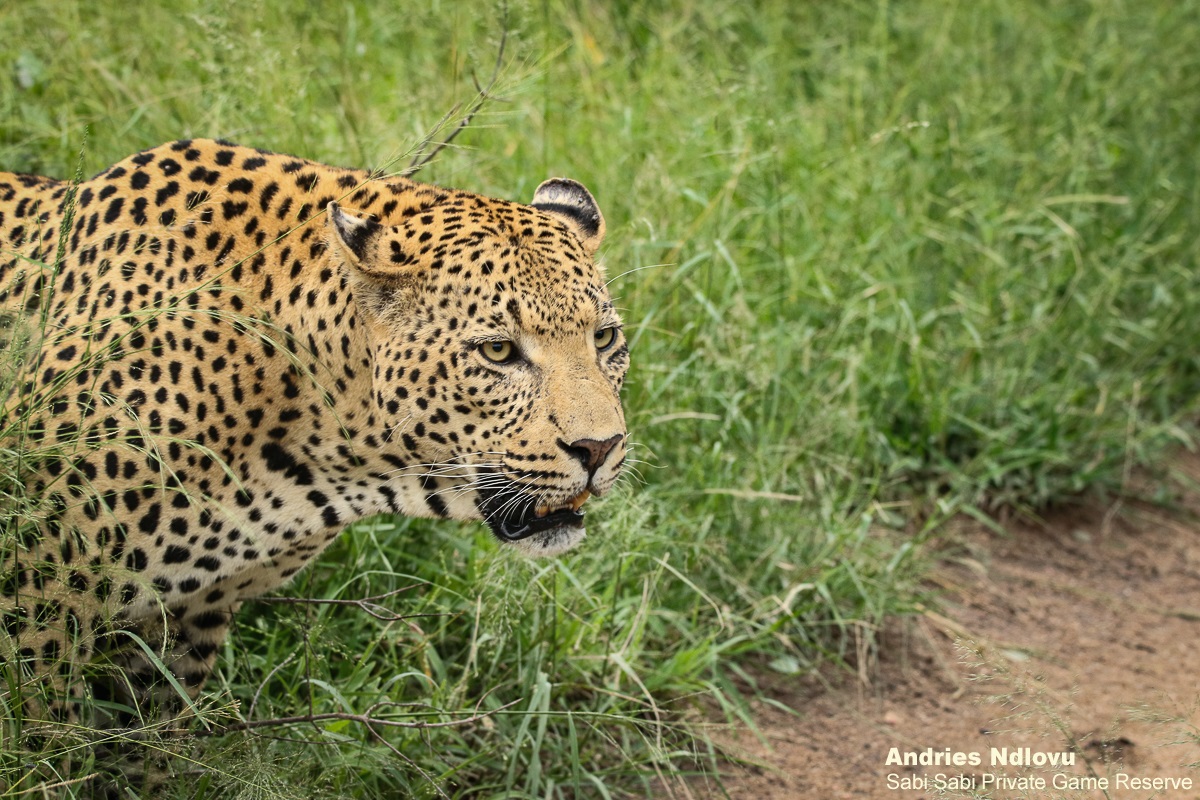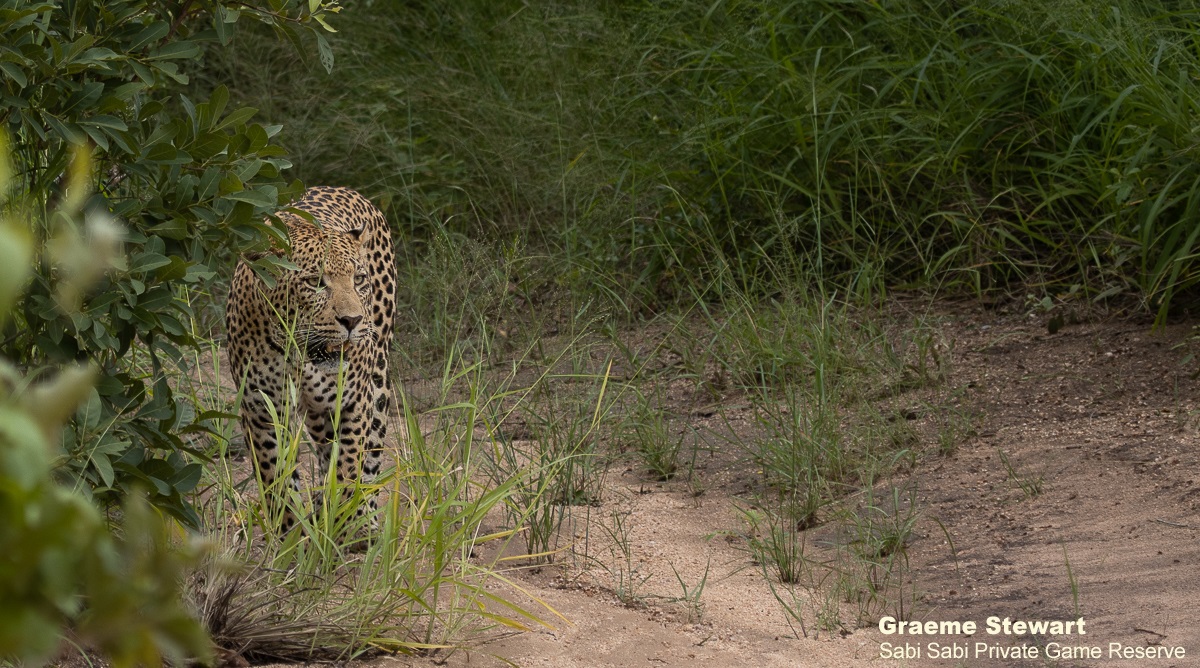 It's always an amazing experience seeing the N'weti male. He is a much larger male than most other leopards and his size creates a sense of awe.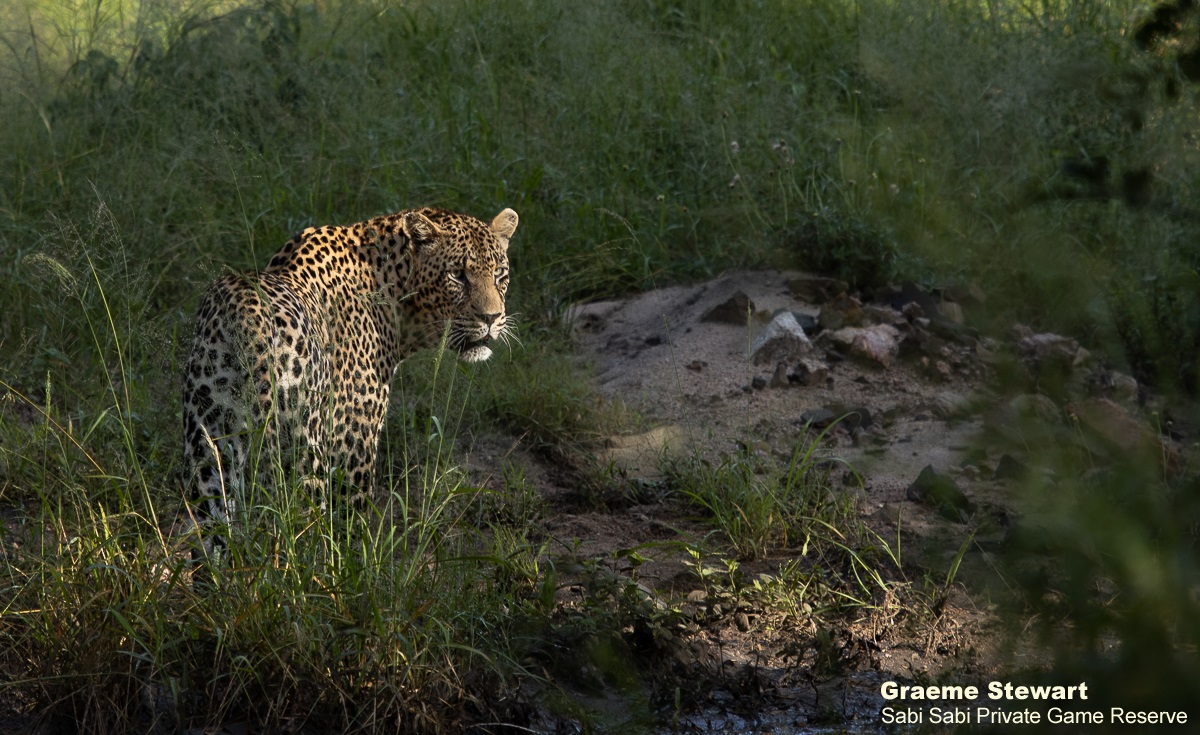 With the call of a hyena drawing us away from our sundowner's spot, we were happy that we decided to investigate. As we drove along in the darkness, a figure appeared in the road ahead, casually strolling along, marking regularly as she went. After a while, Scotia female leopard took a well-deserved break, lounging in the cool sands of a mitre drain, before getting up and continuing her patrol.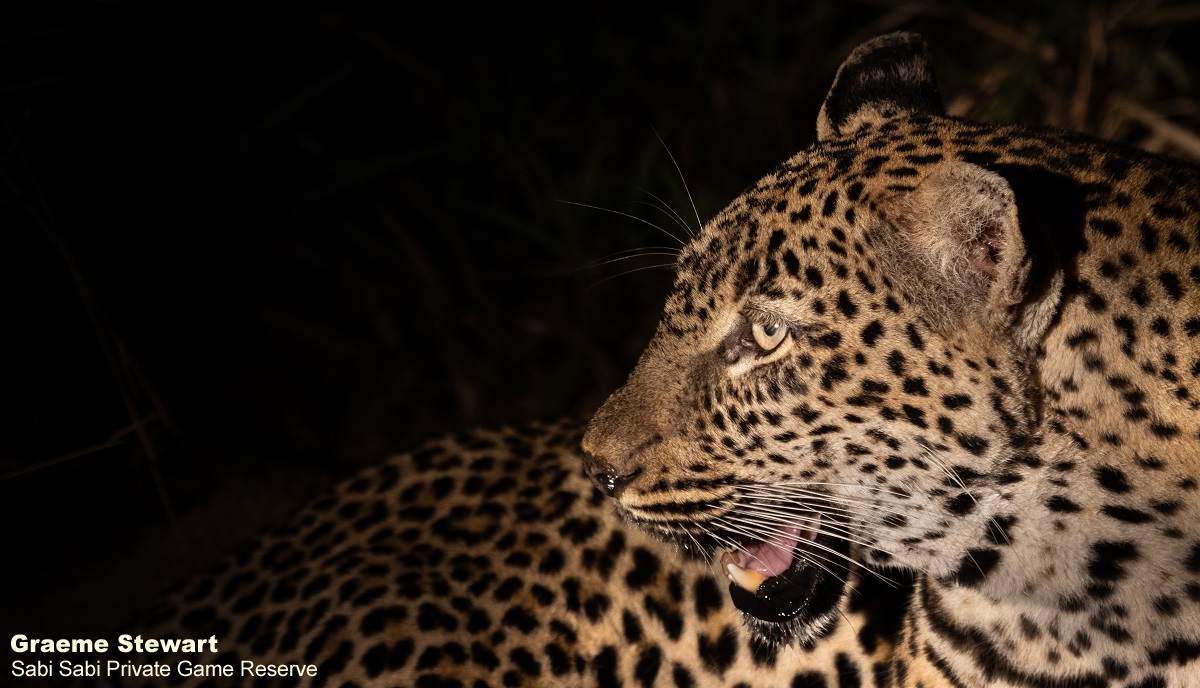 If there had to be a perfect lion and cub sighting, this would be it! With soft contact calls, the Southern Pride lioness called her youngsters from their rocky hideaway. We spent time with them as they were surveying their surroundings, before dropping down into the thickets below to escape the heat of the day.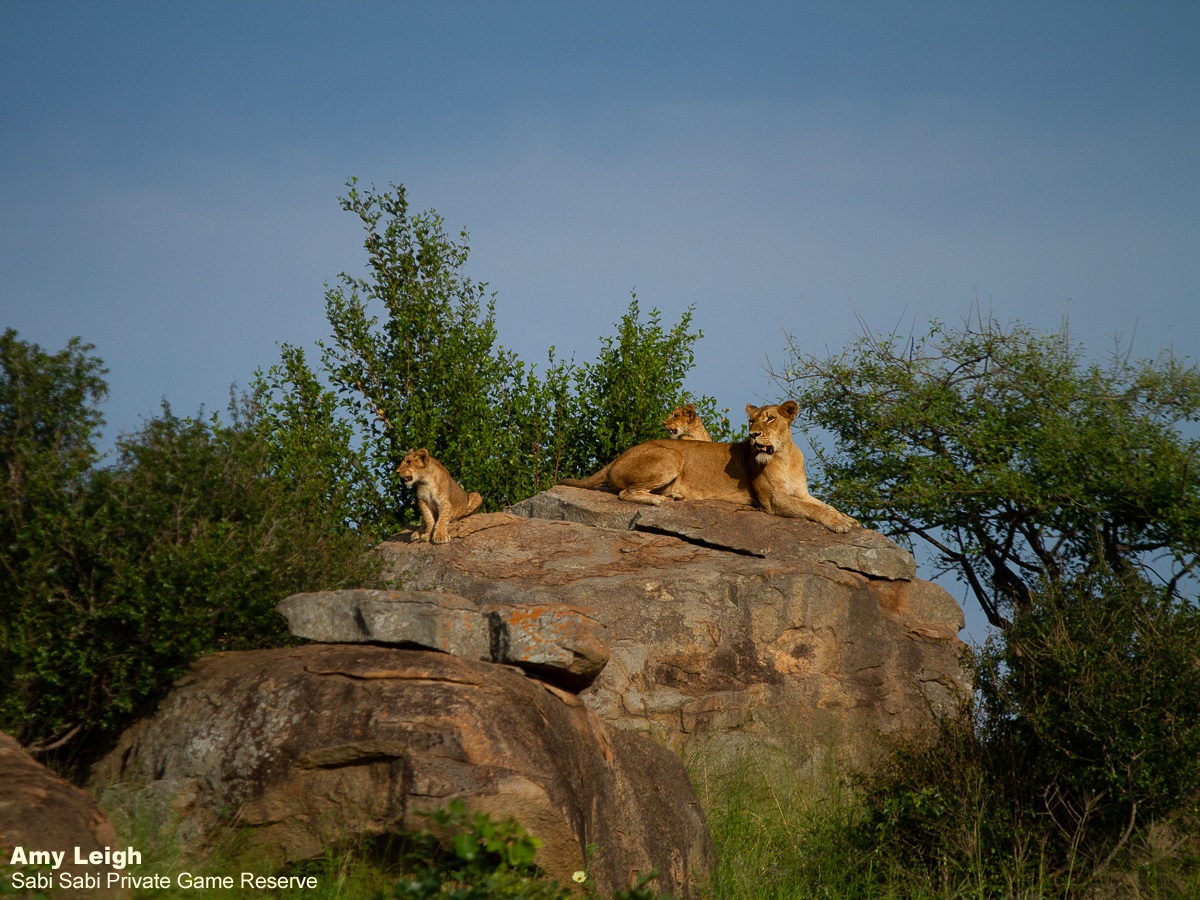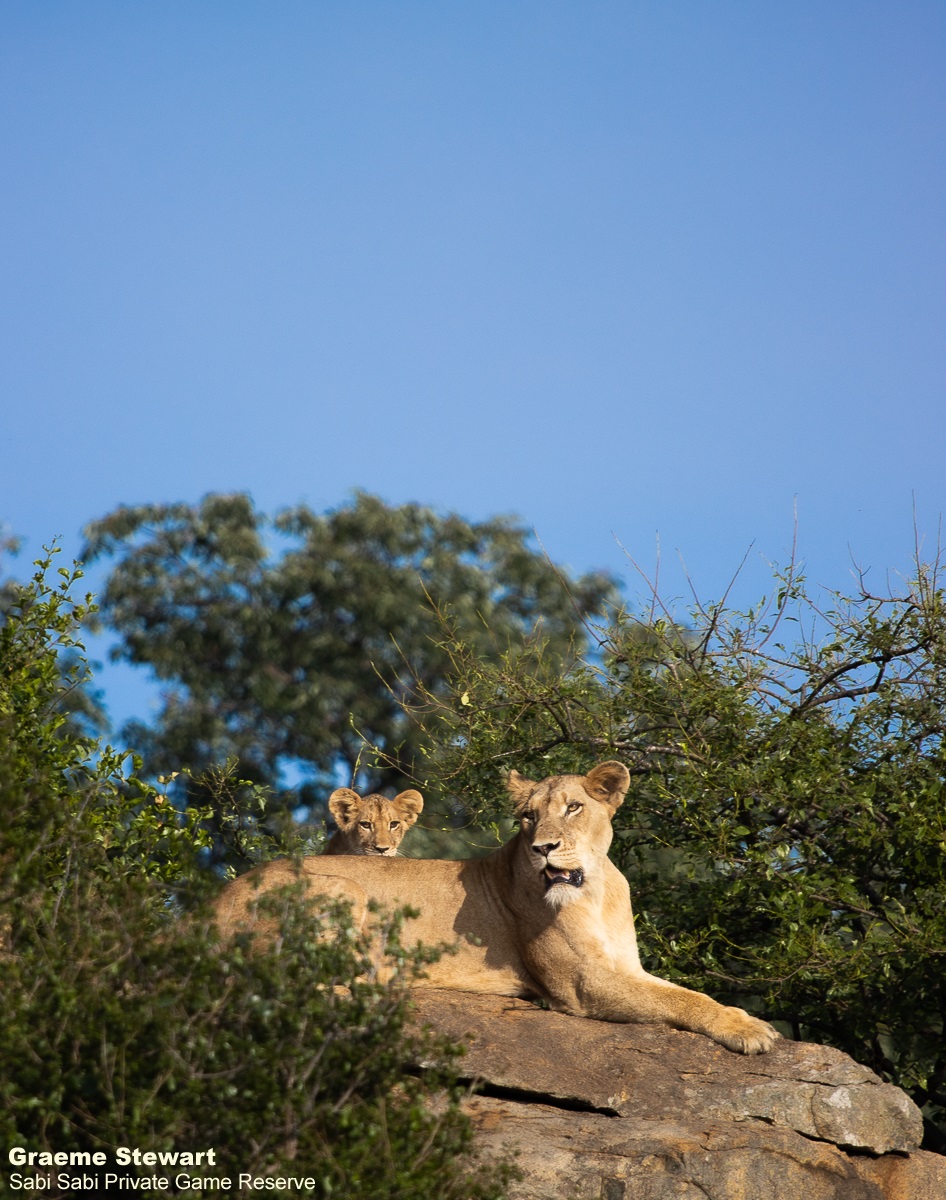 Until next time…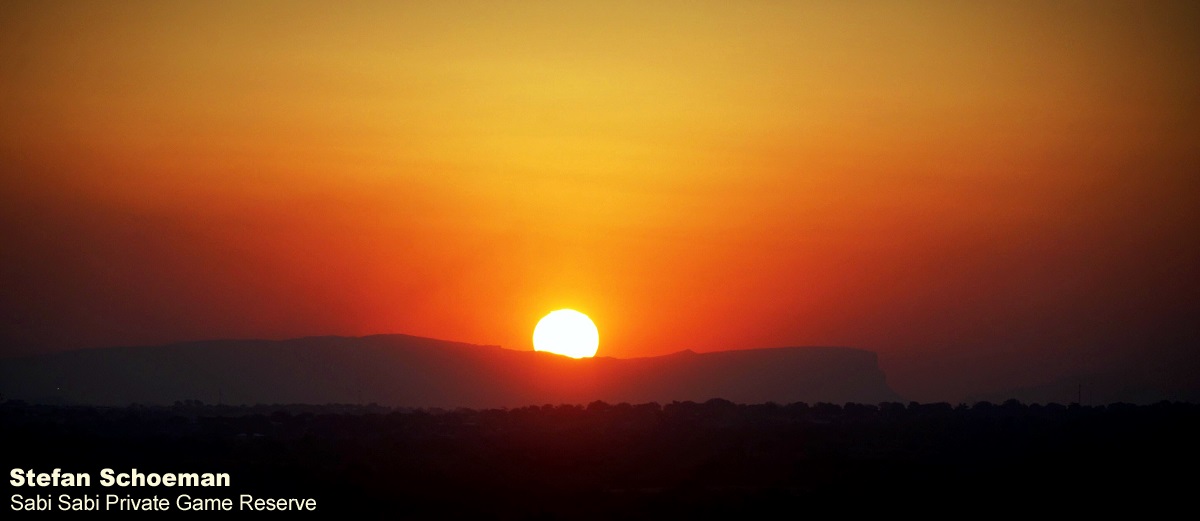 Blog by Wendy Claase
Images by Amy Leigh, Andries Ndlovu, Erin Herbst, Graeme Stewart, Marco Vietti, Ronald Mutero and Stefan Schoeman
Videos by Amy Leigh