We have had a fair amount of rain this week making game viewing a bit of a challenge at times, but nonetheless, we enjoyed some lovely sightings all over the reserve.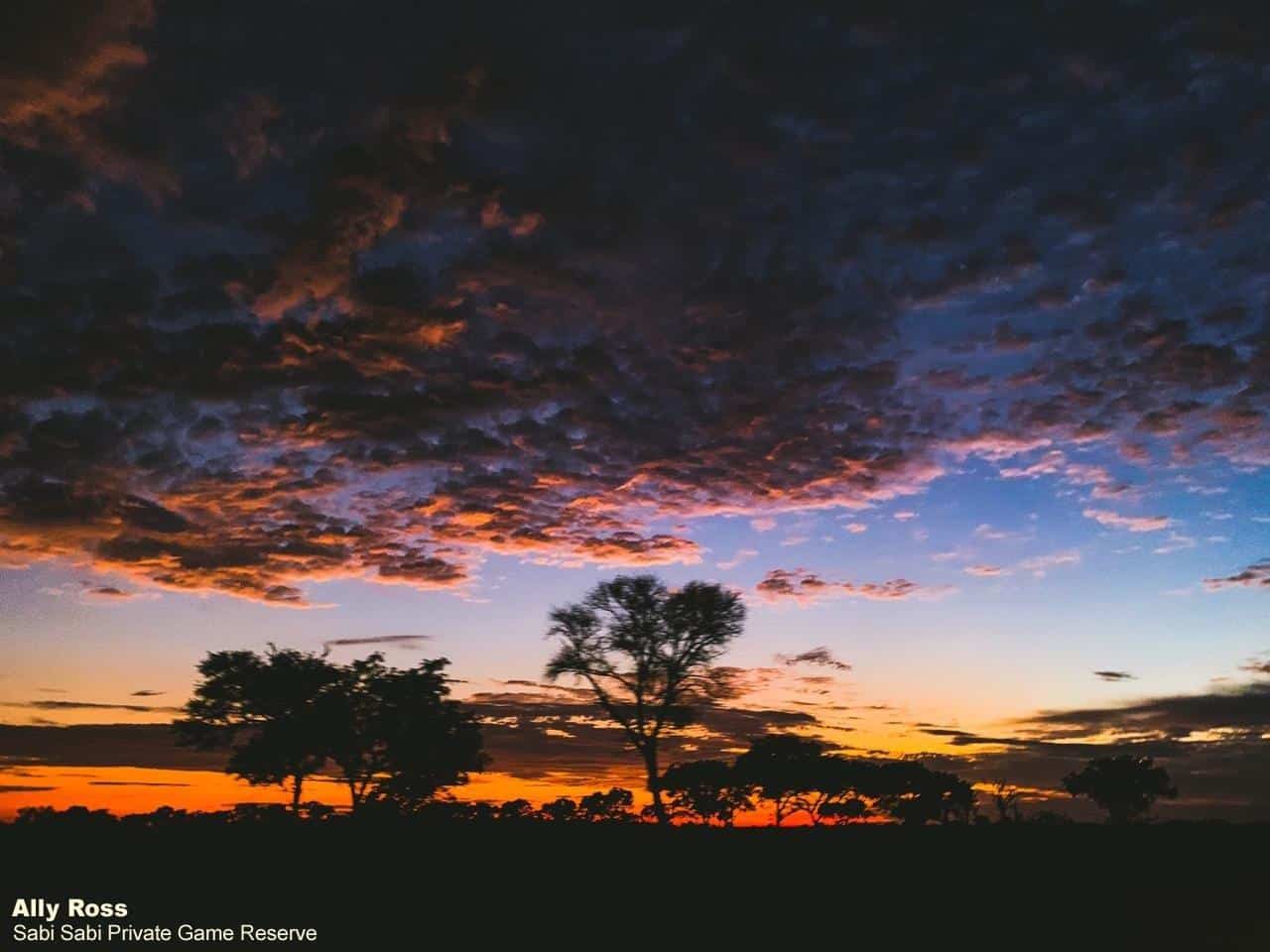 We started the week with mating leopards!  The Kigelia female leopard would persistently and very flirtatiously approach White Dam male, enticing him to mate. It is an incredibly aggressive interaction, and yet as they went off in their separate ways after the act, growling, each would be sure to not let the other too far out of their sight.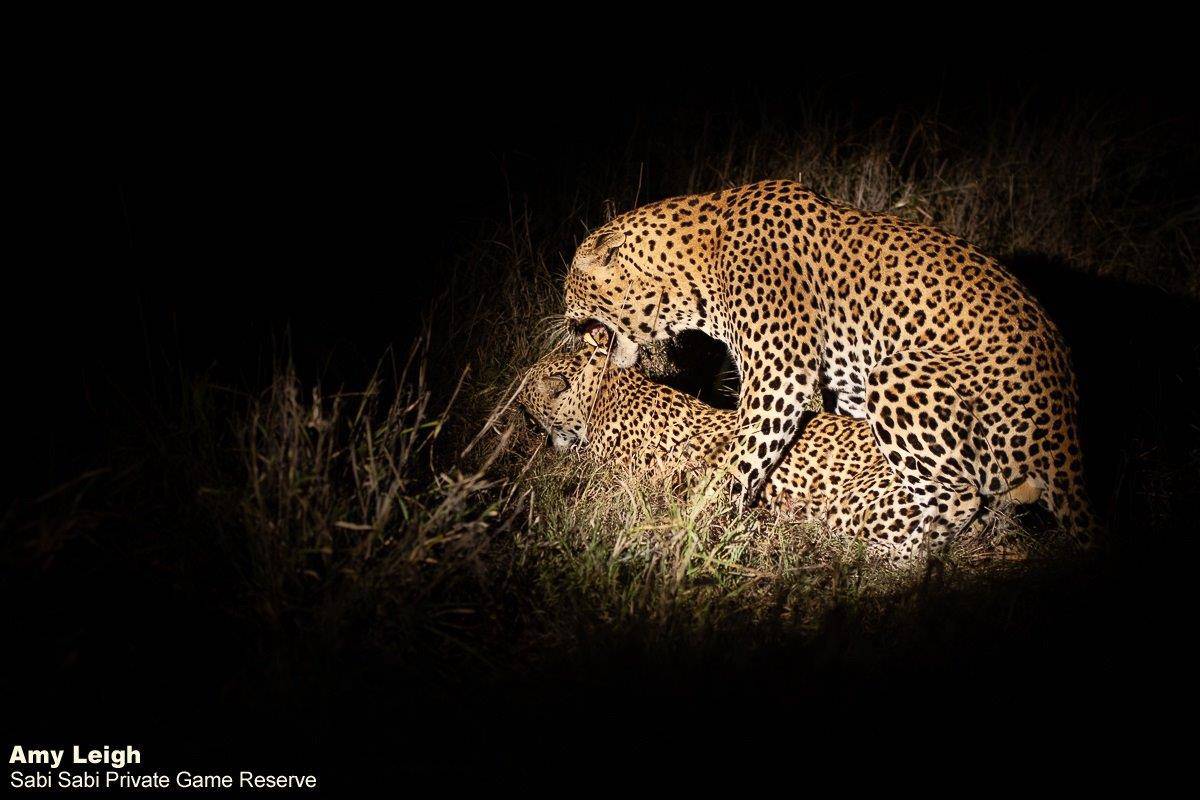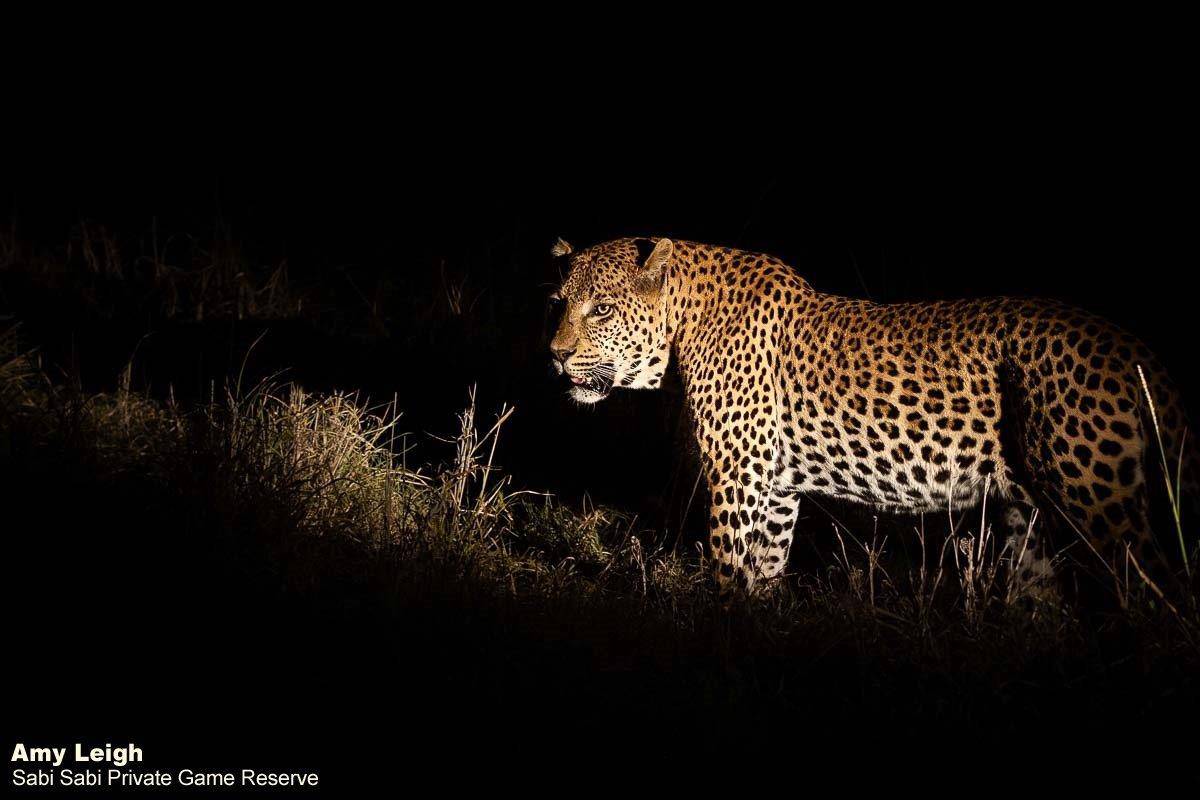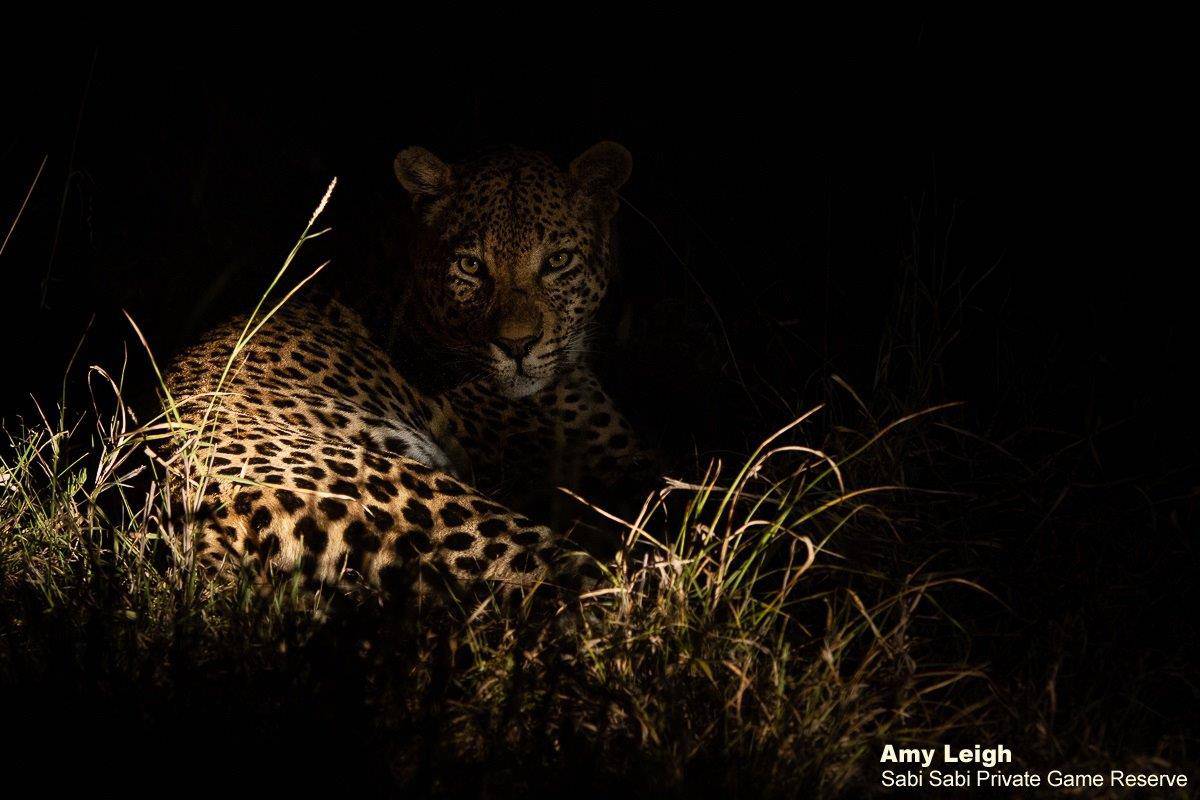 A few days later, White Dam was resting up in a huge Jackalberry tree. After some patient waiting, he eventually climbed down the tree, smelling and scent marking on his way. He soon reached a small puddle from the recent rains, had a quick drink and then lay straight back down for another power nap.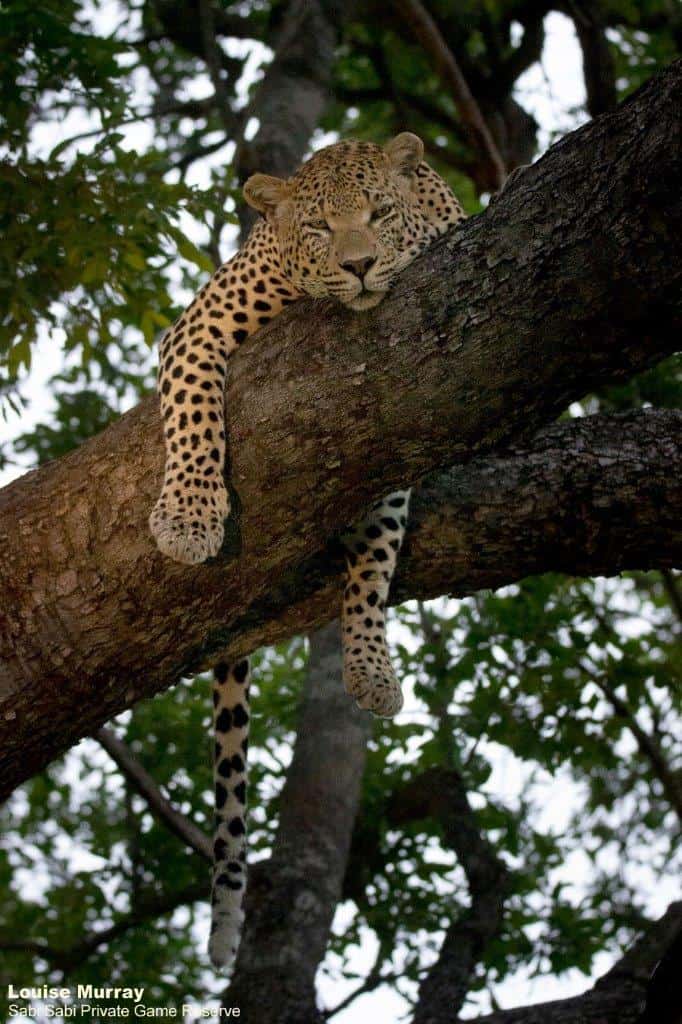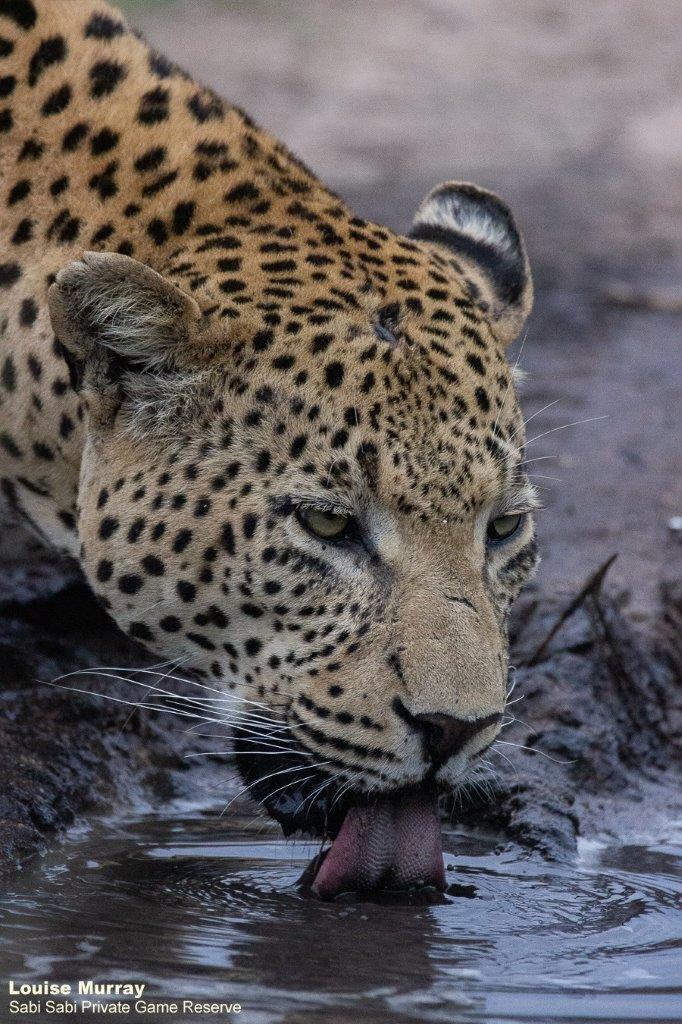 We managed to find the Msuthlu female leopard as she was walking her boundary, scent marking as she went. Her rosetted coat helps her blend in perfectly with the thick underbrush. She paused on her travel to scan a herd of impala, but they notice her and hurriedly scatter away.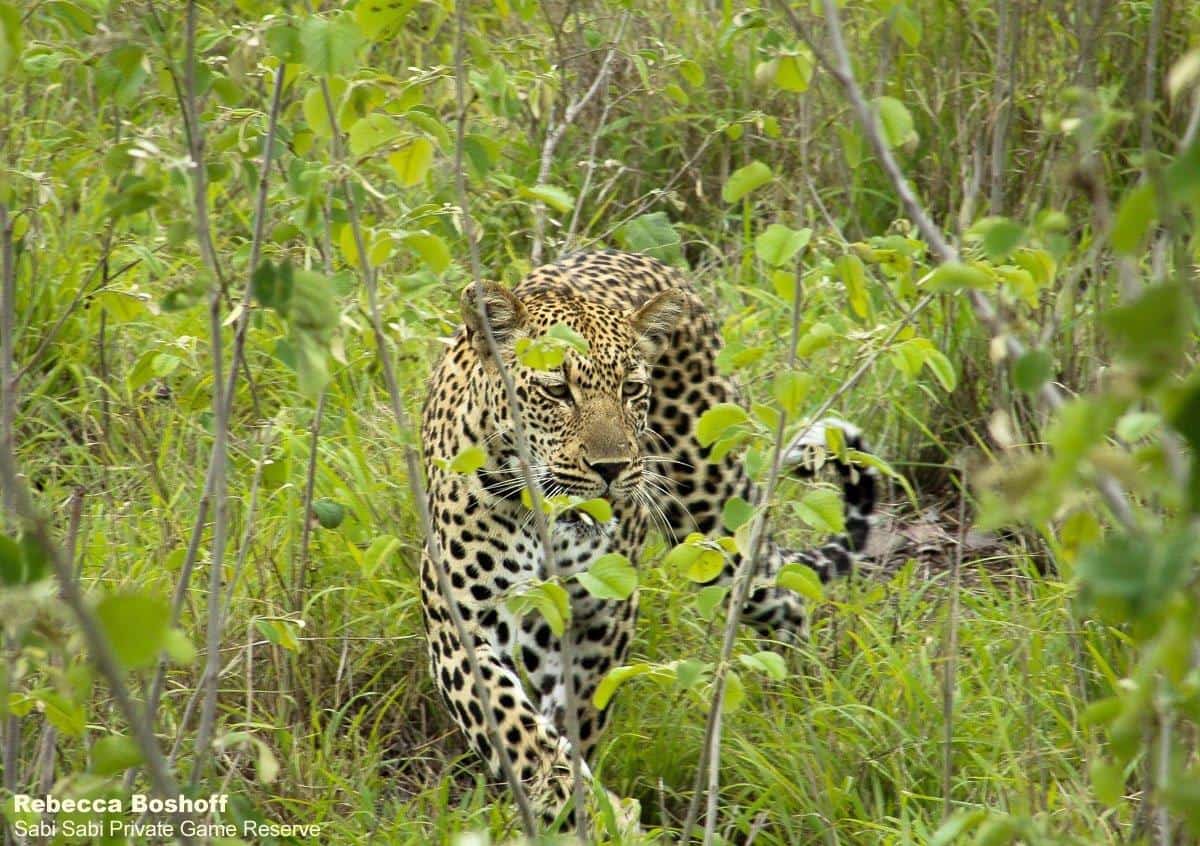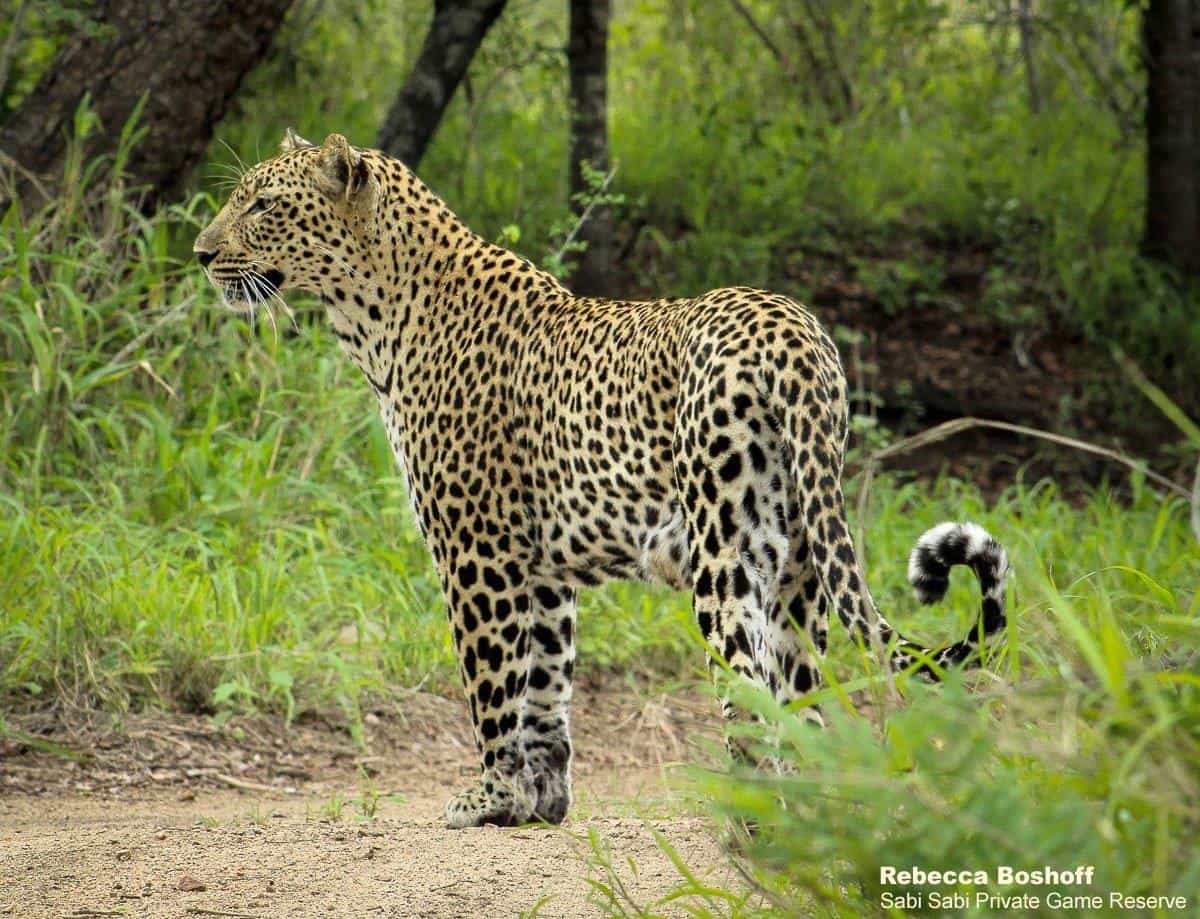 Always a pleasant surprise when you find a leopard walking along the road in front of you!  We followed the Nchila male for a bit as we watched him use a termite mounds to scan the surrounding areas and a small water puddle to quench his thirst.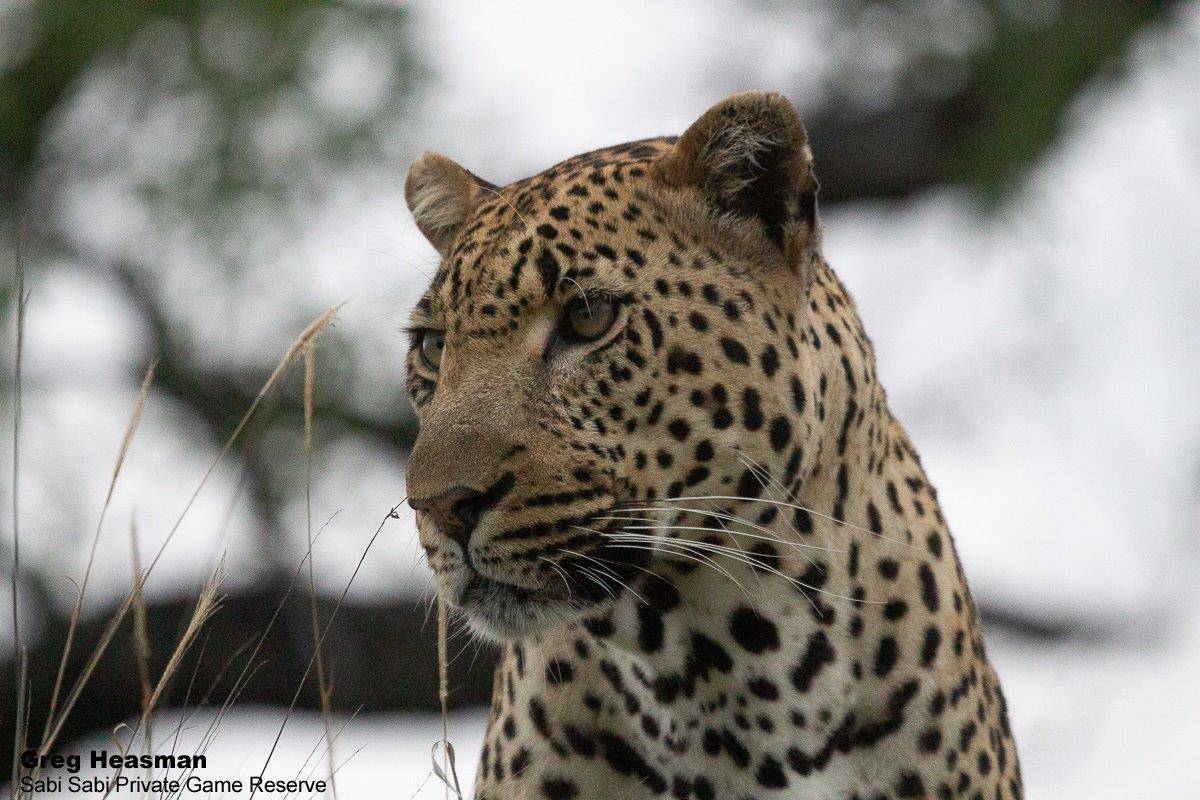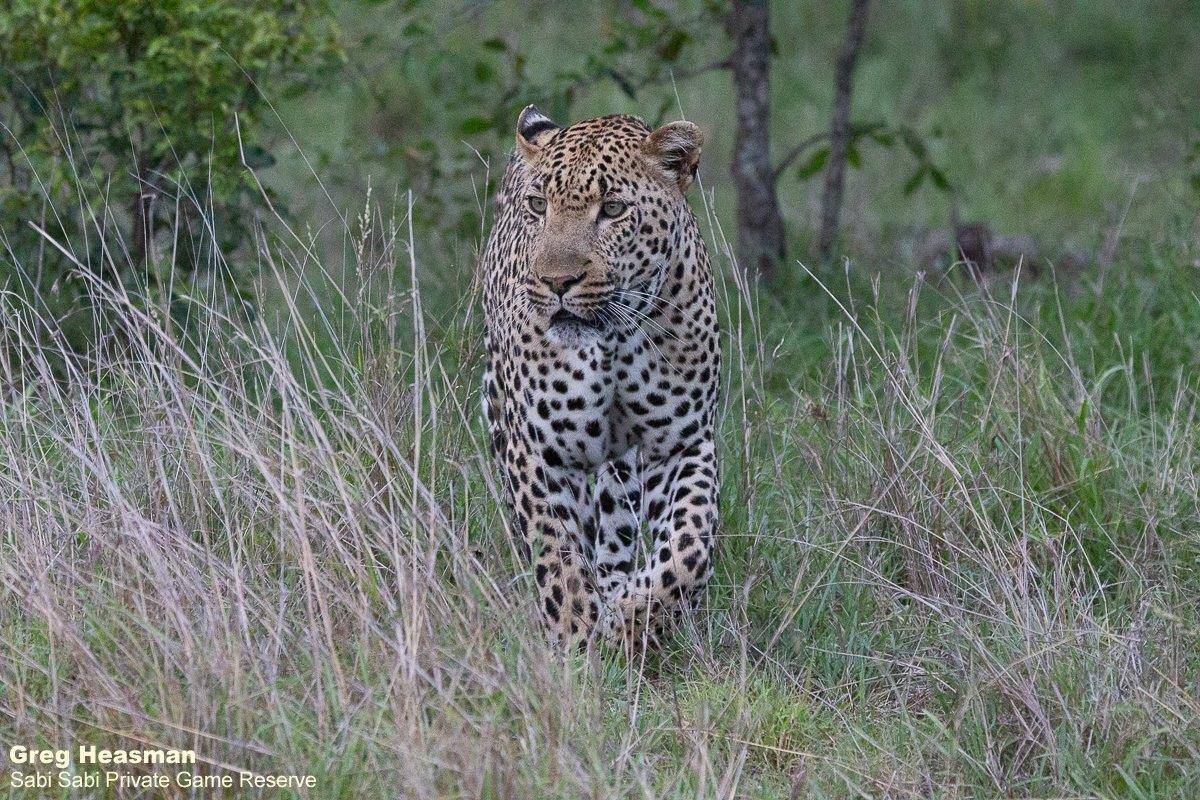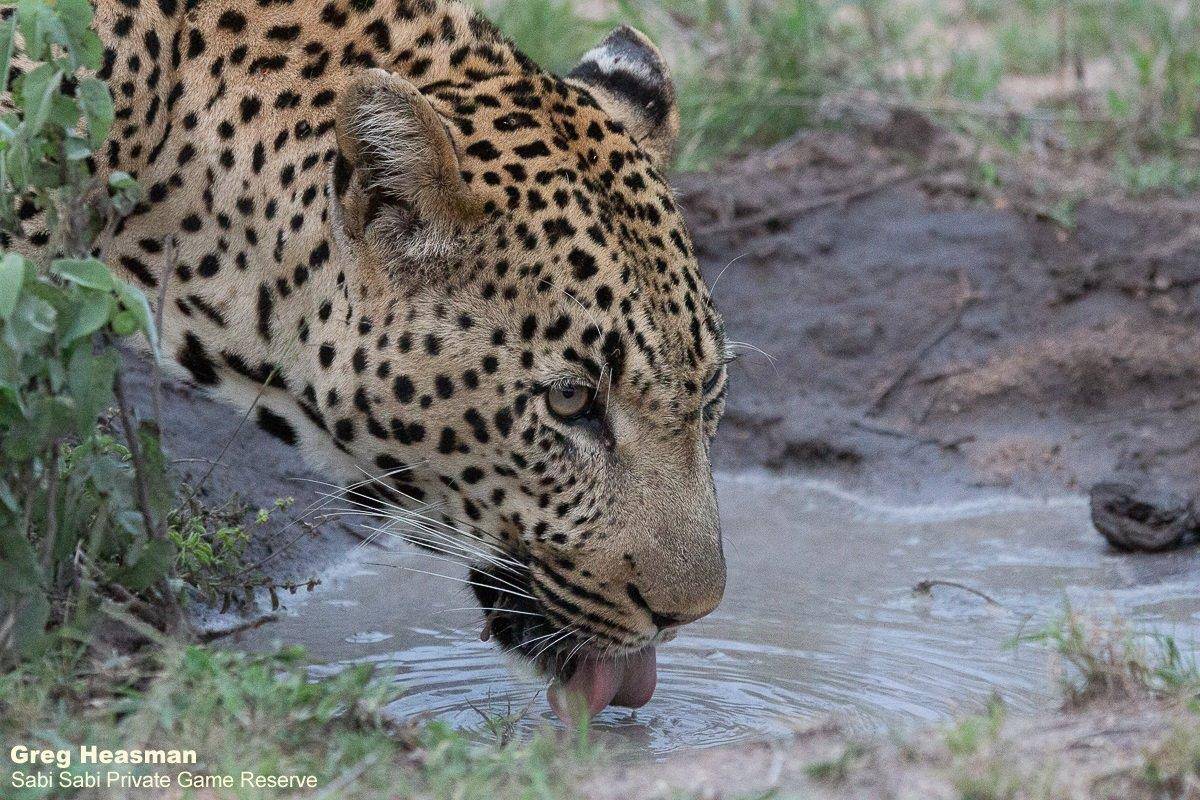 Many folks who venture out on safari wait years to witness a kill from start to finish, it's a special sighting that really takes your breath away. For Ally and her guests – first time safari goers from New York – got lucky!  After following the Styx females into the night, clouds pulling over and rain setting in, they were the only ones around with the lions. After being unsuccessful in their first attempt they had some hope that they would pull the cat out the bag and use the wind to their advantage. The build-up, the tension, the stalk and the take down was witnessed from start to the final leg bone battle between hyena and lion. A once in a lifetime sighting that will be remembered by all.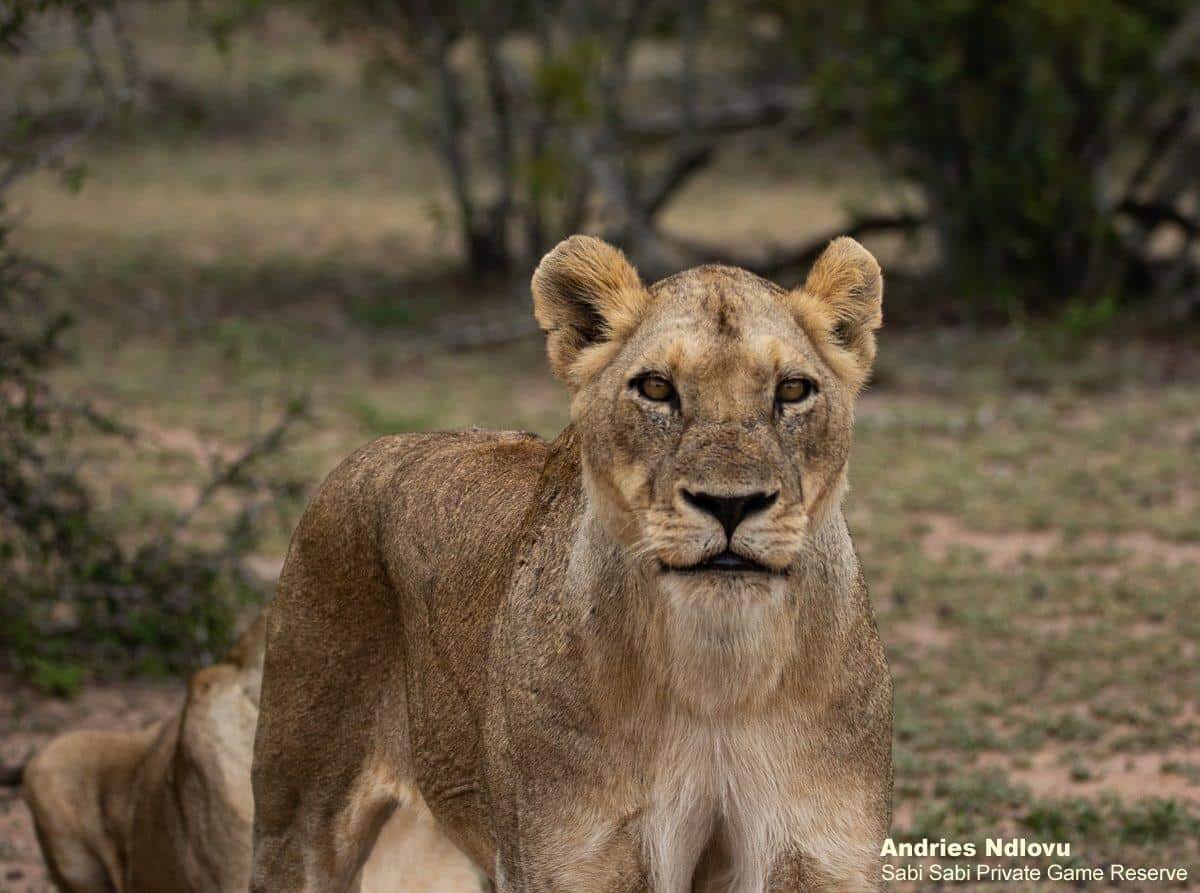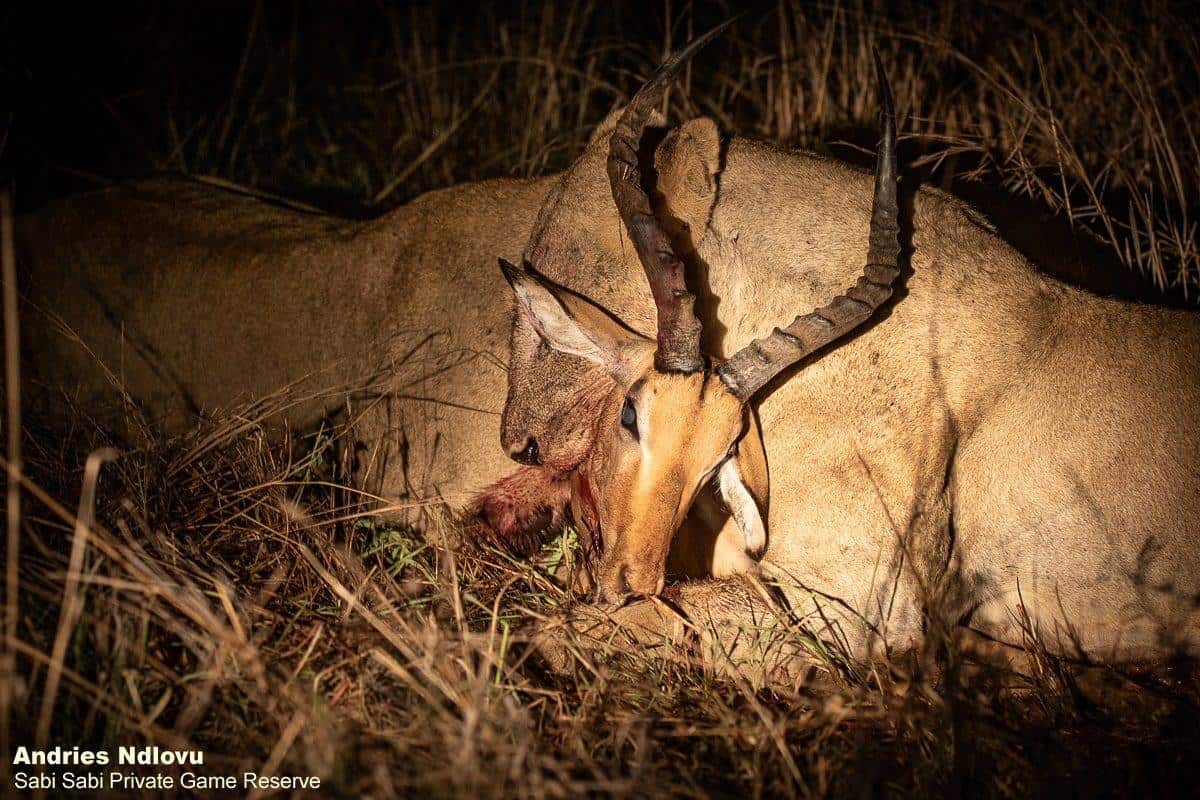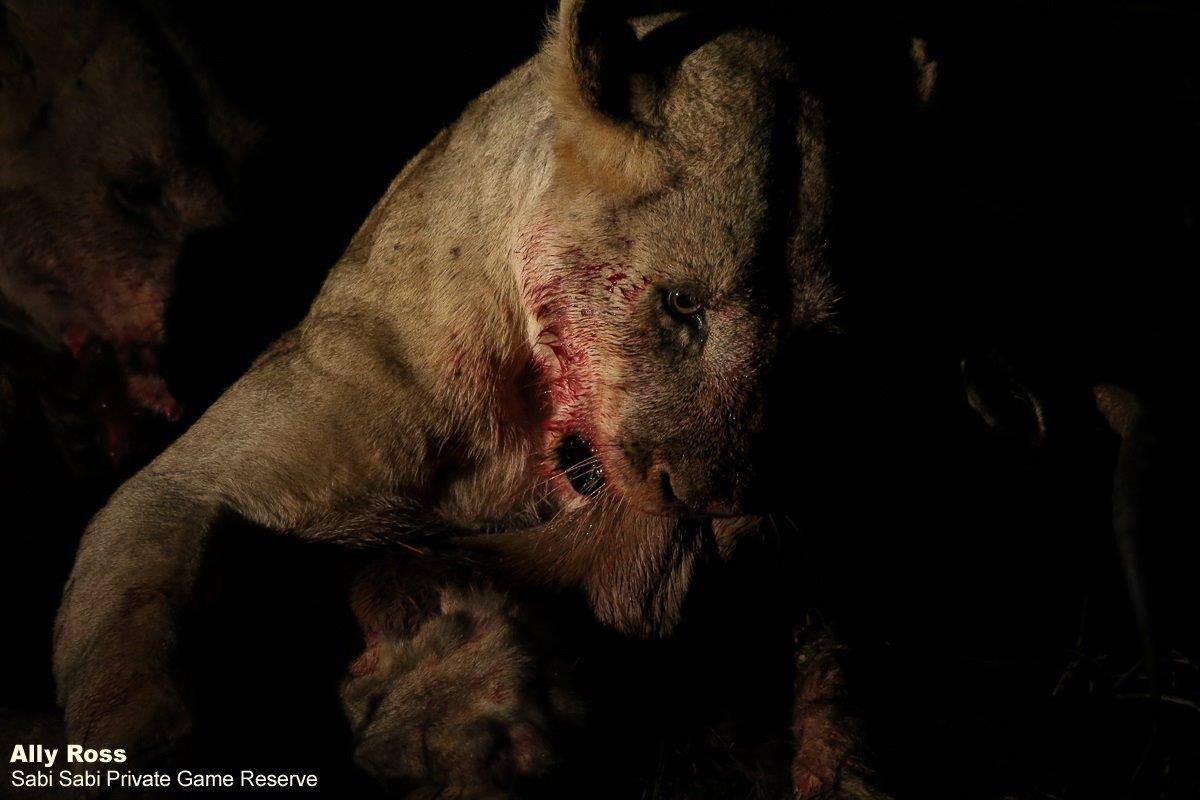 Surrounded by strength! After a few days of rain and cool weather, the morning heat had set in early. The 4 N'waswishaka male lions were resting in the shade of a dense thicket, only lifting their heads briefly to investigate the alarm calling of a few Helmeted guineafowl in the distance.  Towards the end of the week, these lions were heard roaring, making everything around them aware of their presence.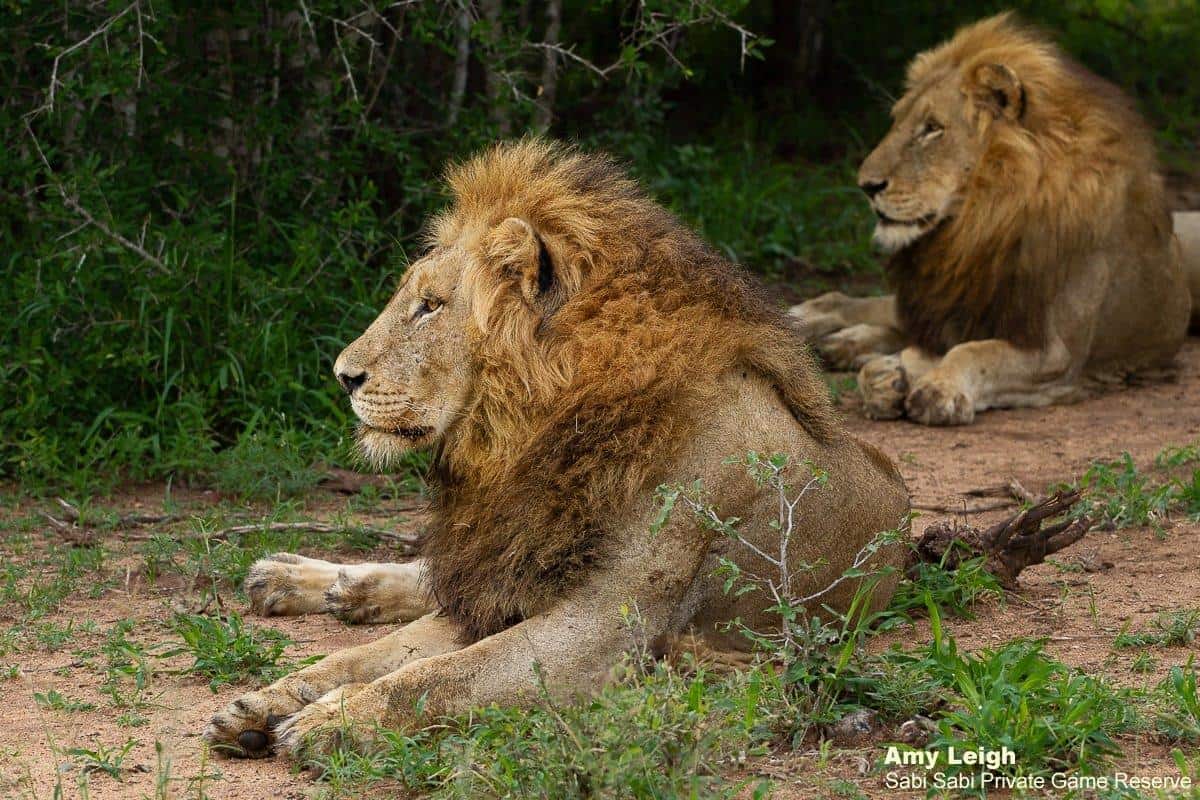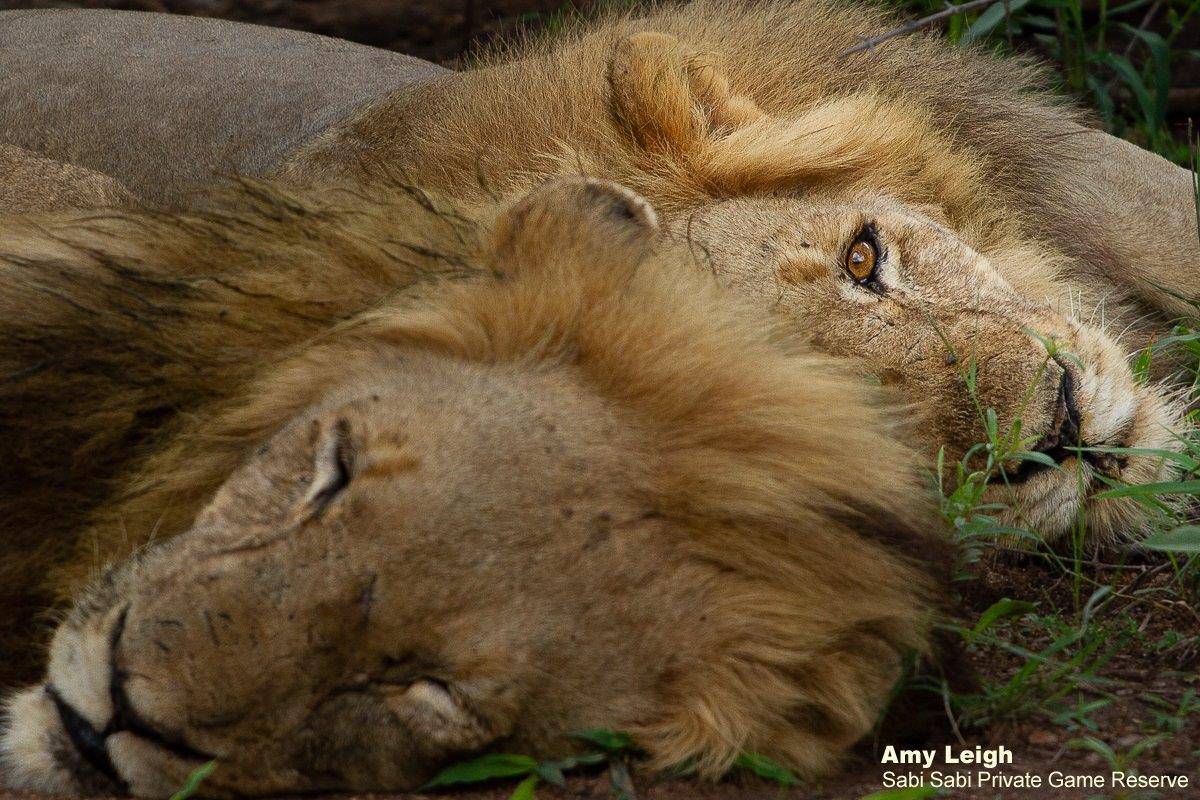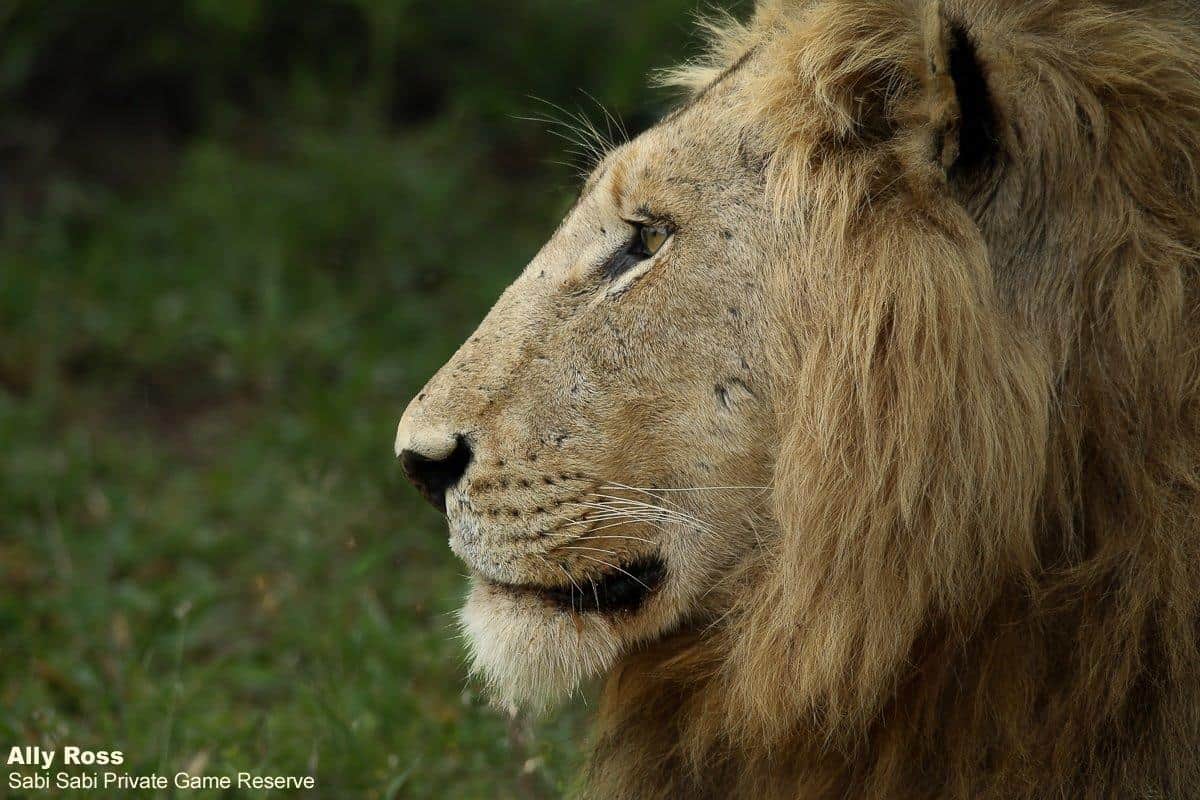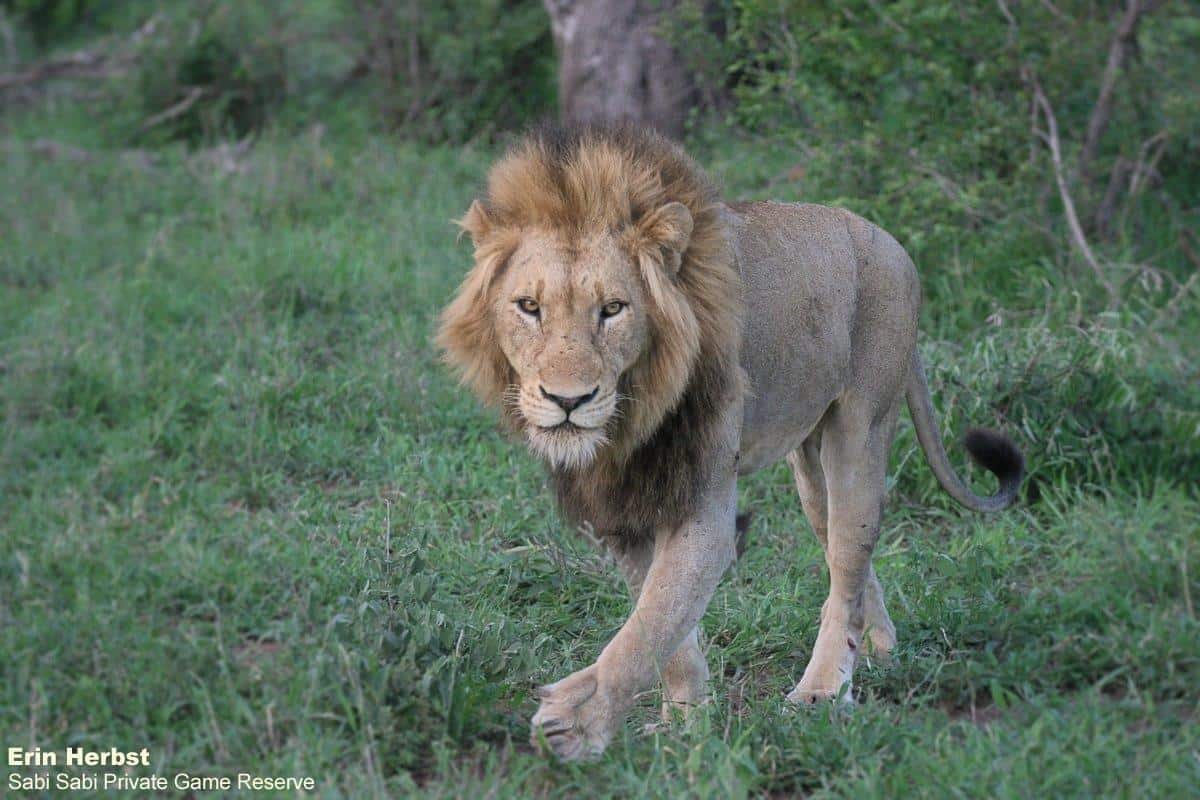 An incredible morning – just as the rain started to fall harder than a slight drizzle, we decided to make our way back to camp. On our way home, we managed to spot the Southern Pride female lying in a thicket escaping the rain. As we approached her, one of her cubs became curious and investigated what was going on, peeking its head around the bush.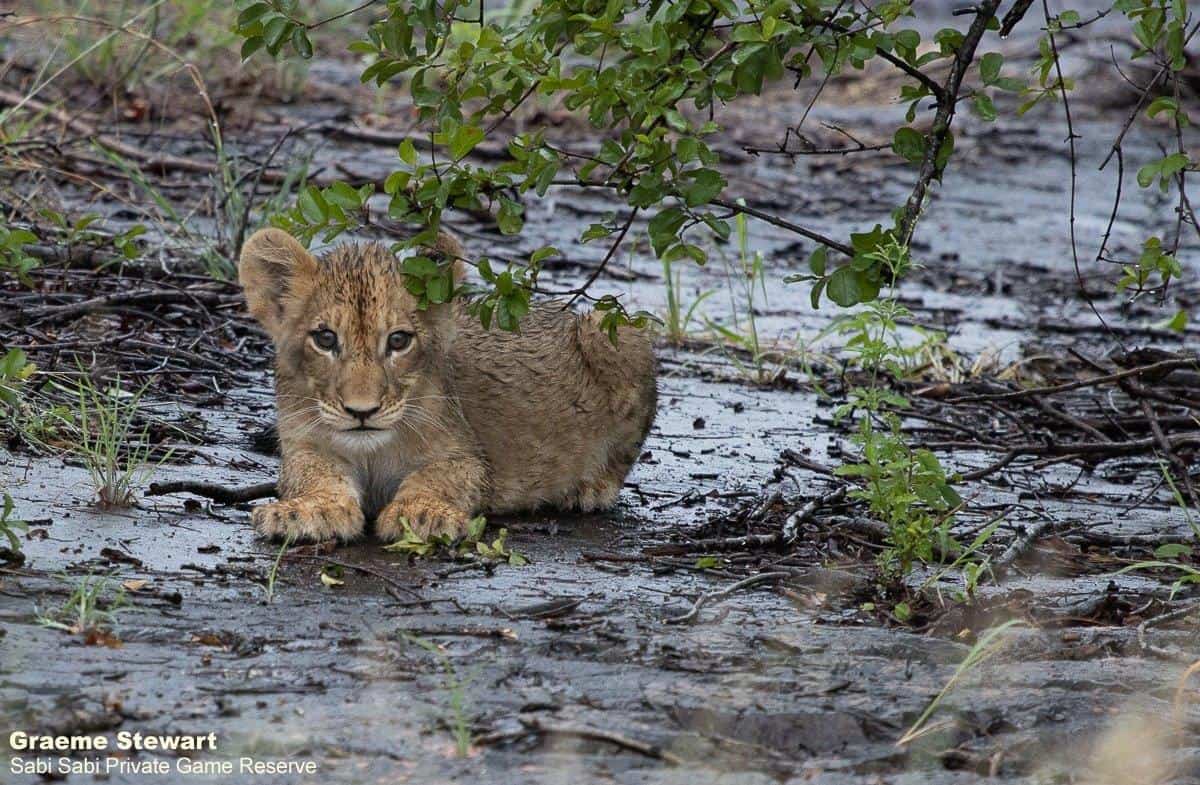 Plenty more sightings of the mother cheetah and her 2 cubs again this week…
After being able to view them for a while, they eventually disappeared into the thickets. Soon enough, we managed to locate them once more but this time, they weren't alone. They had just managed to catch a young impala ram who was still breathing when we found them. After trying to escape one last time, the three cheetah made sure that their prize was not going to try that again. One of the youngsters then dragged the kill into some bushes to avoid any prying eyes and after they caught their breath, they began to feast on the impala.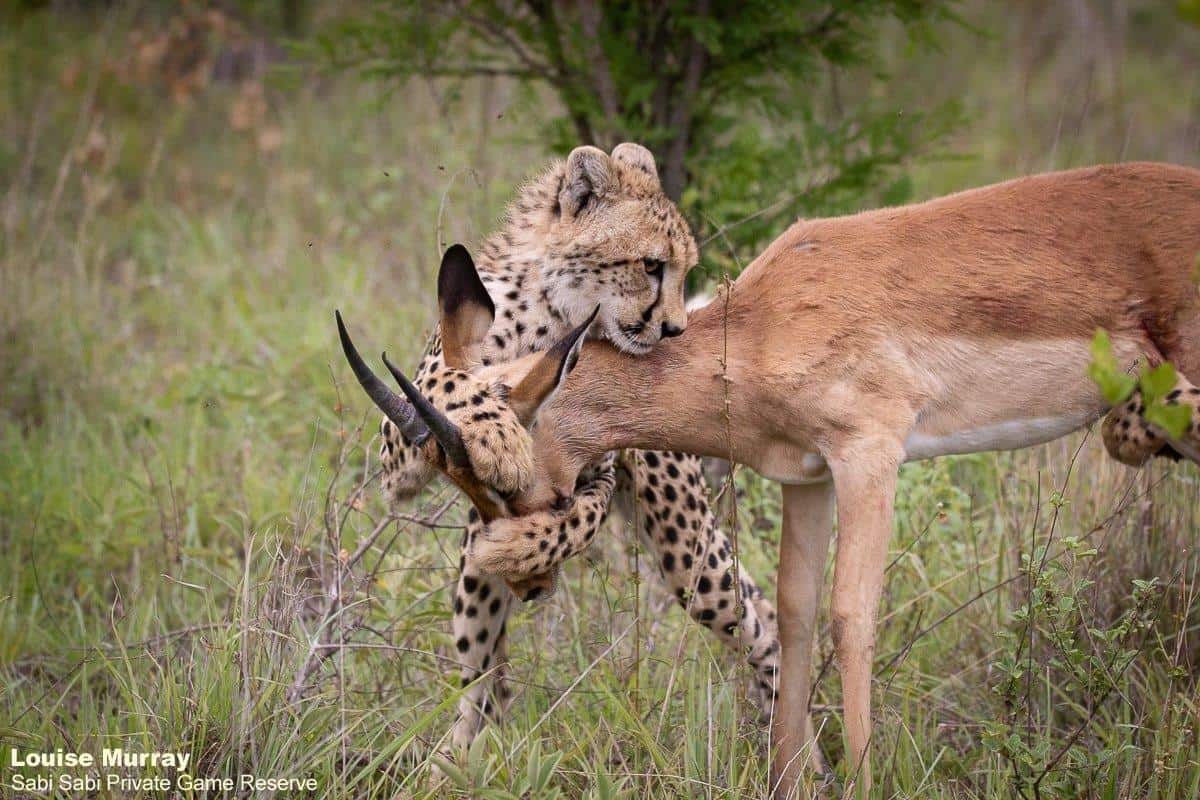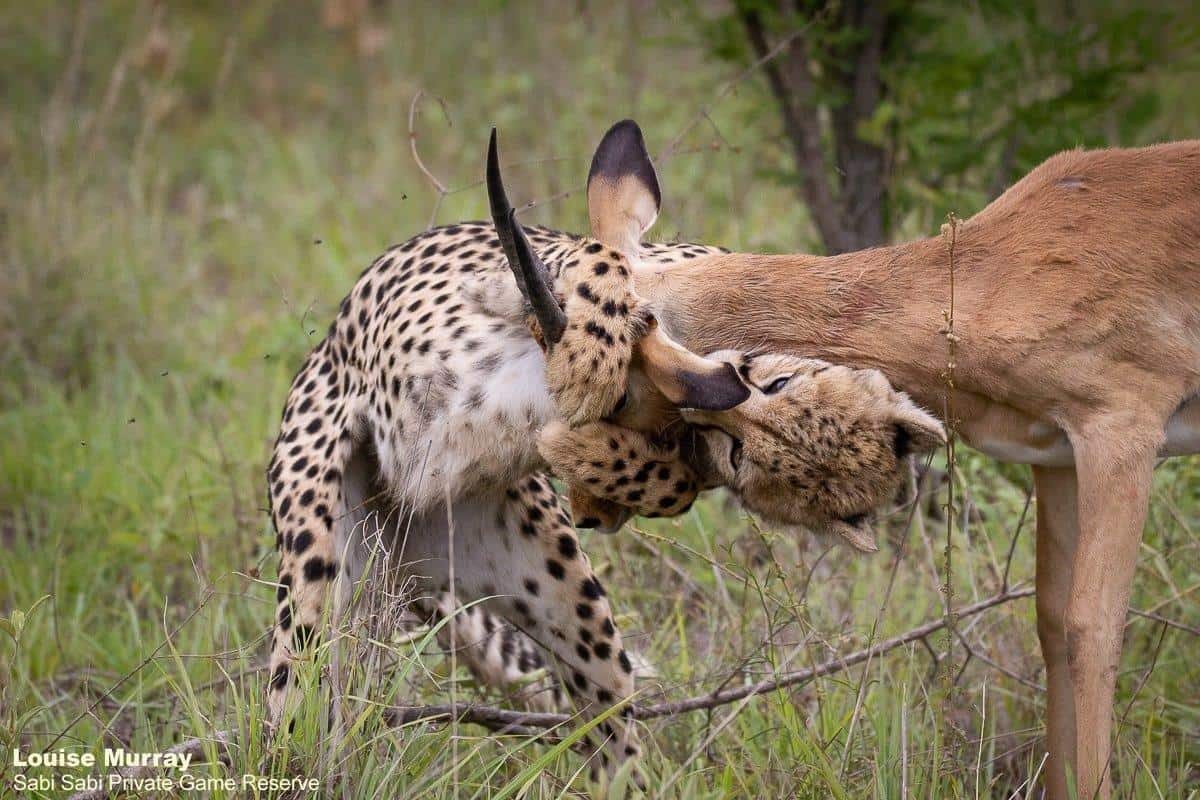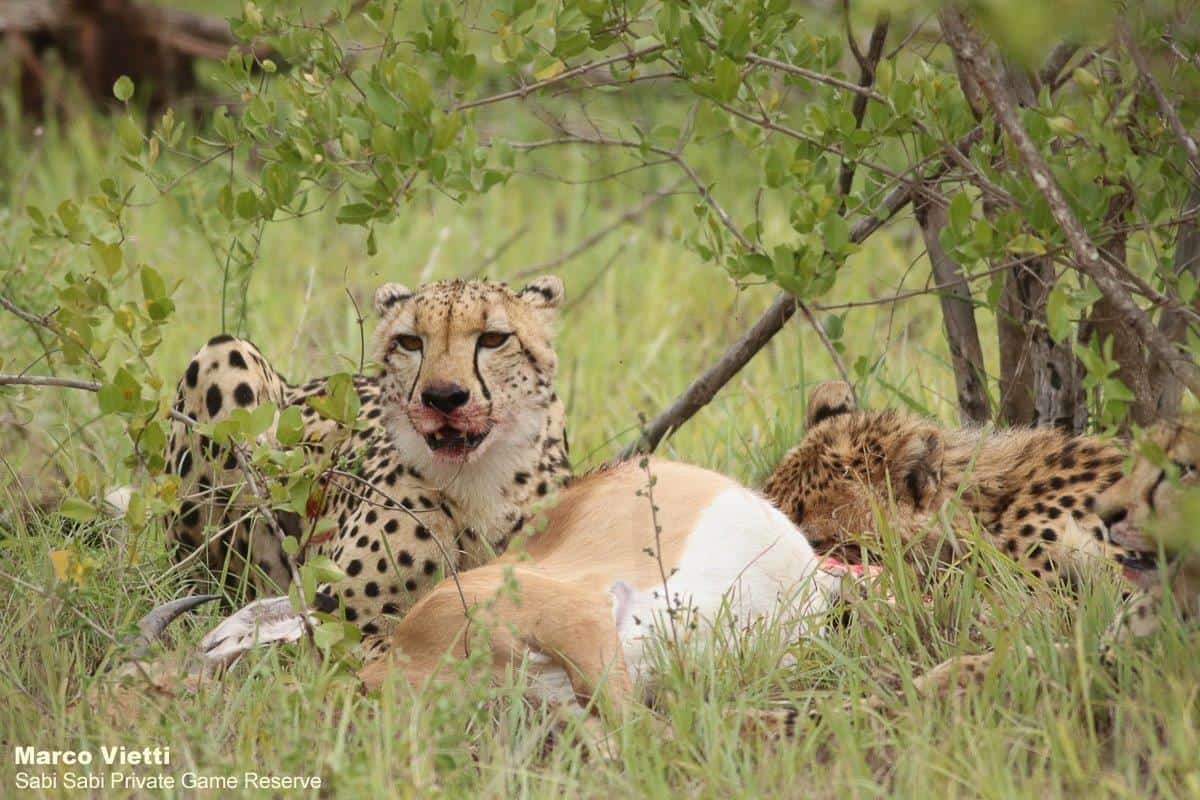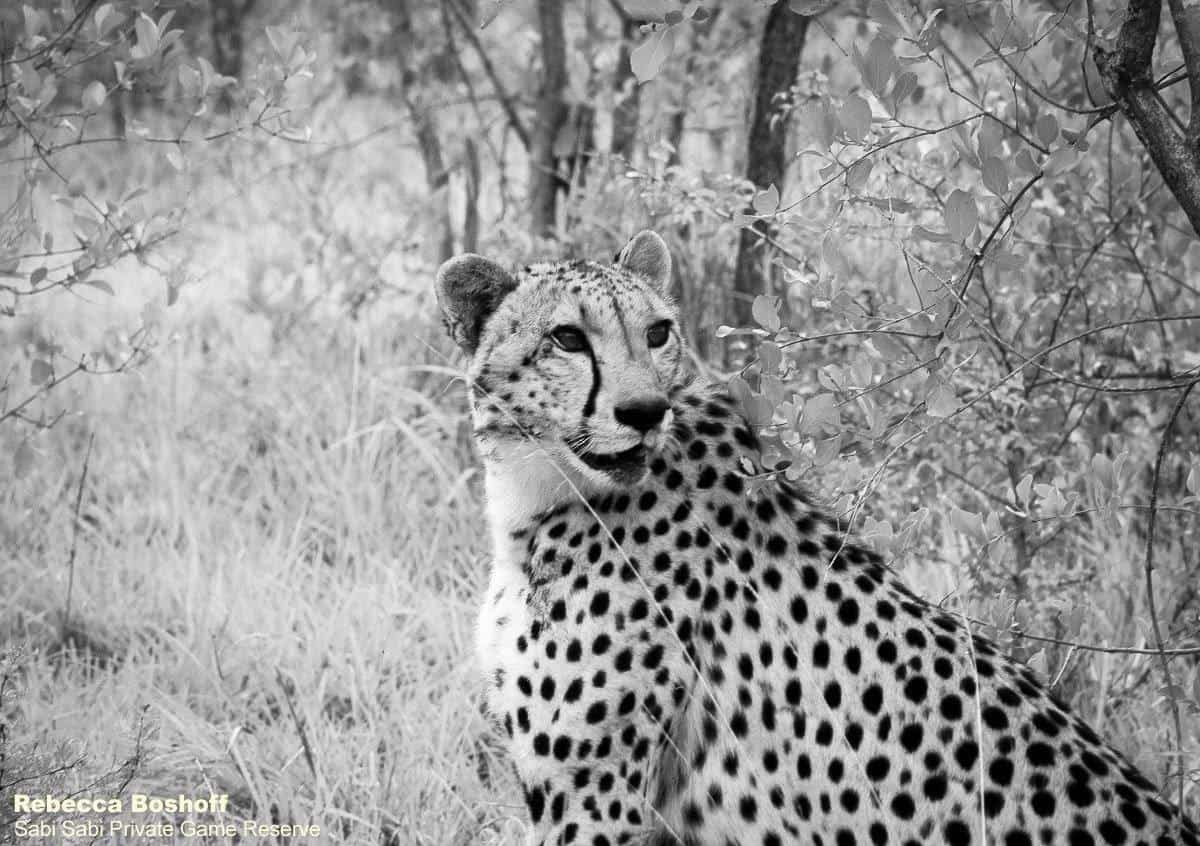 Waiting in the wings…  A massive committee of vultures moved in on the remains of the kill the female cheetah and her 2 cubs made.  What an incredible sight!!!

The following day, the mother cheetah got visual of a herd of wildebeest with a small calf. She started approaching them with the hope to make a kill, however, as she got within 100 metres she was detected, and the Wildebeest ran in the opposite direction. As the rain began to fall, her cubs made their way towards her where they groomed each other for a bit before moving off.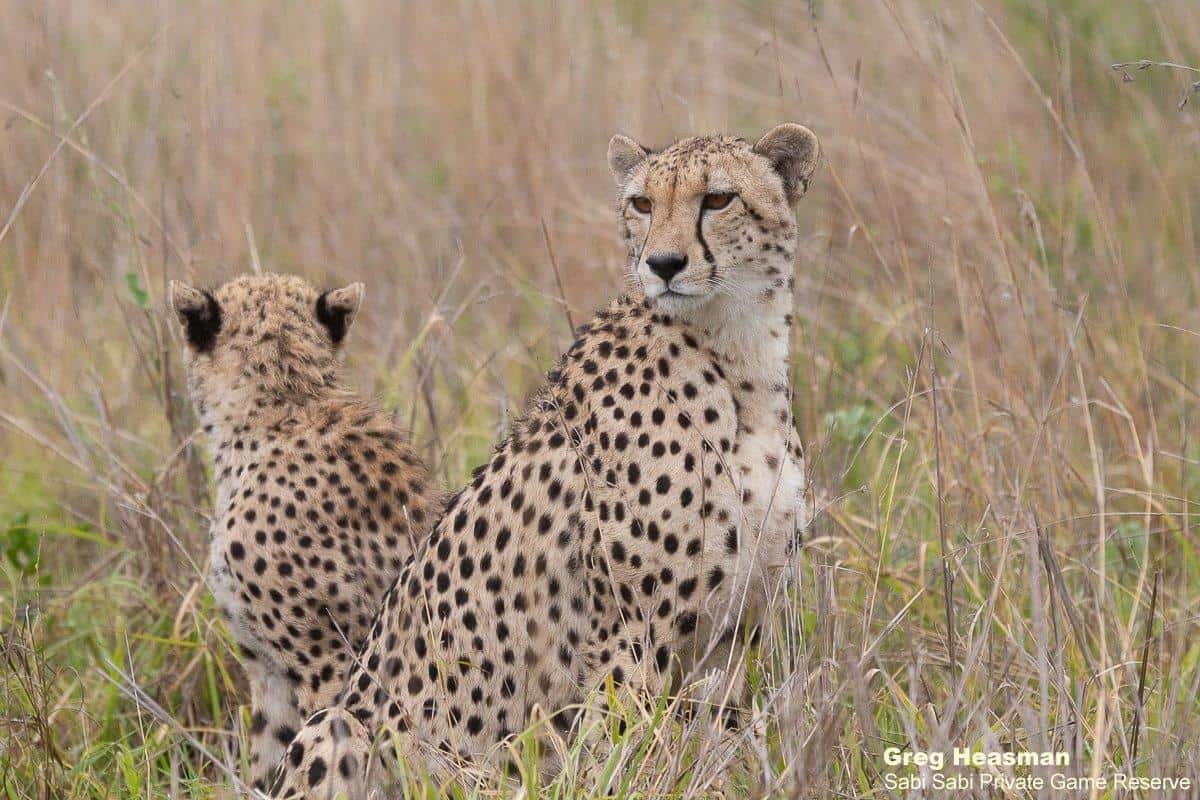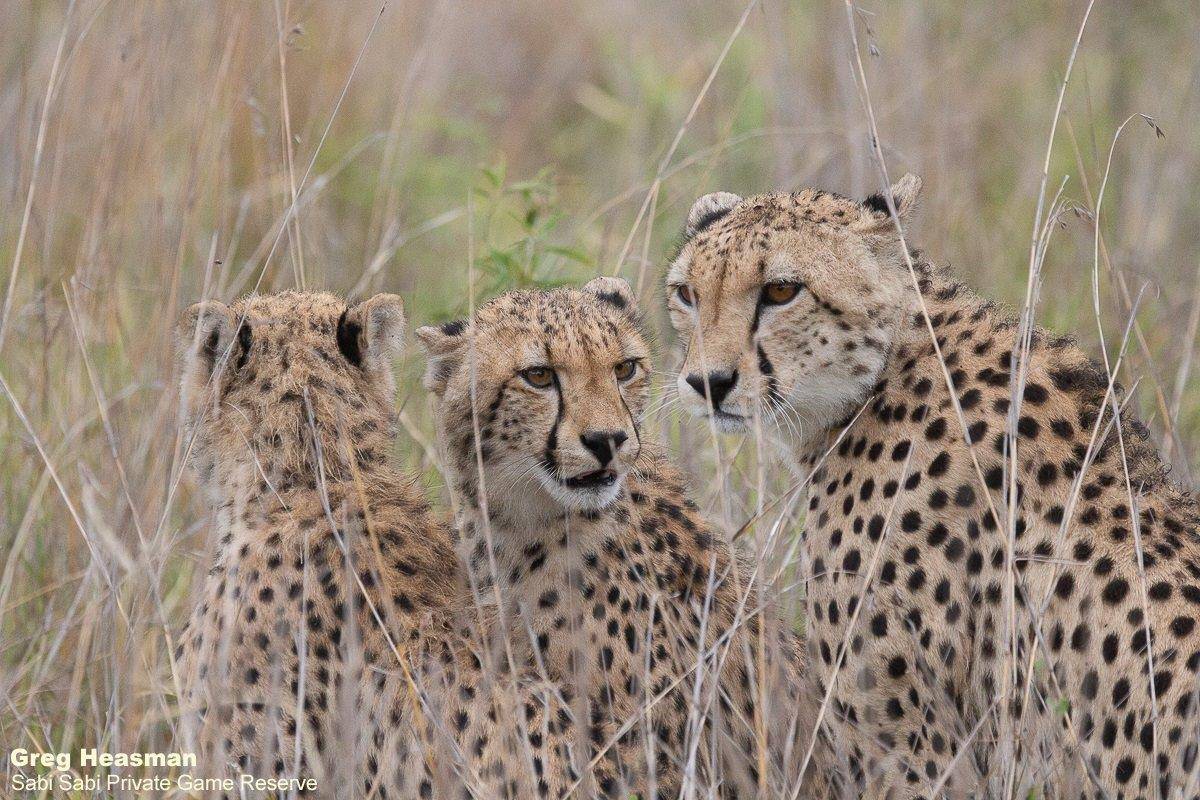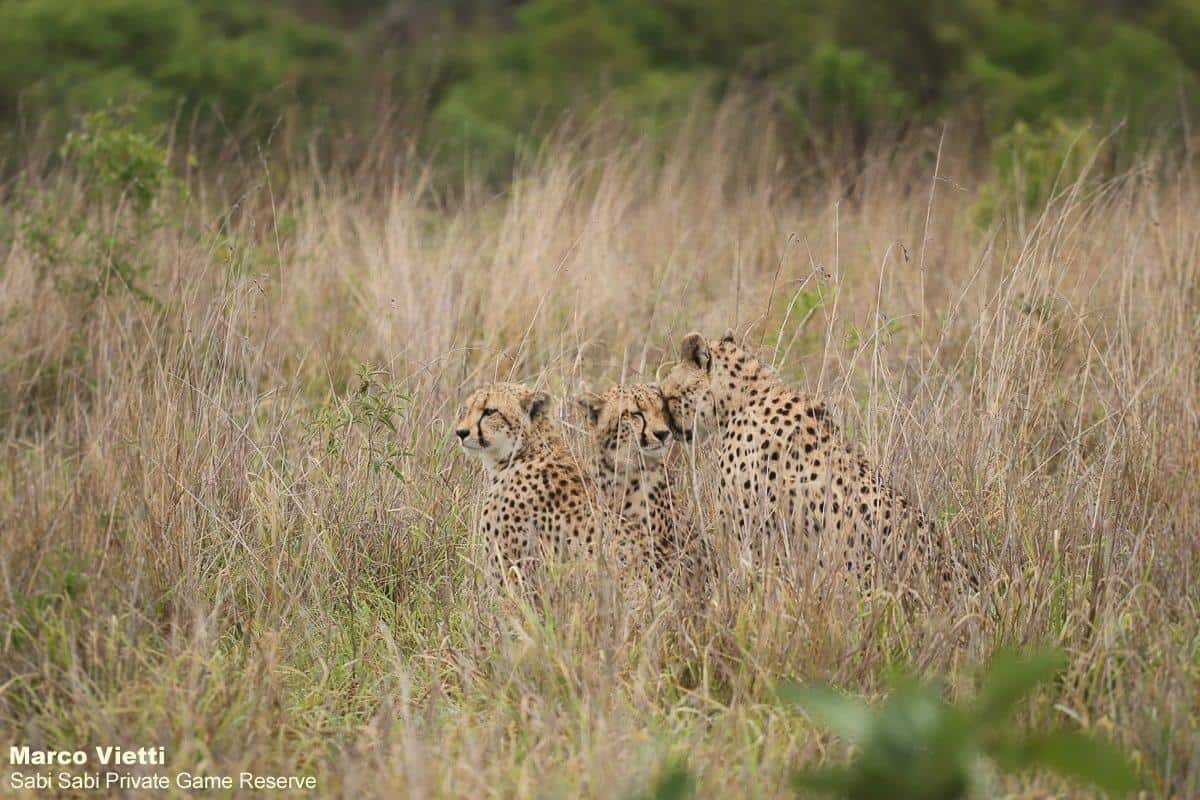 Our last sighting of them for the week was on an open area where the cubs spotted some zebra nearby and decided to give a short chase, but soon settled down next to their mother who was calling for them to regroup. The two youngsters were full of energy, chasing each other and climbing on fallen trees allowing for a fantastic sighting.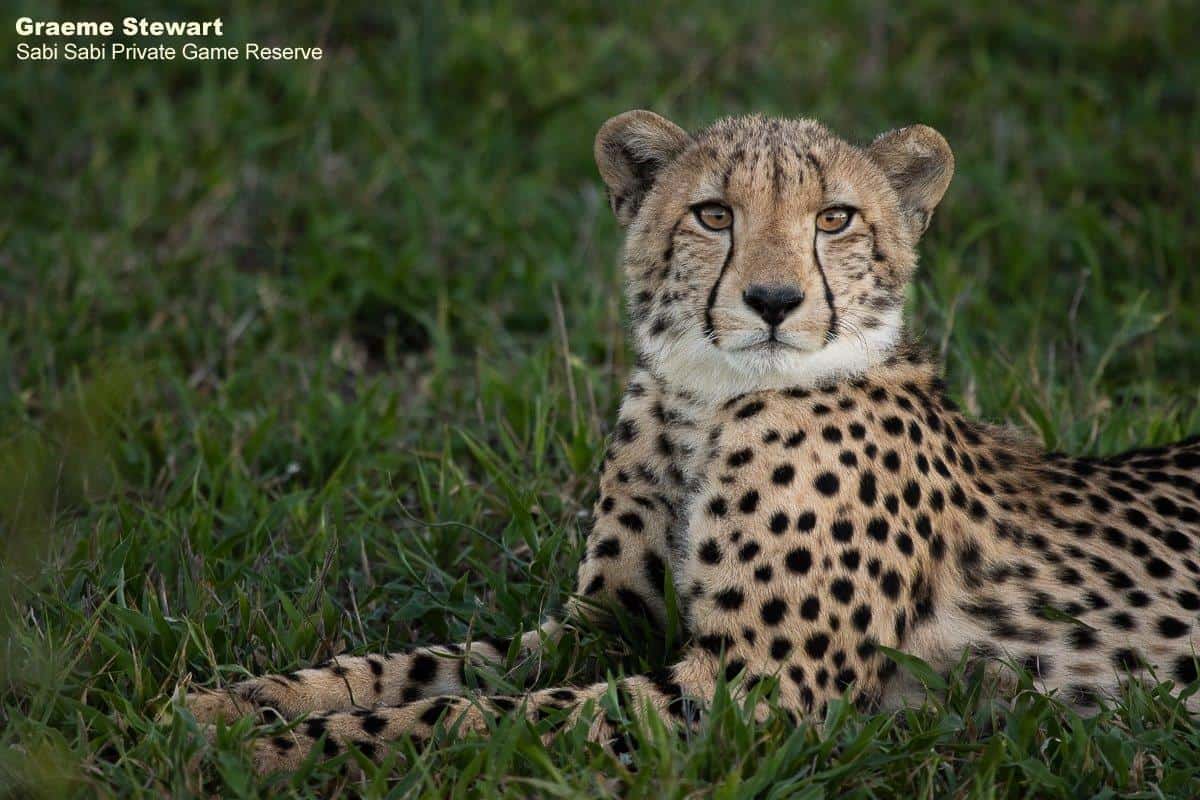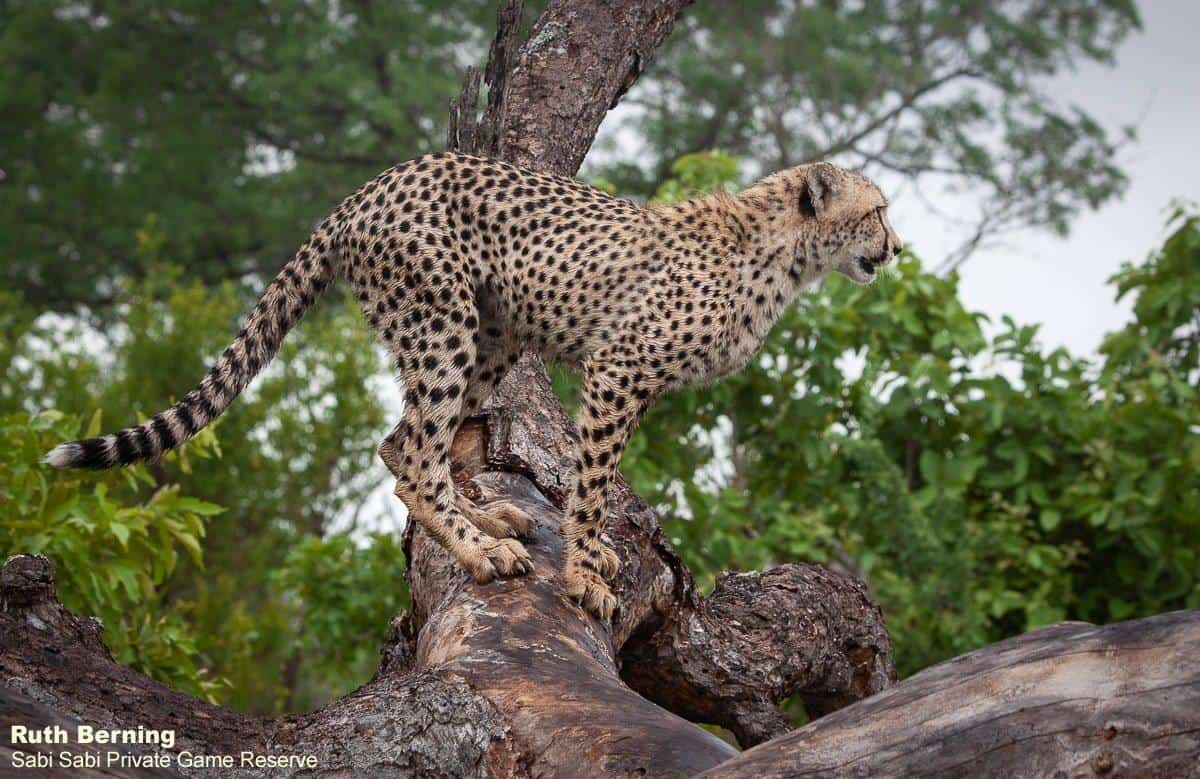 A pack of wild dogs found a comfy spot under some thickets where they spent most of the day. As the sun started to set and they got a bit more active, getting every member up and ready for a possible evening hunt.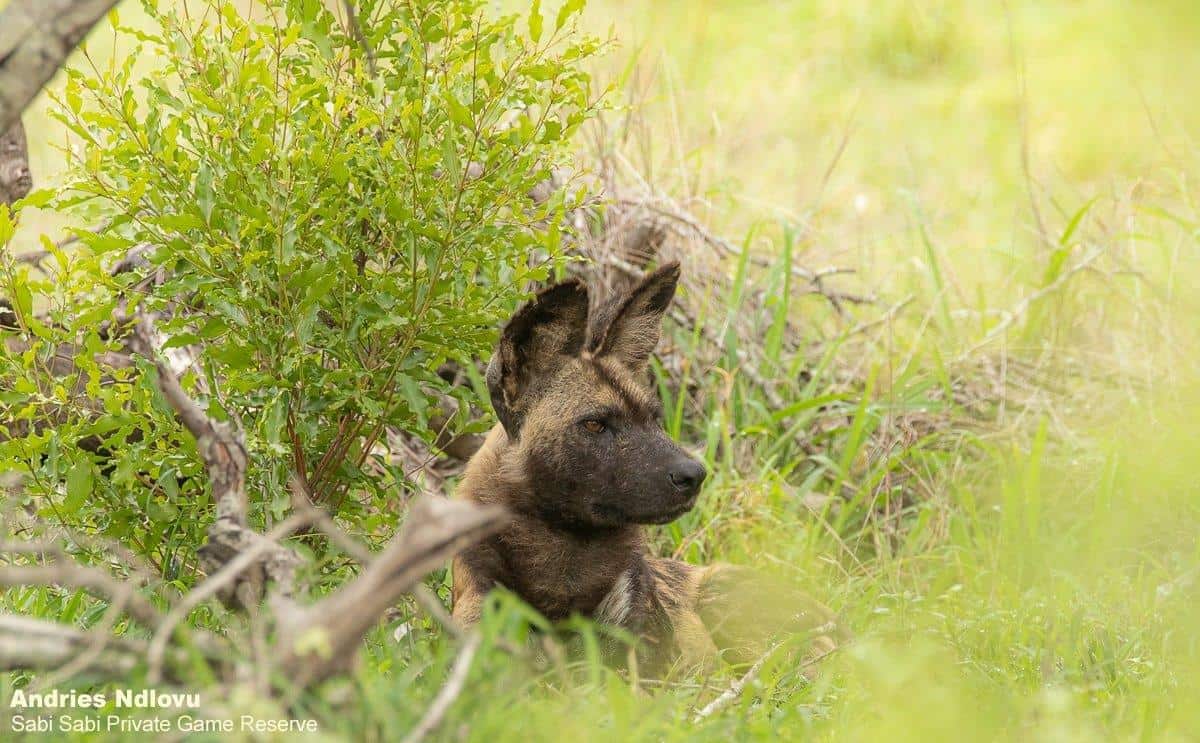 We were in the process of boarding the safari vehicle for our morning drive when one of the guests shouted, "Wild Dogs!" To our amazement, we watched a pack of Wild Dogs move through the Earth Lodge parking as we quickly jumped aboard the vehicle. We followed them for a period of time as they seemed interested in hunting. As it started getting hotter, they soon found a shady spot in a thicket where they decided to end the hunt and rather rest for the day.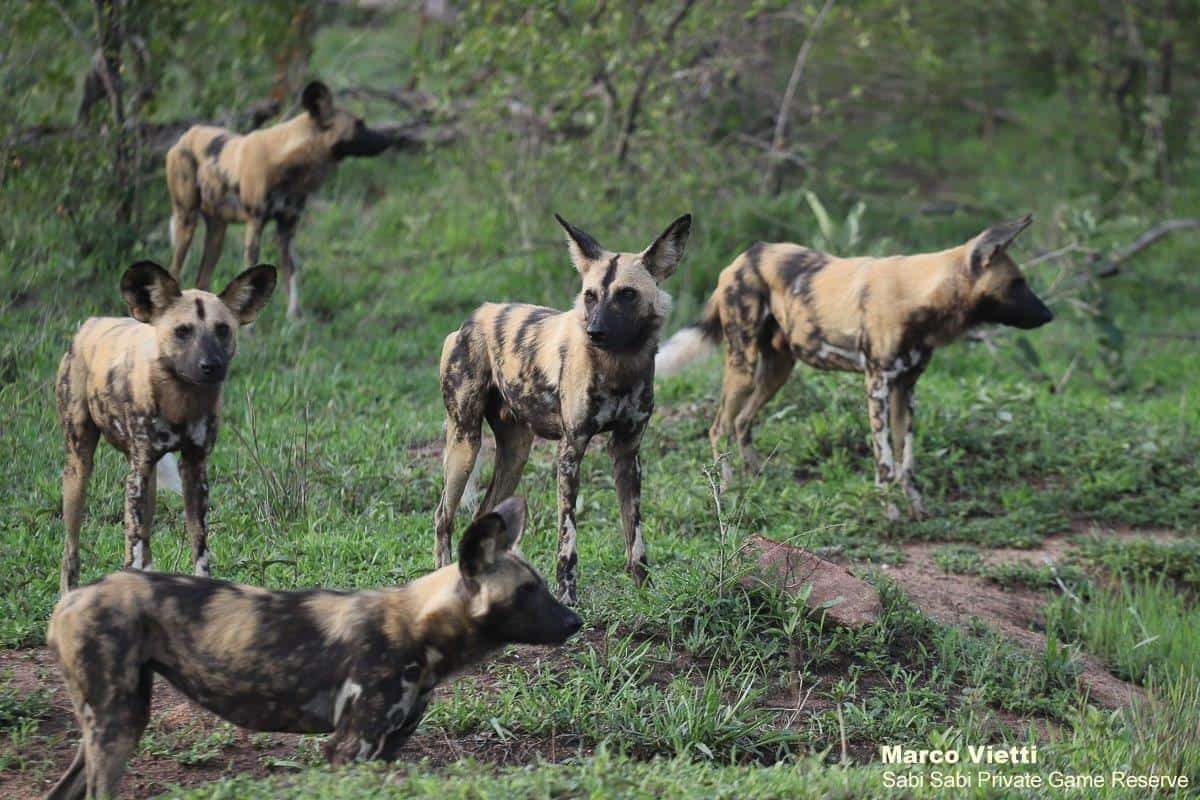 Late one afternoon, we were lucky enough to find this big pack of wild dogs resting. As the sun started to set, they started getting active and slowly started to move. They all moved as one and by chance flushed some kudu out from the nearby thickets, racing after them. This made it extremely hard to keep up with them, but we found them not far away from where we had lost them and unfortunately, they were not successful.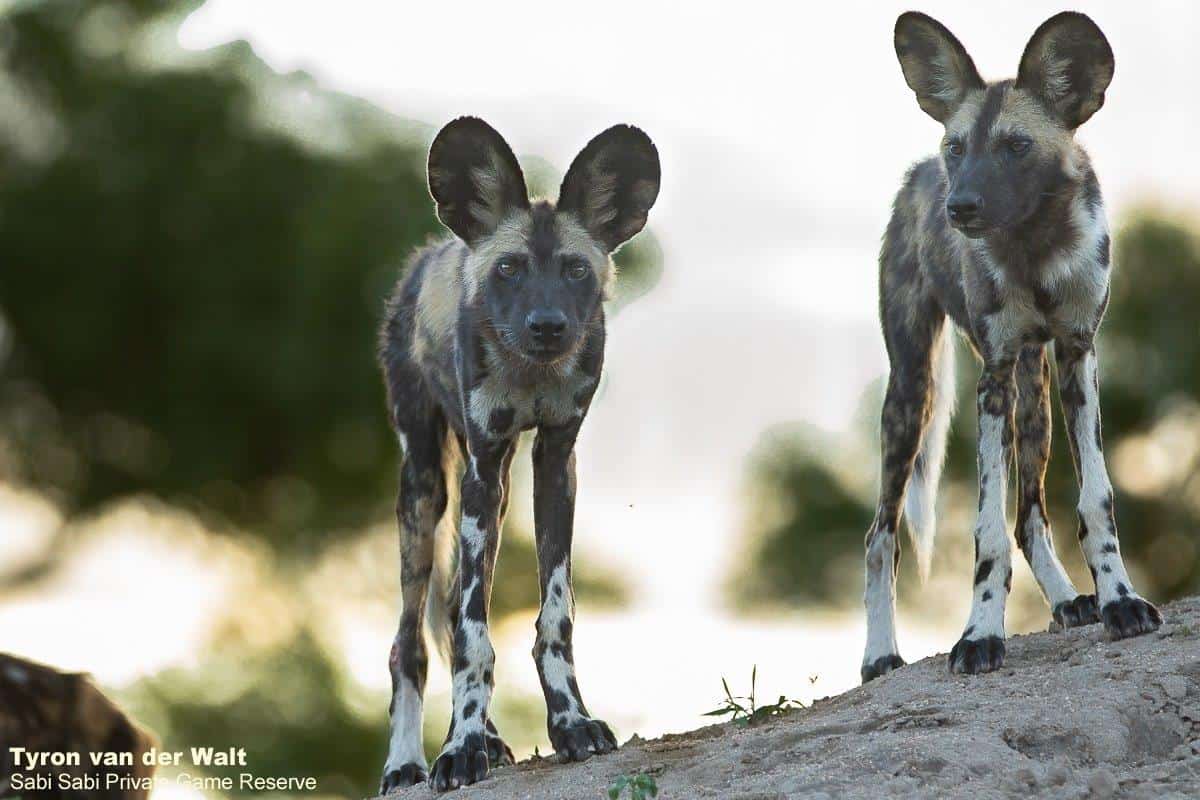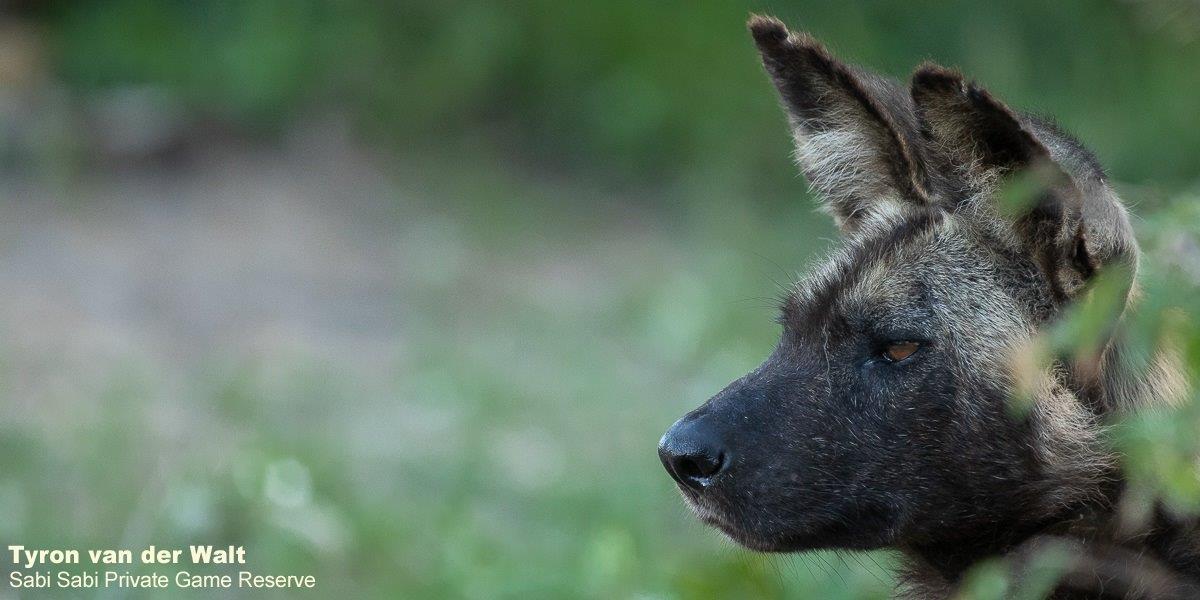 In a herd of what seemed like 200 individuals, maybe more, this female buffalo stood out from the crowd. Not only because she was one of the few to be standing and staring at us while the others lay about, but also because her horns faced downwards instead of curling up as the others do.
Showing off to the game viewer, making sure we realise how very big he is.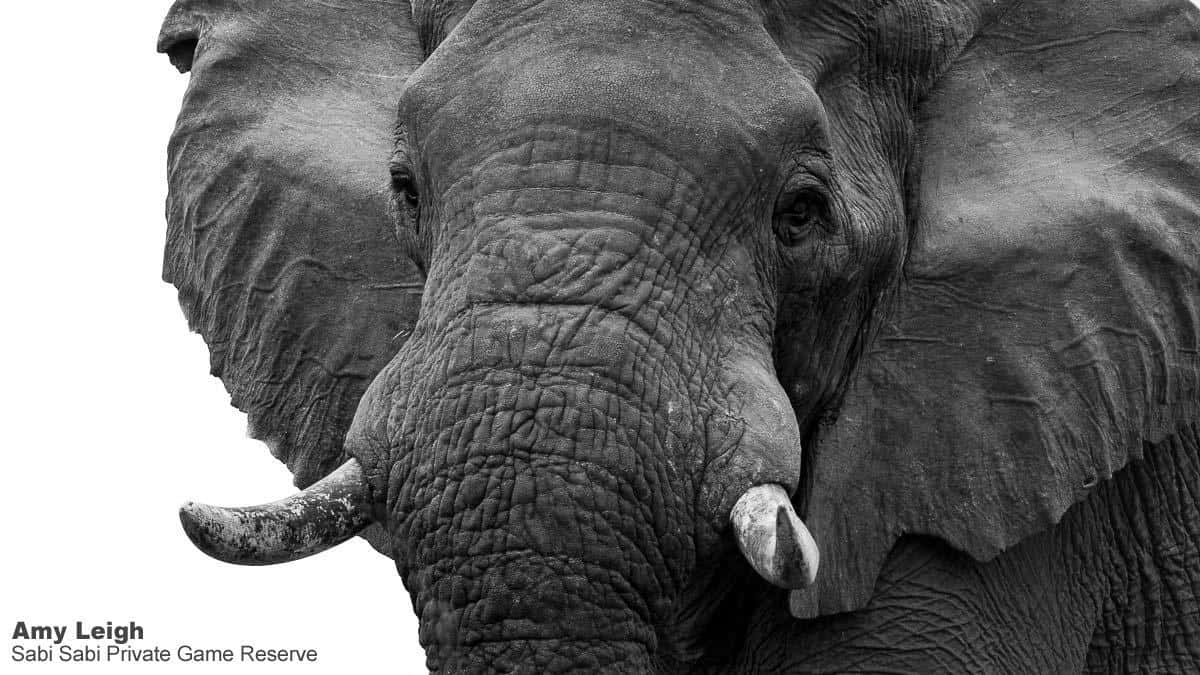 While driving along we noticed some commotion between two zebra. We sat and watched as dust flew up into the air, creating a rather dramatic scene, and as these two ran after one another biting and kicking…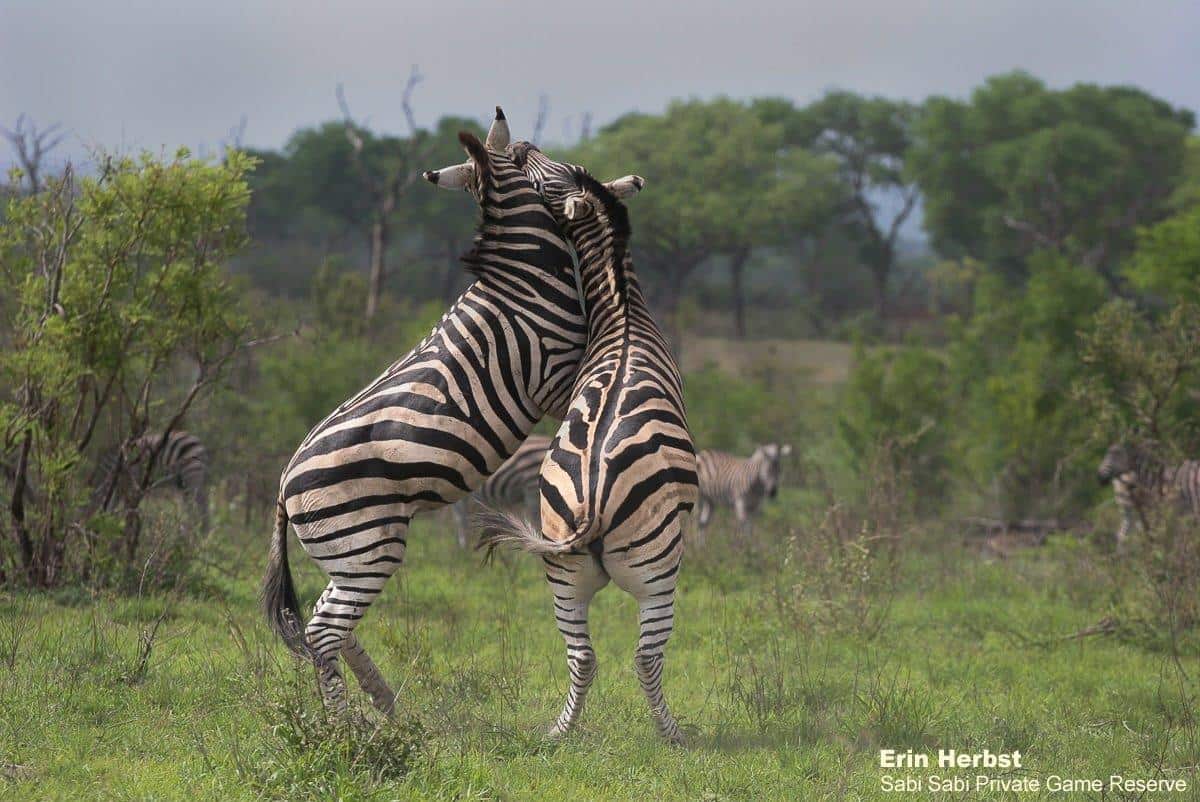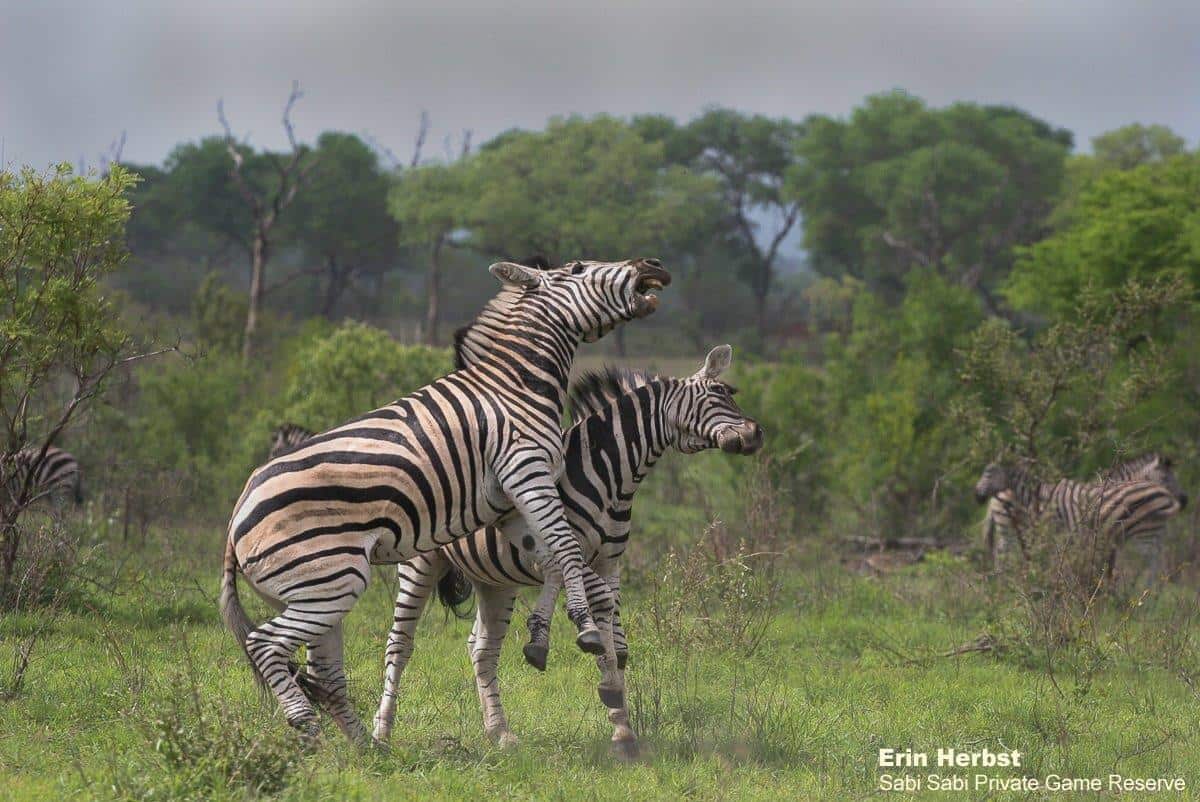 In the cool morning drizzle, this large warthog boar had found a cozy spot, sheltered from the rain by a nice canopy of leaves.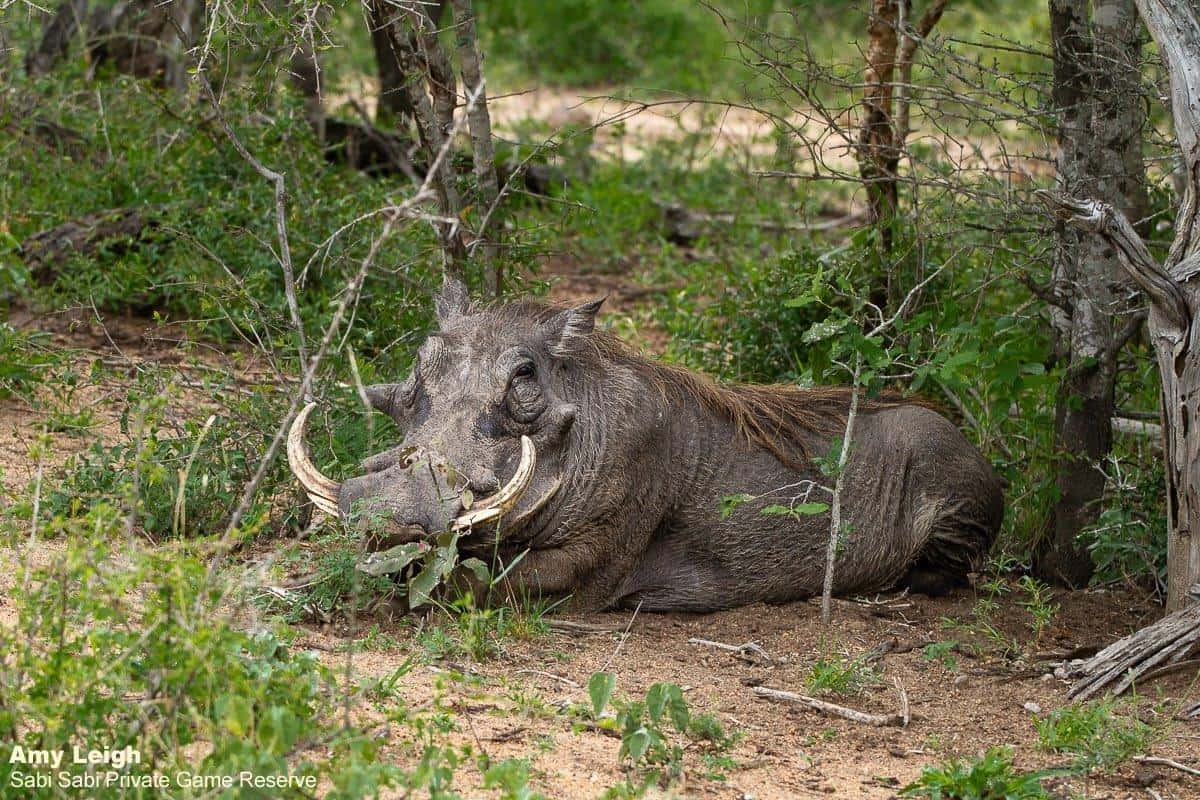 A bachelor herd of Kudu all had their eyes fixed on two Hyena which passed nearby to them.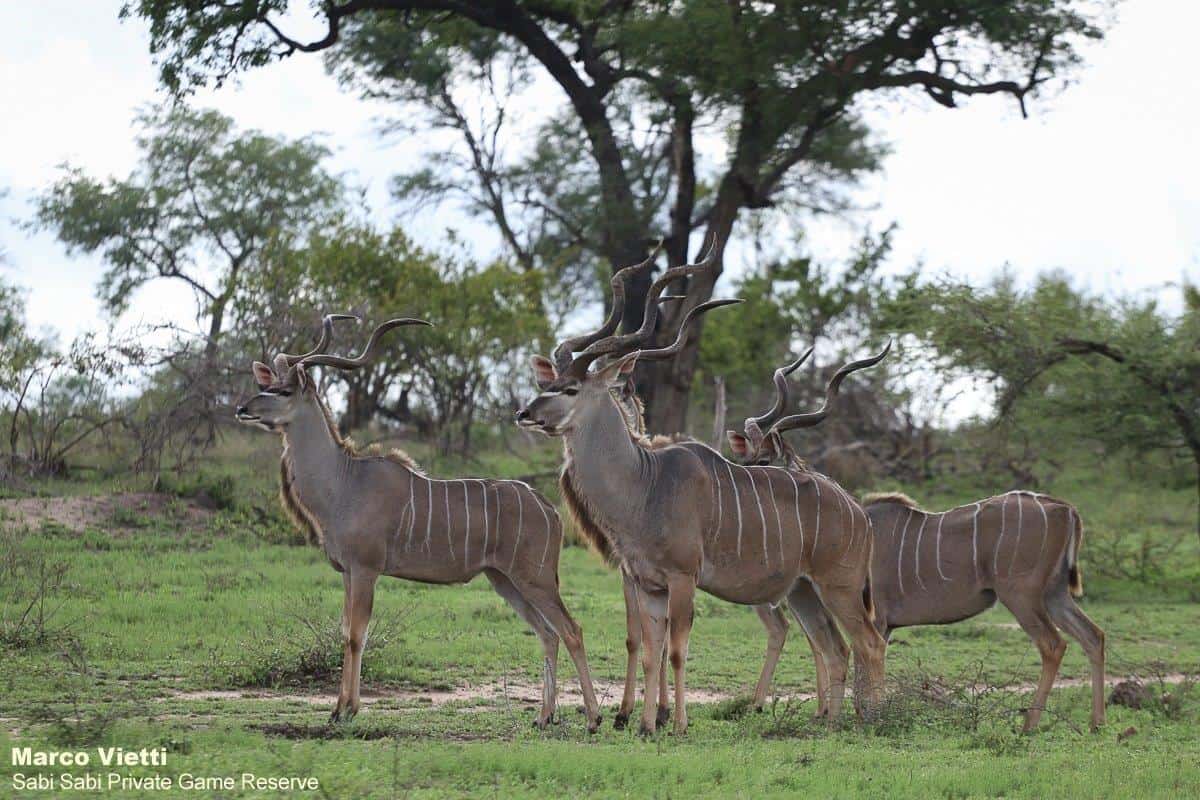 It is that time of the year when all the Wildebeest calves are arriving. Although they start out life a completely different colour to the adults, these fawn-brown babies will gradually darken as they grow and develop.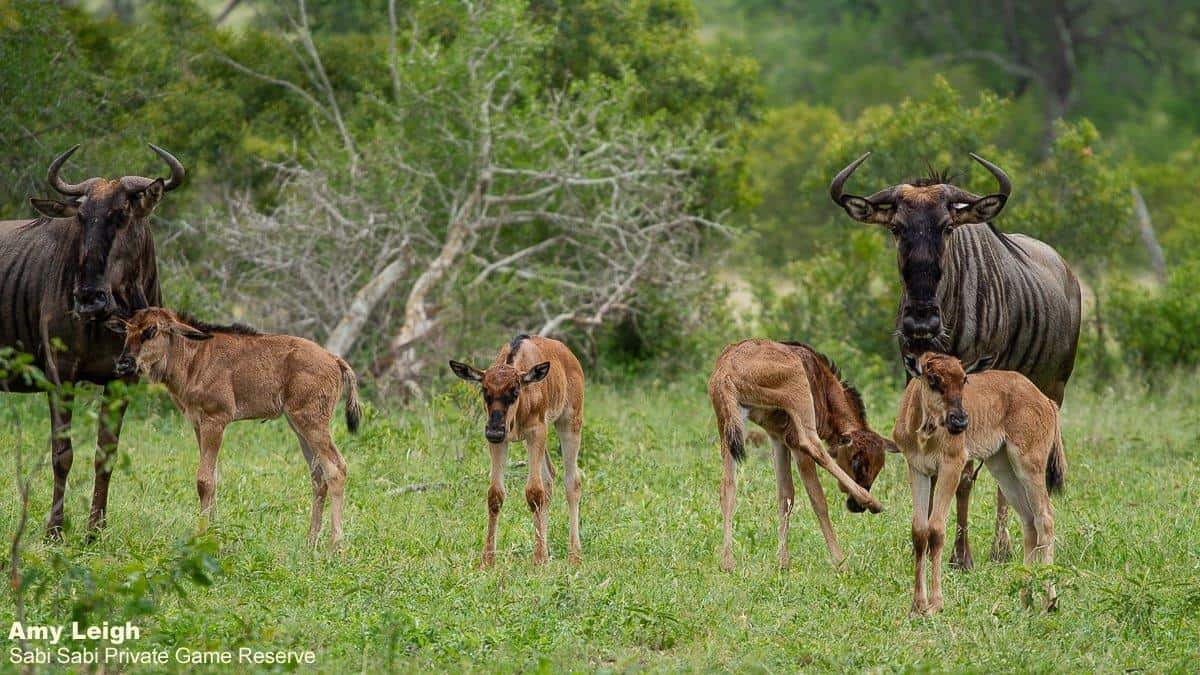 This massive African Bullfrog surprised us as we were leaving our drinks stop. We watched it wolfing down Termite Alates to satisfy its voracious appetite.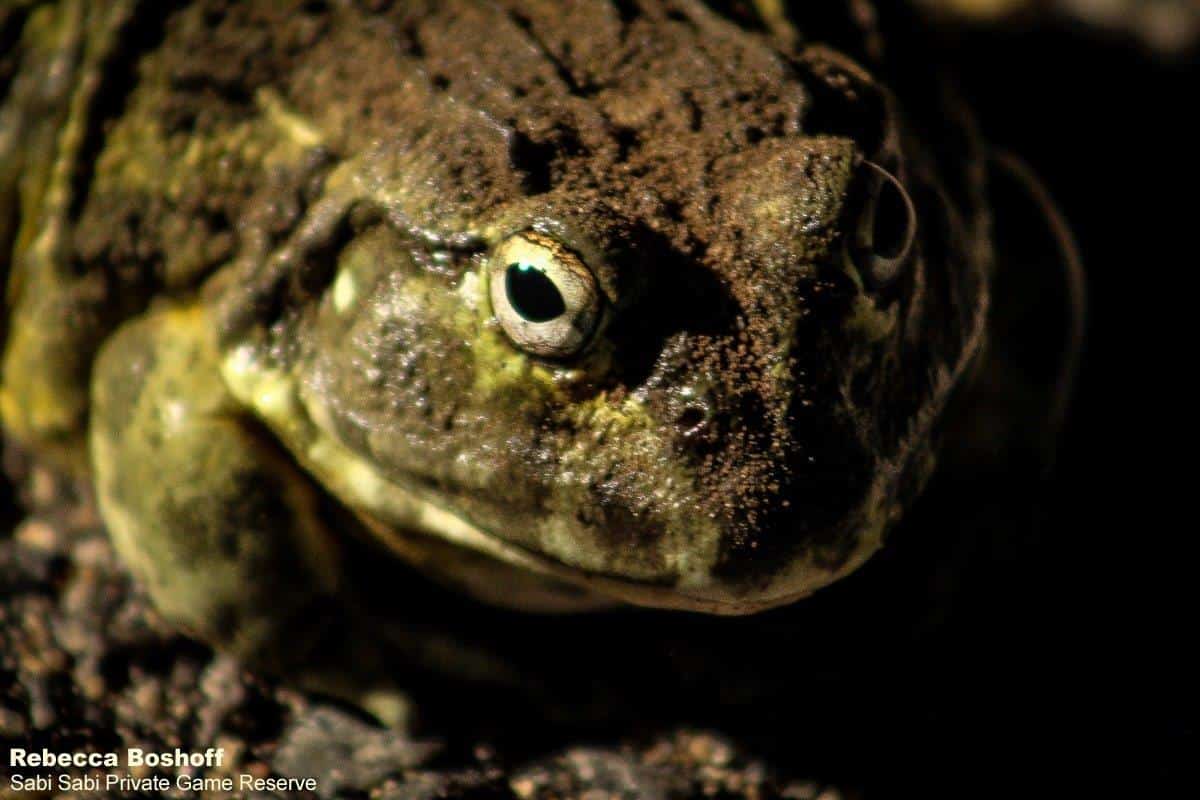 There is something really fascinating about watching elephants drink water, the use of their trunk is really incredible.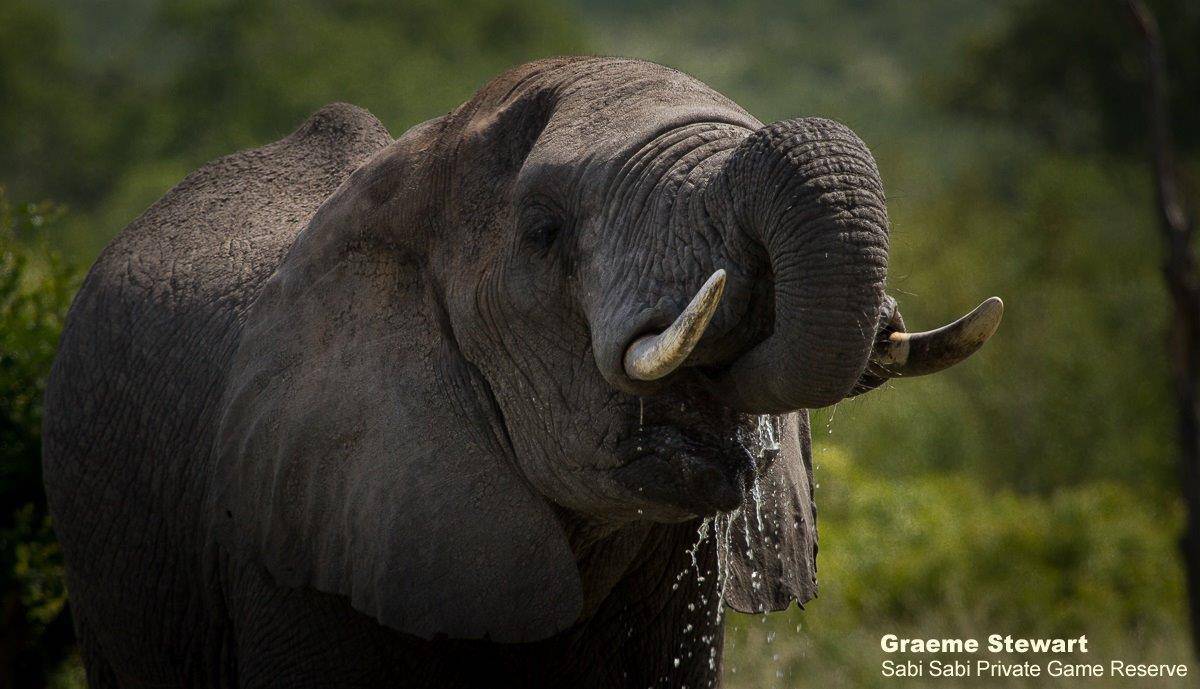 While the rest of the family of mongoose were feeding nearby, two individuals scurried into a nearby hole and were playing hide and seek, popping their heads in and out and looking around.

Eye contact with a python.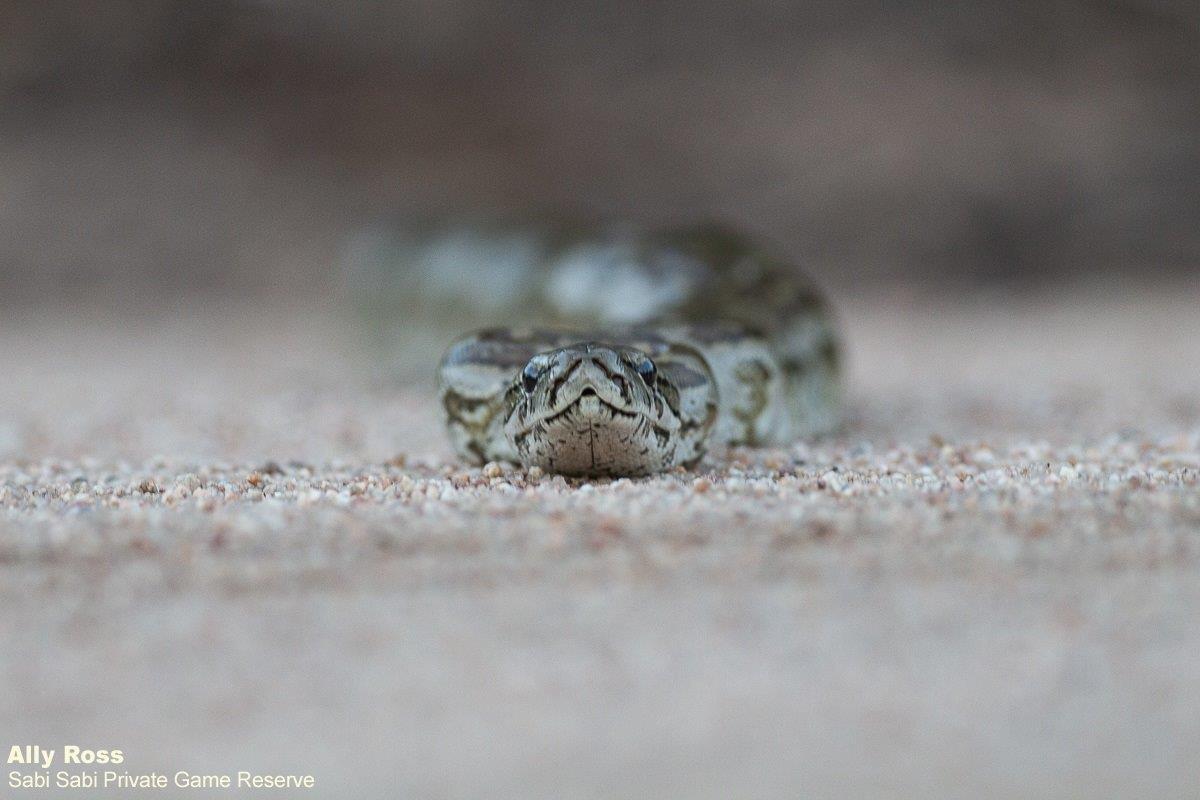 Until next time…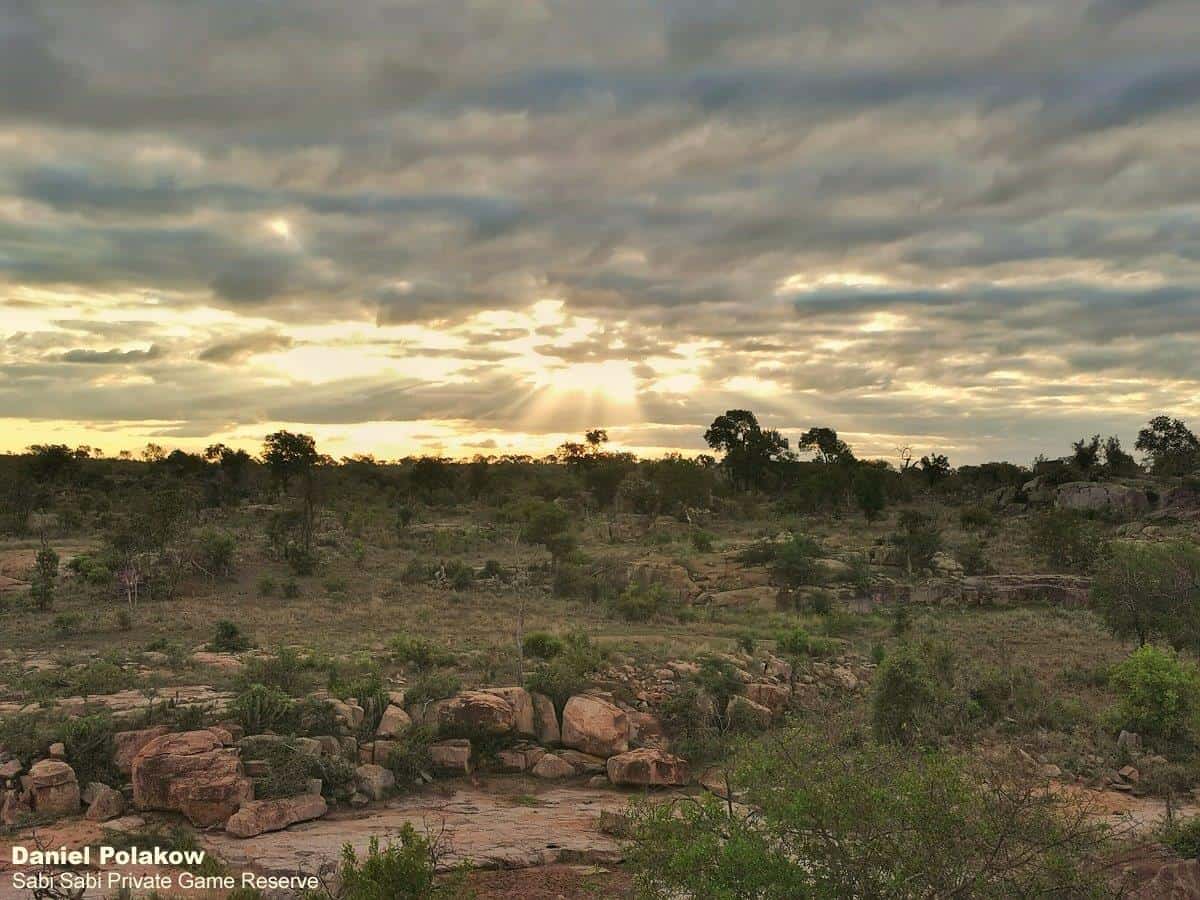 Blog by Wendy Claase
Images by Ally Ross, Amy Leigh, Andries Ndlovu, Daniel Polakow, Erin Herbst, Graeme Stewart, Greg Heasman, Louise Murray, Marco Vietti, Rebecca Boshoff, Ruth Berning and Tyron van der Walt
Videos by Ally Ross, Daniel Polakow, Rebecca Boshoff and Tyron van der Walt