The week started off with a follow up sighting of the four N'waswishaka male lions on their buffalo kill.  There were some parts of the buffalo left which one of the males dragged and then chewed at for a while, but then seemed too full to continue. We stayed with them and then noticed some hyenas and vultures keeping close to the area, waiting for the opportune moment to grab a few bites.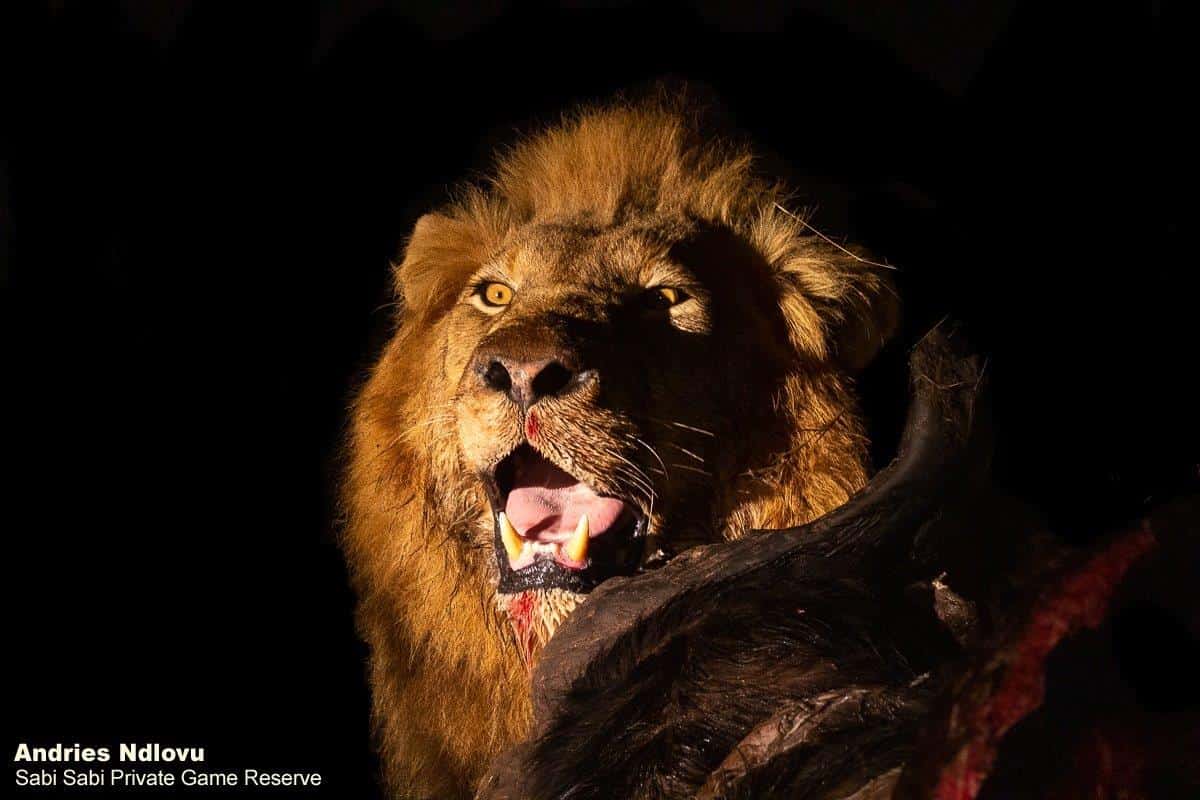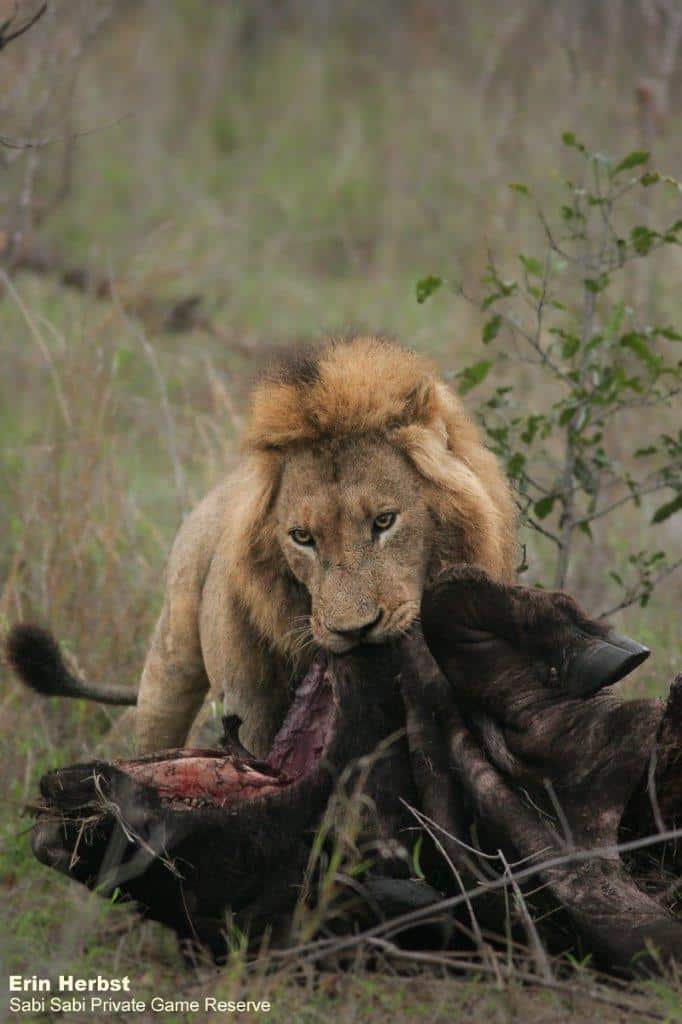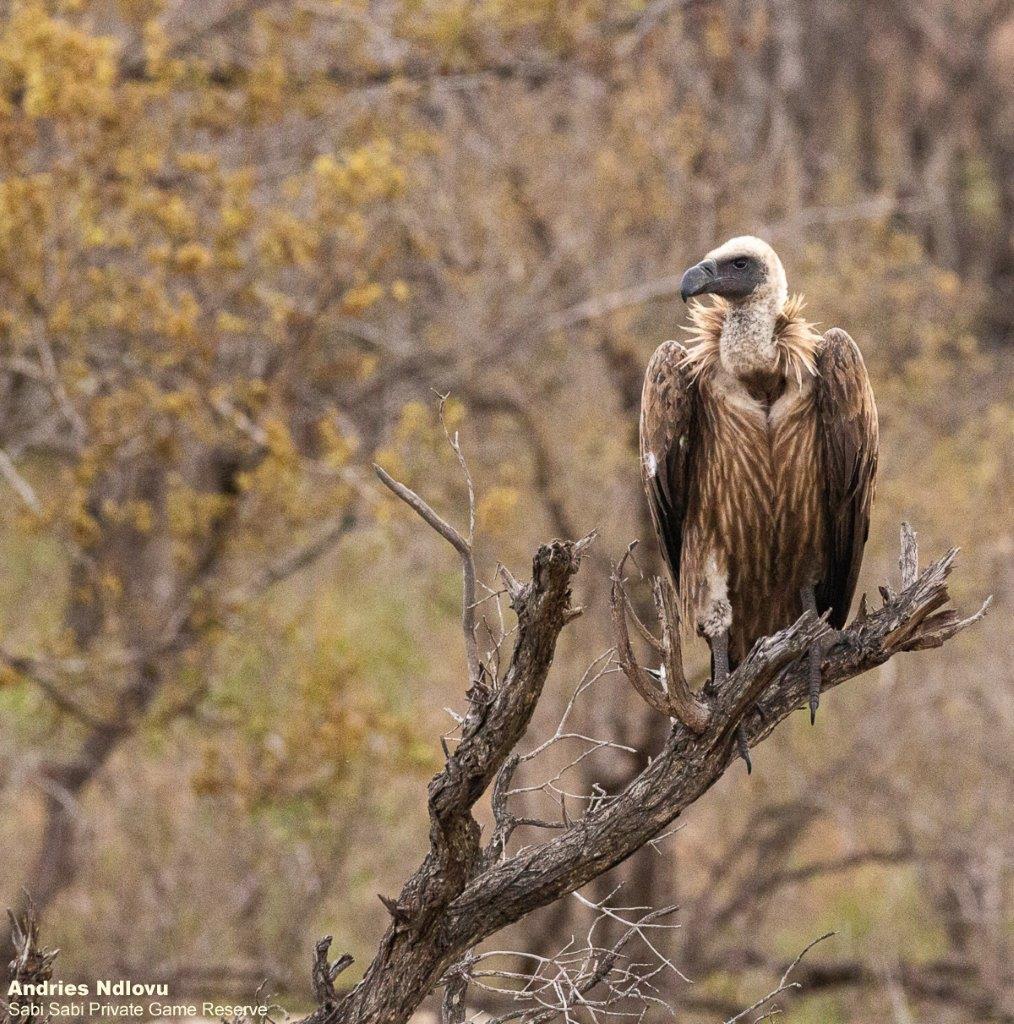 After hearing lions calling in the early hours of the morning, we eventually located two of the four N'waswishaka male lions.  These males have a strong bond, a coalition, and after being separated, even for a short while, we were privileged enough to watch them when joining up again, tails flicking, cheek rubbing and a little playful interaction, all of which is important in reaffirming this bond. As they moved through the lush vegetation, both of them continued vocalising and marking their scent.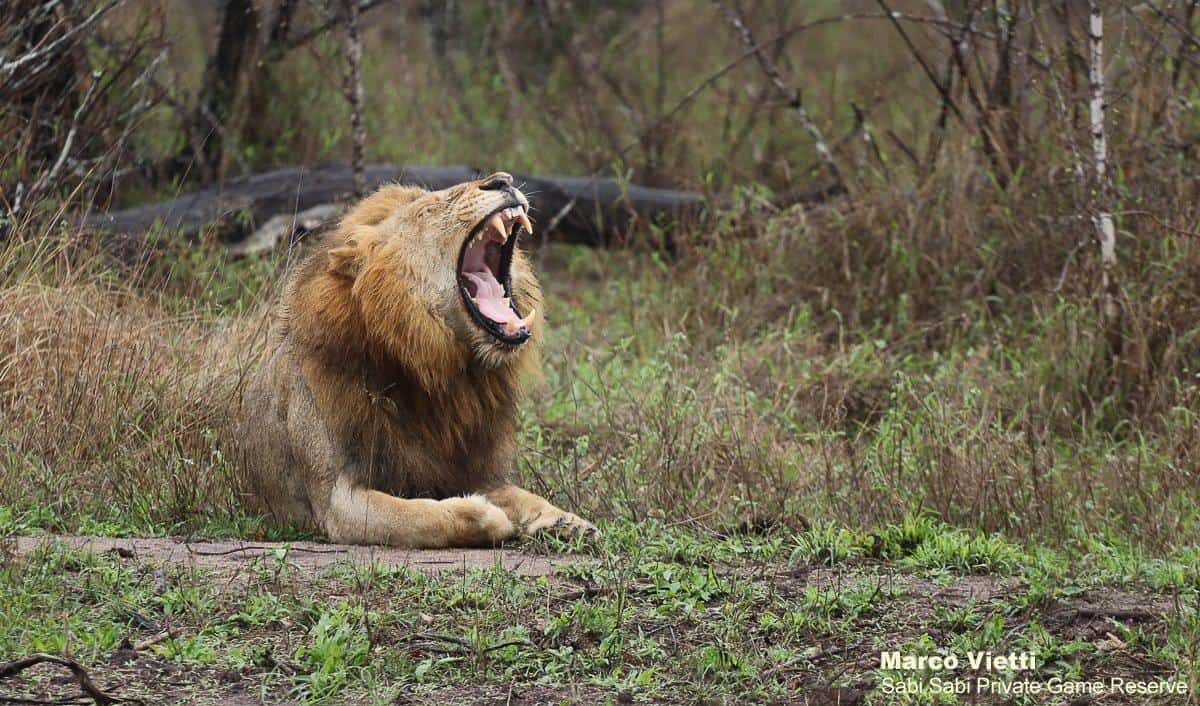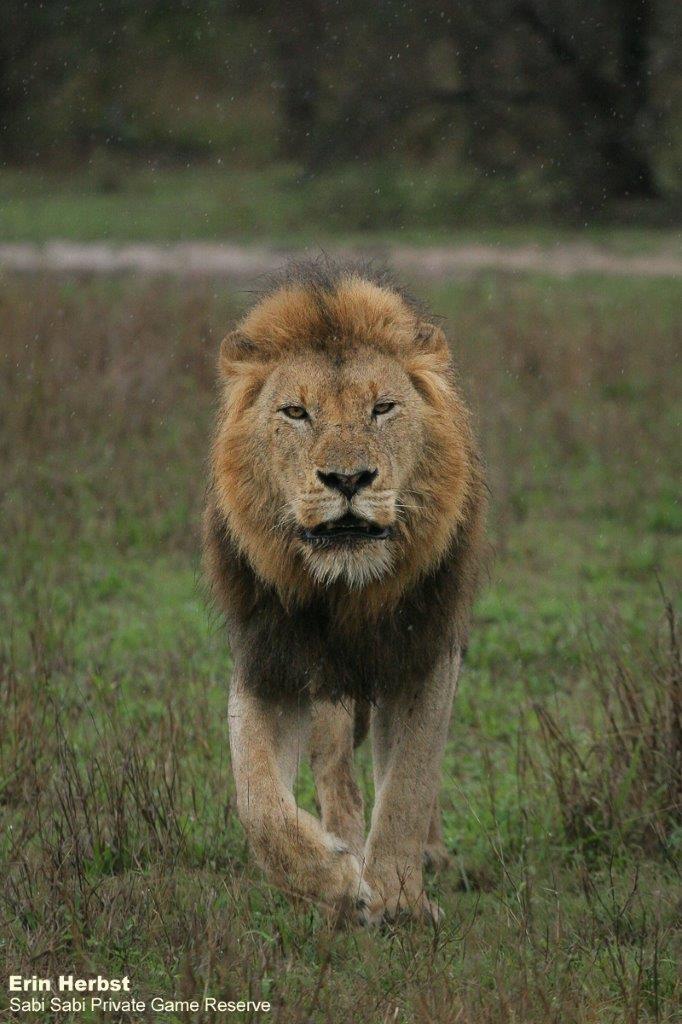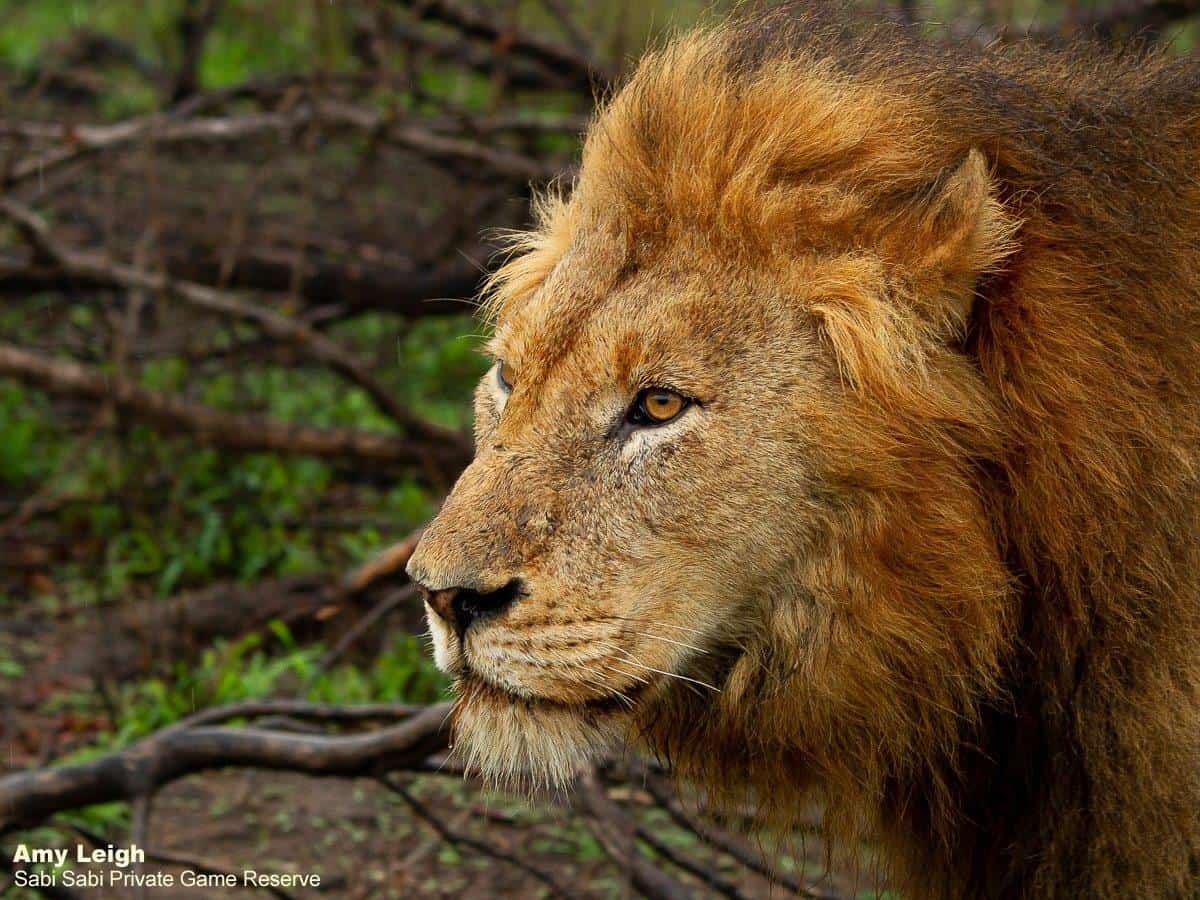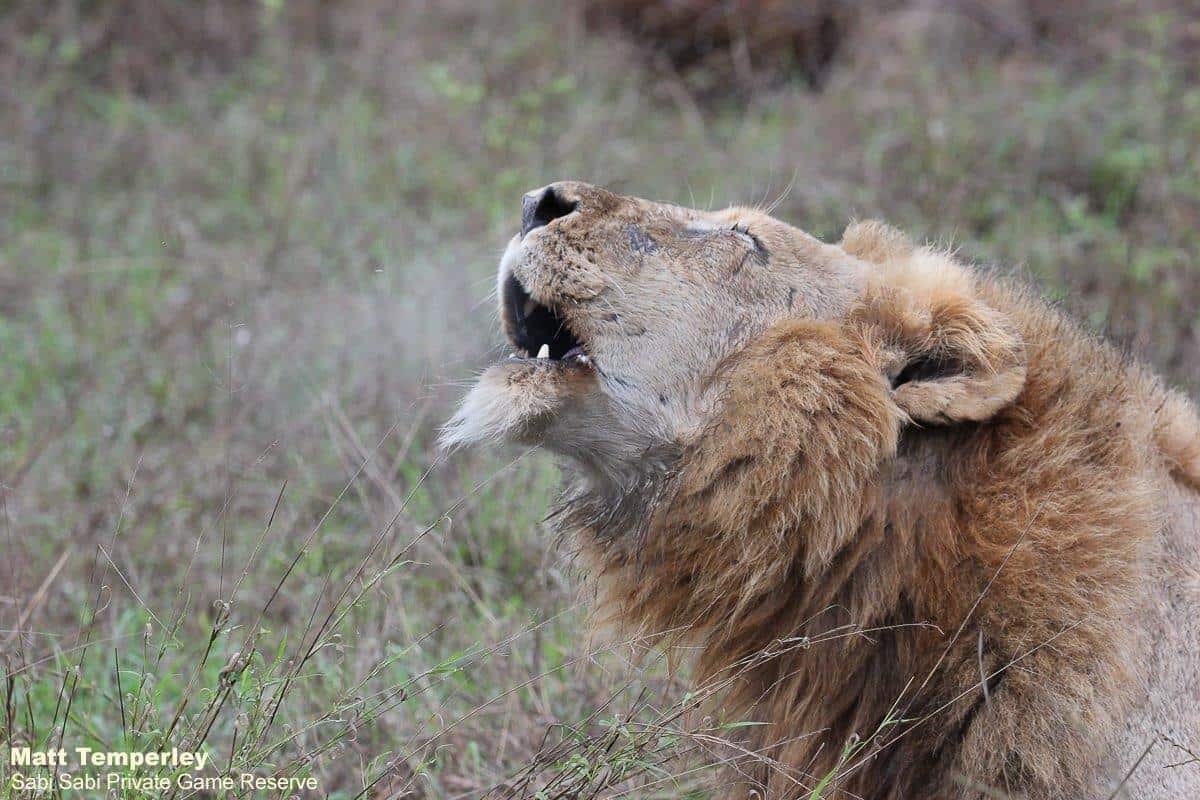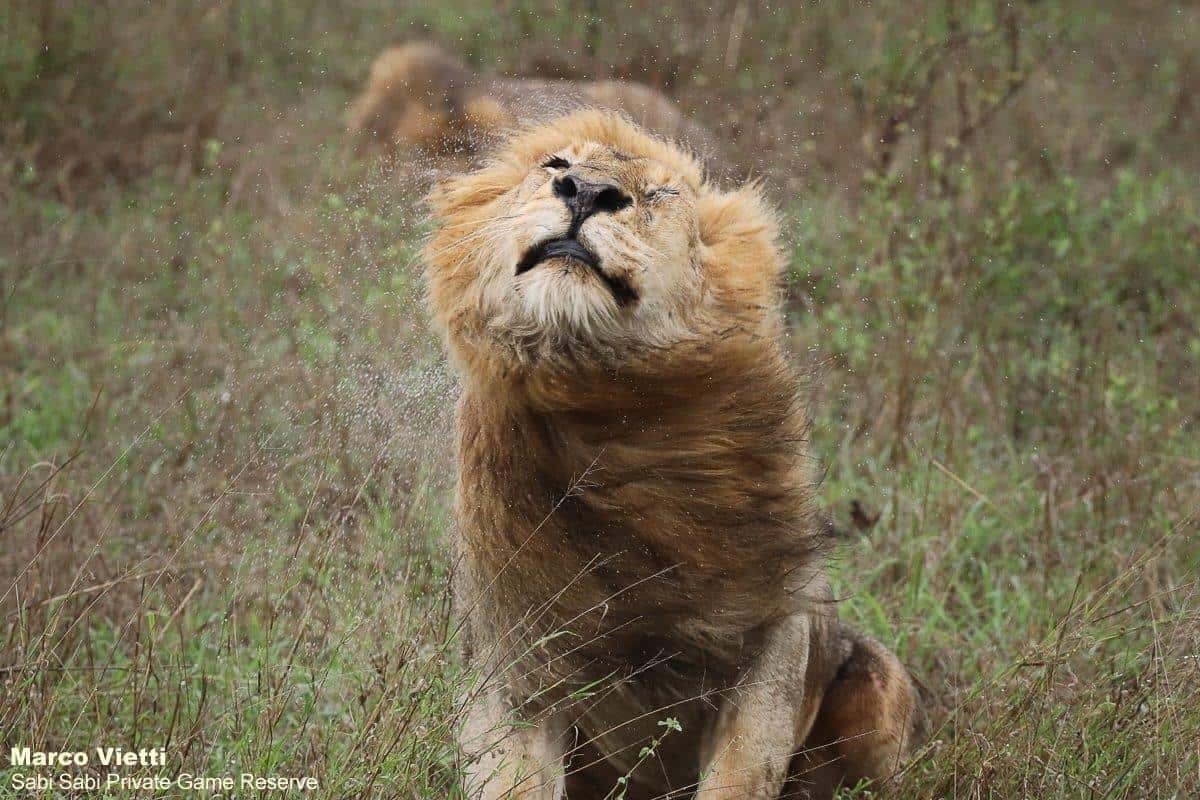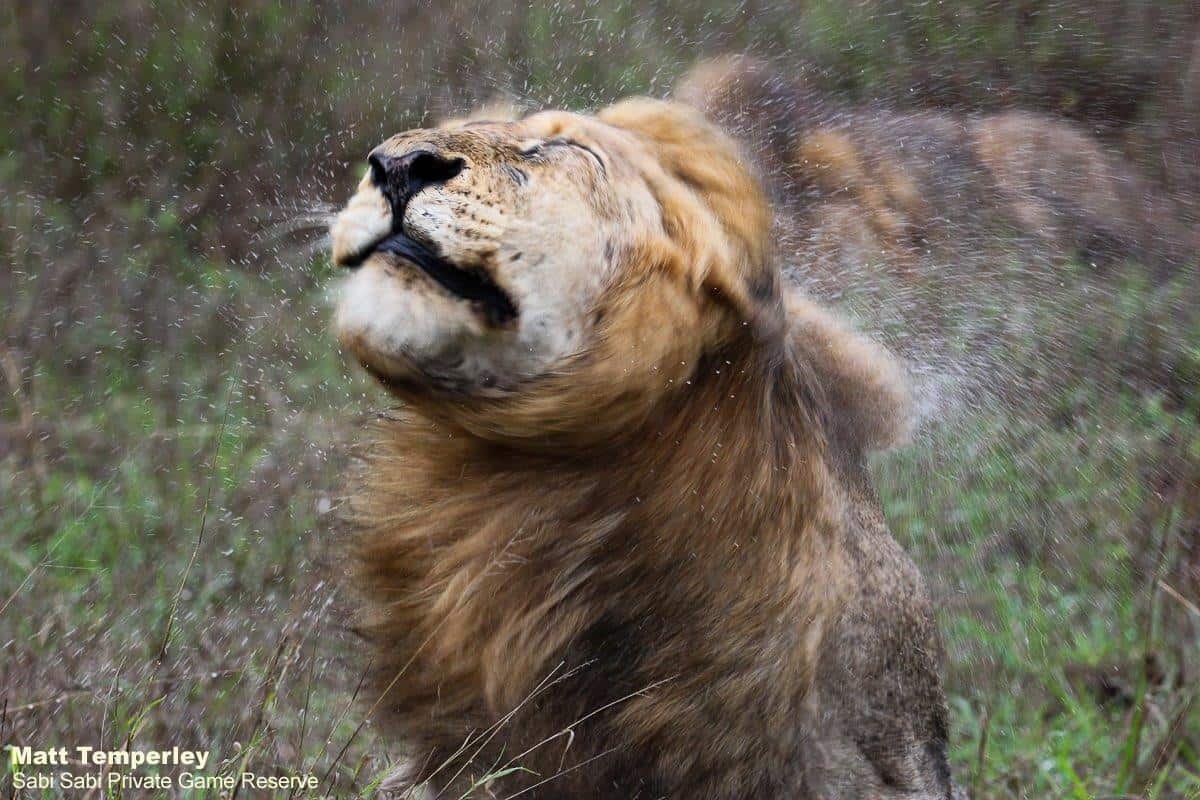 The Southern Pride female had also made a kill in the week, in the form of a warthog.  We followed up as she was finishing off the scraps before moving a short distance, close to a waterhole, to rest.  She had a full tummy and looked content.
One night we came across one female member of the Styx Pride by herself, walking past some wildebeest who were alarm calling in an open area.  The following morning all 5 members together, stalking some kudu but to no avail.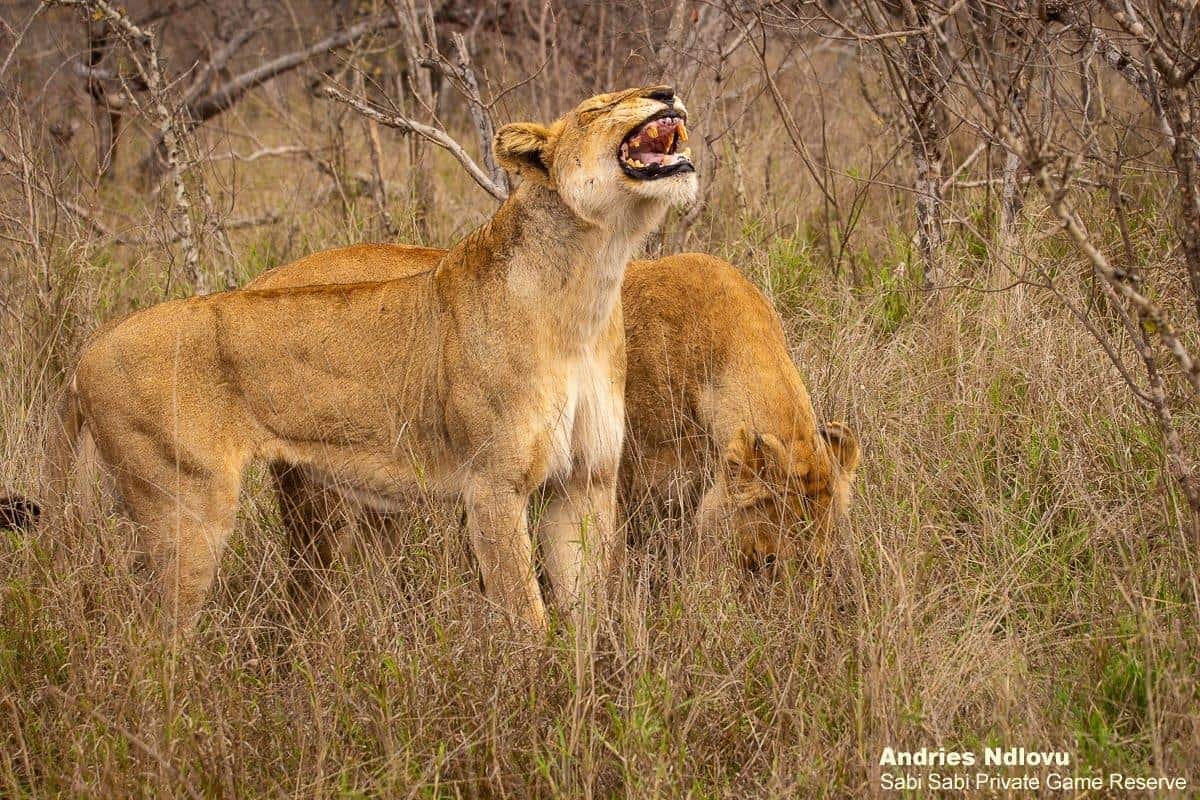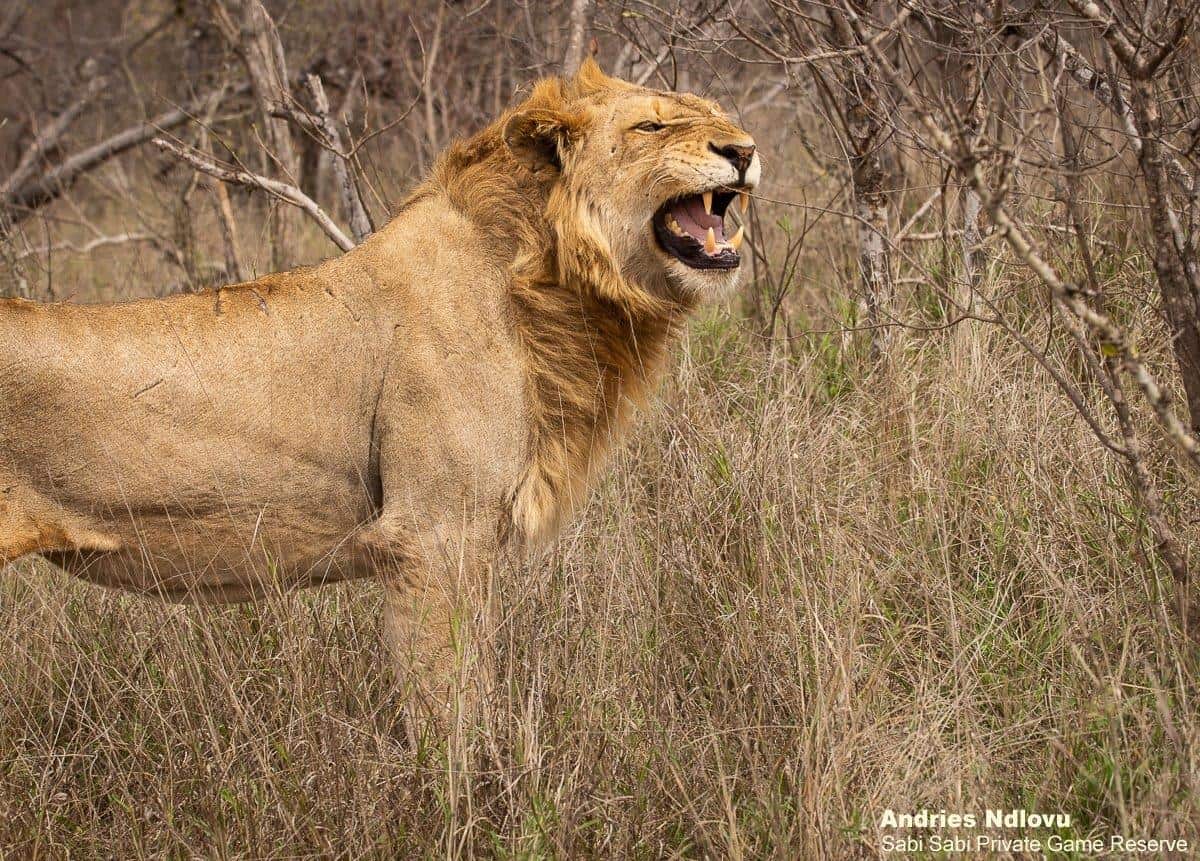 With the recent rains we've had, there has been a lot of audio of leopards re-establishing their territories. We stopped for a sundowner and heard the typical rasping sound of them calling. It wasn't long before Hanyile male leopard walked past us while sipping on sundowners. The same happened the following morning and as the sound got closer, we didn't wait for the leopard to crash our morning coffee break and drove towards the sound. We found Kigelia female leopard sitting on top of a rocky outcrop vocalising from there.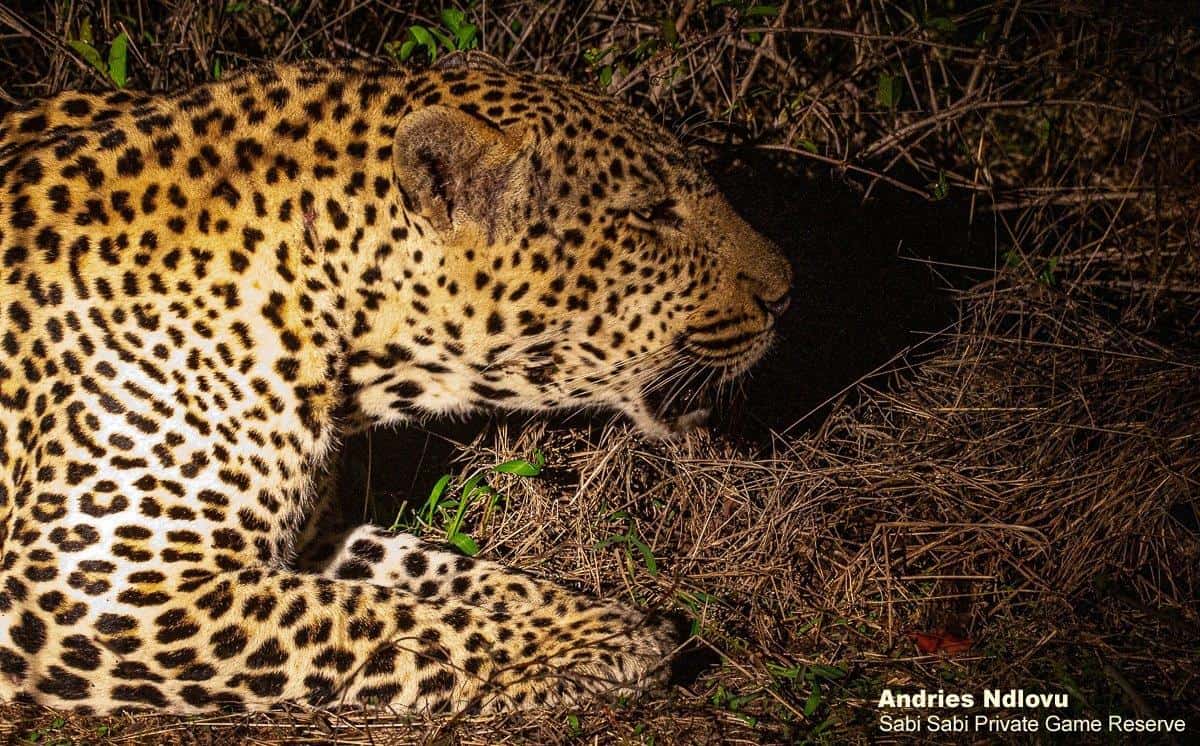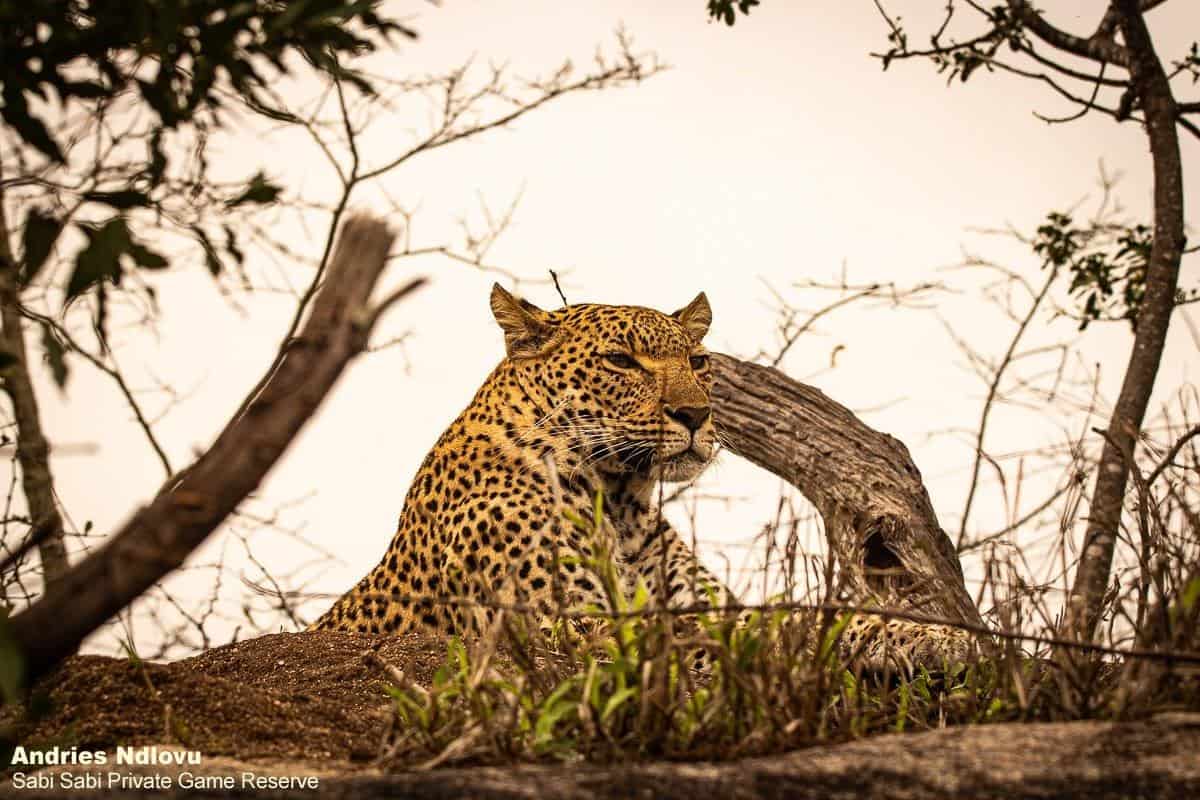 We managed to view N'weti male leopard as he made his way across the open plains and eventually found some shade to escape the heat of the morning.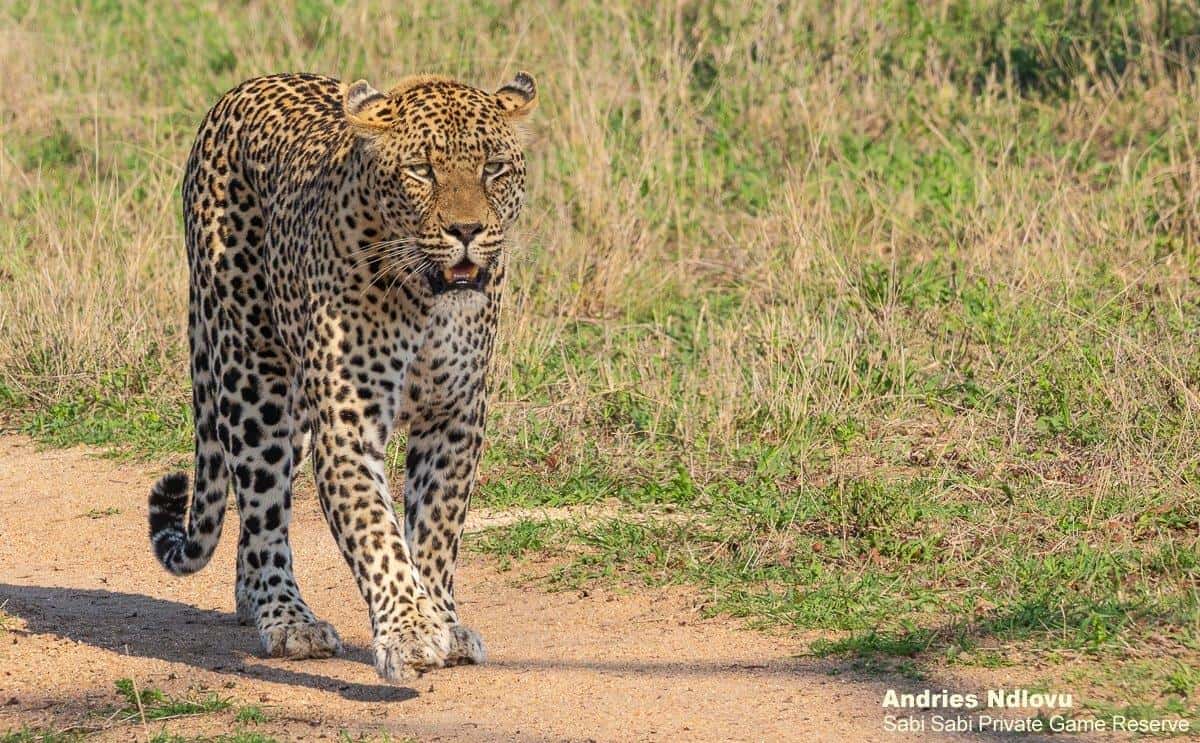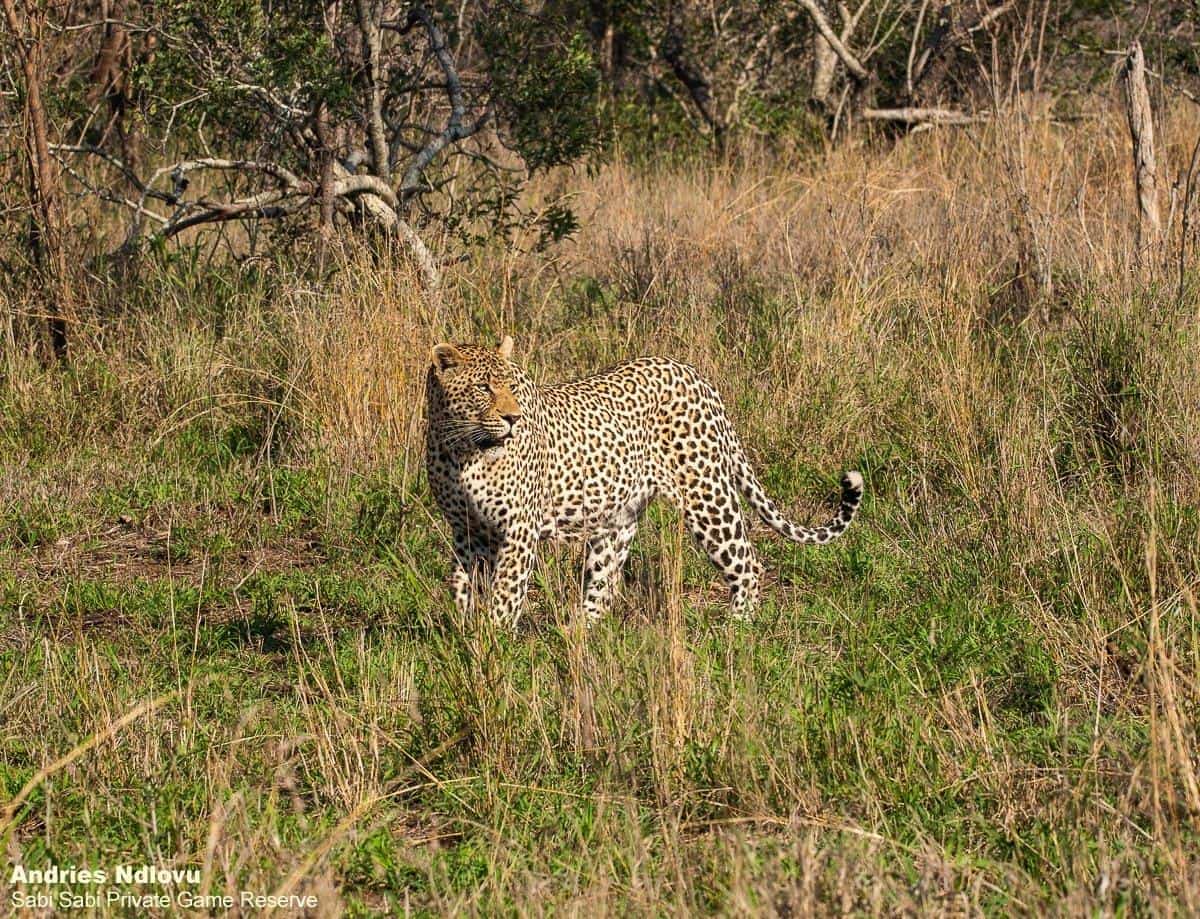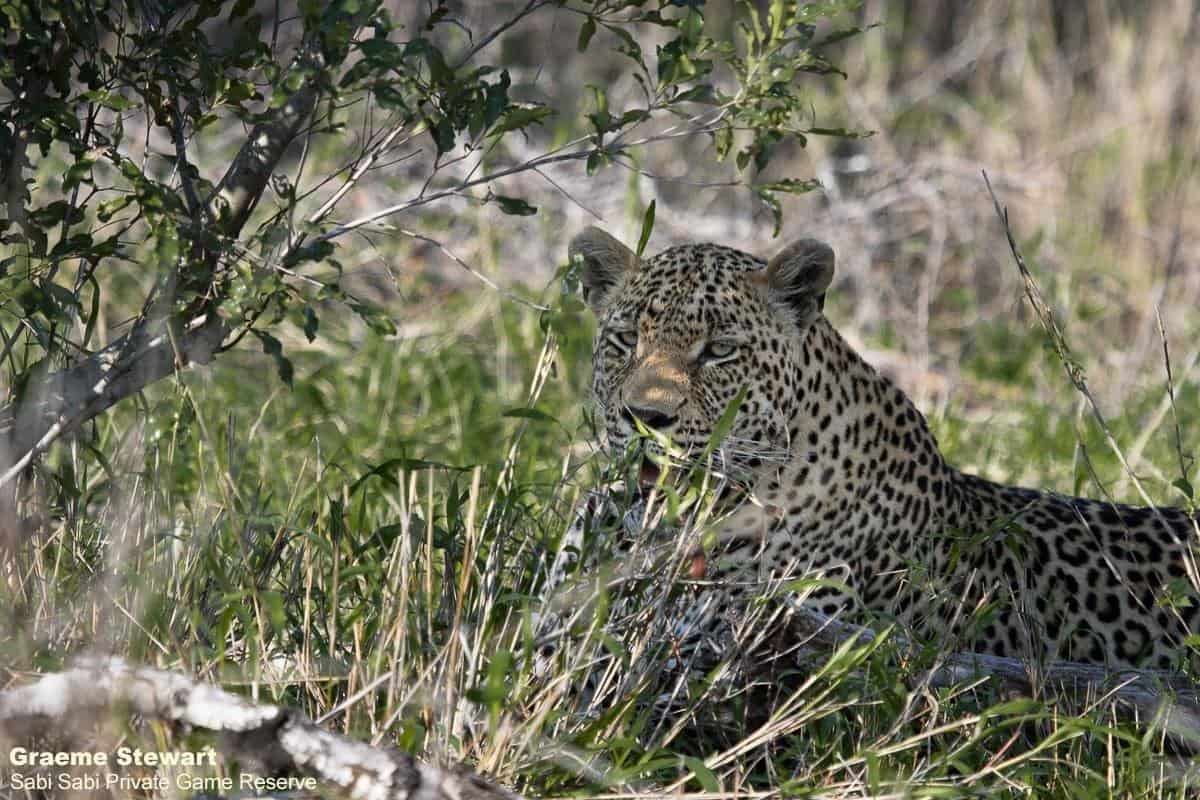 After hearing birds alarm call close to the lodge, White Dam male leopard appeared out of the thicket and headed towards a small water source for a drink.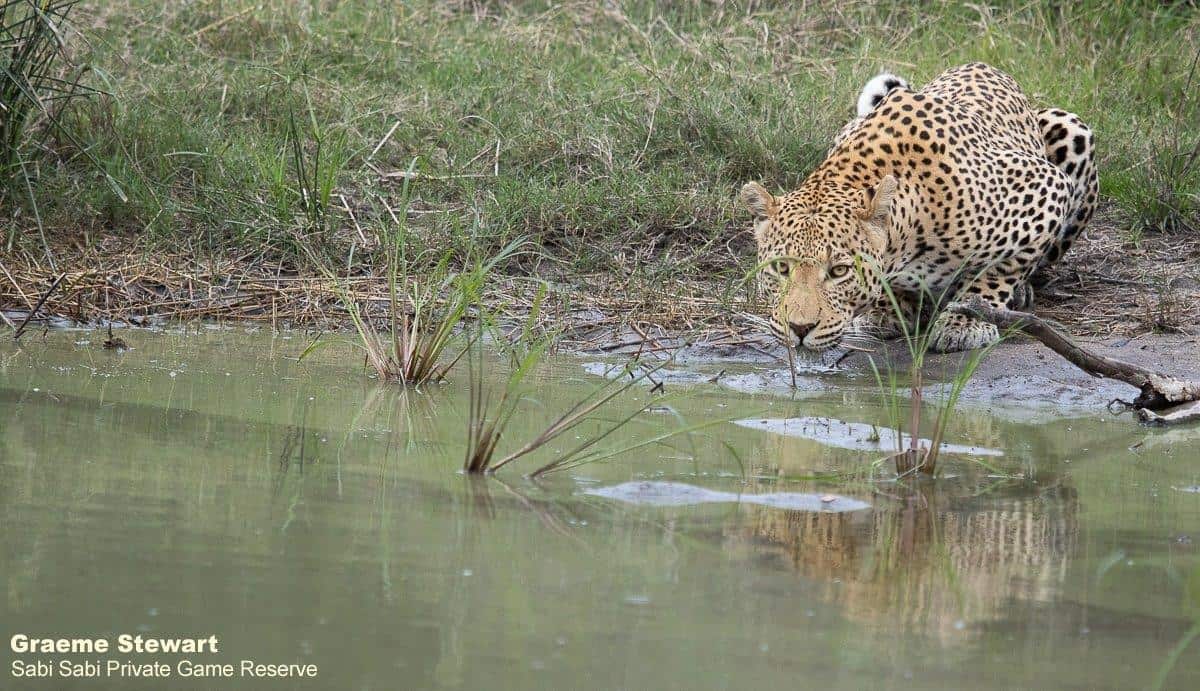 The lodges at Sabi Sabi are in the middle of the bush, with little to no fences dividing the two worlds of man and animal. One afternoon while in her room, Erin heard the distinctive bark of a bushbuck alarm calling, which was soon followed by another two barks in close succession. She looked out her window into the undergrowth and spied on the two bushbuck who were raising their alarm. Their eyes were wide and their ears were pricked. They were staring to the right.  Following their gaze, Erin scanned the tangle of branches and came to an abrupt halt. There right in front of her, no further than 5 meters from her window, was the beautiful old Dayone male leopard. We love how safaris at Sabi Sabi don't end when you get off the vehicle!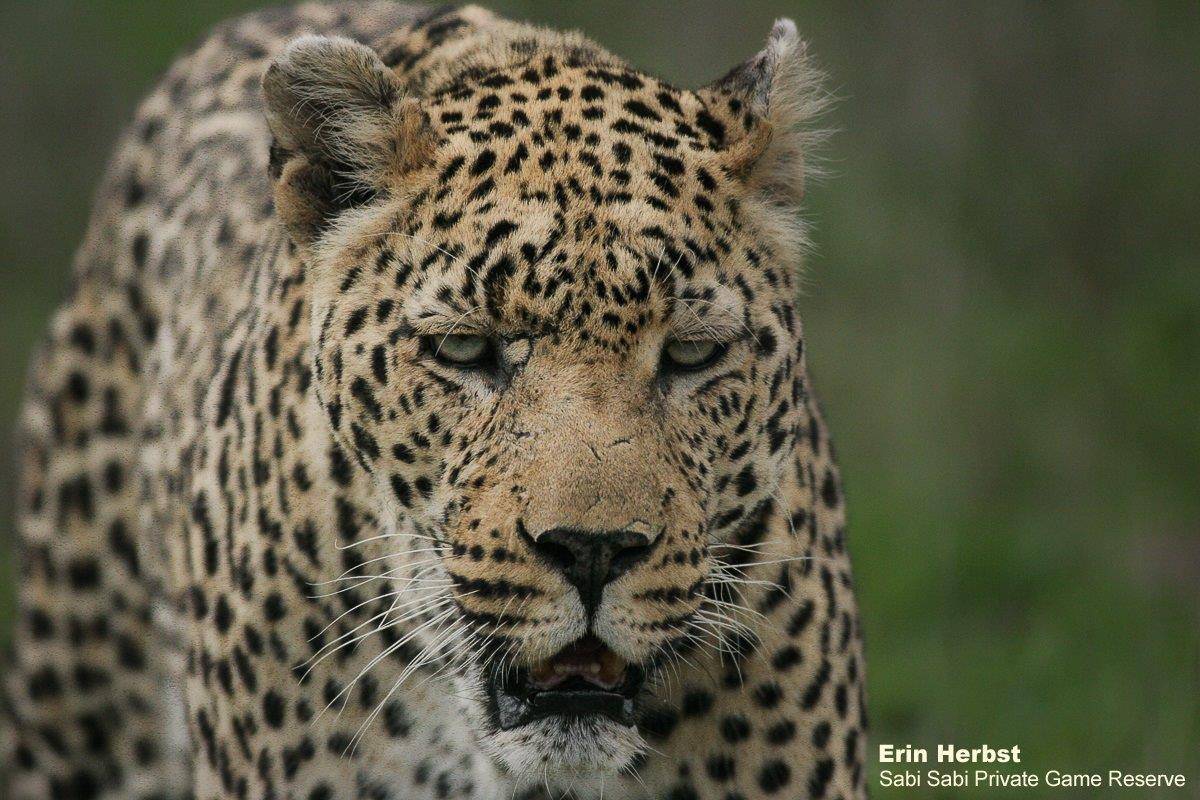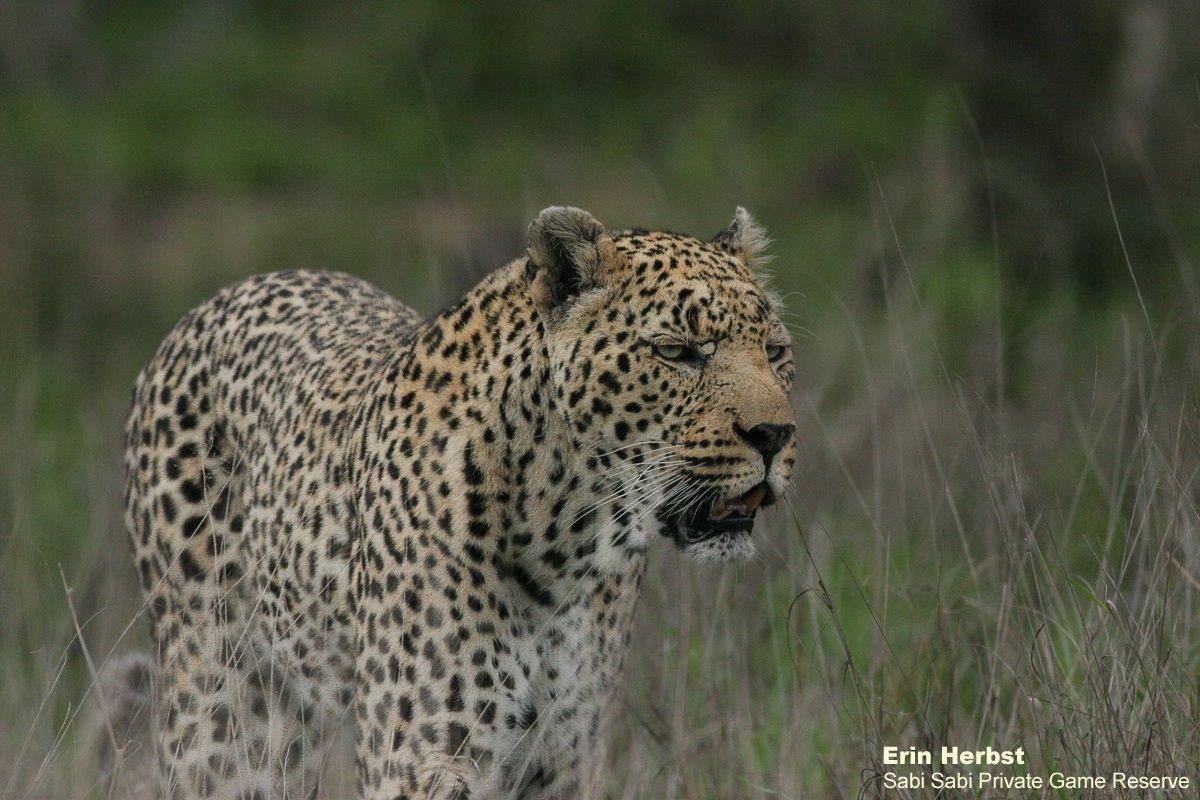 As a result of the rainfall we have been receiving, the landscape is rapidly transforming with new grass shoots and new leaves appearing all over the reserve and these kudu bulls were taking full advantage of these fresh new shoots.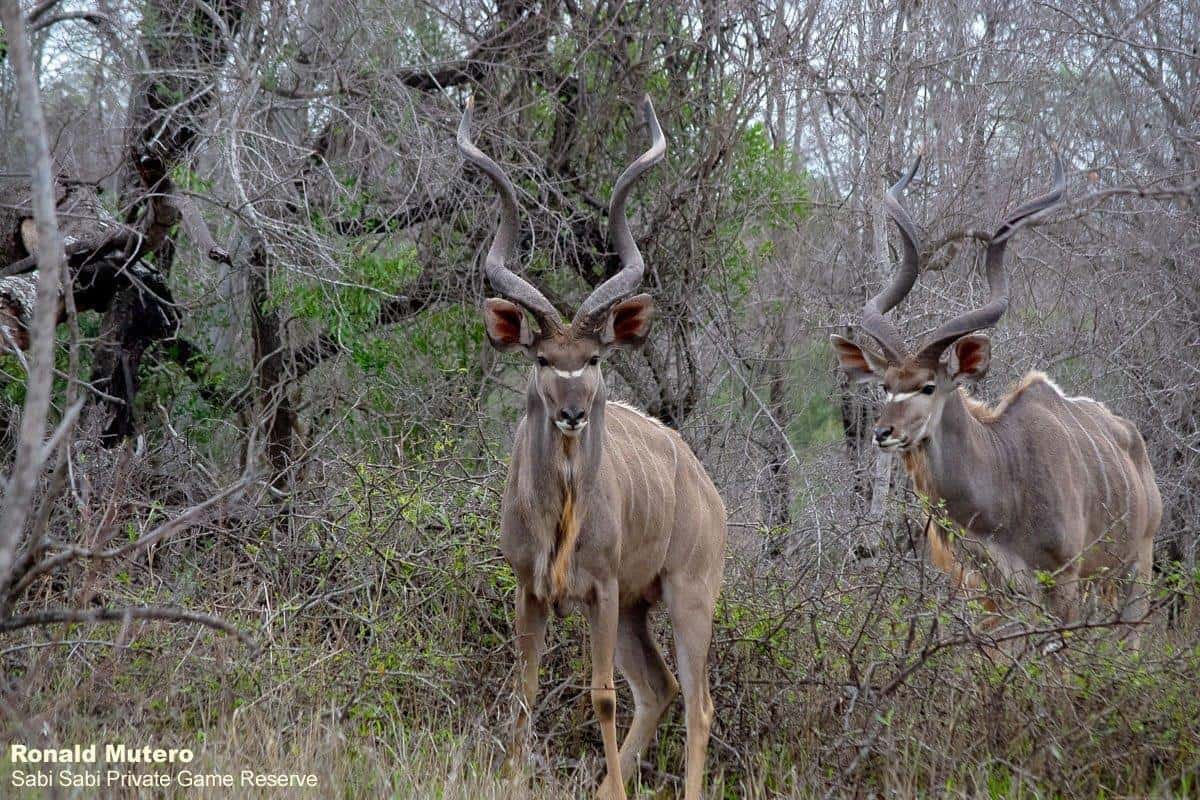 A Leopard Tortoise takes advantage of the numerous puddles in the roads to fill its bursa sac as a reserve to use for hydration in drier times.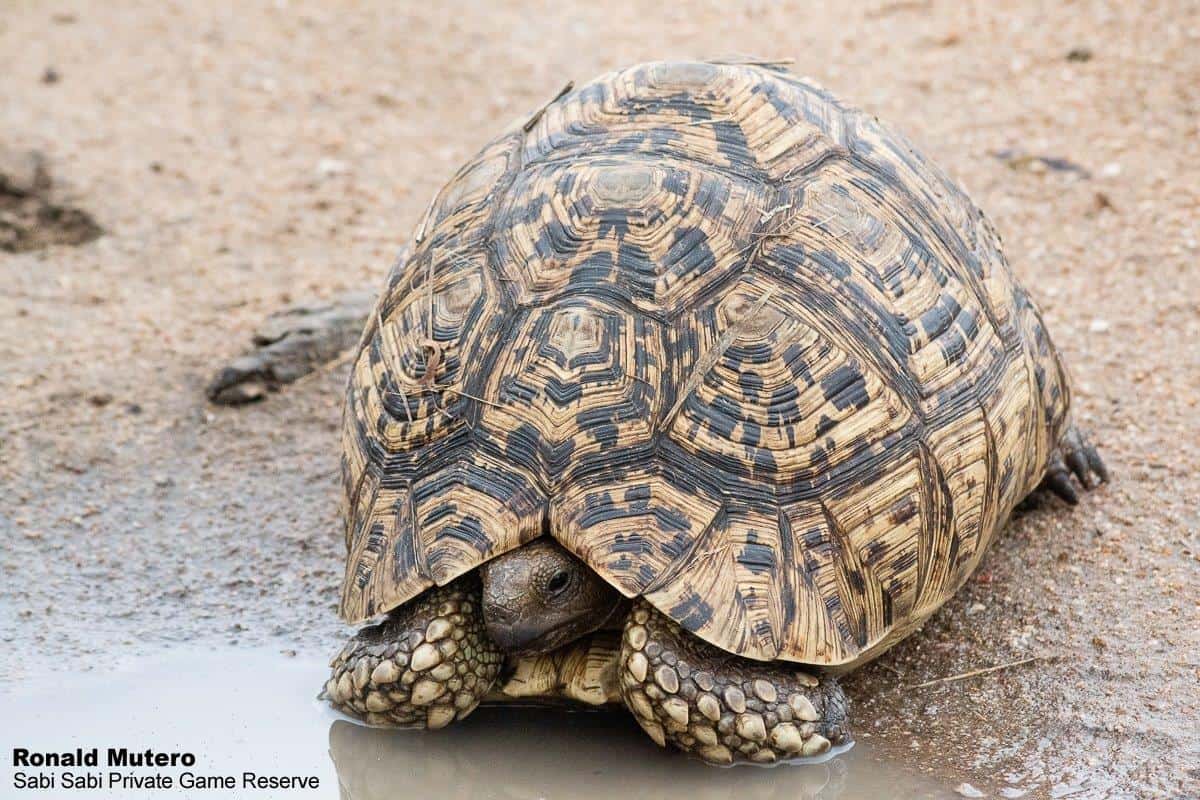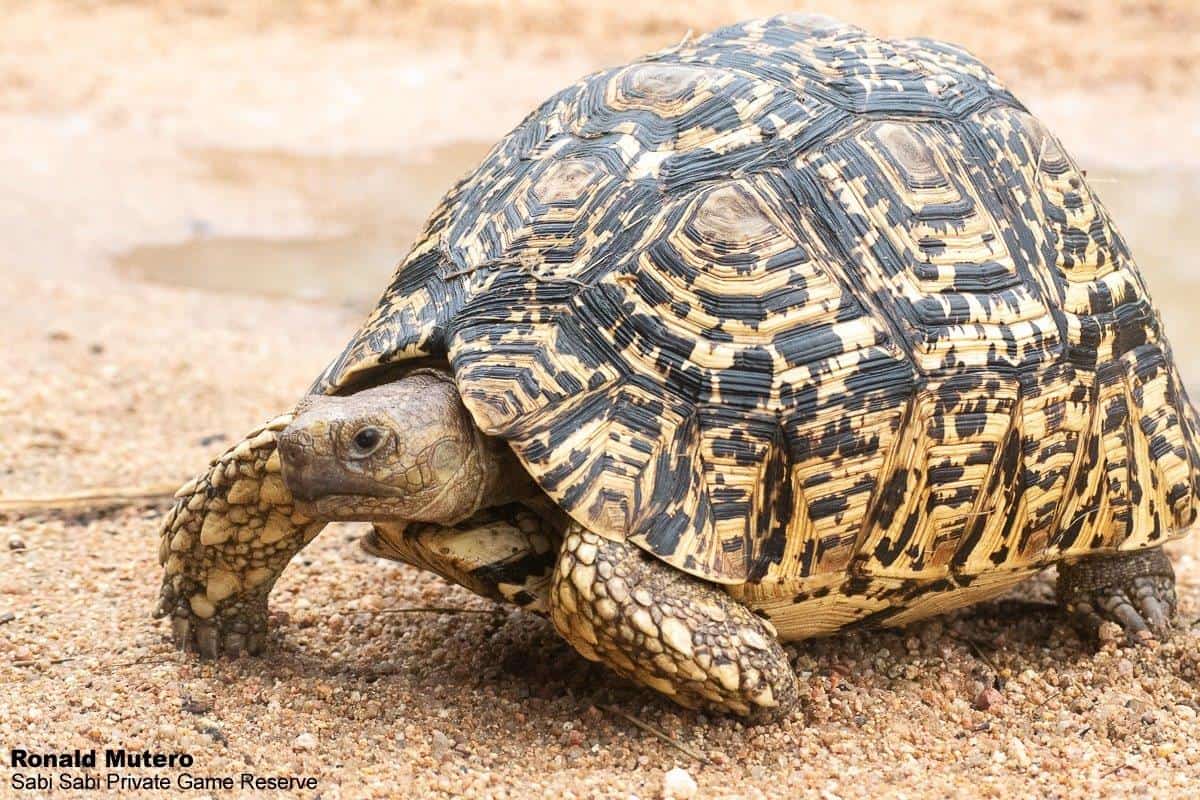 In an open area close to a waterhole, this elephant bull and his younger companion moved past us into a thicket.  Without any leaves to offer, elephants usually pull up the stems to chew the roots or the stem itself, trying to obtain what nutrients the tree has to offer.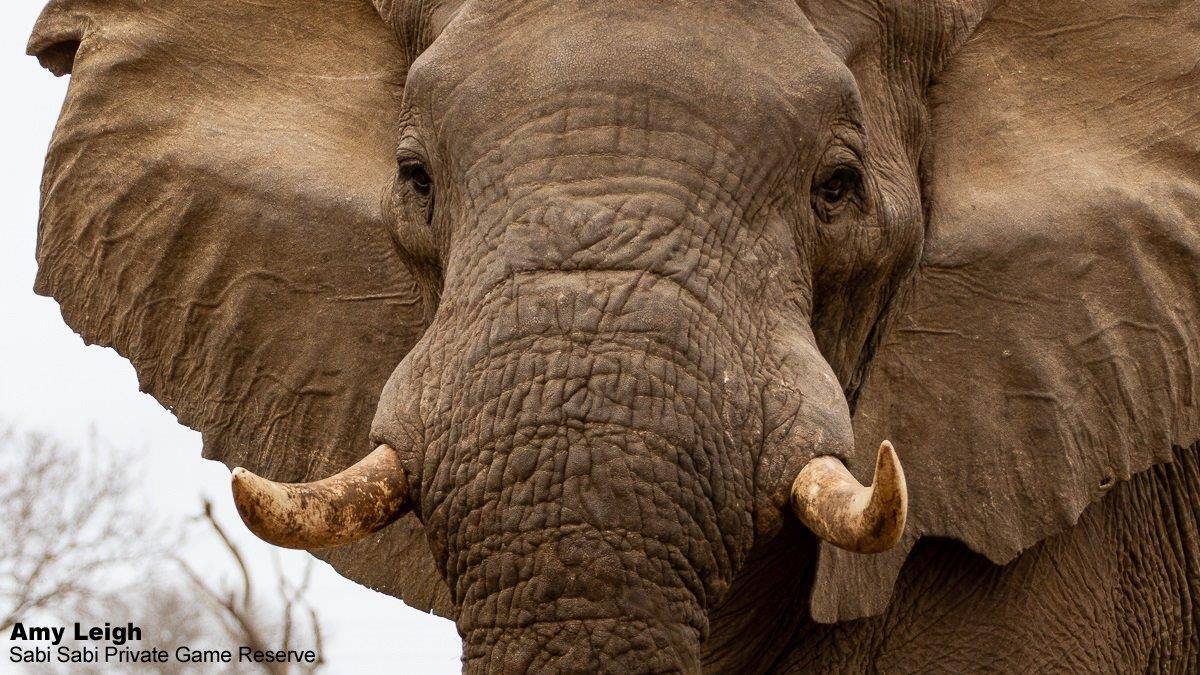 Curiosity always gets the better of hyenas. After sitting for a short while watching a few squirrel interactions, a hyena arrived to make sure he wasn't missing out.
This Verreaux's Eagle-owl took flight as we approached its hiding spot. As it landed in a fig tree, all the other little birds in the vicinity wasted no time in letting it know of their displeasure at its presence.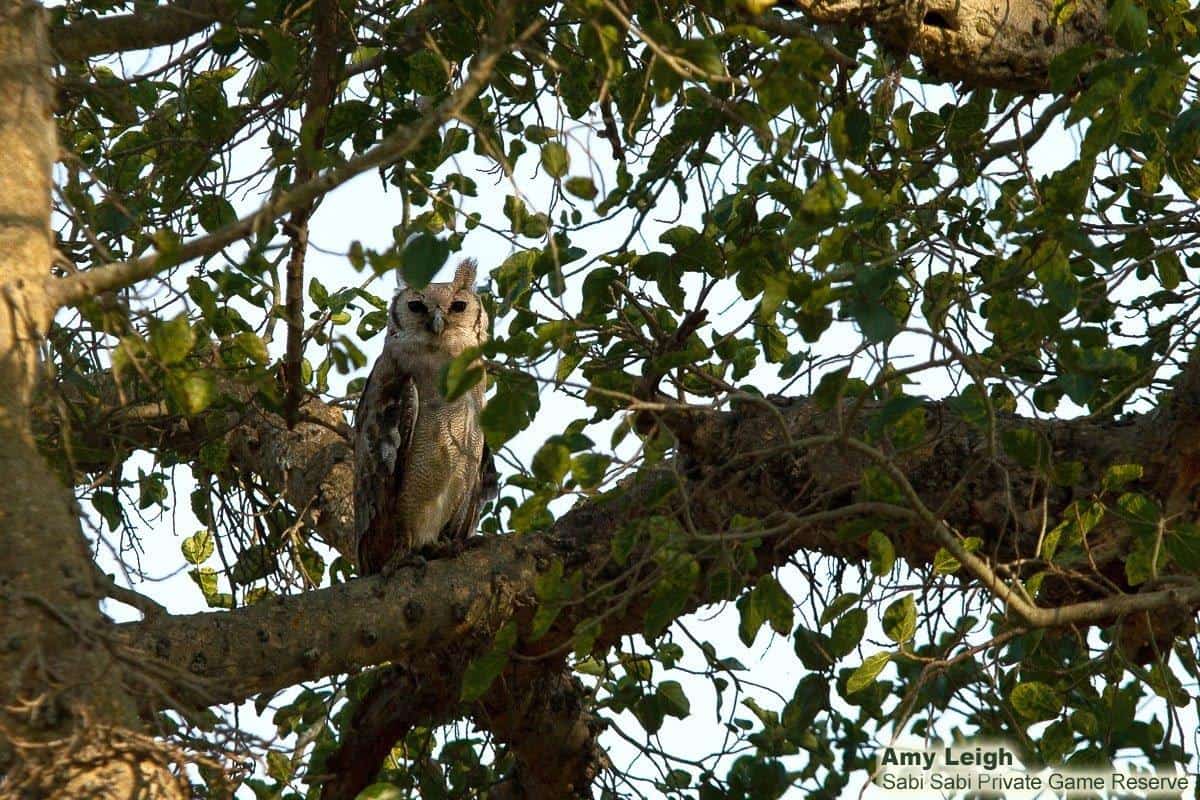 This waterbuck bull was walking alone through the long grass. We often see the males on their own while the females tend to prefer the company of a herd.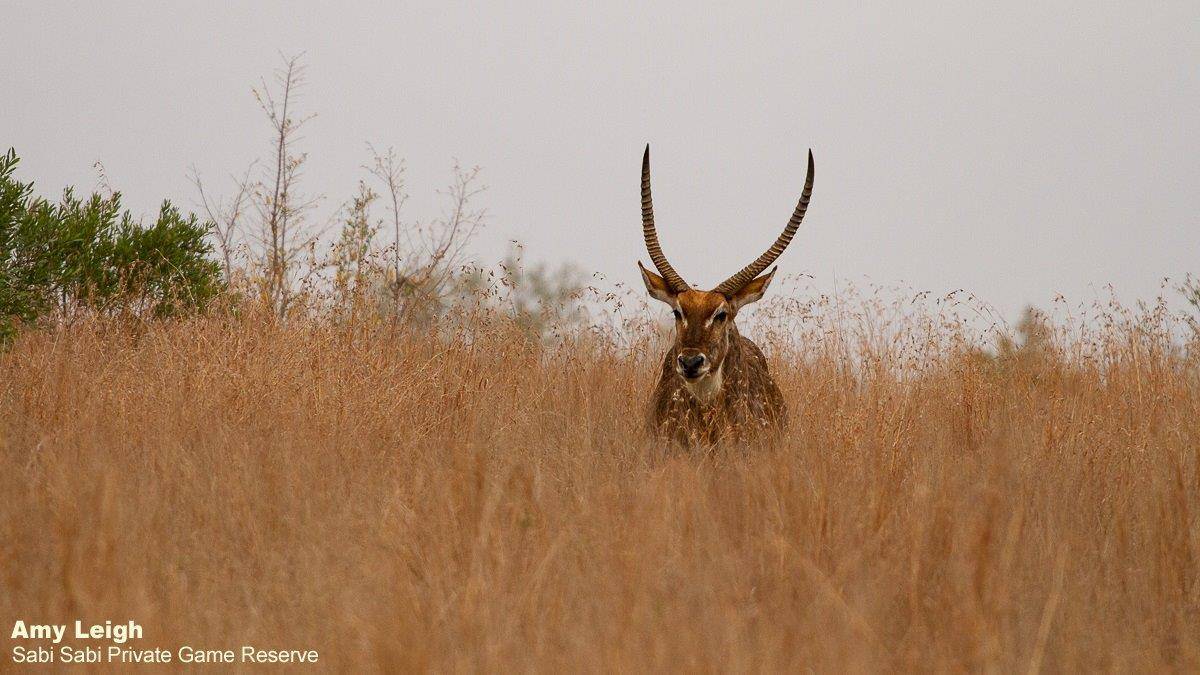 A very alert warthog watched us as we admired the size of his impressive tusks.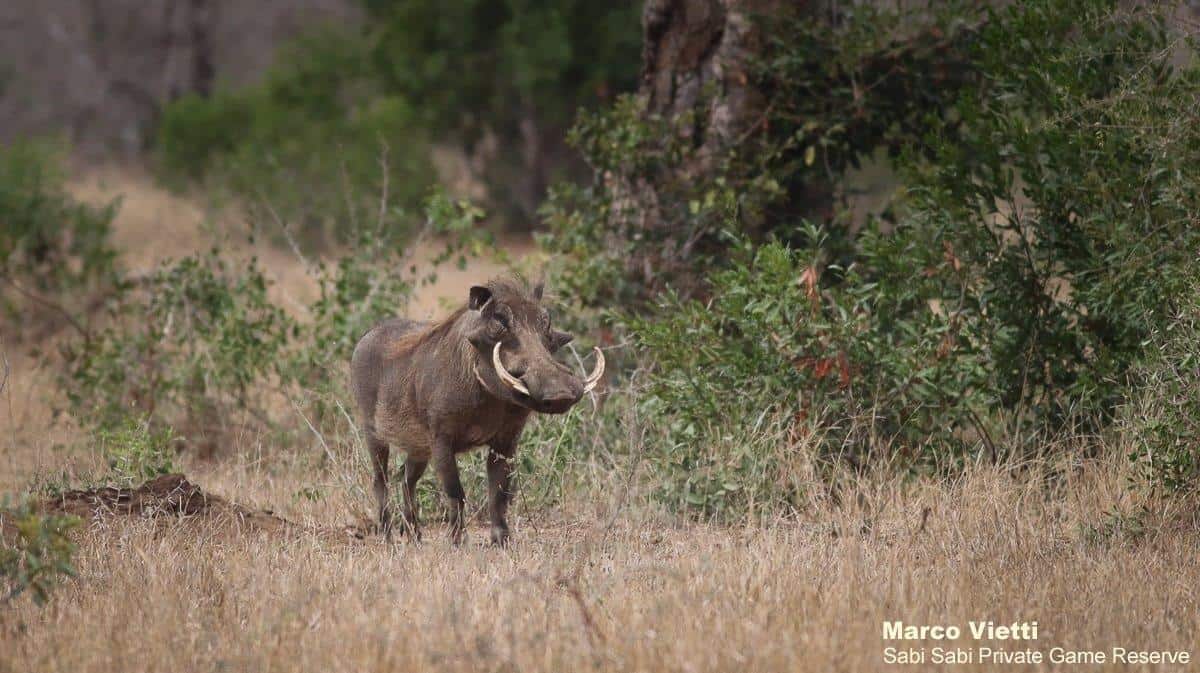 The female Collared Sunbird begins its nest construction with a grass ring. The oval outer shell is then made, mainly out of dried grass, twigs, rootlets and leaves, which are woven around the initial ring. The entire nest is then bound together by spider webs, which can be seen in the bill of this Collared Sunbird.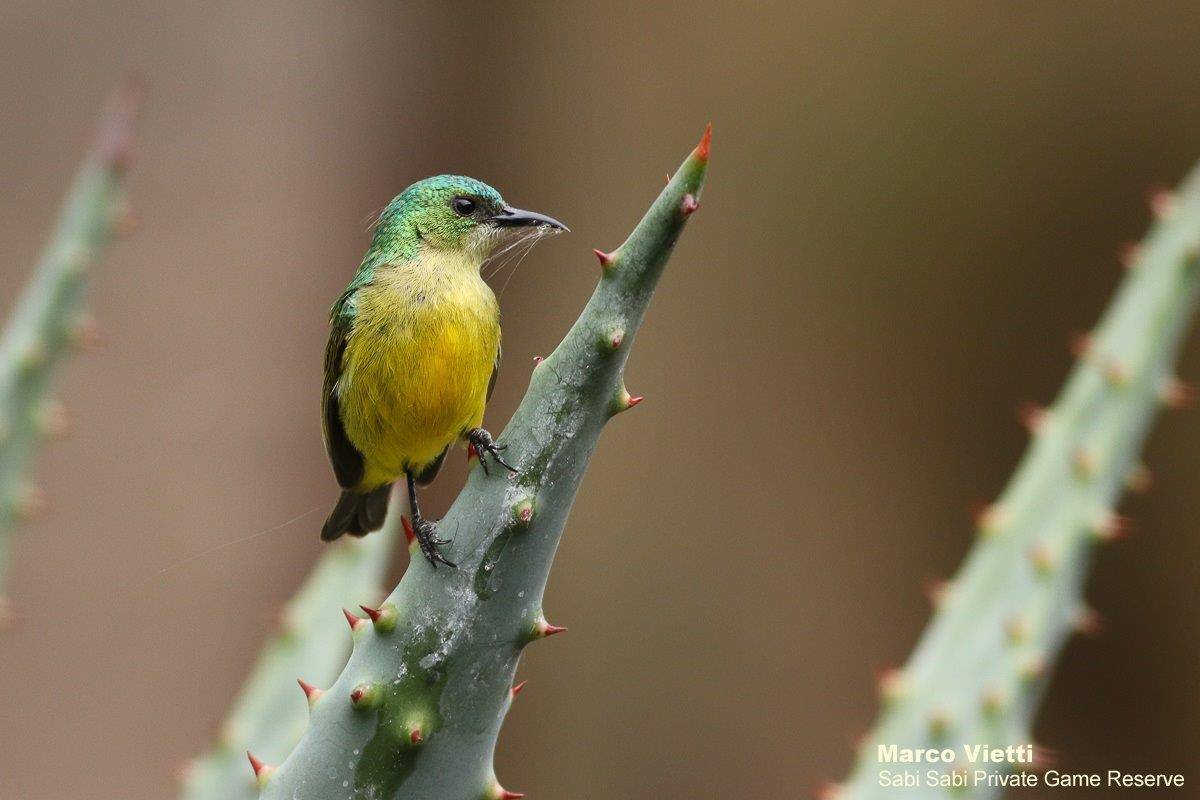 Until next time…
Blog by Wendy Claase
Images by Ally Ross, Amy Leigh, Andries Ndlovu, Erin Herbst, Graeme Stewart, Jomaré Piek, Marco Vietti, Matt Temperley and Ronald Mutero
Video by Andries Ndlovu