The perfect start to any morning – a zebra at sunrise.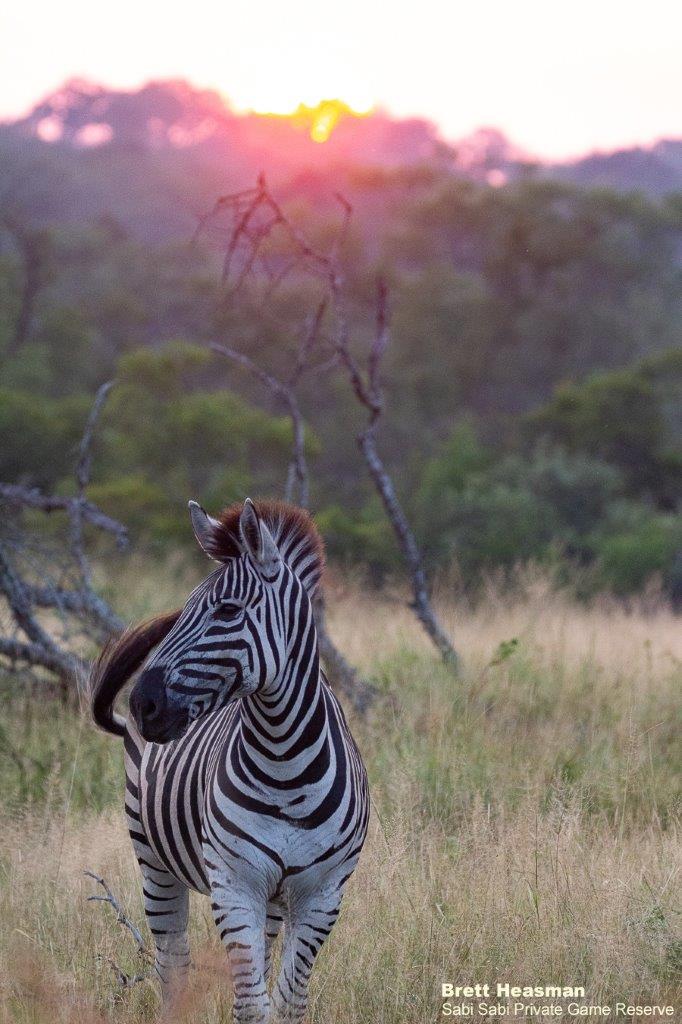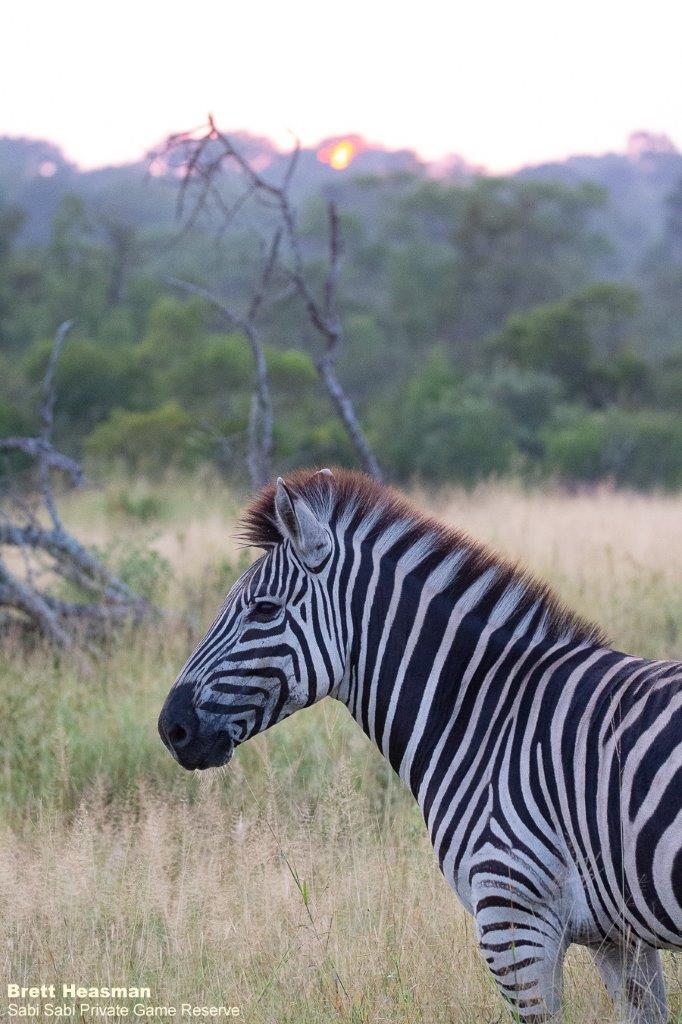 One of the benefits of visiting Sabi Sabi in the drier months – spectacular sightings of elephants enjoying dust baths!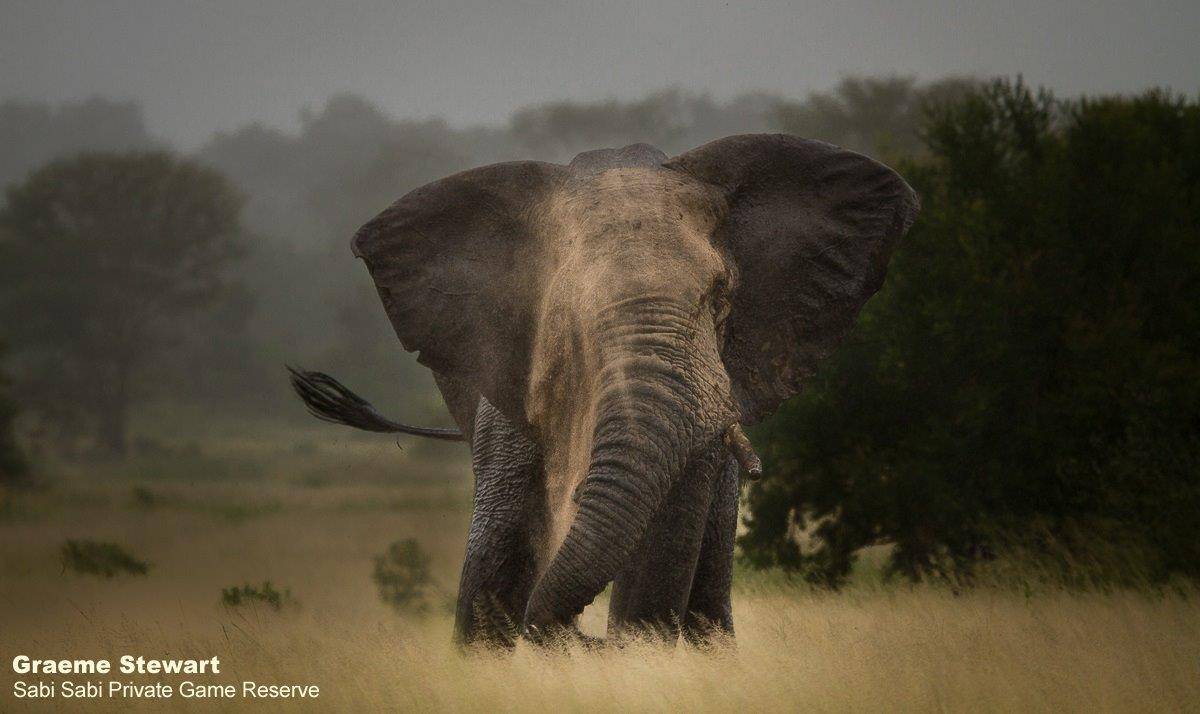 And… playing in water at the various waterholes on the reserve.  It always puts a smile on your face seeing the excitement amongst the herd as they near the water!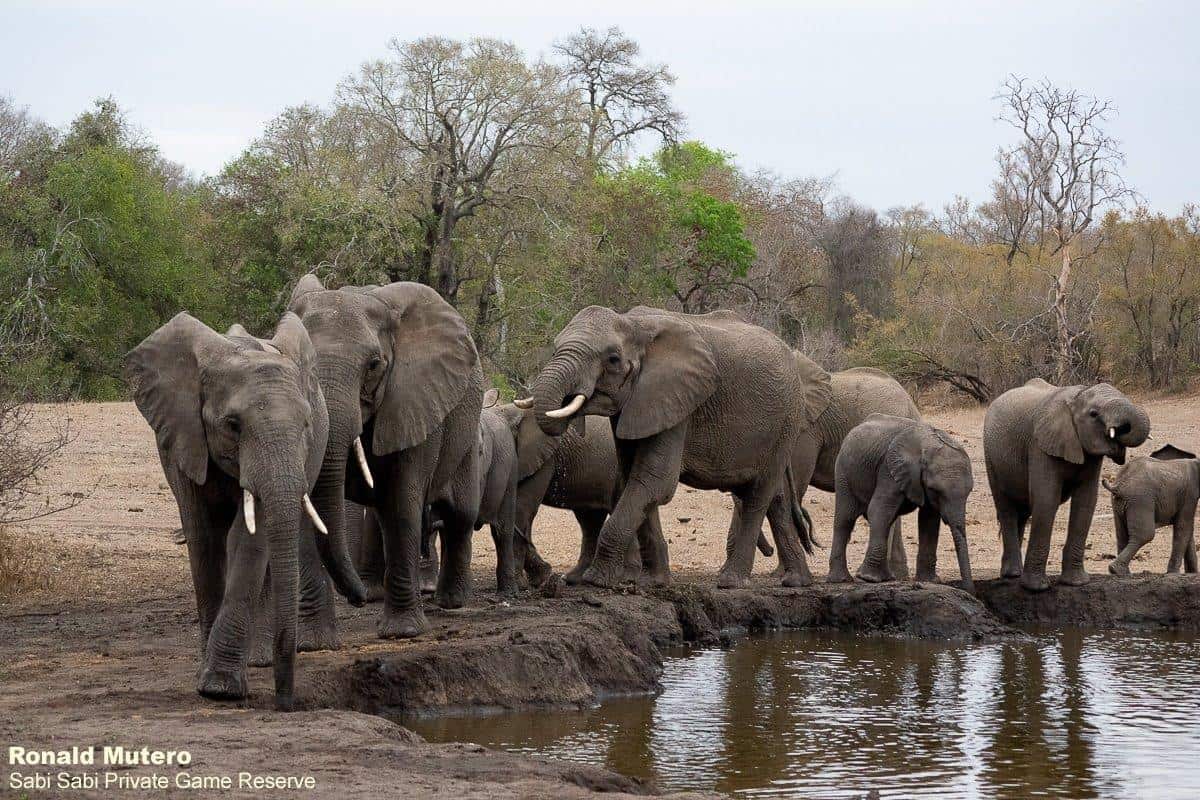 On our way back to Bush Lodge after an exciting morning on safari, we had no idea things could get any better until we came across a pair of ostriches and their newly hatched chicks walking down the road.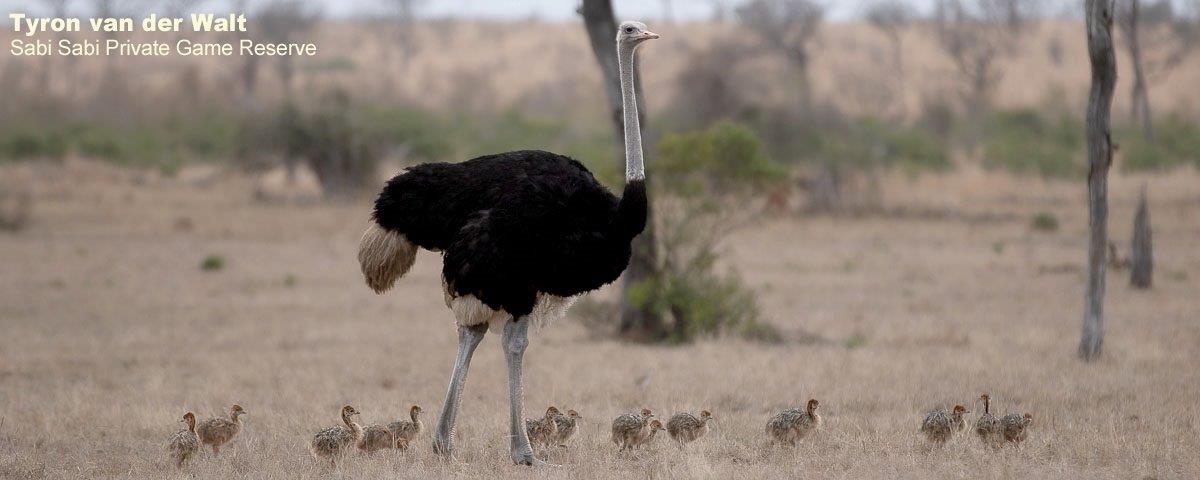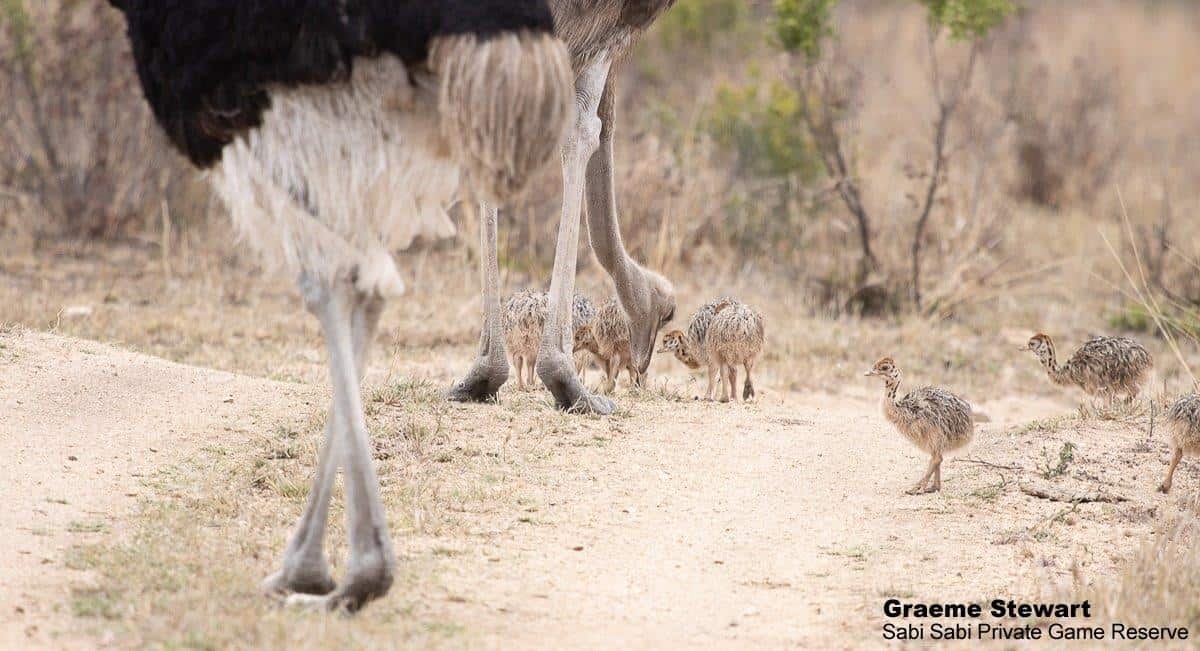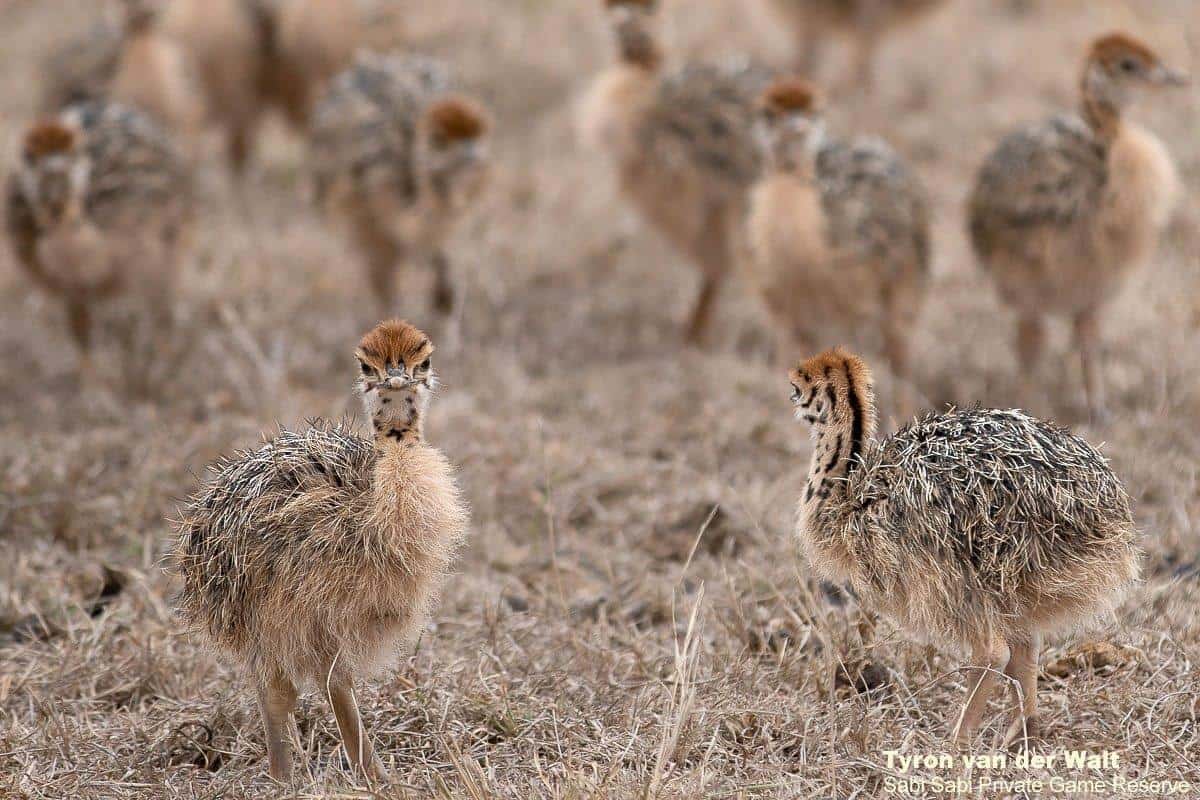 A silhouette of a young Bateleur, scanning its surroundings as the light fades.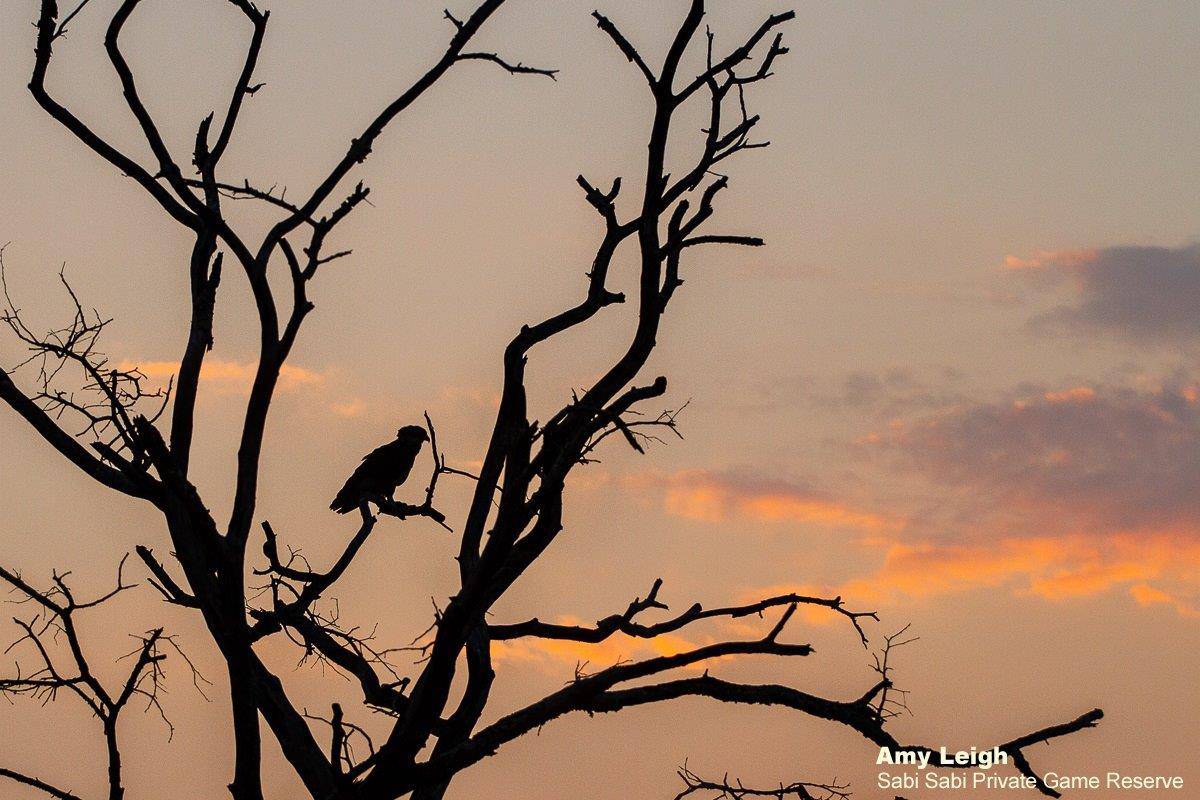 A morning oasis – zebra, giraffe, impala and wildebeest – all attracted to a small waterhole and the area surrounding it.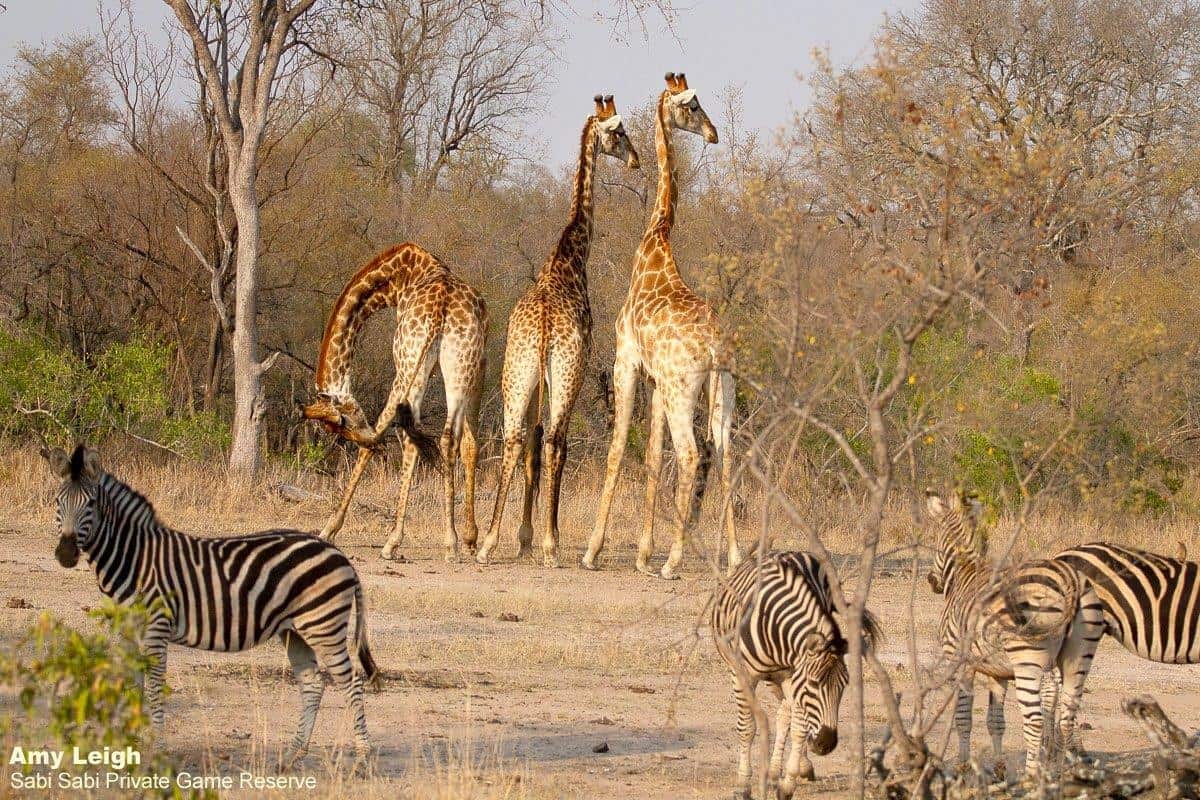 With a male leopard having left his kudu carcass unattended, the hyenas likely swooped in. These two individuals, together with two companions, were sleeping near a small dam, but a small herd of kudu in the thickets caught their eye, and almost in an instant, they were gone.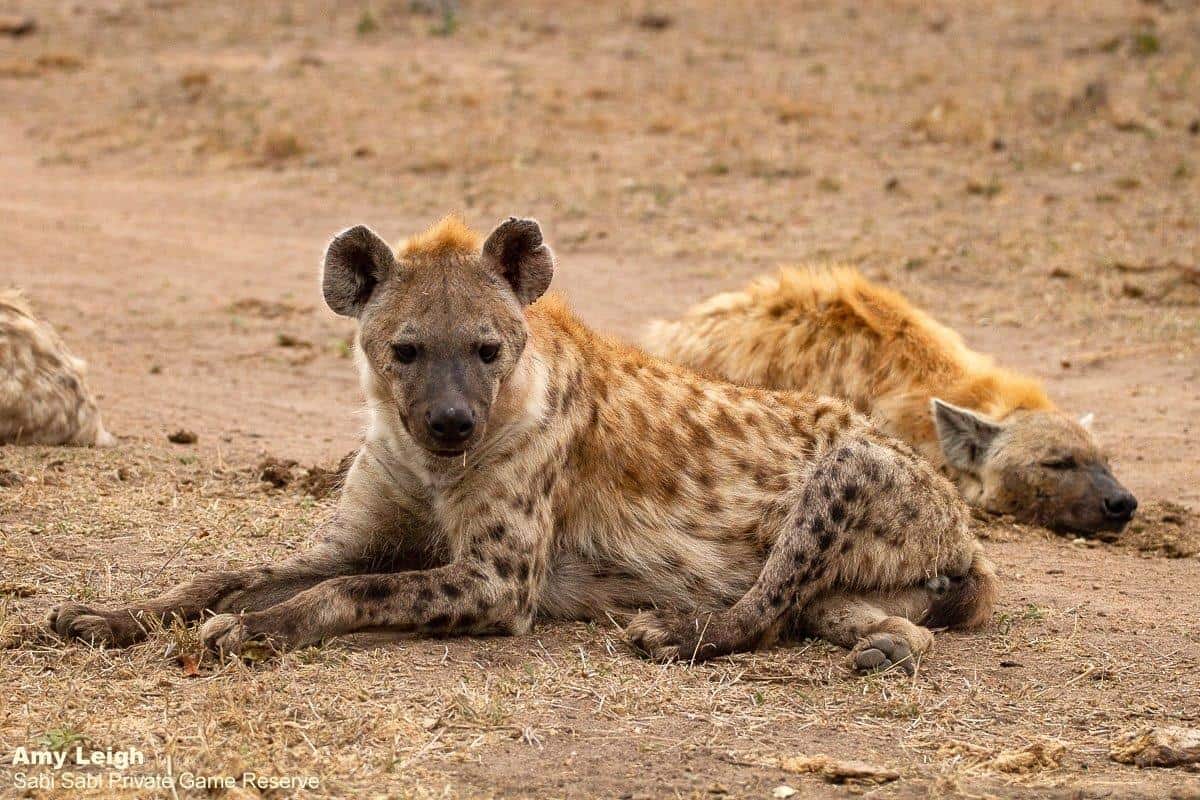 While watching a male leopard drinking at a dam, one of Amy's guests made an incredible spot… A mother Three-banded Plover with two tiny chicks nestling under her thick stomach plumage for a little warmth on a cold, overcast morning. It never ceases to amaze how well camouflaged baby ground-dwelling birds are, easily missed amongst the gravel and soil.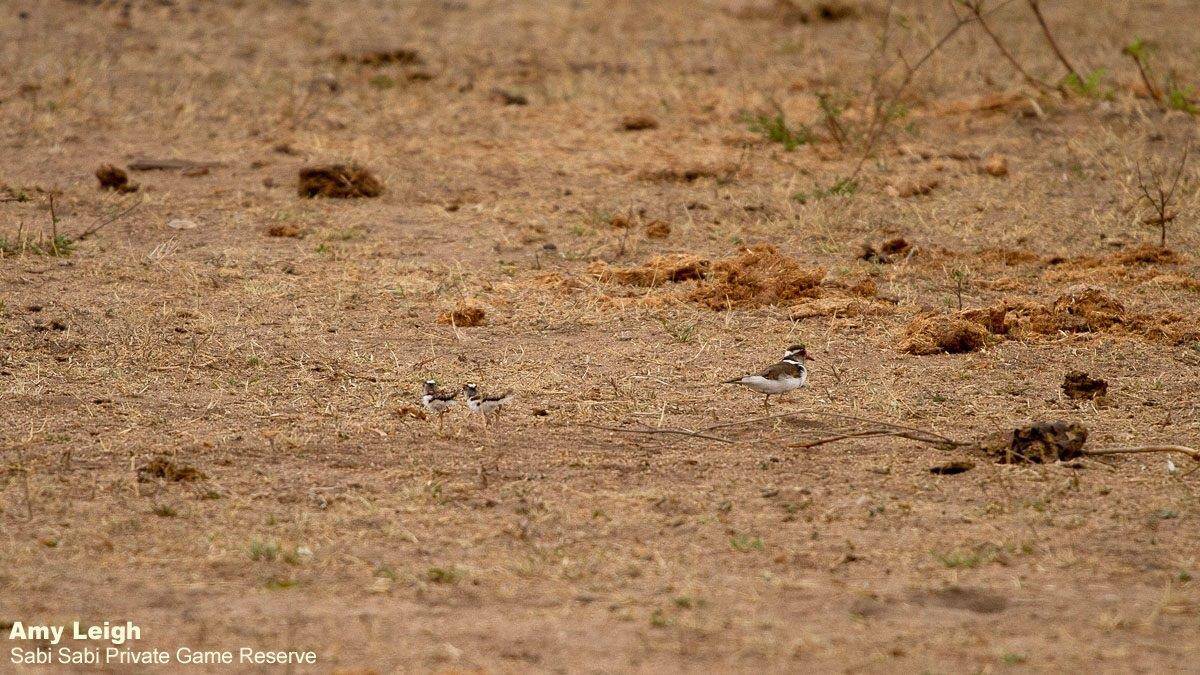 After seeing a very fast scuffle in the long grass, appeared a Lilac-breasted Roller quickly flying to a tree and started feeding on a rather large scorpion.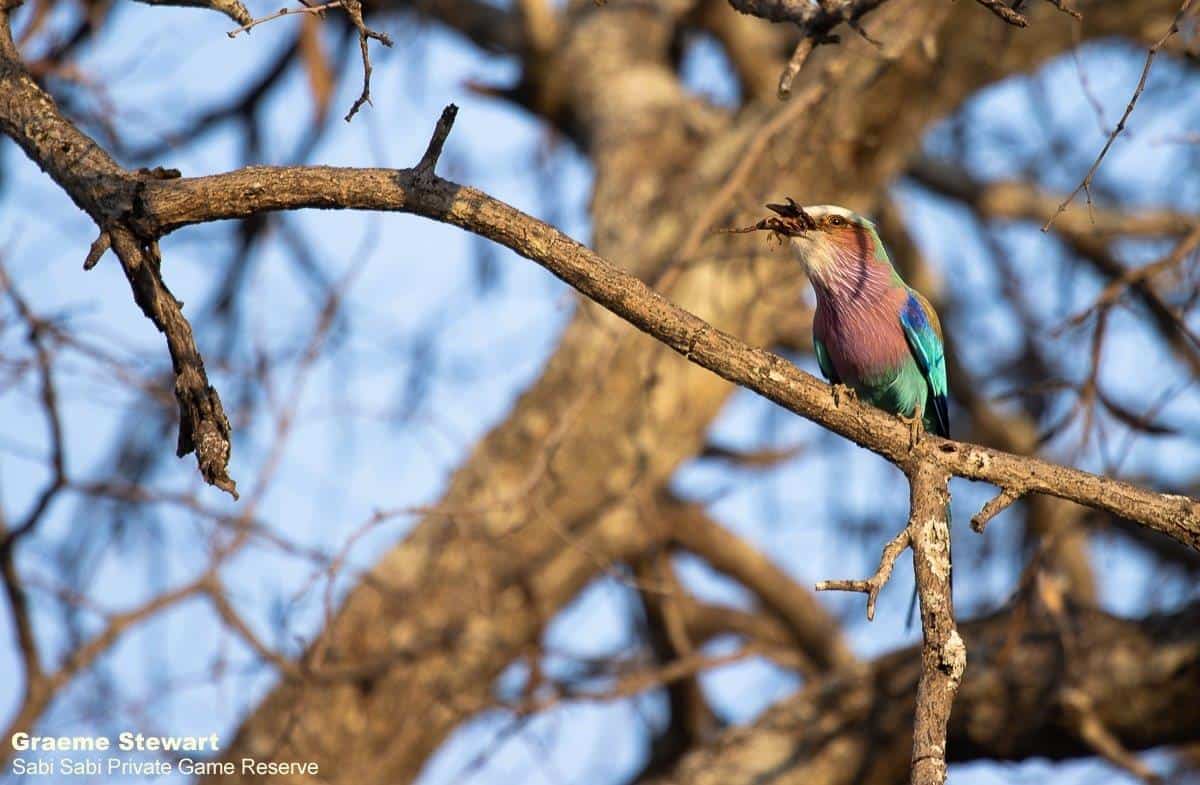 We were lucky enough to see this magnificent Martial Eagle eating a Francolin that it had just caught. Martial Eagles will prey on a variety of species, from reptiles and birds to small mammals.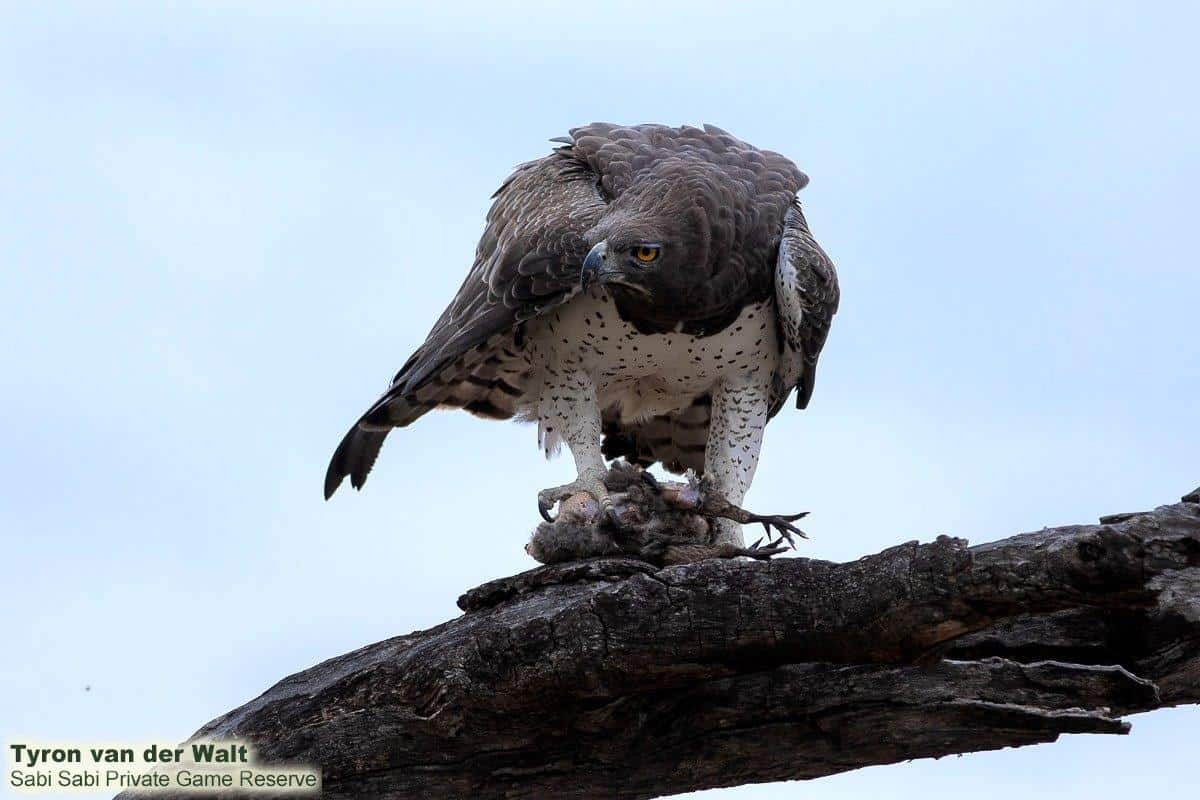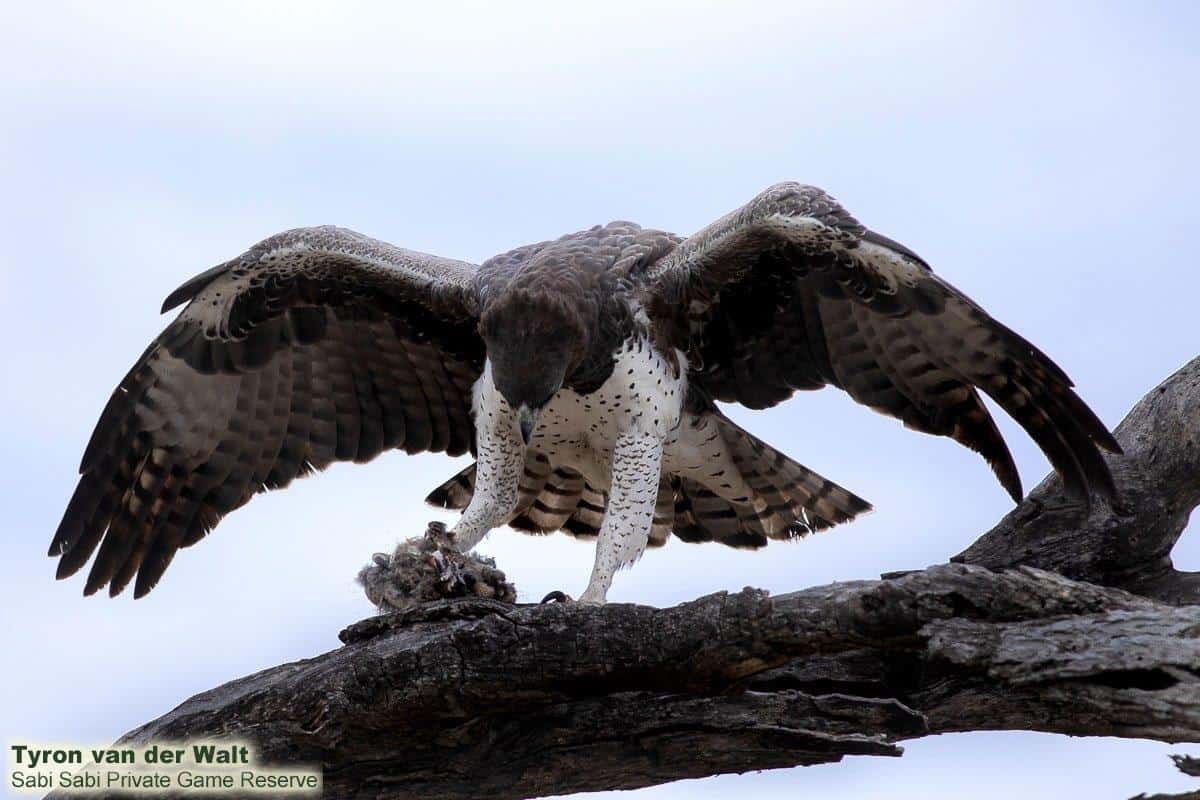 A wonderful sighting of the Nchila male leopard as we got to watch him for some time as he surveyed his surroundings before he eventually moved off through the bush finding a good few fallen down Marula trees to scratch his claws on and rub his face while showing off his beautiful jaguar-like coat.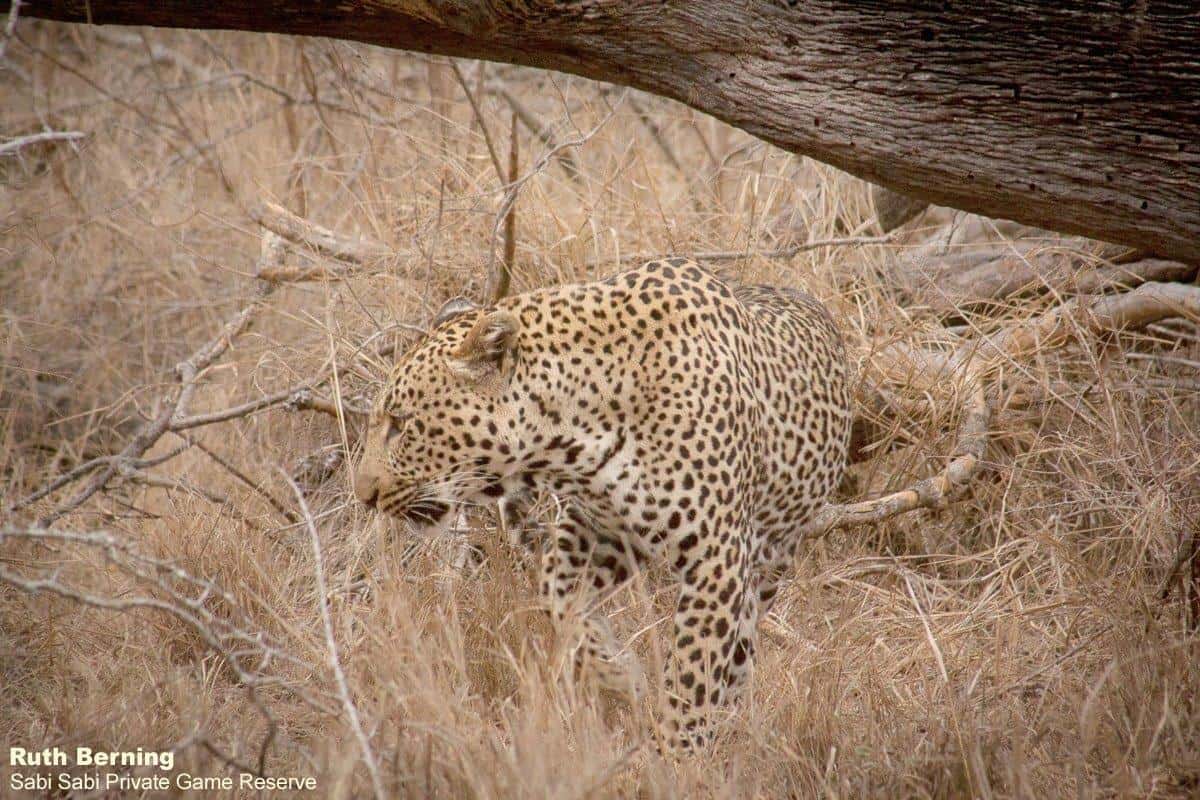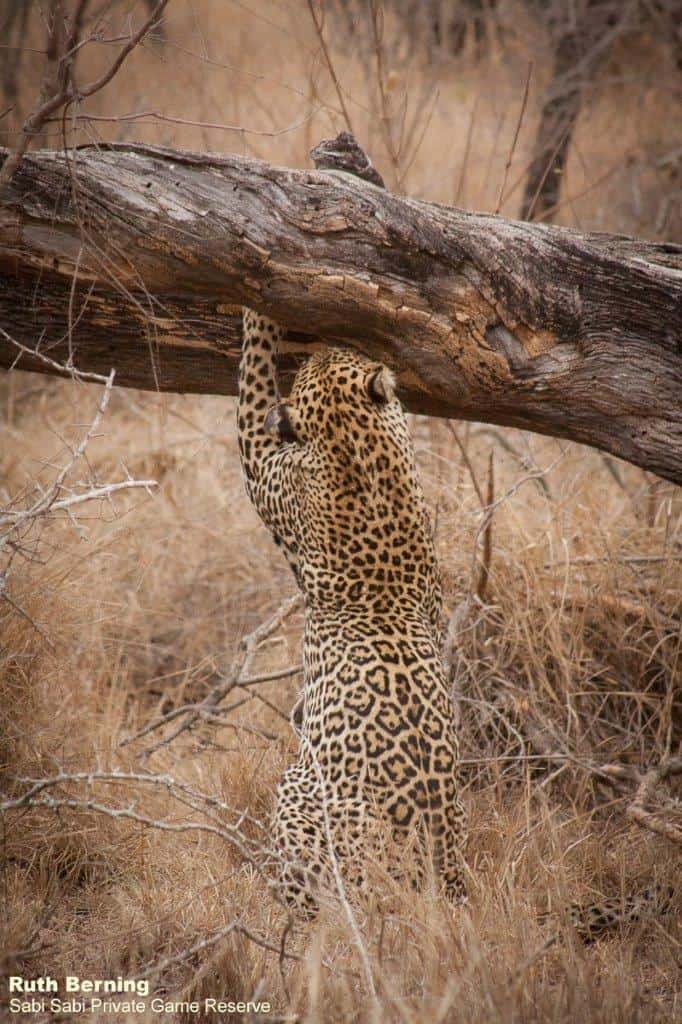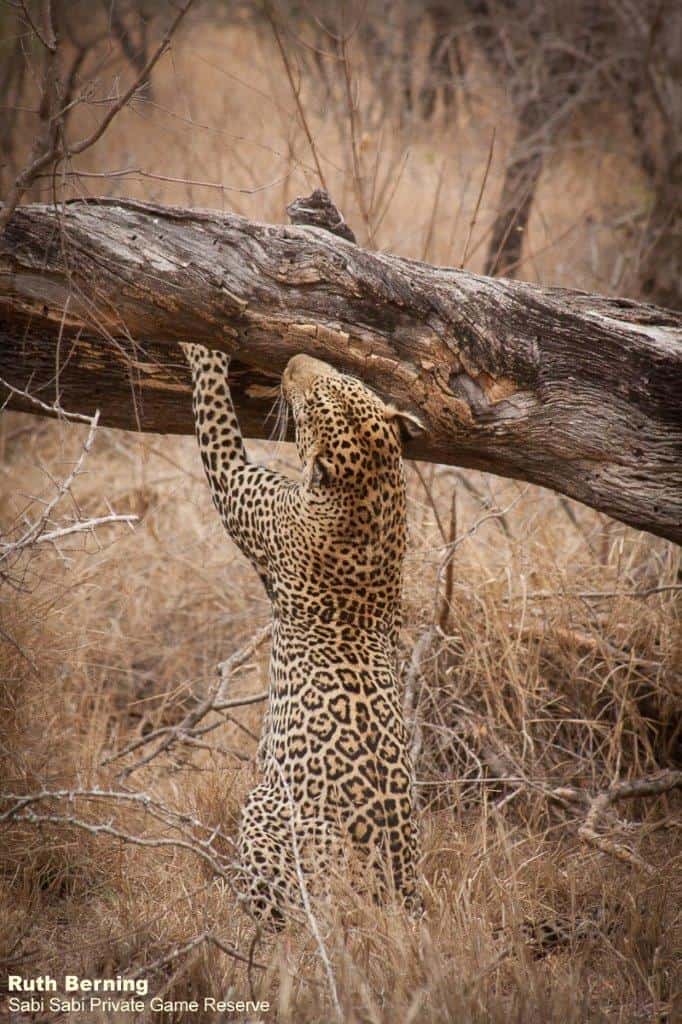 We decided to revisit the area where Xovonekela male leopard had his impala kill hoisted up a tree and we found him sleeping under the tree.  He looked very content with a full belly.
Some alarm calls of kudu caught our attention, so we headed off in the general direction of the calls to see what was upsetting them.  We then heard what sounded like an altercation between leopards. Two males – Maxabeni and White Dam – came out of the thickets snarling and hissing at one another for a while before heading their separate ways.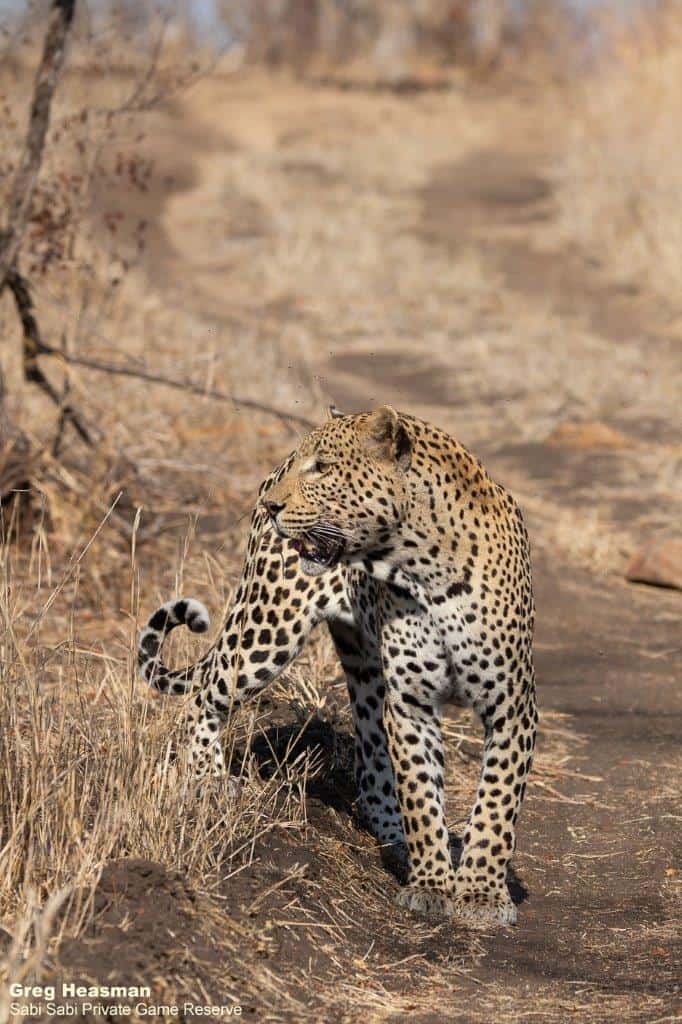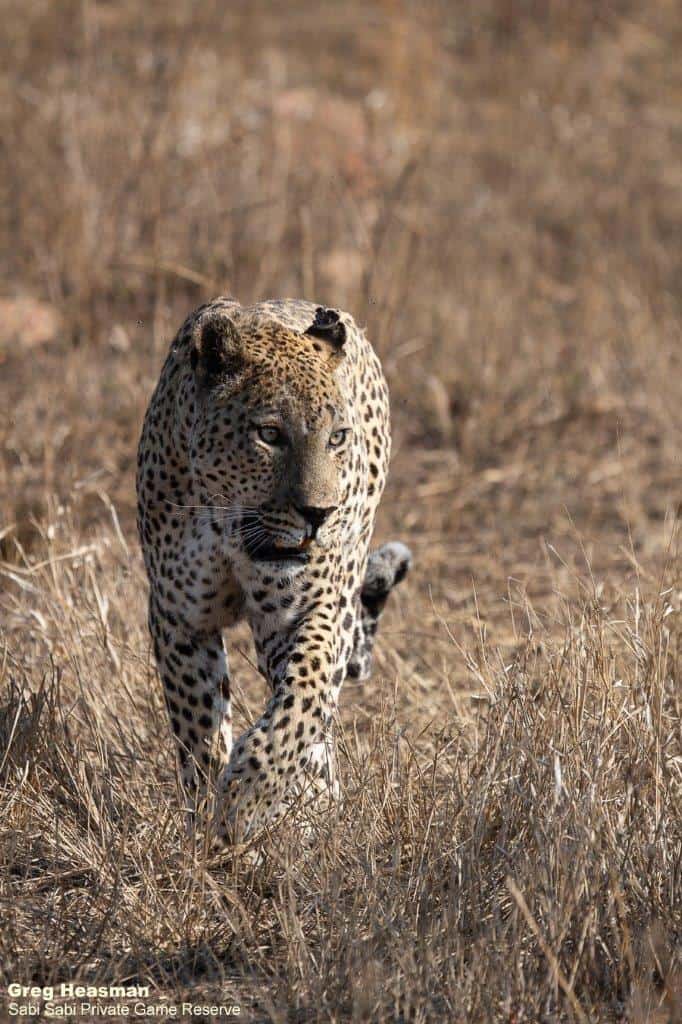 A few days later, White Dam was feeding on a kudu carcass. The following day, we returned to the area to see if he was still there but he had moved away from where we left him sleeping the night before, possibly disturbed by the presence of a small clan of hyena looking for scraps. He did make his way back to where the carcass had been, stopping only to sniff the air a bit, before making his way towards a small dam for a quick drink of water and a subsequent rest atop a termite mound.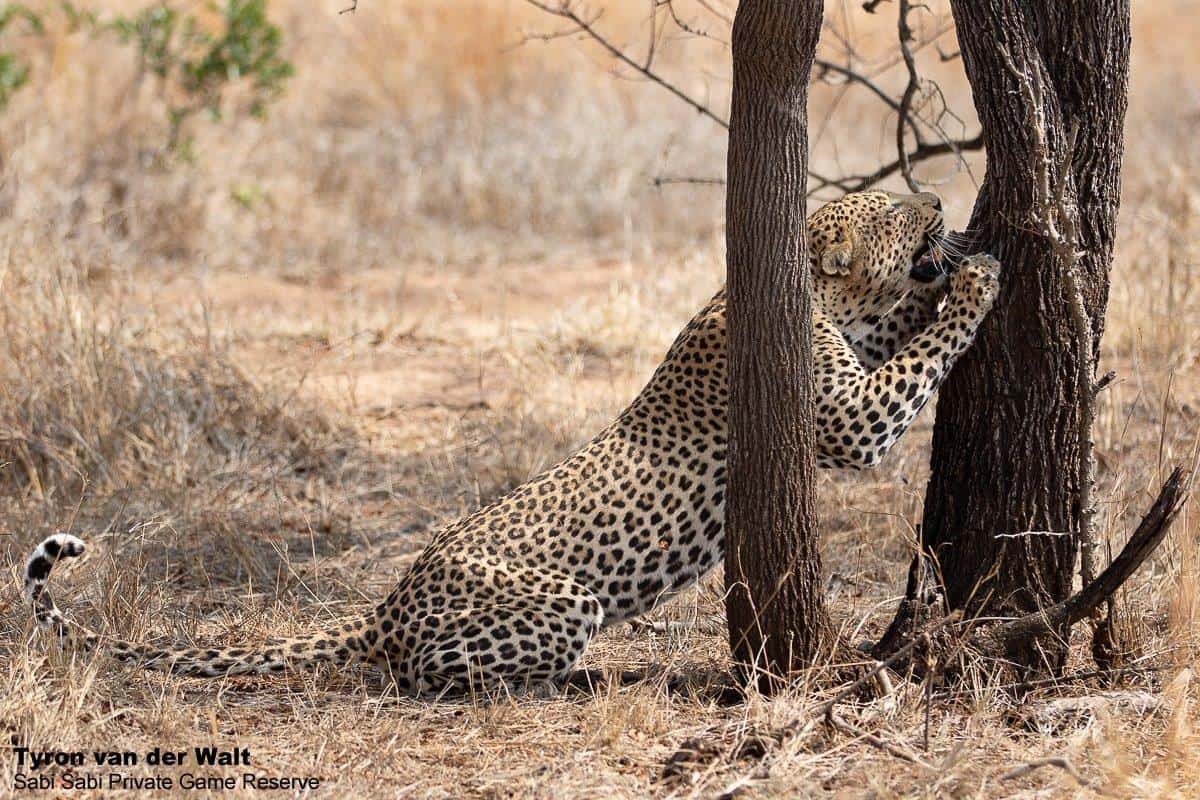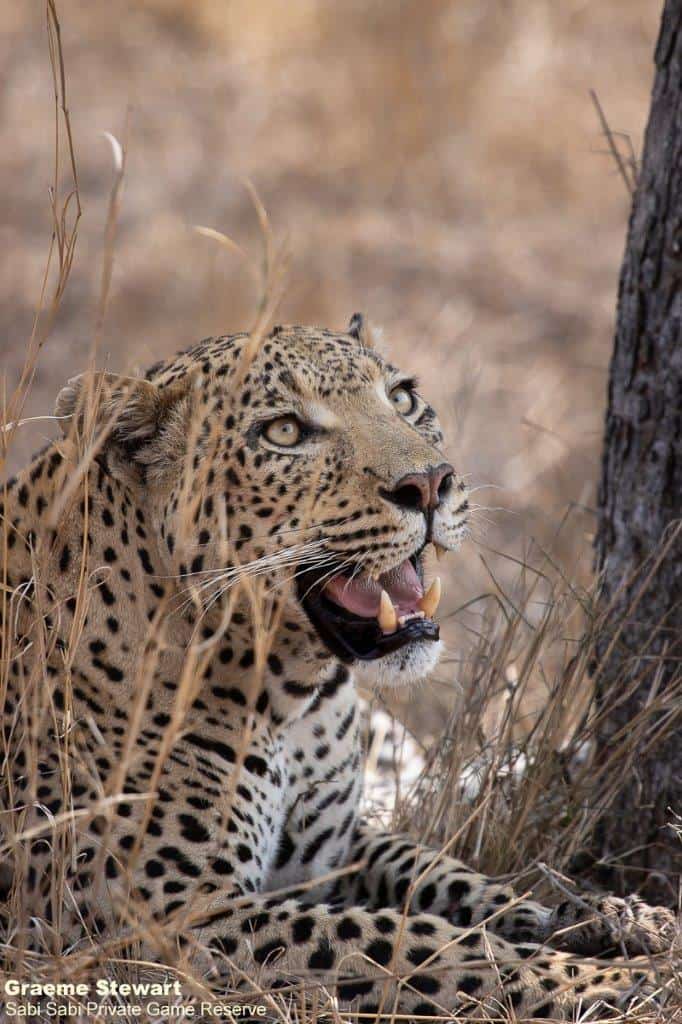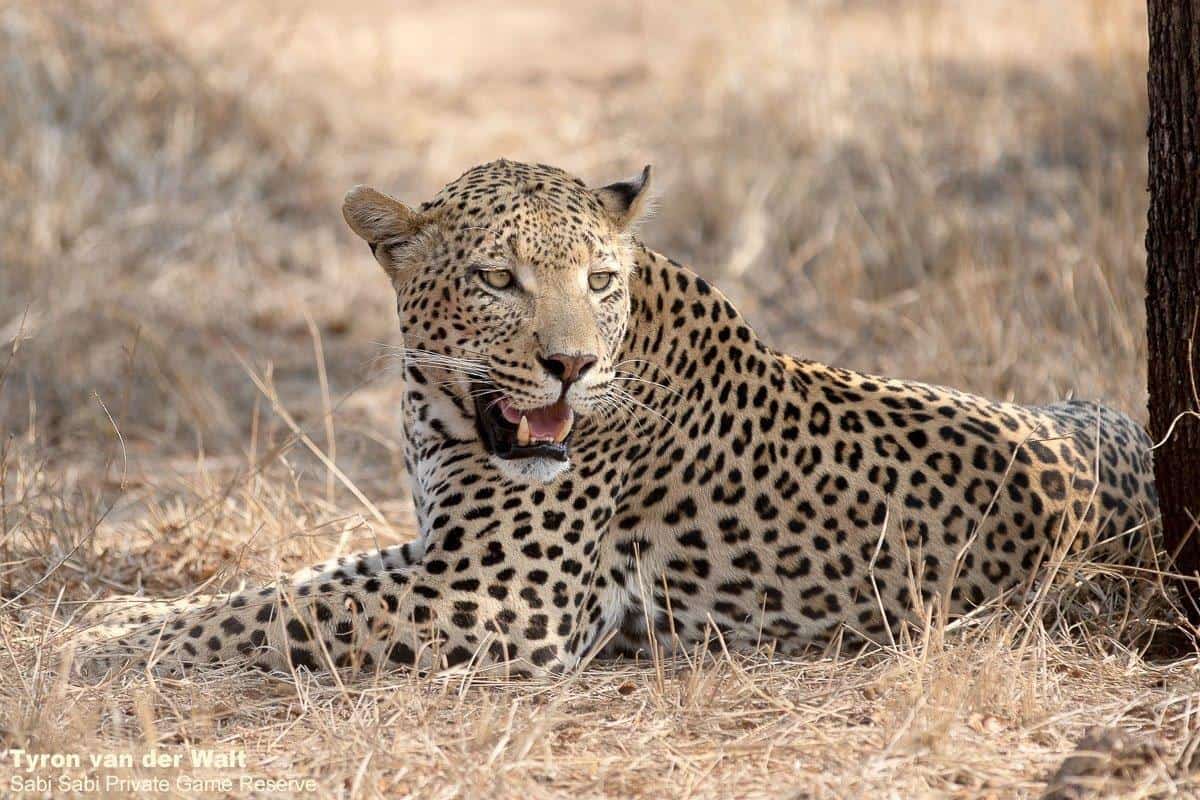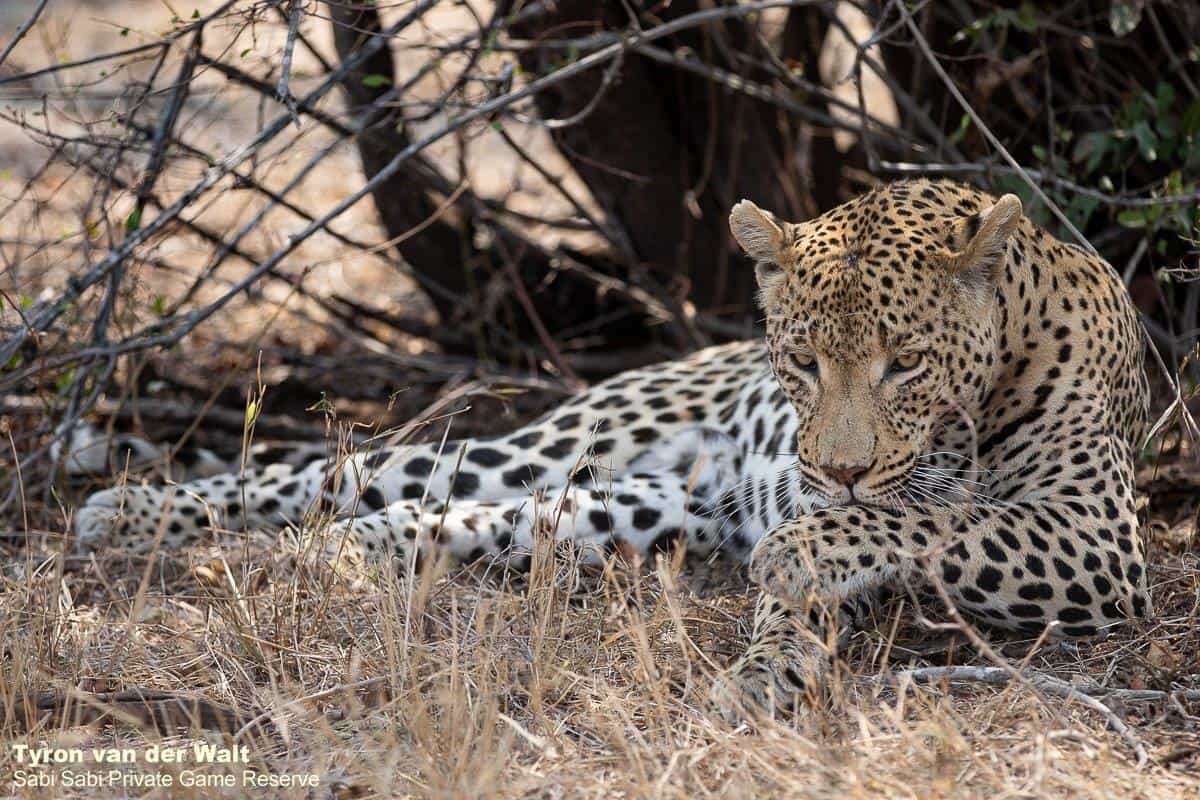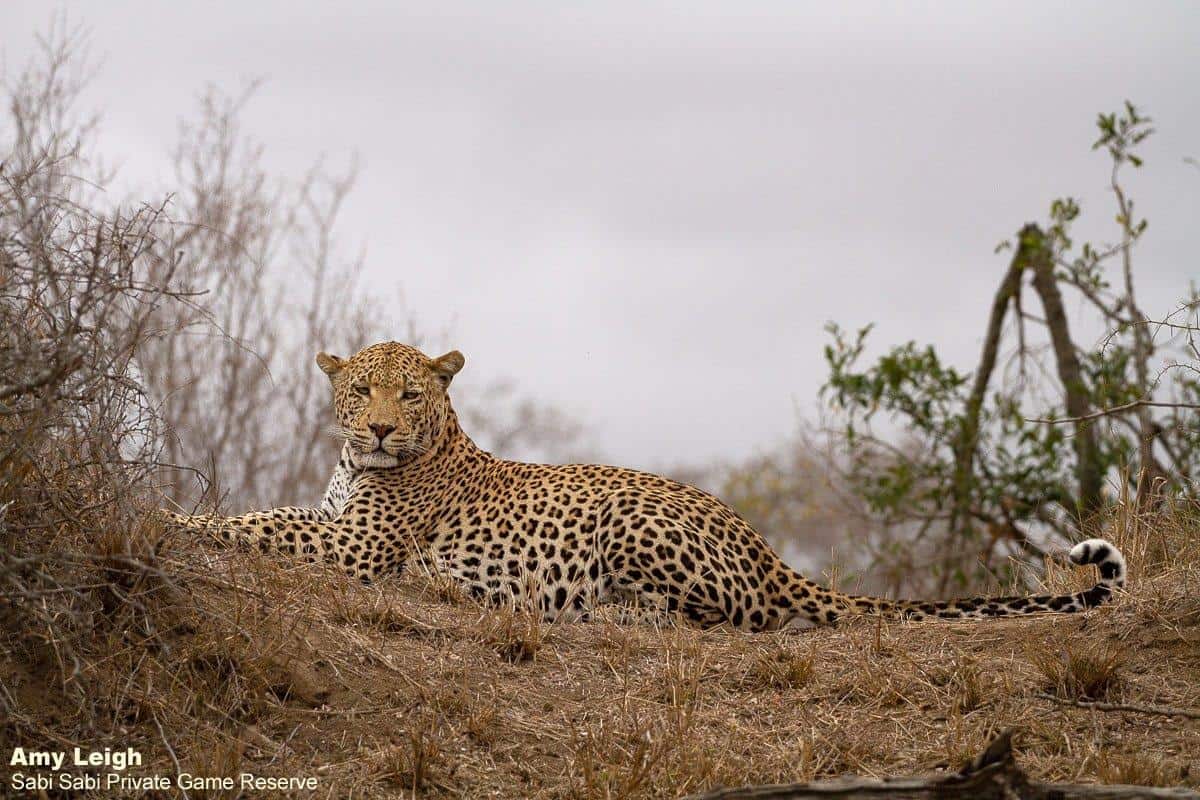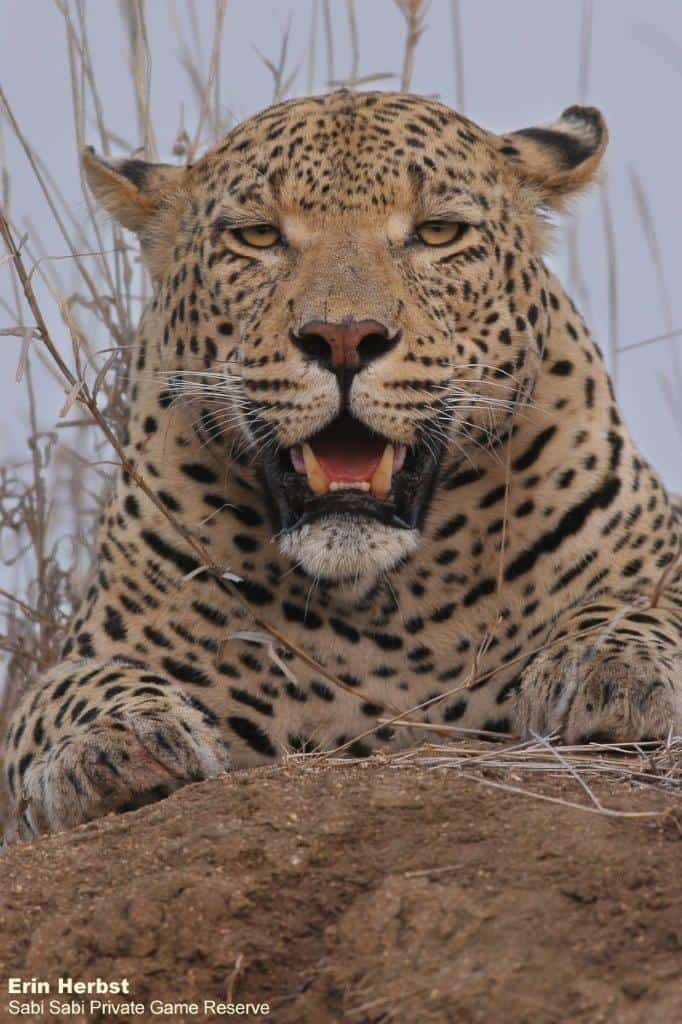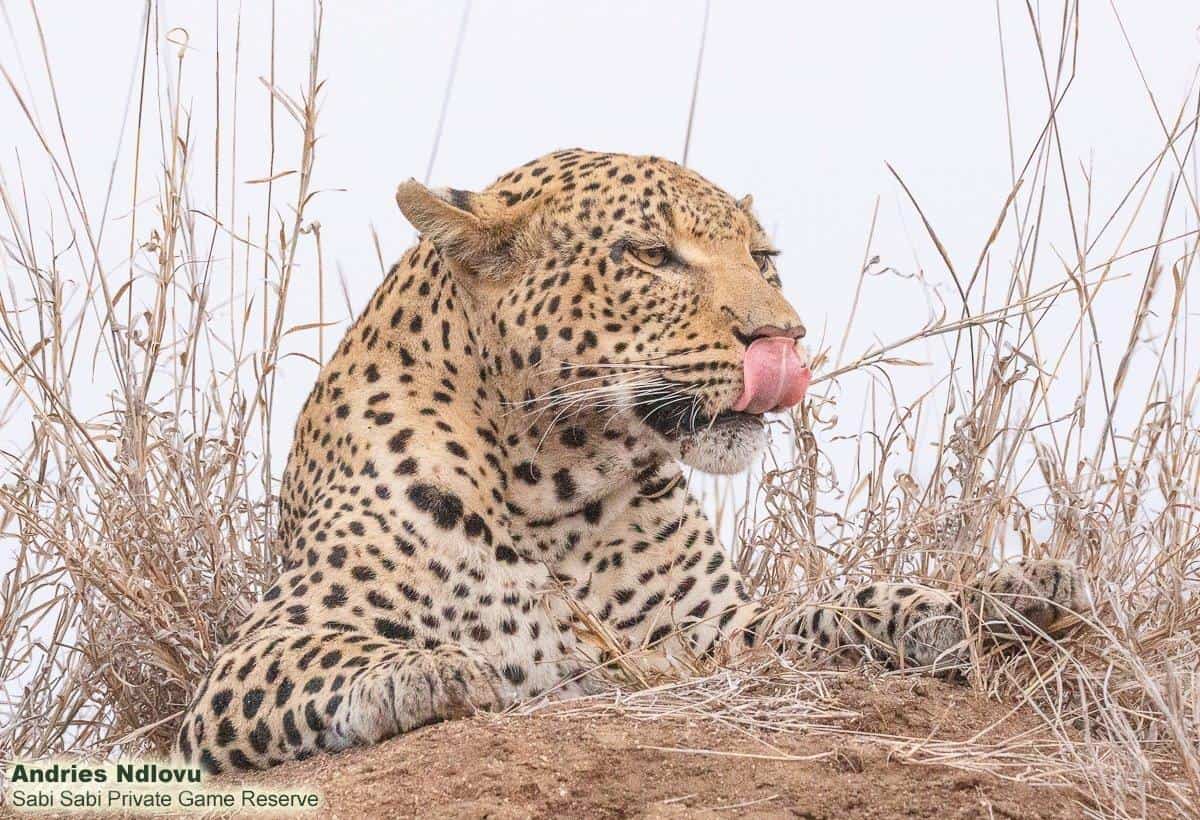 Scotia female leopard was very aware of a hyena that had been following her. She showed interest in a herd of impala, but perhaps the presence of the scavenger, just waiting to steal her quarry, put her off the idea. Instead, she took up a comfortable vantage point in the shade of a Weeping Boer Bean tree.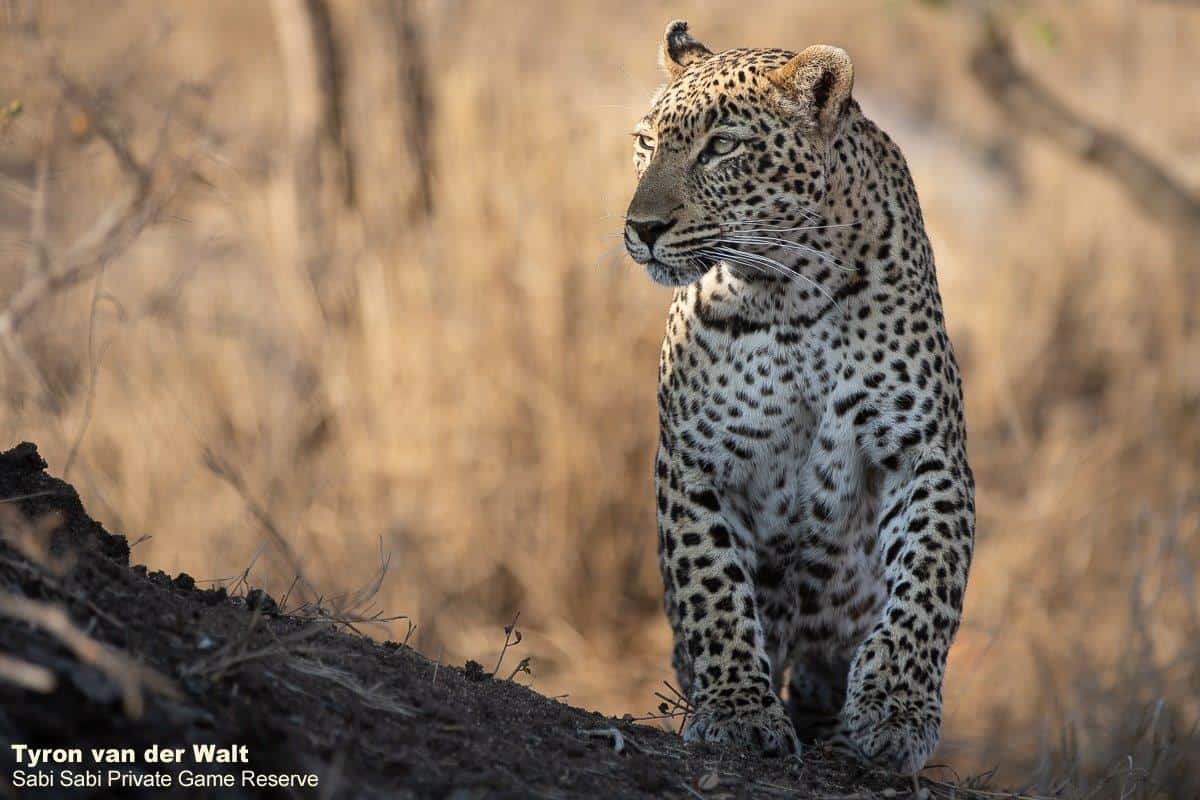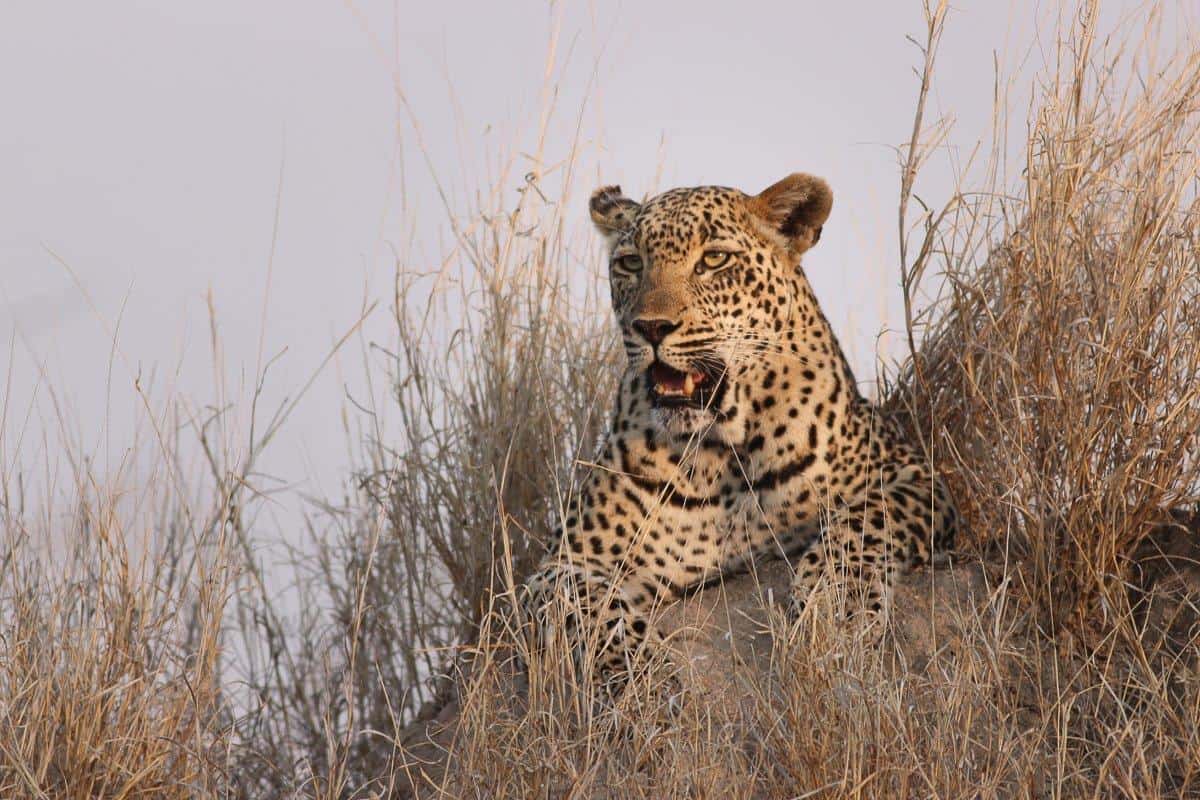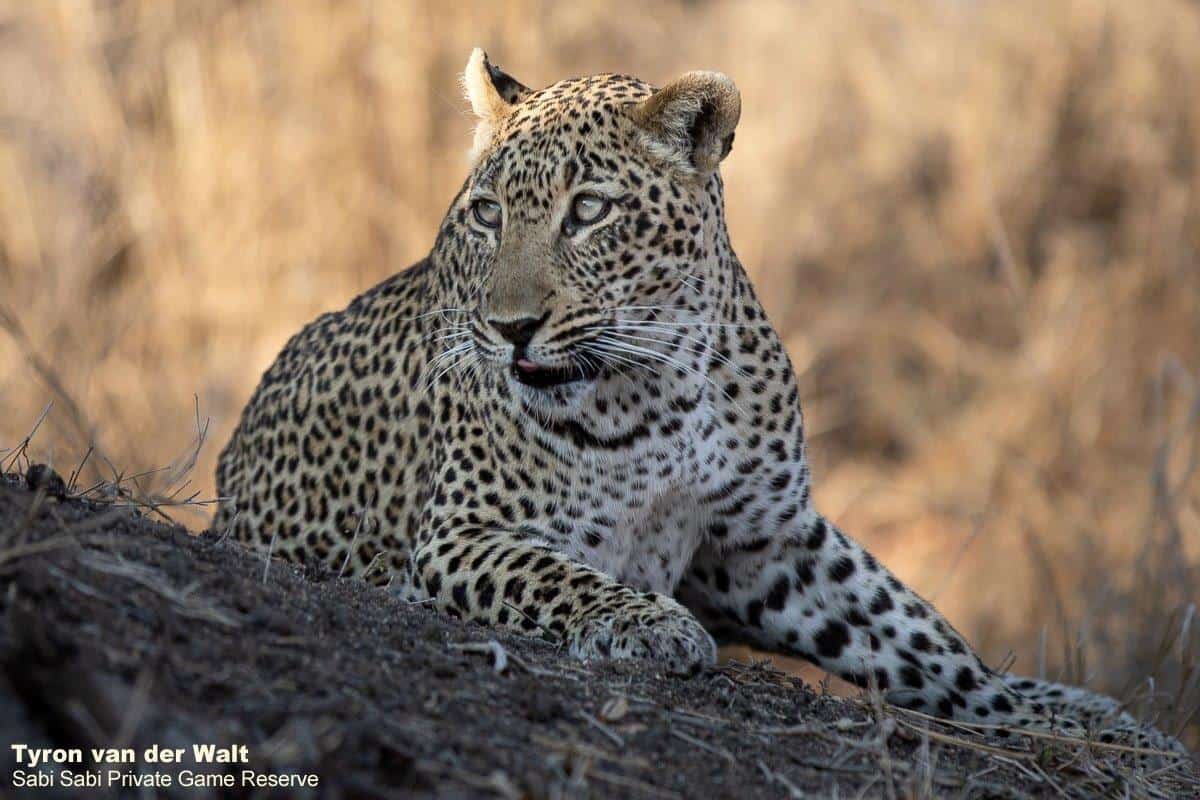 It has been a while since we have had mating leopards around the reserve, so it was an absolute treat to spend an afternoon watching the Ndzanzeni female and N'weti male come together again.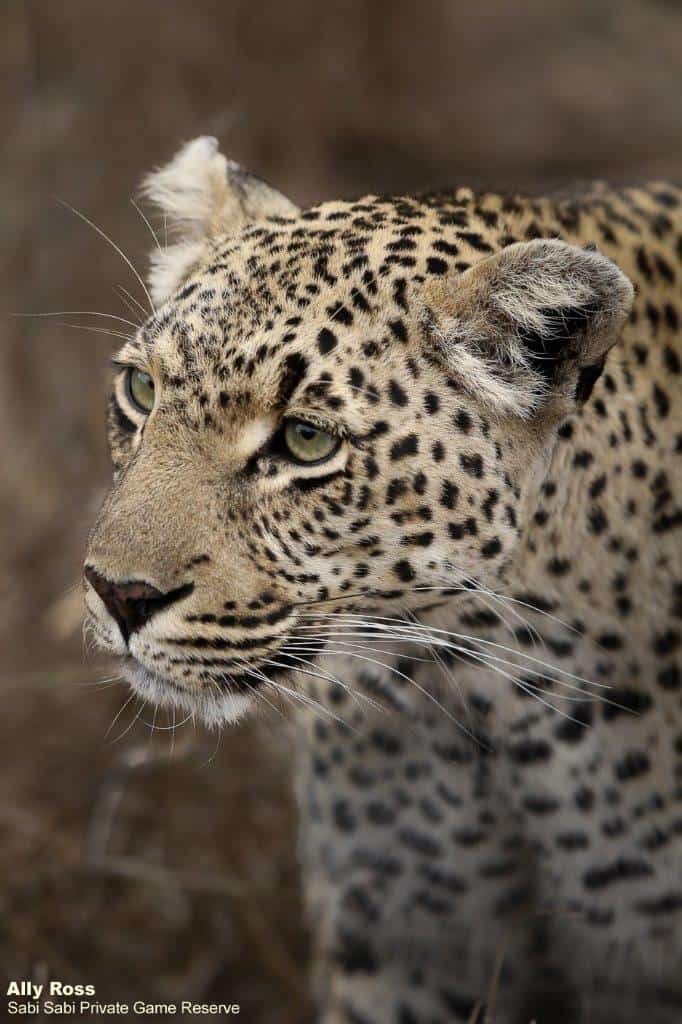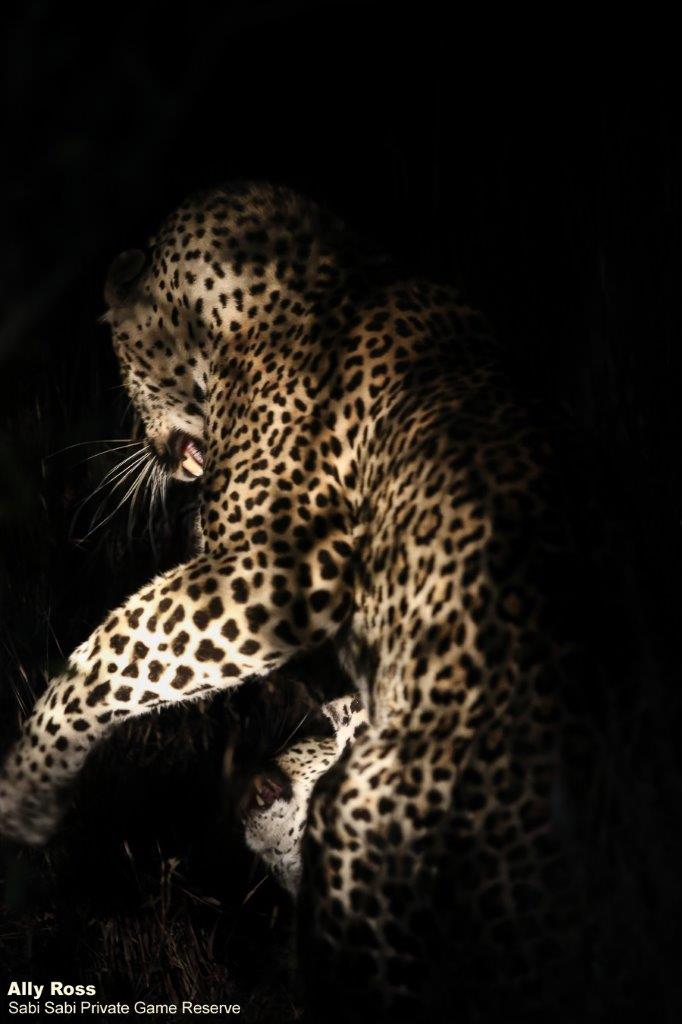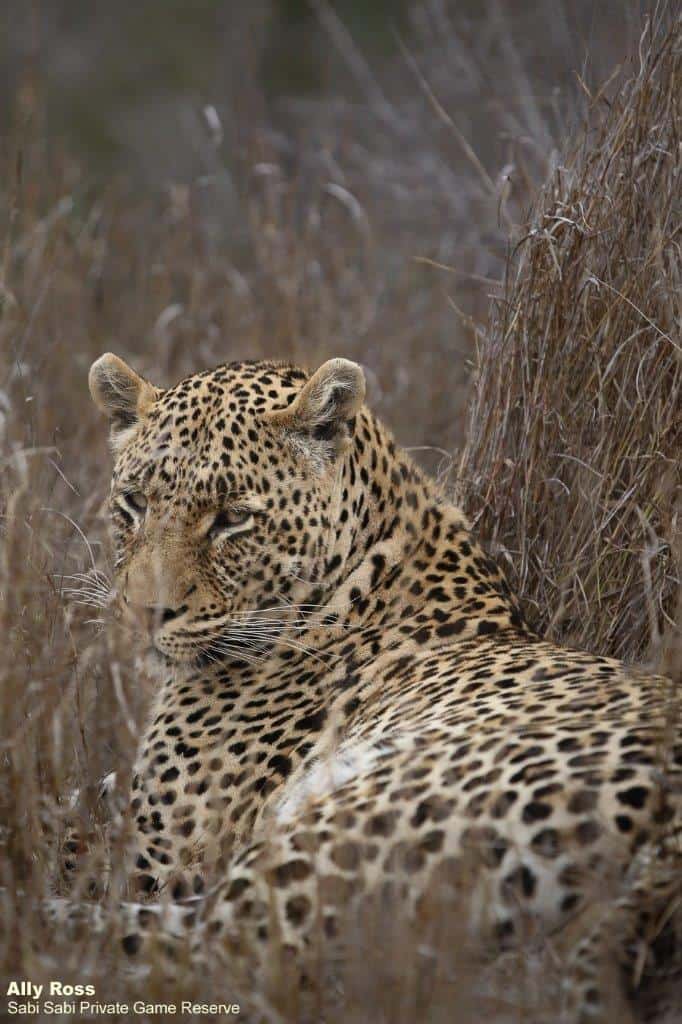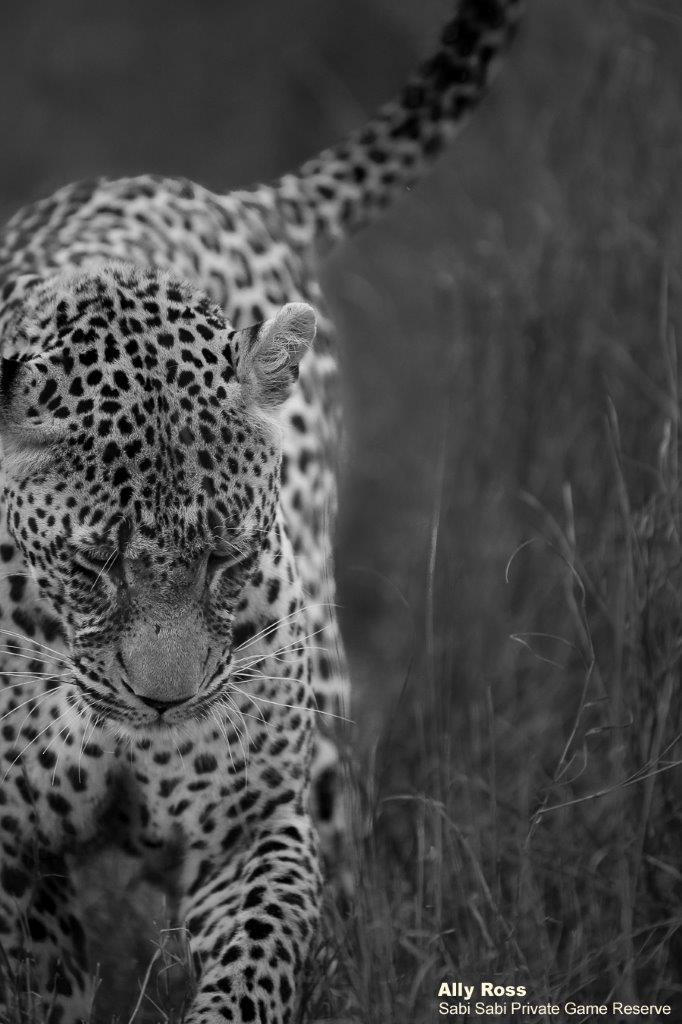 This lioness from the Styx Pride, with her two companions, were sprawled out around a large termite mound. As they lay there, a small family of warthog, hoping to go into their burrow within the termite mound, approached the area. This caught the attention of one lioness who stalked for a few seconds, and then careened through the bush after them, but she was too slow. When she returned, another pair of warthog tried to approach from another side, which drew two lionesses into a chase, which also ended in an embarrassed return with nothing to show for it.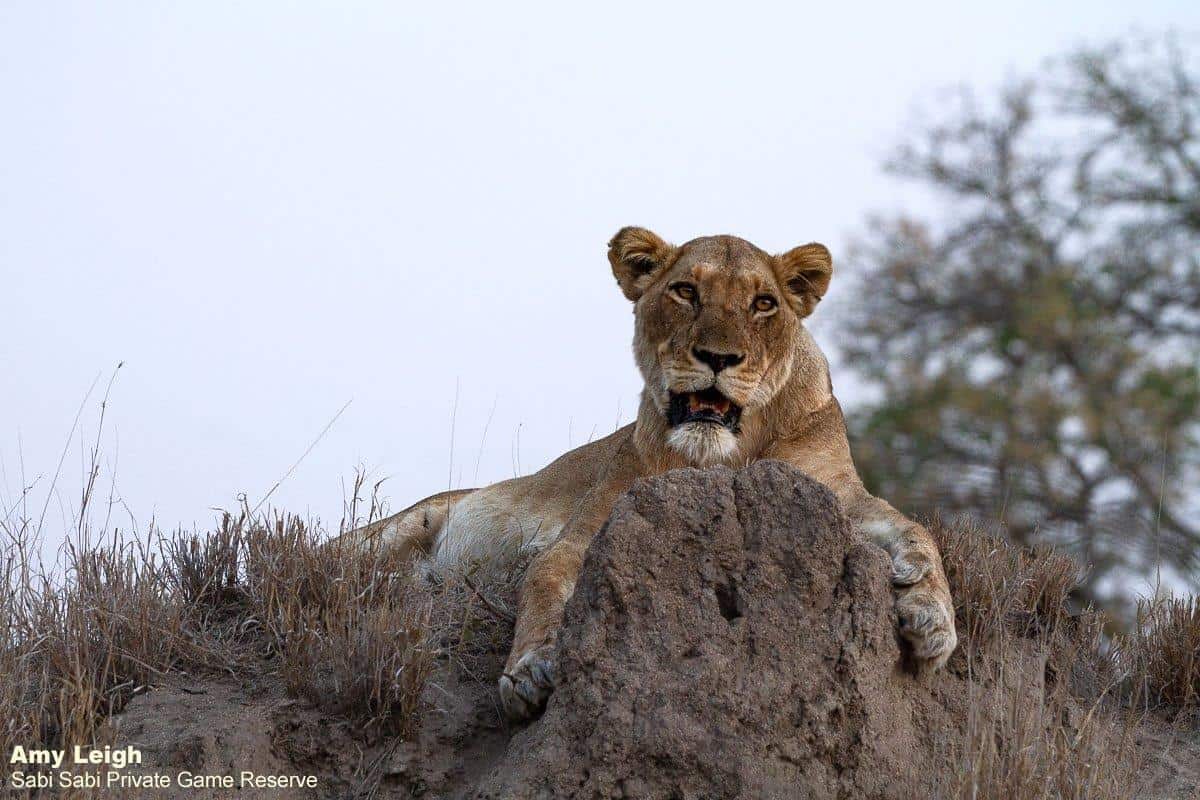 This pack of nine African Wild Dogs seemed hungry, anything that moved in the vicinity caught their eye, from a small crash of white rhino to a small herd of zebra. When the zebra held their ground and the dogs realised they were reaching way beyond their means, they turned their attention to an impala in the thickets, but that too ended in disappointment. The beauty of these animals is, they never seem to be deterred, if they are hungry, they will eat. Not a question of "if" they catch something, but "when".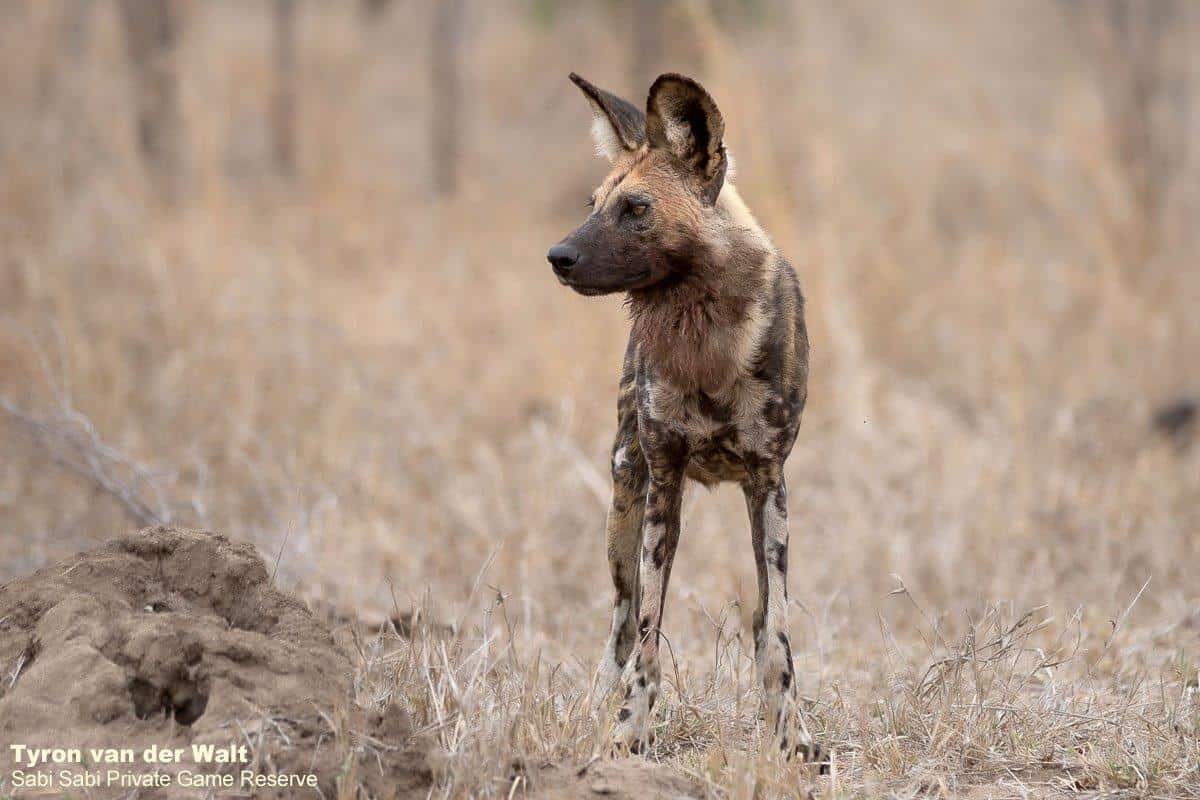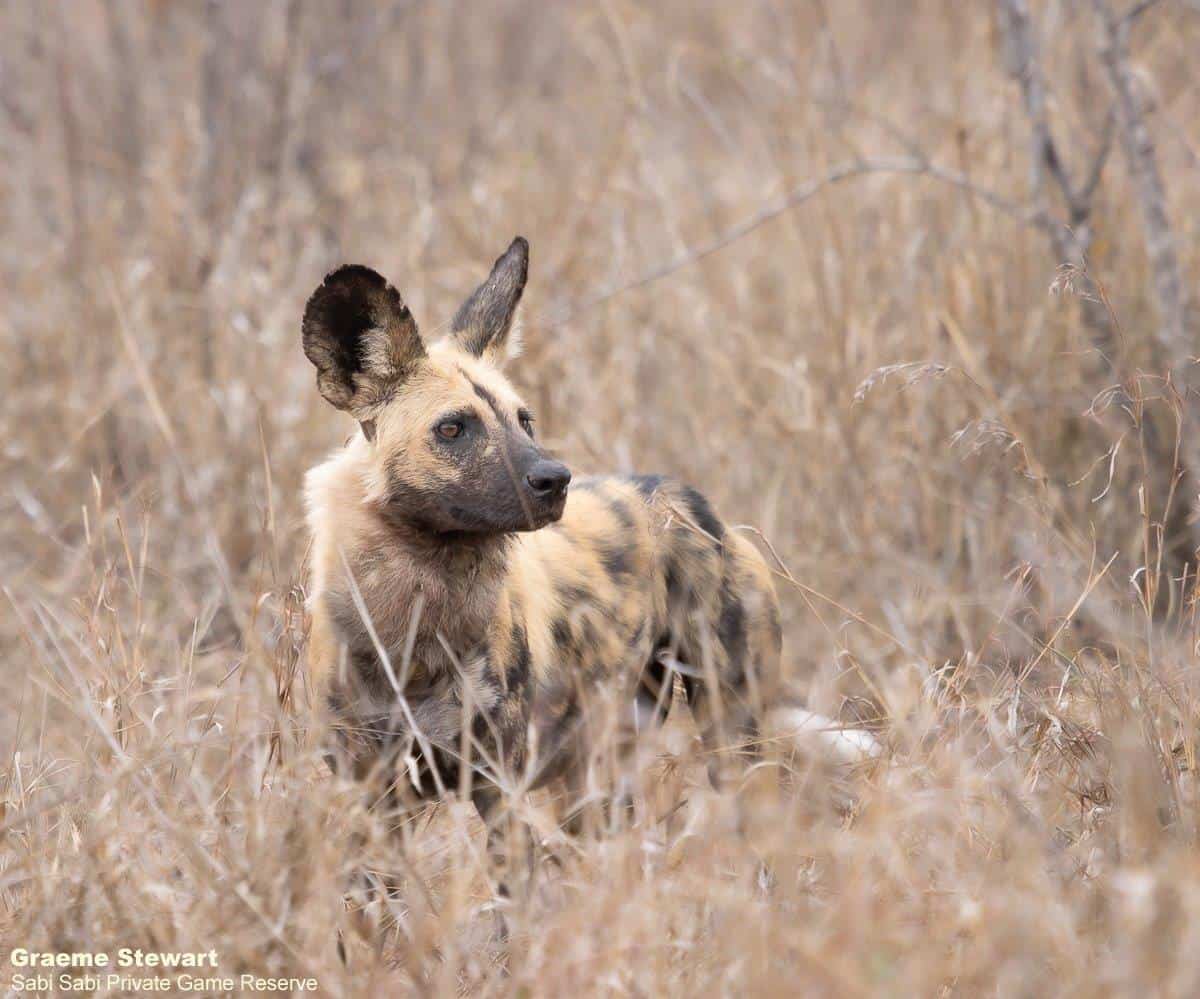 During a cool morning, we got word of a male cheetah on the move! He was moving through the thickets making sure he kept himself well concealed, and when he crossed over the road and hid behind a bush, we knew exactly why… He was eyeing out a herd of impala in the drainage line ahead. Mesmerized by his slow movement as he began to stalk, we were pulled into the hunt. With bated breath, we waited but unfortunately, he was unsuccessful and lay down to catch his breath.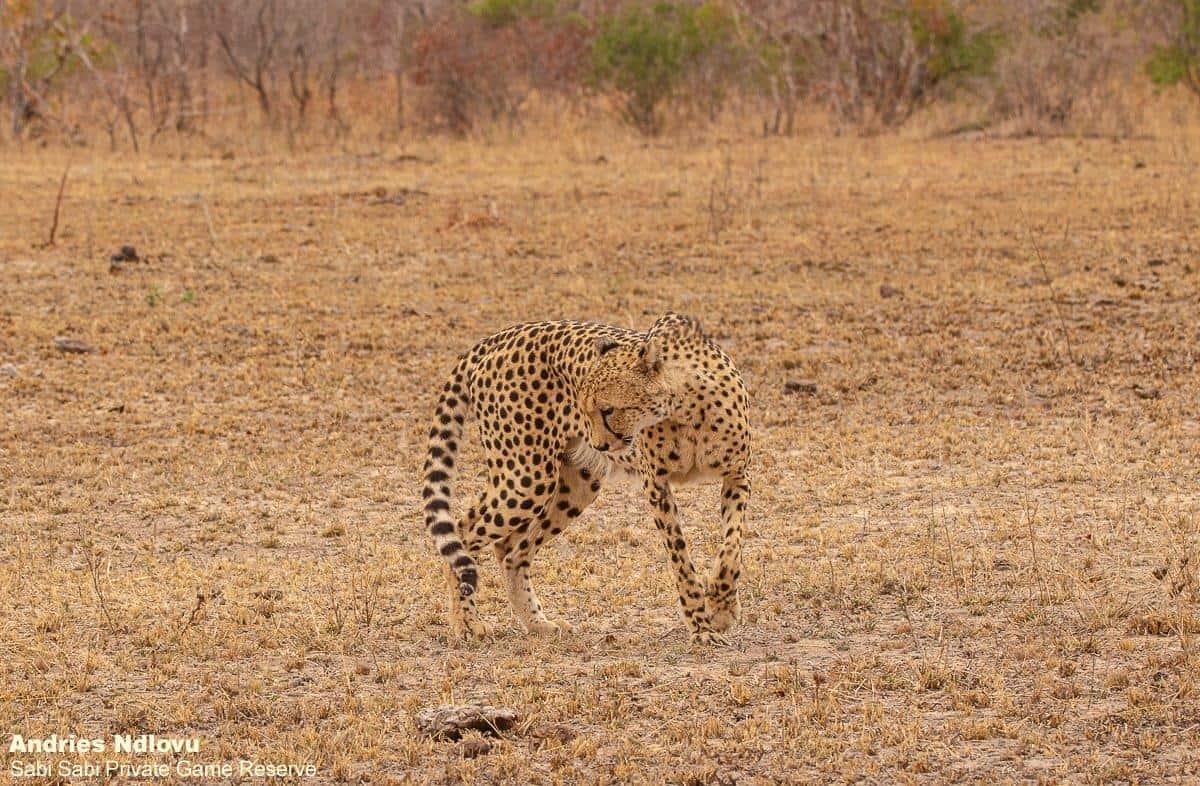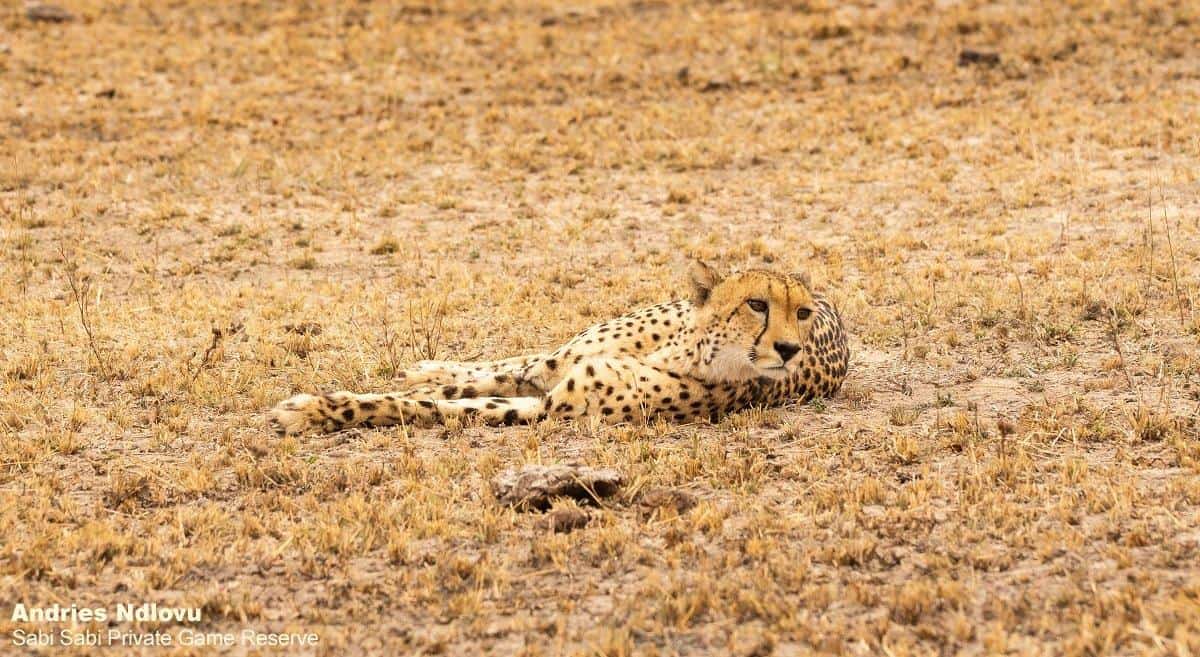 One evening, as the light was fading, we caught a brief glimpse of a beautifully silhouetted cheetah poised on the top of a fallen Marula tree. The following morning, he hadn't moved far at all so we caught up with him again – he was on high alert, constantly checking over his shoulder. Just then the not so distant call of a lion broke the silent morning. The cheetah gave another anxious glance over his shoulder before quickly disappearing into the grass in the opposite direction from which the call had come.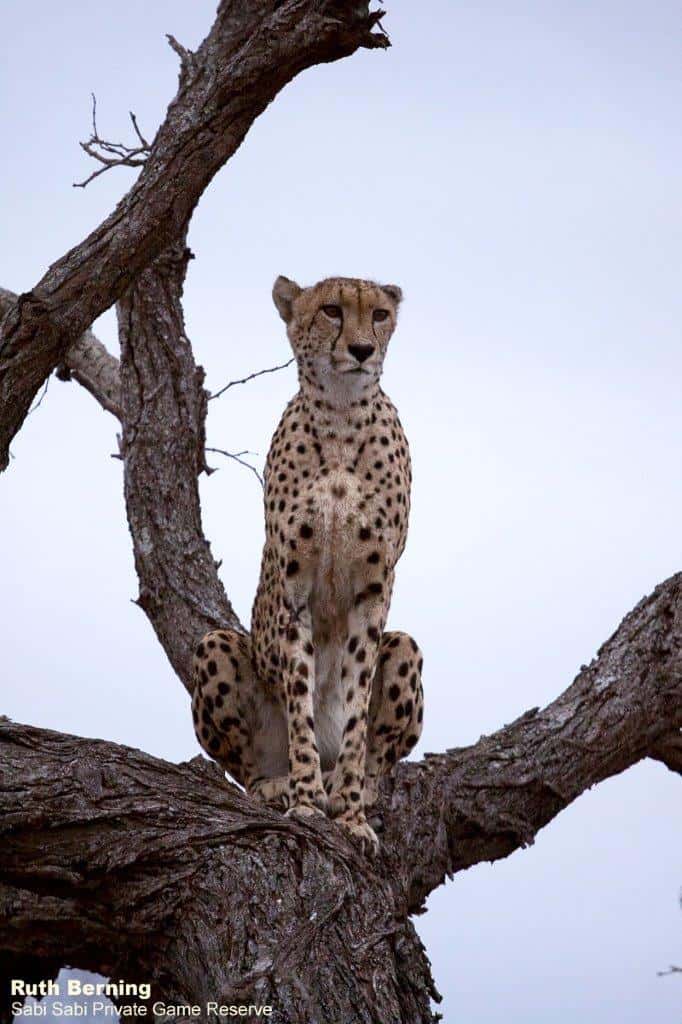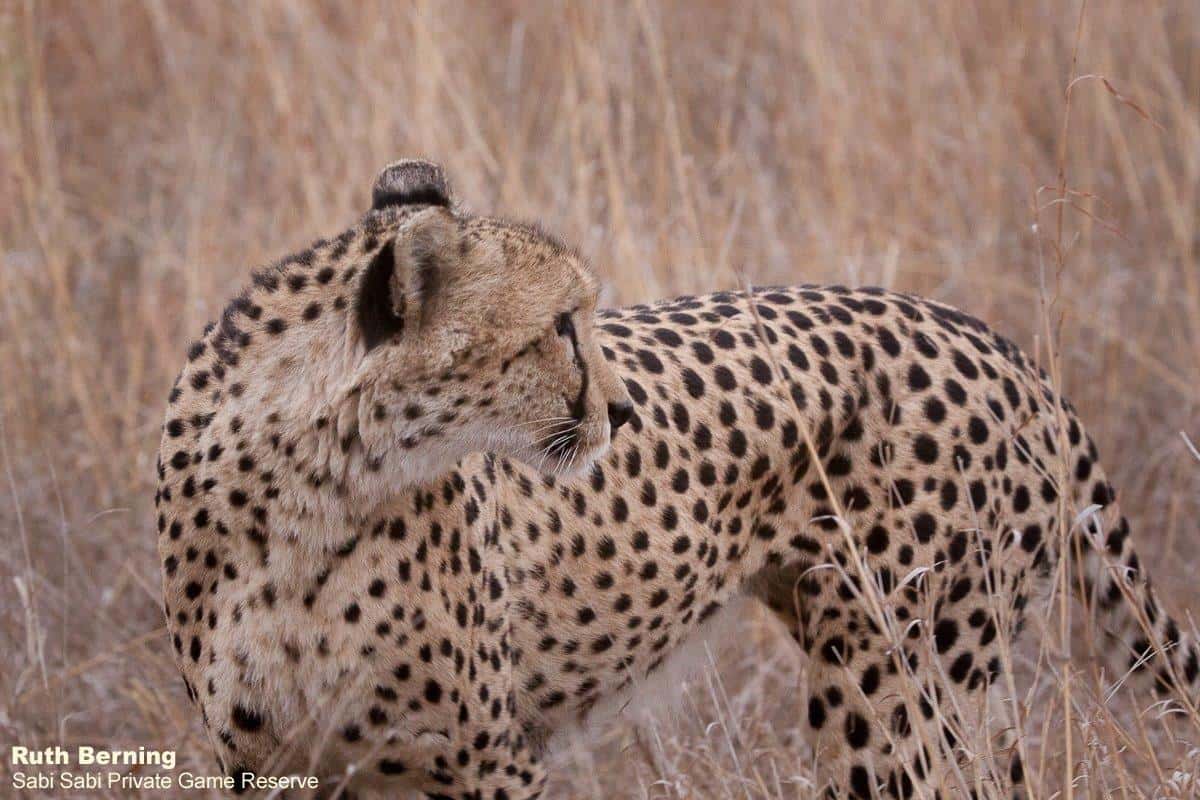 Until next time…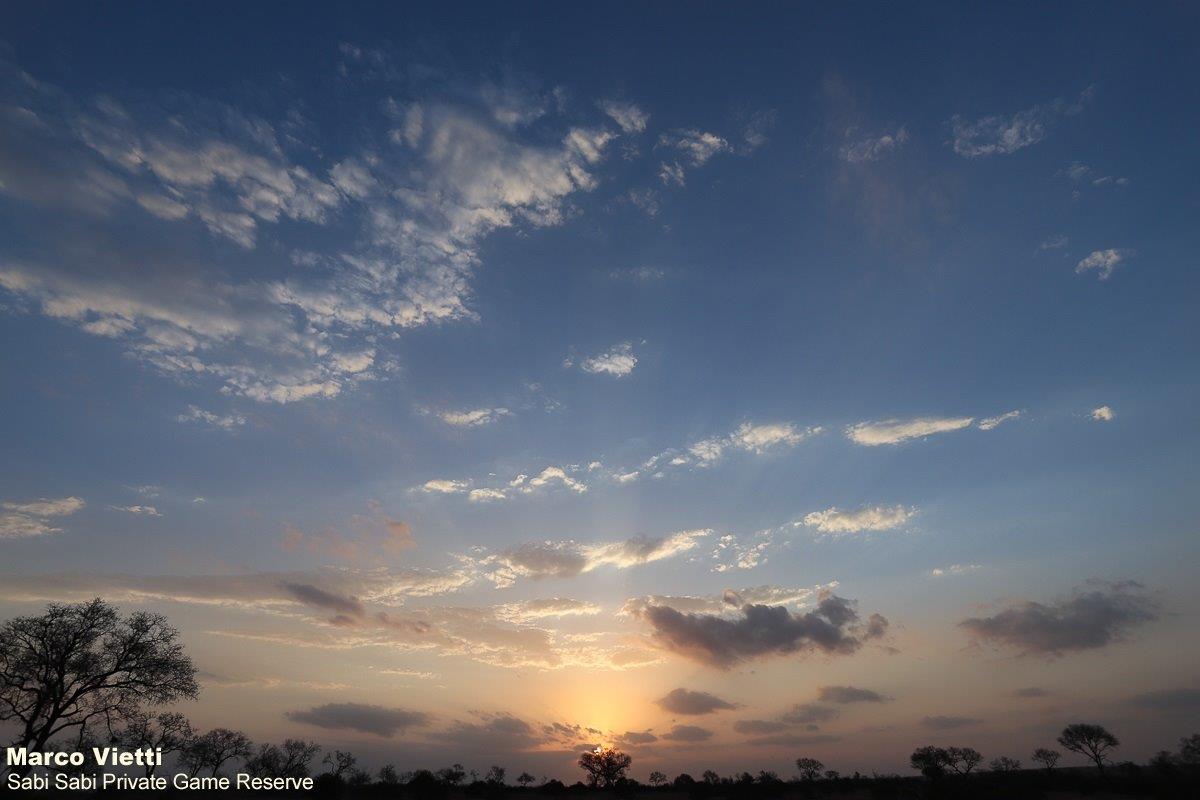 Blog by Wendy Claase
Images by Ally Ross, Amy Leigh, Andries Ndlovu, Brett Heasman, Erin Herbst, Graeme Stewart, Greg Heasman, Marco Vietti, Ronald Mutero, Ruth Berning and Tyron van der Walt
Videos by Ally Ross and Tyron van der Walt