"Whatever you do, do not take your shoes off," one ranger said!
"Make sure you keep yourself hydrated!" another ranger shouted out!
"It's not that bad, you've got this," announced another with a big grin on his face!
This is just some of the advice we received from our colleagues who had previously endured this challenge. What challenge am I talking about? Well none other than Sabi Sabi's famous boundary walk. And what a challenge it was – 43 kilometers (roughly 27 miles), a full marathon for all the runners out there.
This marathon, however, would not be done on tarmac in the confounds of a city, but rather on the sand roads which encompass the boundary of Sabi Sabi. And let's not forget that we are in a natural area with wildlife, so yes, the famous "Big 5" and all the other large and small animals would be our spectators.
Bright-eyed and bushy-tailed! From left: Andries, Tyron, James, Matt, Ruth and myself.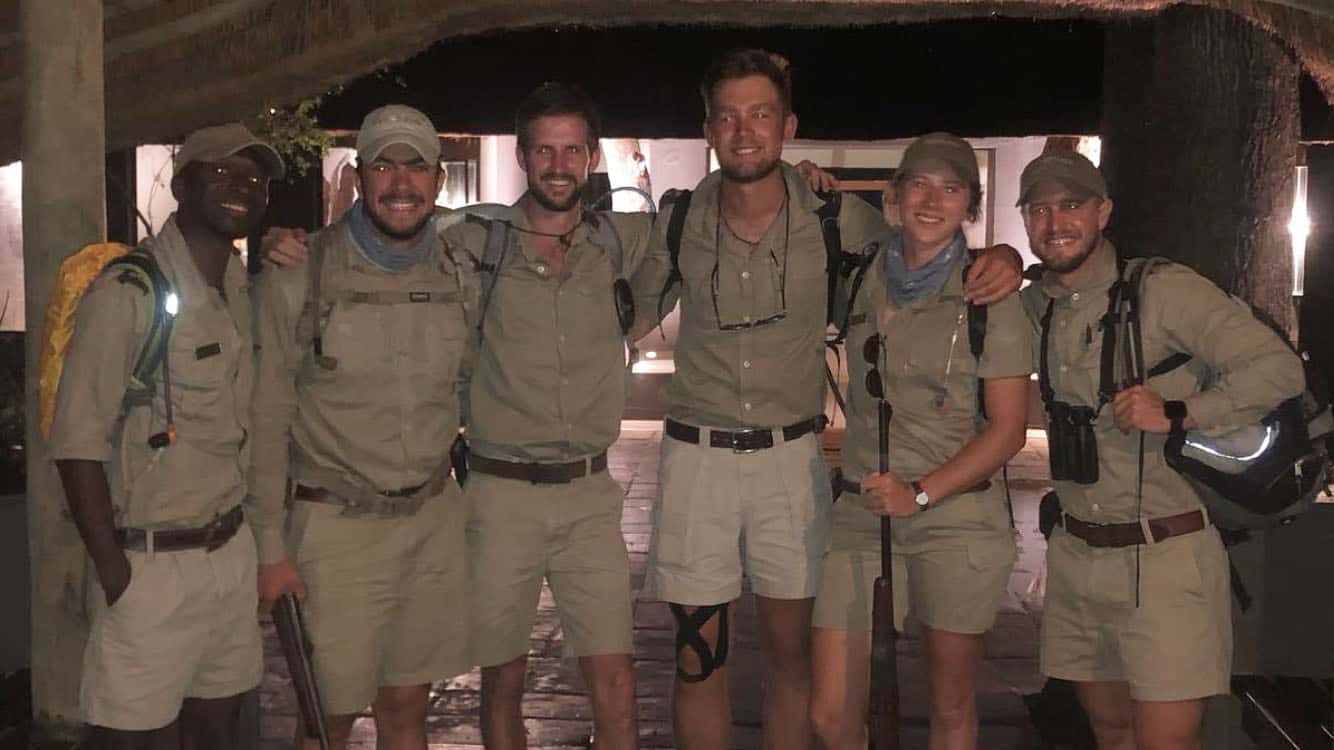 The boundary walk is one of the many requirements of being a ranger at Sabi Sabi, a "rite of passage" one might say! For those of you who have been lucky enough to have been a guest, you might know that Sabi Sabi comprises two sections – a northern and southern section. The two sections, when put together, basically form a figure of 8.
It was the end of November, just before the summer starts, so hot weather was to be expected. We awoke, however, to overcast and rainy conditions, yet putting the walk off for another day never crossed our mind – we were determined to get it done! We made sure that we had everything, and we headed out.
Sabi Sabi is in green. Bush Lodge was our starting point – from there, we made our way west towards Shaws Gate and continued along the boundary, eventually finishing back at Bush Lodge.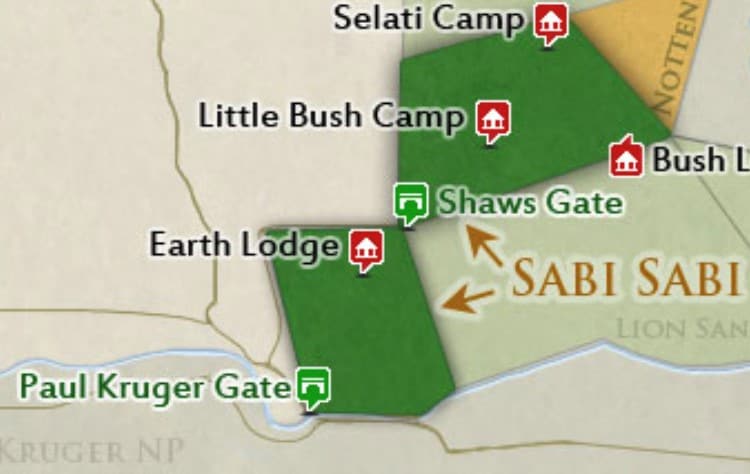 And we're off! Making our way towards Shaws Gate. A little bit of rain was not going to dampen our enthusiasm. For the first hour, our Safari General Manager, Brett, followed behind us, but we were on our own after that.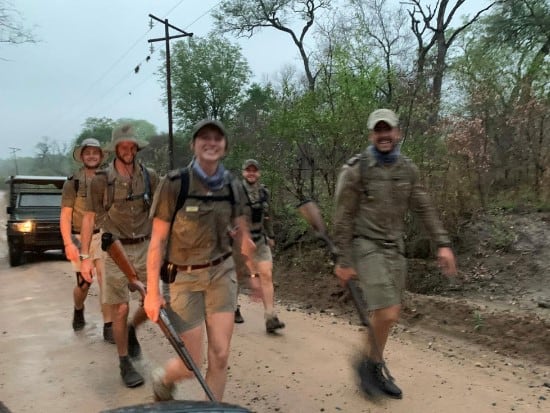 Our strategy was to take as few breaks as possible and rotate the carrying of the rifles every hour and a half in an attempt to keep the momentum going. This strategy put us in good stead for the first two hours. Then the clouds lifted and the hot African sun exposed itself as temperatures started to rise rapidly. As the sun beat down on us, the realization of our imminent situation and what still lay ahead came into view. Signs of trepidation started to set in. Thankfully though, the team was about to realise that amongst us we had a weapon – that weapon was in the form of James. As rangers, we are taught not to take things too seriously and remember to find elements of fun and lightheartedness in whatever we are doing – James takes this to another level. Always one to joke around, he kept us entertained for the majority of the way. Whether it was singing, telling jokes or just being James, the laughing never stopped!
At one point, during a bout of banter, we came across a buffalo bull or "dagga boy" about 50 meters to our right. We don't know who was more surprised – us or the buffalo! We looked at each other for what felt like an eternity but was probably no more than 10 seconds. The buffalo had the typical alert pose and it must have thought who these crazy people are? Fortunately, we composed ourselves and, using all our experience, we moved off slowly and safely and continued with our journey.
James after fooling around one too many times! One of many memories made on the day that we will not forget! Nice pants James!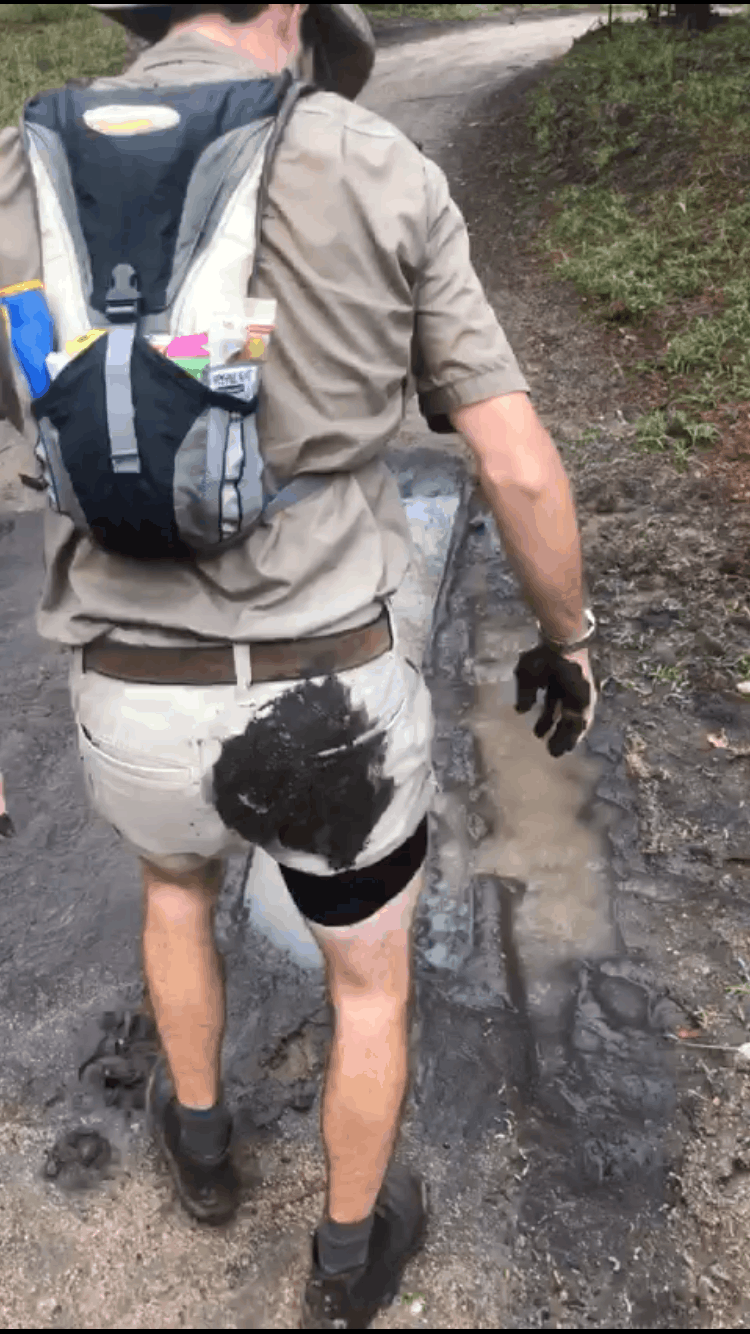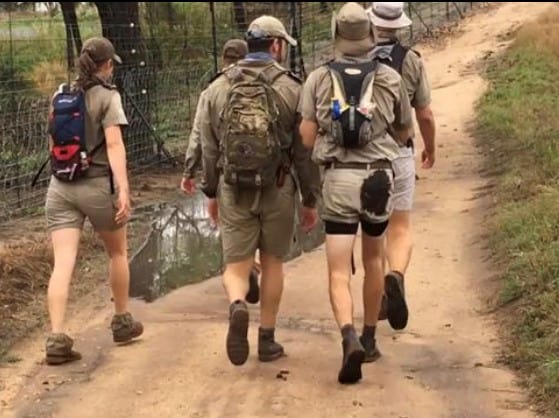 Even with our feet starting to hurt and the relentless heat from the sun, we kept on soldiering on. The goal was to finish within 8 hours, and we were making inroads. Every now and then, we would radio in our position to Brett at Bush Lodge and the rest of the team couldn't believe our progress – our strategy was working!
Our northern boundary – just over half way. Andries and Tyron still in good spirits, even though our legs and feet were aching by this point!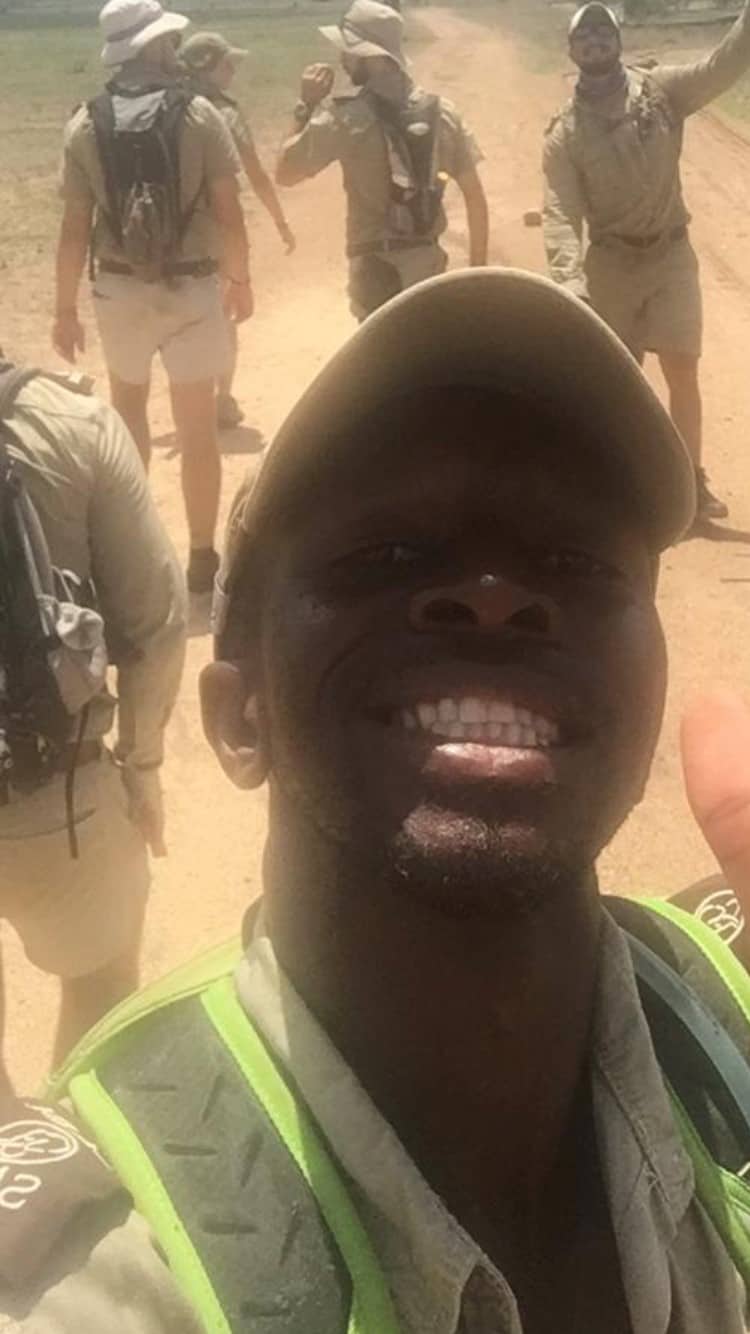 We decided to have one final break before the last push back to Bush Lodge. "How far do we have to go?" one of us asked. "Well this road is 6 kilometers plus an additional 2½ on Military Road down to Bush Lodge," replied Brett. So, 8½ kilometers (just over 5 miles) to reach our destination. At this point, we started asking ourselves what we had gotten ourselves into, but encouraged by the thought of putting our feet up, we got up, brushed ourselves off and away we went – our salvation was just around the corner.
This final stretch really tested Andries and I and we were literally taking it one step at a time. Due to blisters, I was walking on the balls of my feet and Andries was forced to strap his left knee. Luckily, with lots of encouragement between all of us, we pushed through!
The final stretch down Military Road! All battered and bruised, Andries gets a helping hand from Ruth. This is what we call "Ubuntu" – "I am because we are".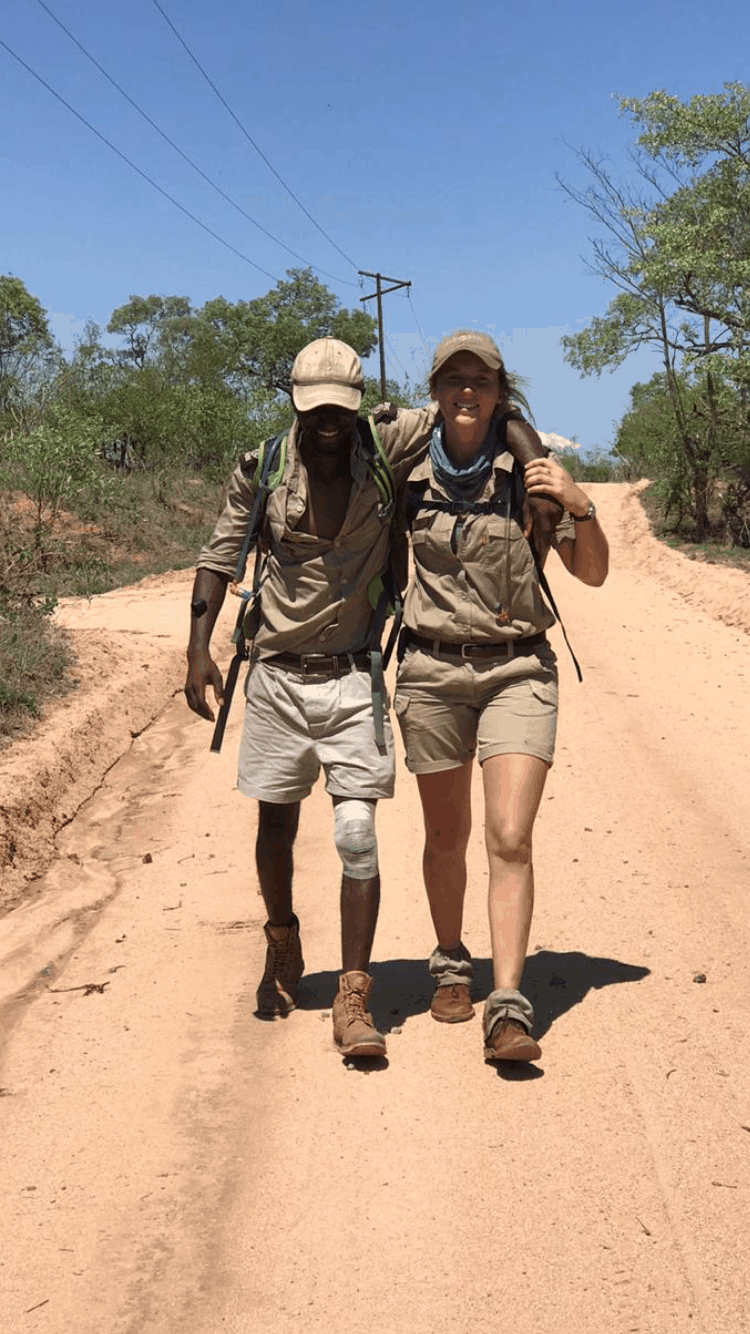 Eventually we walked into the entrance to Bush Lodge and were welcomed by the managers, the rest of the rangers and the majority of the lodge staff. And what a site it was – "cheering, singing and dancing… we had made it." It was a relief as well as a sense of accomplishment! The last stretch had taken us just over 1½ hours and we had completed the walk in just over 8 hours! It didn't matter that we didn't break the 8 hour mark, the most important aspect was that we had the privilege of being a part of something so special at Sabi Sabi! The comradery forged and memories made will last with me forever! The famous quote of "it's not about the destination; it's about the journey" comes to mind.
In addition to the elation of being a part of this journey, I also developed a great level of respect for the plethora of wildlife that makes Sabi Sabi their home. Only having spent those few hours in the grueling sun, exposed, did I realise how well adapted different species are to particular conditions. One cannot really appreciate it until you have put yourself in their shoes (or should we say paws and hooves).
My tracker Eric helping Andries in the Bush Lodge parking area.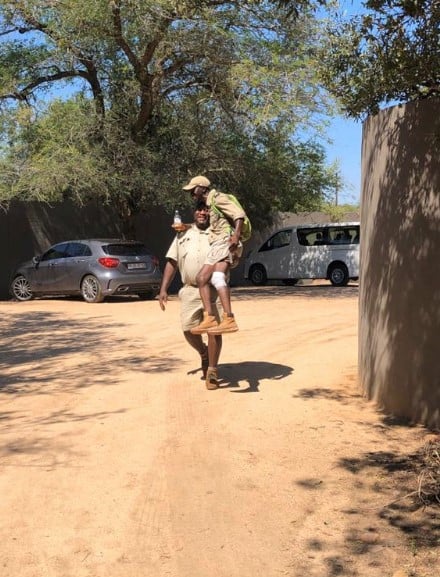 Back at Bush Lodge! The smiles say it all! And don't forget the refreshments!
So, in the end it was all worth it. The aches and pains lasted for a few days, but I wouldn't change it for the world. I'm sure, given the opportunity, that we would all do it again. On that note, we hope to see you all soon at Sabi Sabi so that we can show you this piece of lowveld paradise. Who knows, maybe one day you will also have the privilege of taking part in Sabi Sabi's boundary walk!
Blog by Sean Surtees (Bush Lodge Ranger)