As the world goes through this trying time, we are all feeling the same way. This however is not the same in terms of the animals roaming around in the bush. The more I go out in my safari vehicle every day the more you start to notice new things, maybe creatures you may have overlooked in the past, to animal behaviour you can watch for hours. This week, particularly Tuesday and Wednesday, we have been lucky to see four new lion faces moving through the reserve. Of the four lions there are two young females and two young males.
It was a hot day on Wednesday, but as the sun dipped lower toward the horizon and the moon started to rise, the temperature started to drop and get cooler. As the last of the sun's rays left the sky, the air was cold, and the nocturnal animals started to call as they were now getting ready to go about their business as the darkness came about.
I decided to stay out a bit, well…. a lot later that evening as I wanted to try my luck and see if I could possibly find any of the smaller nocturnal animals. It was very slow to start with. Not seeing too much out in the bush. I then moved into the north western parts of the reserve, driving through a small drainage line and dry riverbed, up and onto a big Serengeti-like open plain. As I drove, I was shining the spotlight left and right and back and forth, up and down, scanning all the holes and trees and waterholes I could until… my spotlight lit up four cream/beige creatures walking across the plains. I had to almost take a second look to make sure I was seeing correctly. As I drove toward the lions, I tried to figure out who they were or if it was part of a pride we have seen before on the reserve. I parked my vehicle about 20 yards away waiting for them to walk past me. As they approached, walking ever so silently, I noticed that they were all young lions and that I had never seen them before. Now, when a guide tracks and finds an animal himself or herself, there is always a sense of accomplishment and the smiles that you see when a guide returns to the lodge from safari, tells it all. Well… that was me but in the darkness of the bush with the four lions.
I watched these four lions move swiftly through the open plains, sniffing and smelling and listening to all the different sounds as this is probably the first time they have been on Sabi Sabi soil. After following them for about 30 minutes, they moved onto a very rocky outcrop, where I could not follow anymore. After waiting to see if I could hear them, I decided that I would let them be and leave them for the night. I would come back the following morning to see if I could find their tracks or any signs they may have left behind so that I could try follow up.
On Wednesday morning, I did exactly that. I left the lodge extra early to get to the area I found the lions in the night before. The sun had not even risen yet, but it was light enough to see animal tracks. As I got closer to the area, I found one set of tracks and tried to follow but they crossed into some really think vegetation. I circled the area looking for more signs until one of my fellow rangers heard lions calling close to where I was looking. As I drove to the area, he had mentioned he had heard the roaring. I turned the corner to find all four of the young lions lying in the middle of the road.
It was then that I saw all their features and faces clearly. They were all beautiful, a scar here and there and all were in really good condition.
What surprised me the most was how relaxed they were for young lions and especially around the vehicle because usually younger lions are a little bit weary of safari vehicles as they are getting used to the sounds and smells. Let me tell you, these lions did not worry a single bit about me or the vehicle as they ran around playing with sticks and climbing trees, jumping onto one another and all this while I was there. These young lions didn't seem to have a single worry as long as they had one another – it would be play time!
They moved through the bushes playing and smelling like this was a whole new world that they discovered. I'm sure that they know of possible dangers that could be around the corner but at that moment in time, they did not care.
As the morning went on, it started getting warmer and all that playing around and the possible long distance walking the evening before had tired them out as they found a cool and quiet sleeping spot in the middle of a clump of trees. They then proceeded to lie down, one by one, and rested in the shade of the trees.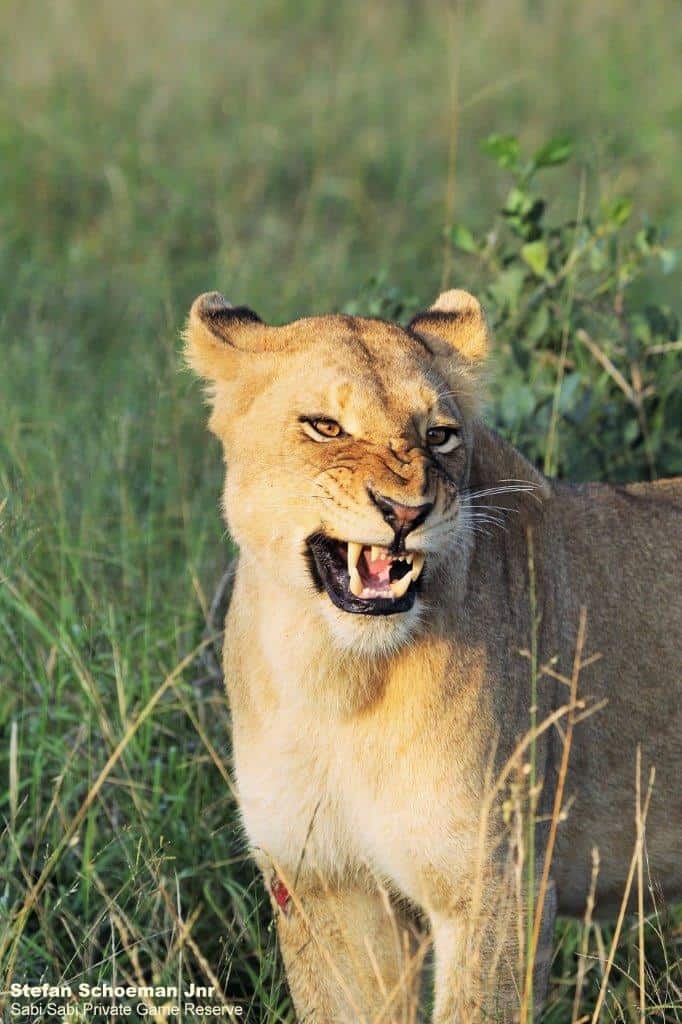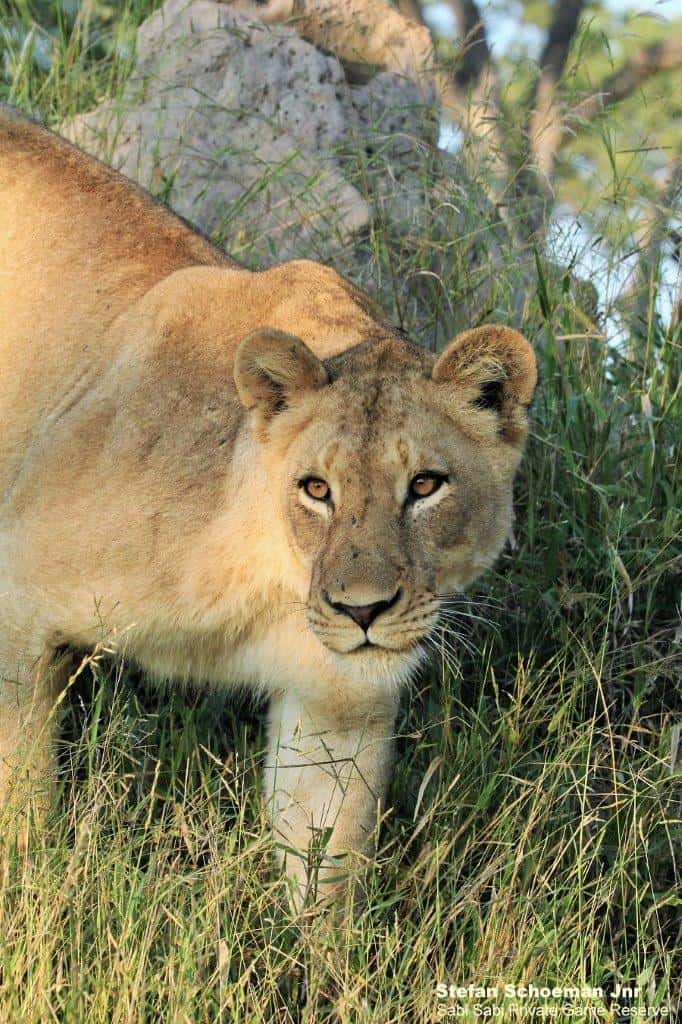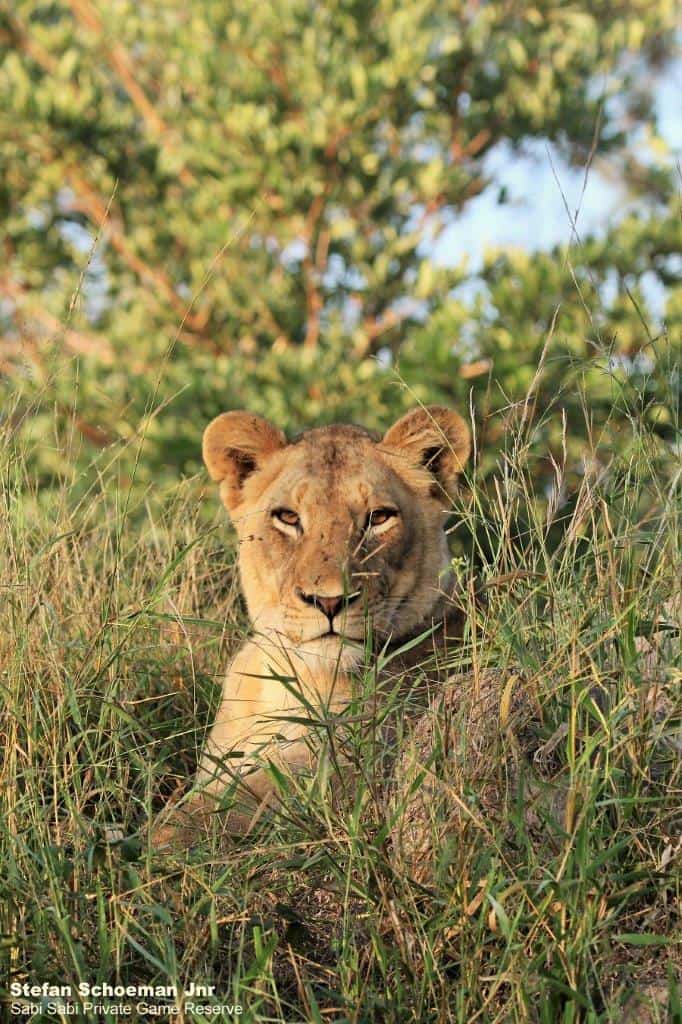 I cannot explain the feelings one gets in times like these when you are watching animals do their daily tasks and playing around with each other but you are watching from the outside and what we see is only a glimpse of what they do while we sleep but it makes you appreciate every moment spent with them. I hope these four young lions make it to adulthood to live a healthy life, they definitely have a good chance but only time will tell.
Blog by Tyron van der Walt (Bush Lodge Ranger)