For the last few days the bush has had a blanket of clouds covering it, which has intermittently deposited a fine mist of rain over the vegetation. It has been the perfect weather for rest and relaxation as it has not been too hot and as us rangers would put it…it is perfect weather for making babies. Apparently this did not just apply to the rangers as we found Xihangelas and the White Dam female mating late in the afternoon.
This absolutely beautiful female is still young and a little bit skittish with the vehicles, but we gave her the space she needed in order to continue with her need to be impregnated. After each session she would move away from Xihangelas and when she was ready again she would present herself. She would rub against him and present her rear end to his face showing she was ready and also proclaiming her intention by growling. Eventually he would oblige and do his duty as a man before being rudely kicked off by the female causing some spectacular dismounts. Unfortunately the light had faded and I wasn't able to capture a sequence as well as I would have wished but I still wanted to share it with you just to show how intense the ending is.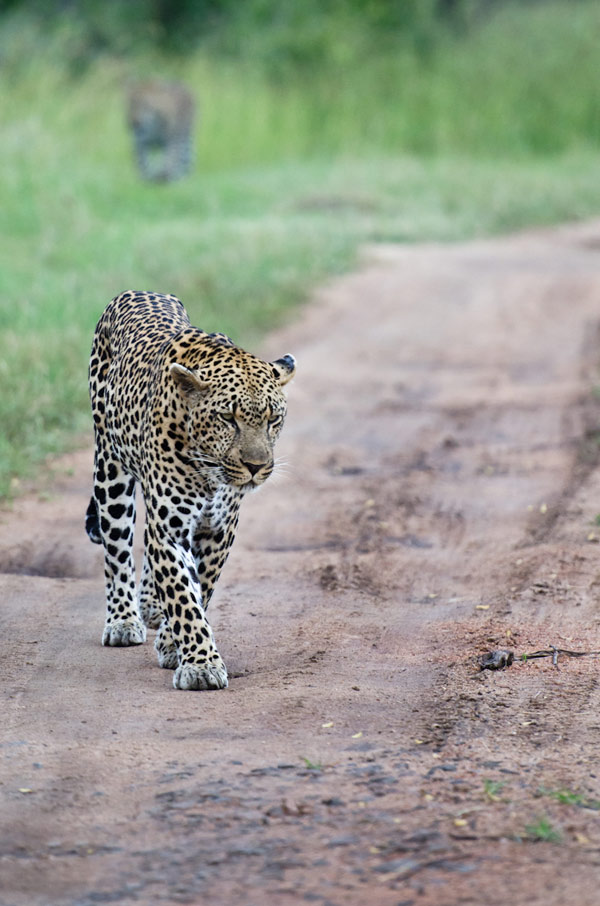 We sat with them for over 2 hours watching as they mated in sequences of three copulations per session with about 15 minutes of rest between sessions. As the time went on the female grew incredibly relaxed with the vehicles.
As the light faded and day moved into night, the mating continued but that wasn't to be the only bit of action we would witness. Xihangelas had noticed some impala in an open area near to where they were and had thought about trying to get some food. He was still hungry after he had a zebra kill stolen from him the night before by hyenas. Slowly he made his way closer with the female not interested in dinner and more interested in procreating. Eventually she caught onto the idea and we went lights down waiting to hear what was going to happen. The thunder of hooves allowed us to switch on the spotlights to see what was happening. Impala were scattering all over the open area and Xihangelas was tearing in behind them. The blur of motion as he tried to reel in his prey was futile though and the impala made a hasty retreat. Not fazed by his defeat he made his way back to female to carry on spreading his healthy genetics.
by: Richard de Gouveia (Little Bush Camp ranger)