With the Christmas spirit in air at our lodges; special times were had by all this week, both at the lodge and on safari.  Herewith the highlights from the past 7 days at Sabi Sabi…
We found the White Dam male just waking up from his afternoon nap in a Marula tree.  He descended the tree and proceeded to the closest waterhole for a fresh cool drink of water and a little lie down on the water's edge.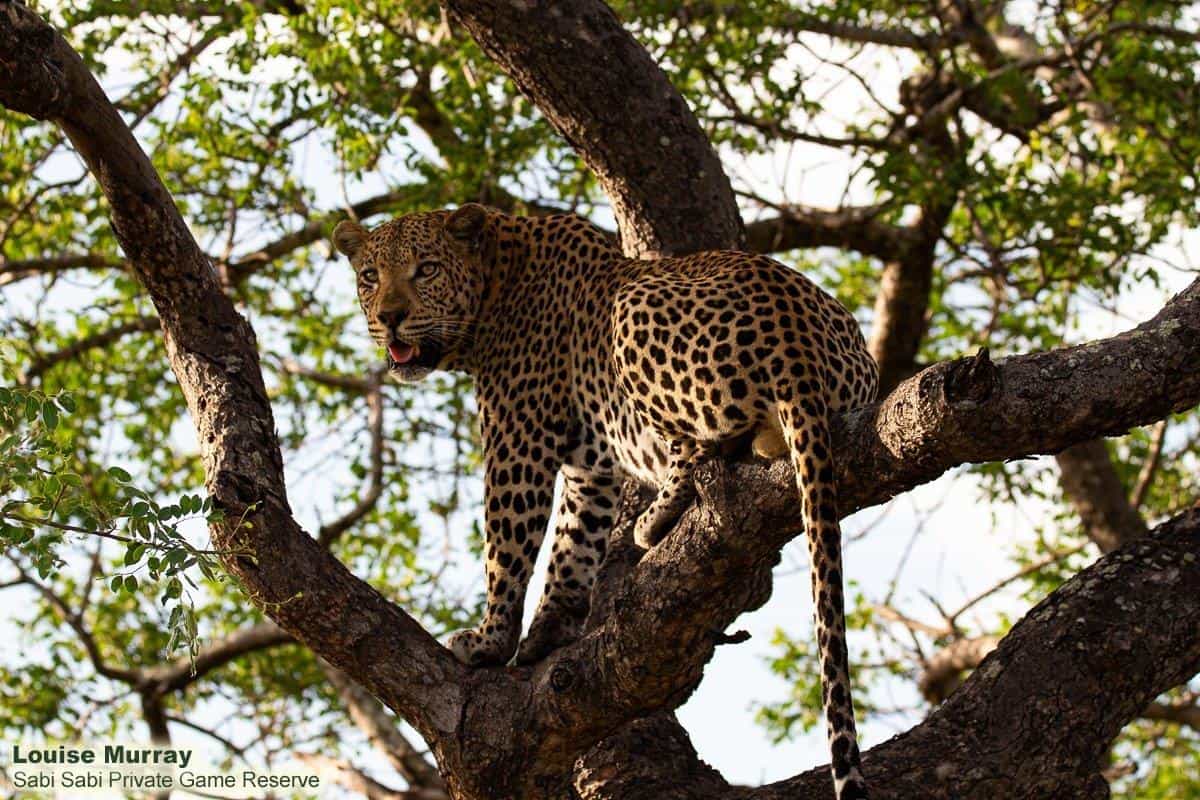 Maxabeni has been seen a lot this week.  In an open field of greenery as he showed interest in a herd of impala in the distance and was seen a few more times in the week searching for a meal and marking his territory.
During hot summer days, leopards usually seek shade in thick bushes or dry riverbeds, which was the case with the N'weti male leopard as we found him in nice shady area in a riverbed after following up on squirrel's alarm calling.
The beautiful Msuthlu female leopard was seen patrolling her boundary.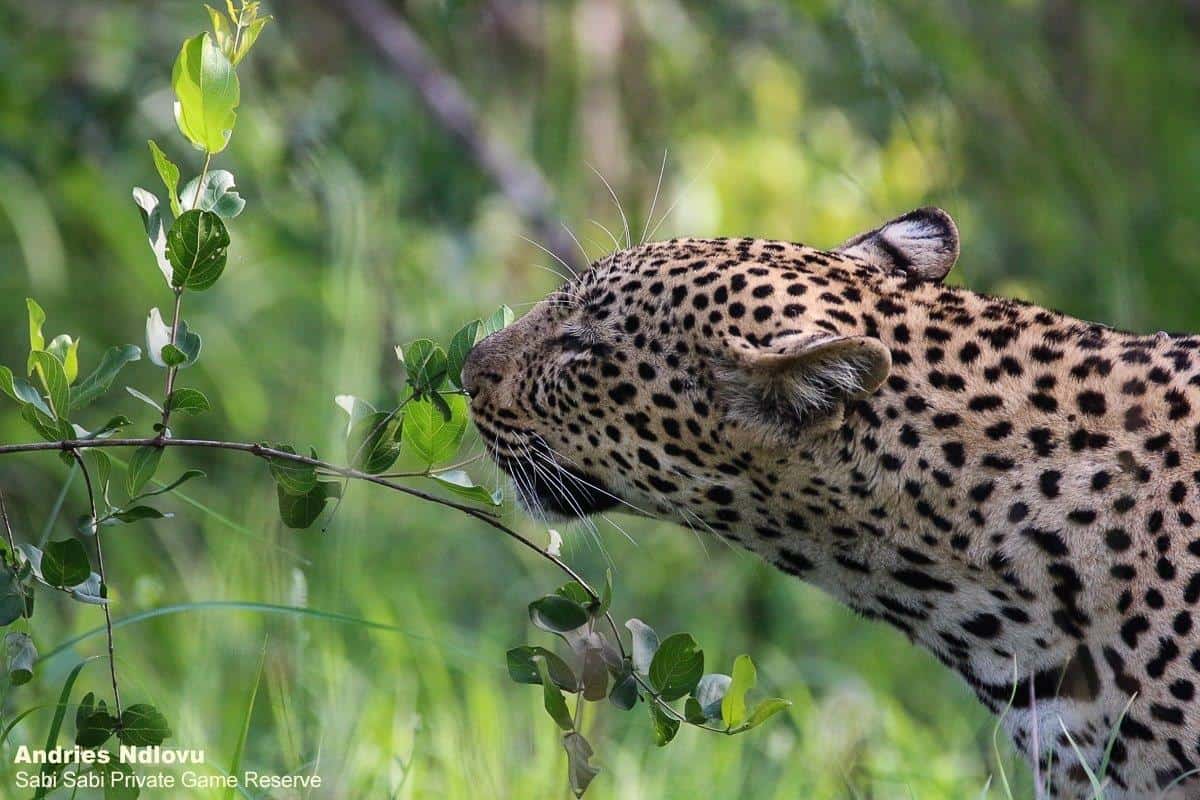 While looking for a pack of wild dogs, we came across the young Ntsumi female who was busy grooming herself. She later climbed up an Apple Leaf tree and took a little cat nap. A few days later she was seen again, having a scratch in some dried-up mud before heading to a little pool of water for a drink.
After hearing monkeys alarm calling in a riverine not far from the lodge, we decided to follow up in the area and we were rewarded by finding this beautiful female leopard.
With the amount of rain received over the past few weeks, the bush is changing very quickly, and the giraffe and zebra are enjoying themselves with so much to choose from; even having time to lie down and chew the cud.
A female Boomslang ("Tree Snake") appeared from a hole as she scouted for prey.  The main difference between males and females is in their colouring, with the females being brown and males are usually bright green.
A herd of buffalo leaving a watering hole after quenching their thirst.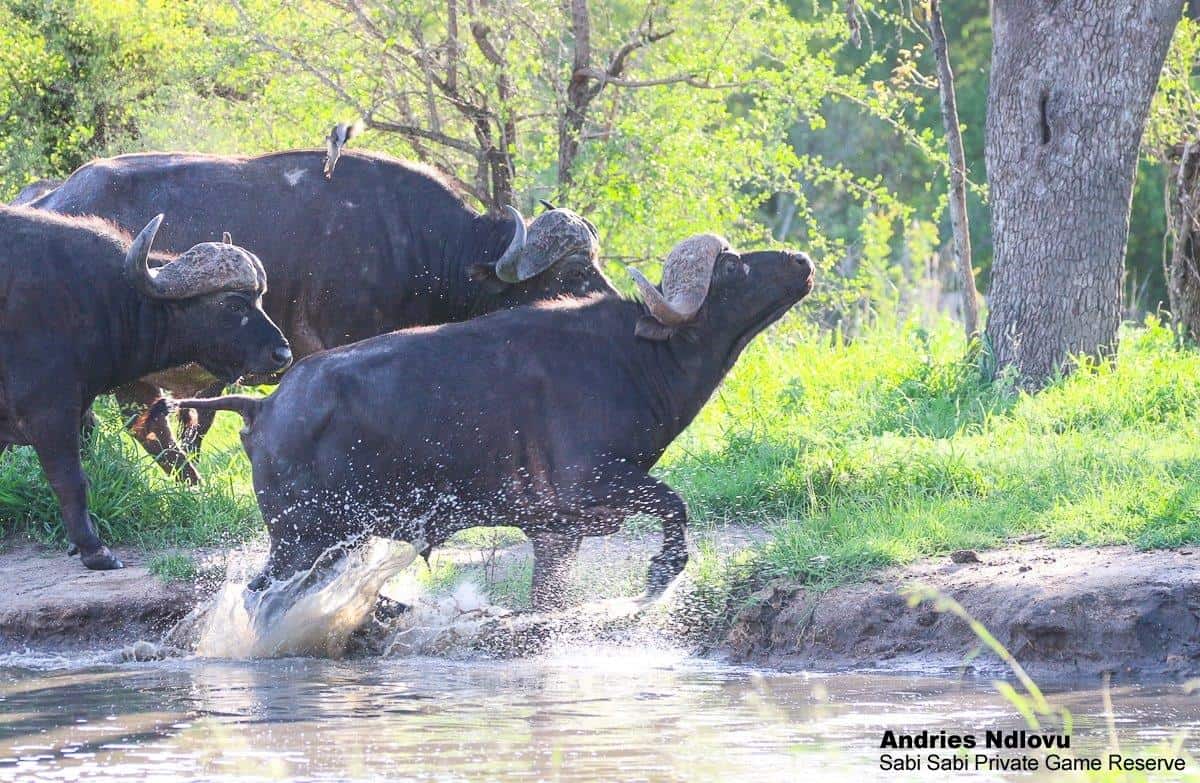 Some Vervet Monkeys feeding on Sycamore Fig tree fruits.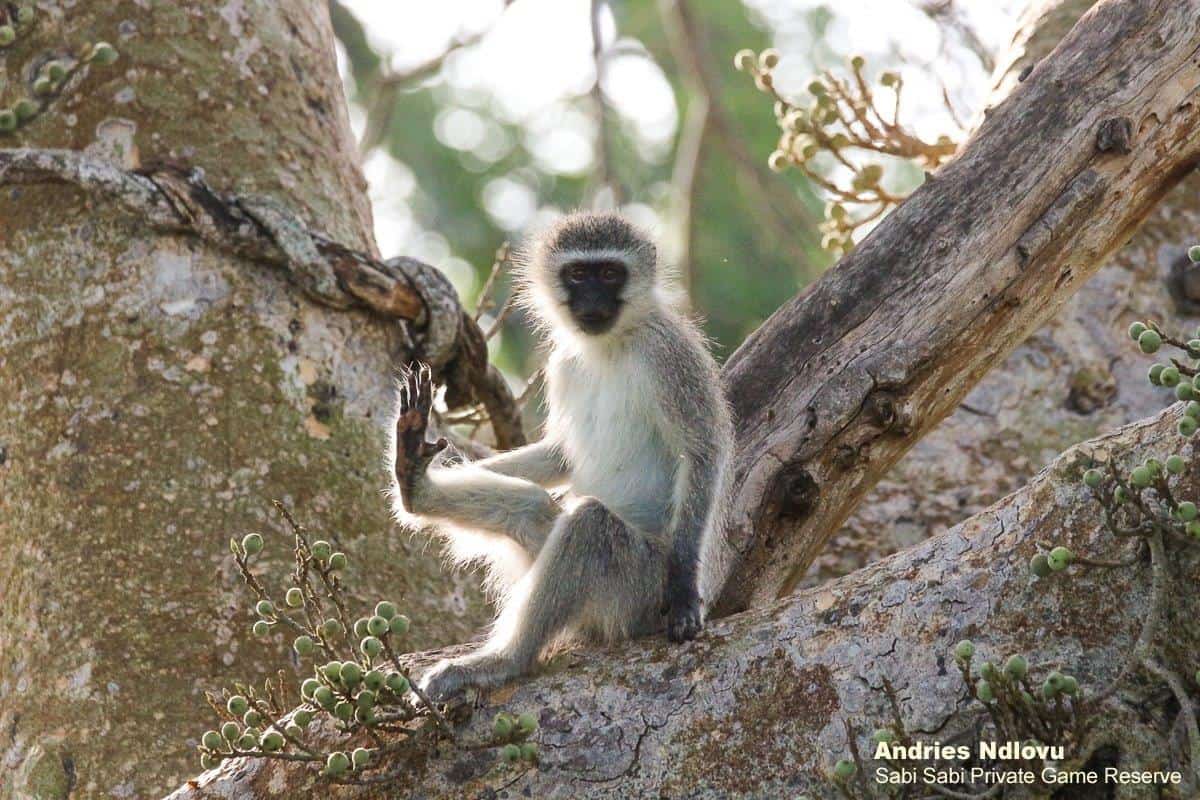 A Southern yellow-billed Hornbill having a little snack in the form of a dung beetle.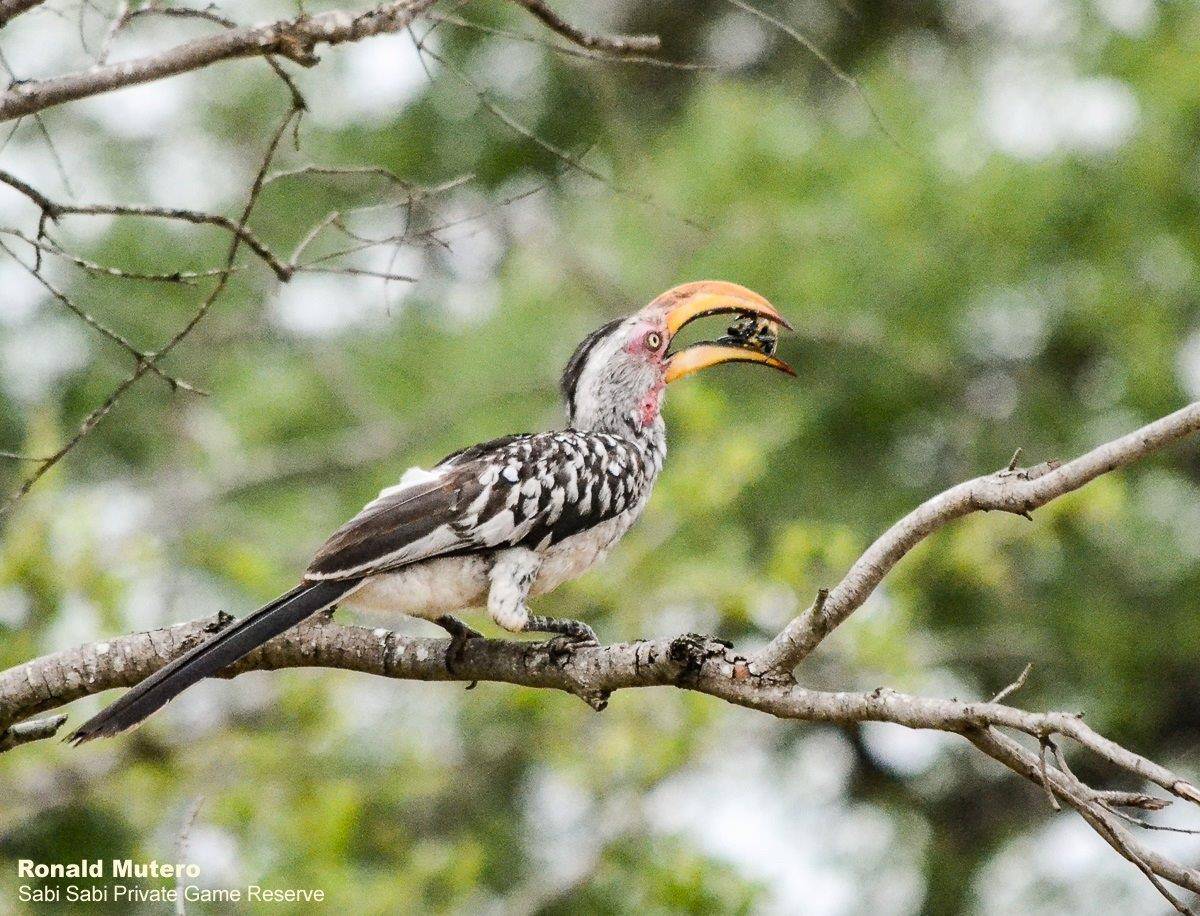 With limited artificial light, our night skies in the bush are phenomenal; particularly during Winter. Astrophotography allows us to take magnificent photographs and create images that are fun and different. One night, after dinner, we set everything up in an open field. We had the shutter open for 30 second intervals, and I used a cellphone flashlight, covered by my finger, while "tracing" the vehicle during the photo. The results were marvellous!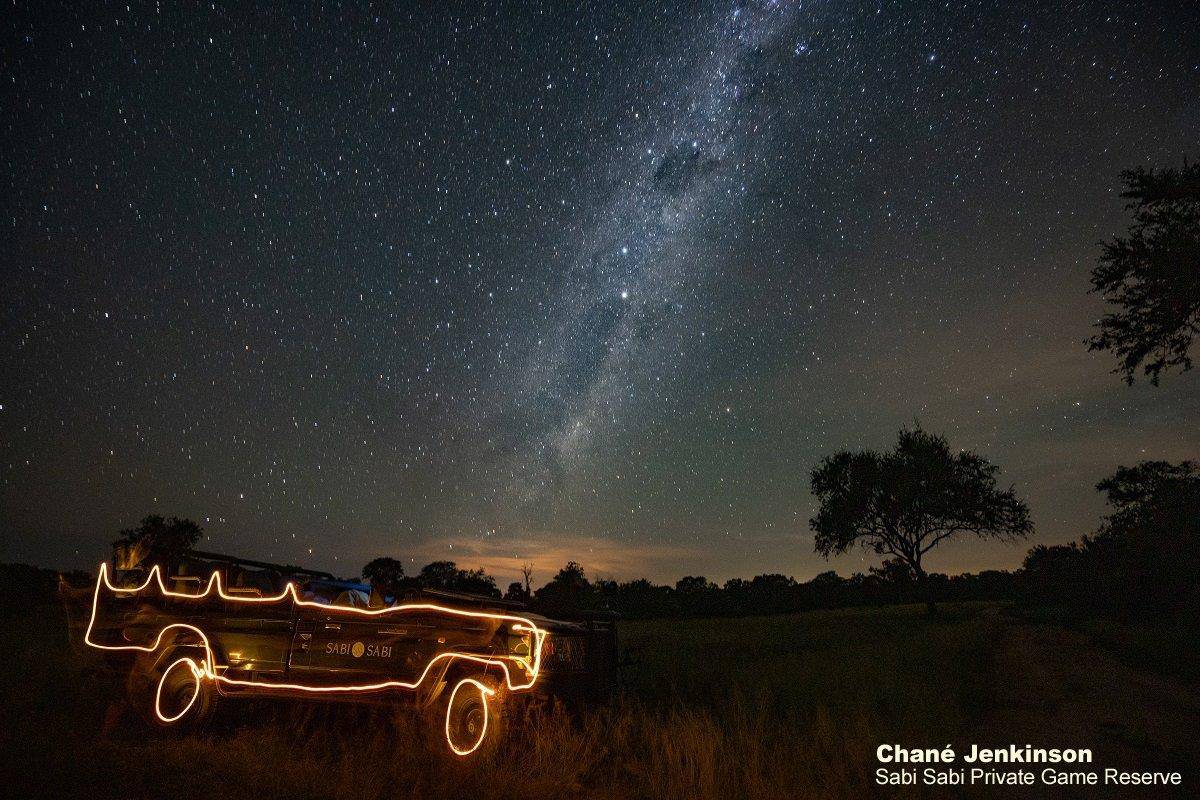 On another evening, along with a photographic guide, we played around a bit with camera settings and equipment and I managed to capture this image of a beautiful night sky!
Waking up at 05:30 in the morning might be tough for some, but experiences like this make it more than worth it. And yes, that strange sound at the end came from one of the youngsters.
We were lucky enough to witness a tender moment between a giraffe and her calf and an impala and her lamb. The bush is a harsh place to nurture one's young, yet it is done with such determination and care.
A family of warthogs leaving their burrow to begin their day.
We found a pack of wild dogs resting by a waterhole as it was very hot. It did not take long before they were on the move and started hunting.  We followed them in the thick bush, and they managed to kill two impalas.
The N'waswishaka coalition of male lions were finishing off the remains of their buffalo carcass.  Hyenas have also started to gather in anticipation of the males moving off when there are only scraps remaining.
We found two female lions hunting some wildebeest but they were not successful and decided to lay down in the shade as it was getting warm.
A couple of Christmas photos from each of our 4 lodges.
Selati Camp
Bush Lodge
Little Bush Camp
Earth Lodge
Until next time…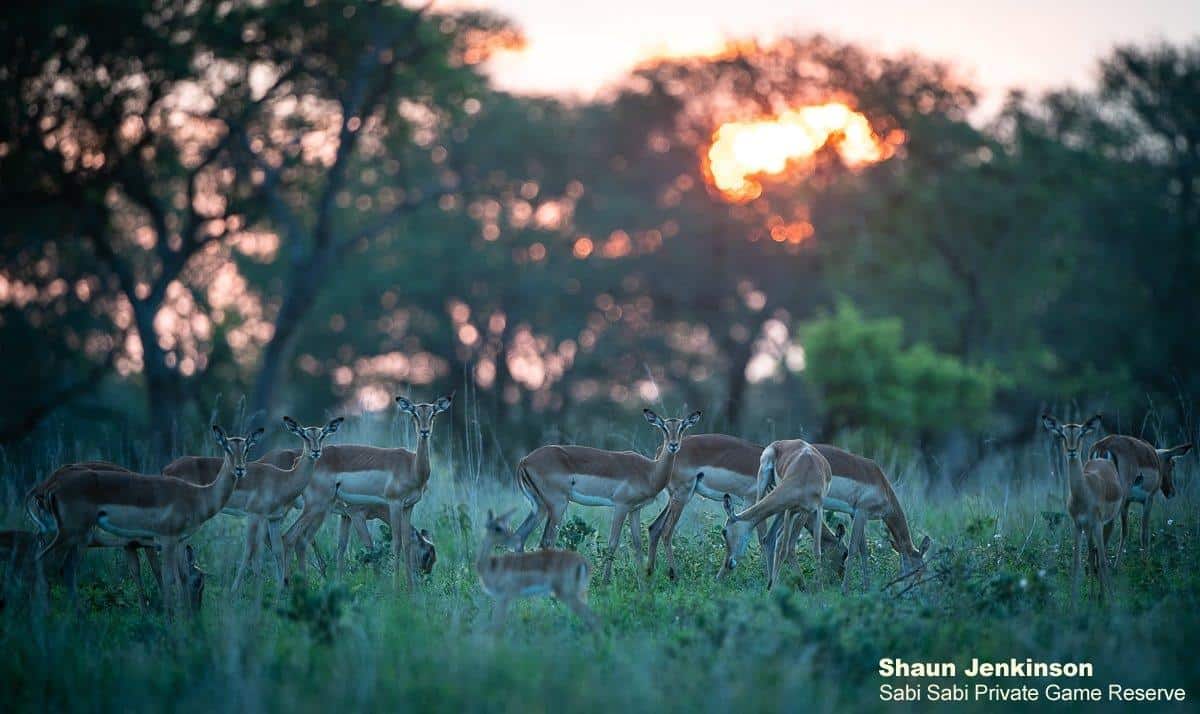 Blog by Wendy Claase
Images by Andries Ndlovu, Chané Jenkinson, Graeme Stewart, Kevin van der Linde, Louise Murray, Maryke Nel, Ronald Mutero, Ruth Berning, Shaun Jenkinson and Tyron van der Walt
Videos by Kevin van der Linde and Marco Viette