I feel like I have an everlasting connection with every road, tree, rocky outcrop, waterhole and open area of Sabi Sabi. As I drive through this beautiful reserve, every turn brings back magical memories. I remember the striking leopard with its kill in that Marula tree, the enchanting sunset over the mountains with those guests, the majestic elephants drinking at the waterhole in front of Selati Camp… and so it goes.
It's a weird and wonderful feeling being so connected to a specific area. Sabi Sabi is the place where I fulfilled my goals and dreams. It's where I grew as a person and figured out what I was meant to do with my life. I learnt about the wonders of nature here and it changed my life forever.
In the last few years, my husband (Conrad Zeelie) and I have lived out our passion of exposing people to the marvels and miracles of nature. We've learnt so much about the incredible fauna and flora of the area and more importantly, how everything is interconnected. Our understanding of nature has grown tremendously every day and continues to do so.
It all started in 2012 when I did my field guiding qualification at the notorious Nkombe Camp. A special place where so many guiding legends had trained before me. I fell in love with Sabi Sabi instantaneously and knew I was meant to be here. I unfortunately didn't know much about nature at the time besides the fact that I've always loved and admired it. After working harder than I ever did before, I got my qualifications and vital experience at Nkombe Camp to eventually take me to the next level.
Earth Lodge was always a dream to me. The first time I saw it, I was left speechless and overwhelmed. I'll never forget walking down the winding pathway to a dramatic and enchanting entrance which would unknowingly lead me to the future of my guiding career.
I had the privilege of meeting guests from across the globe. Over some unforgettable dinners under the stars or in the mesmerising wine cellar, traditional boma or out in the middle of the bush… we built everlasting friendships and memories.  They have taught me so much about their countries and cultures which I am eternally grateful for.
We had the honour of working with the most amazing team at Earth Lodge which have become like family to us. As a team, we have grown together and strived to make guests feel like this is their home away from home (as this was ours).
An absolute highlight of my time here at Sabi Sabi is undoubtedly the unbelievable sightings of wildlife! I might not keep up with the Kardashians but I get to keep up with the life of countless leopards, lions and so much more! I've seen the good and the bad side of nature… the circle of life as they say. I've witnessed the beginning and ending of an animal's life and how it all forms part of nature's perfect plan. It has been amazing to see the interaction between different species and the fact that nature doesn't always go according to the book!
A massive male lion roaring next to your vehicle will leave you speechless and send shivers down your spine. The spellbinding stare of a leopard is one of the most beautiful things I have ever seen. One of the most memorable sightings was of a pack of wild dog which hunted a common duiker. Before we knew it, a couple of spotted hyena arrived at the scene and the vocalisations were remarkable. Needless to say, within almost seconds, the duiker was finished. As if all of this wasn't enough, a herd of maddened elephants appeared and started trumpeting at the outrageous scene after which all animals went their separate ways… wow!  My most special feeling of all is spending time with elephants, and to me, nothing beats the feeling of a massive bull elephant passing only meters away from the vehicle. The memories I have of these incredible sightings will stay with me forever.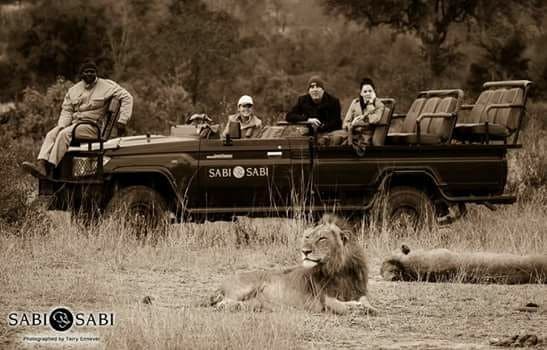 I was lucky enough to have the ultimate teammate during my time at Sabi Sabi, my tracker and friend, Candy Hlatshwayo. Without Candy, I would not have been where I am today. He is a master tracker and an amazing friend. We are a match made in heaven and complement each other so well! We both seem to find enjoyment in the smallest things and spend most of our time laughing at nature's hilarities (such as baboons playing or elephant calves "charging" the vehicle). We experienced so many awesome sightings together and met some incredible people which will stay in our lives always.
If you ask those closest to me, my favourite thing about nature is the sunrises and sunsets. Sabi Sabi is by far one of the best places in the world to experience the most beautiful beginning and ending to a day. For now, the sun is setting on my journey at this special place. But you know what they say when the sun sets, "don't worry, it will rise again tomorrow".
Conrad and I are excited to visit some of our friends and guests in Europe in November and plan to move into training in the new year. We look forward to passing on all that we have learned at Sabi Sabi to the new generations of field guides!
Thank you so very much to those of you who have followed my blogs and learnt from nature as I did!
We would like to thank Sabi Sabi for all the invaluable experience we've gained over the last few years. We are eternally grateful for the people we've met and the lifelong friends we've made with our colleagues and guests alike. We wish our friends and family all the very best at Sabi Sabi! A place which will stay in our hearts forever, just like everyone who has stayed here. This is not the end, only the beginning!
Blog by Chanyn-Lee Zeelie (Earth Lodge Ranger)