It has been another action-packed week on safari at Sabi Sabi!  We hope you enjoy this week's highlights!
A glorious way to start another week here at Sabi Sabi with this spectacular sunrise taken from Earth Lodge!
The two young Avoca males have been seen a lot this week around the Bush Lodge area where they were hunting buffalo.  They also seem to have had a few encounters with the Southern Pride.
The three Tsalala male lions made an appearance this past weekend when they were seen close to Little Bush Camp. Unfortunately for the Southern Pride, it resulted in another casualty when one of the youngest cubs was killed by these males.
Since the events 2 weekends ago when one of the Southern Pride females was killed, another female, the largest of the Southern Pride adults, was badly beaten up by the Avoca males.  We have since seen this female around Earth Lodge close to Suite 11.
An update on the rest of the pride is that 5 lions were seen on the south of the reserve, on Lisbon, not too far from Earth Lodge.  Since the adult female was killed, we have not seen Floppy Ear/Mandleve nor one of her cubs and another younger cub.  We will keep everyone updated as and when we have more information.
Four youngsters from the Mhangeni Pride were resting in the Msuthlu Riverbed during the heat of the day. As dusk set on us, they became active and moved towards Little Bush Camp in search of their pride members.
We had a sighting of one of the Matimba males earlier in the week as he was resting not too far from the Southern Pride.
The two large Birmingham male lions were also seen our reserve earlier this week and had successfully taken down a wildebeest.  They looked extremely regal as the watched over the surrounding landscape.  The following day the kill site was a hive of activity with hyenas and vultures all trying to get their piece of the prize.  After finishing most of the kill, the lions eventually walked away allowing the clean-up crew to get to work!
In an amazing sighting within the grounds of Selati Camp, Terry managed to capture footage of this elephant making himself very welcome at the lodge!
Some elephant calves showed off their cuteness as they joined their breeding herd in a trip to a waterhole near Bush Lodge on a humid morning.
It's been great driving around and seeing so many new born waterbuck calves!
An impala lamb gets groomed by two ox-peckers.
Zebra are always top on the list to see and we were lucky enough to see some again this weekend.
A stunning Greater Blue-eared Starling stands out between the lush green grass after the recent rains.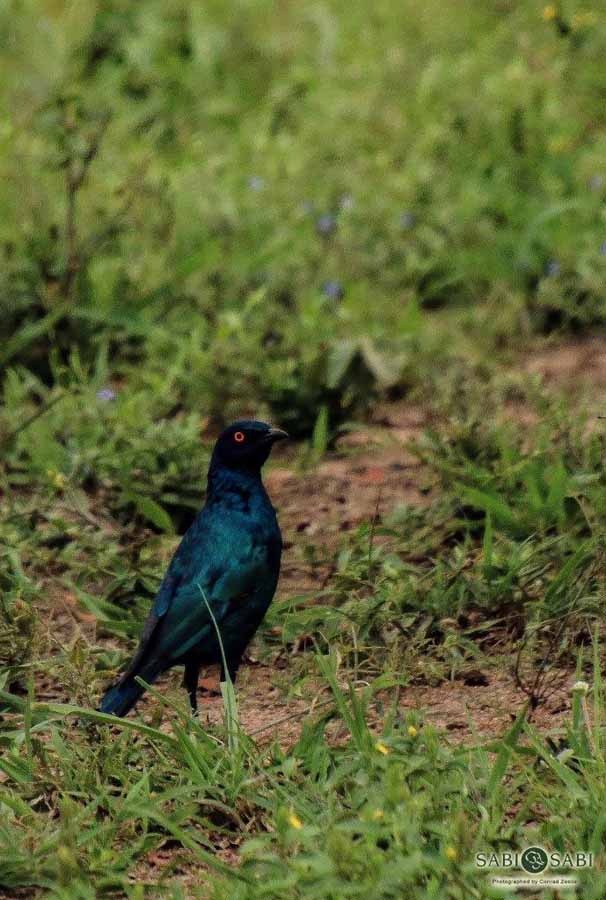 This Yellow-billed Hornbill put on a show in the late afternoon for some guests as it captured multiple termites and consumed them on this perch.
A big herd of Cape Buffalo enjoyed some good time in a mud wallow before moving off to go and quench their thirst
This pair of Klipspringers gave us a great sighting as they moved around on top of a rocky outcrop.
Maxabeni has been seen moving from termite mound to termite mound in search of any Warthog burrows for a potential meal.
After killing and feeding on an impala ewe, a mature female leopard kept a close eye on her kill which she had stashed up a tree – a good meal that will last her a few days.
After being treed by two hyenas, the Ntsumi female relaxed before moving off in search of her next meal.
The Msuthlu female enjoyed a nap in a large Marula tree before she descended to resume her duty of scent marking her territory.
After spotting a pack of wild dog from Earth Lodge early on Saturday morning, we followed up and got to spend some quality time watching them chase impala around after which they decided to take a rest.  Later in the afternoon, they were still hunting and missed a small Steenbok.  They eventually chased down a small scrub hare – not nearly enough for a pack of six hungry dogs.
Until next time…
Blog by Wendy Claase
Images by Kevan Dobbie, Terry Ennever, Franscois Rosslee, Chanyn-Lee Zeelie, Conrad Zeelie, Kerry Roberg and Louise Murray
Videos by Terry Ennever & Chanyn-Lee Zeelie